Scene
Old-world feel surrounded by 300 acres of Pacific Northwest wilderness
Imagine driving a winding road through thick evergreen forest, and as you come to a clearing, a stately Romanesque Revival palace looms beyond. That's the feeling of arriving at the Lodge at St. Edward State Park, a boutique hotel created from a 1930s Catholic seminary on the shores of Lake Washington. The lodge feels like old-world hotels set in castles or mansions, but rather than manicured grounds it's surrounded by over 300 acres of Pacific Northwest wilderness.
Inside the Lodge at St. Edward you'll learn the history of the building, both from photographs and the space itself. The restaurant is set in the old dining hall. There's a downstairs speakeasy in the old barber shop. Rooms are carved out of old dormitories, and the arched hallways are lined with rotating art. The sunny patios allow guests to bask in the summer sun with a glass of wine, and everything here feels a world away from the bustle of Seattle, less than half an hour south.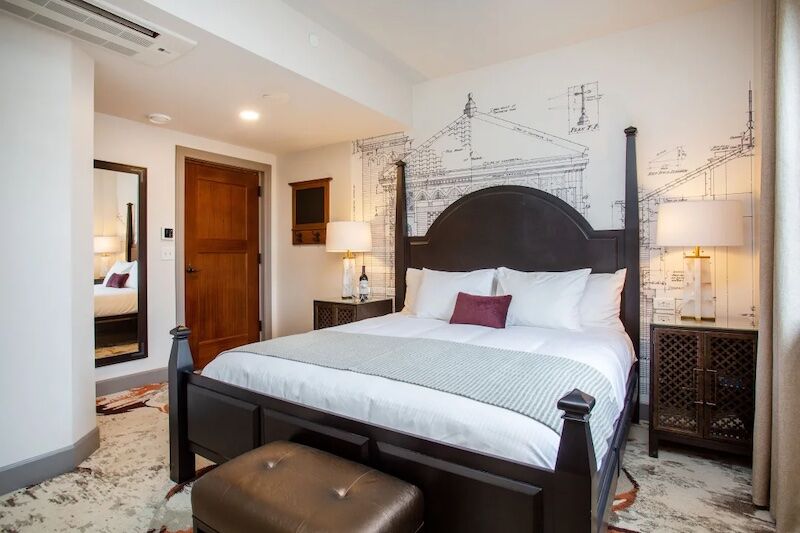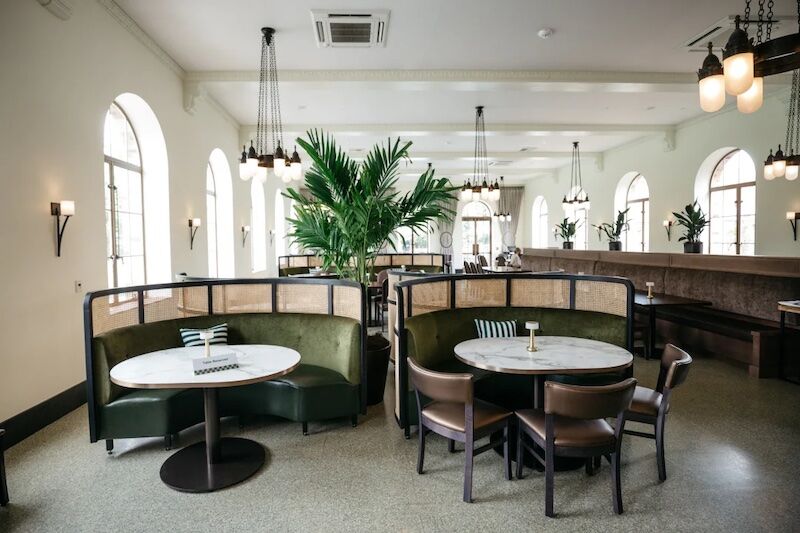 Location
A lakeside state park, not far from the city.
If you're coming to Seattle to experience the city — its museums, neighborhoods, culture and sports — the Lodge at St. Edward State Park can be a little inconvenient. It's 30 minutes to an hour from downtown, depending on traffic, and though it's not an impossible option for a city visit, it's really best suited for experiencing the outdoors.
You're also not terribly far from Seattle's eastside cities of Bellevue and Issaquah, which offer their own brands of restaurants, bars and hiking. And if you are looking to get out beyond that, here are some sites that aren't too far away:
Rooms
Old dorm rooms done up for the 2020s, with no two exactly alike
St. Edward's old seminary dorms are now all modern luxury hotel rooms, but the designers have kept true to the feel of the structure. So the plush furnishings would feel just as right in the 1930s as they do today. Cushy sofas and chairs adorn each room, and the Beauty Rest Black Napa luxury mattresses ensure you'll recover well from your day in the park.
All rooms also include a 50" or 65" flatscreen HDTV, Nespresso coffee maker, plush robes and slippers and a desk. Walls are covered in old blueprint sketches of the original seminary, so you'll get a sense of the place's history while you sleep.
The rooms are broken down into a few simple categories. But remember, since these are old dorm rooms, no two will be exactly the same.
Amenities
An entire weekend's worth of hiking, art and bars
Like we said, you don't need to leave the Lodge once you get there, but if you want to wander, the hotel has a complimentary car service within 10 miles, valet parking and bikes you can rent to explore. Beyond all that, here's what you'll find both inside The Lodge and just beyond:
With 326 acres of land and over a half mile of shoreline, you won't run out of places to explore in St. Edward State Park. Start out right behind the seminary's historic driveway and hike down the Grotto Trail to the lake. Then walk along the water for half a mile on the Seminary and North Trails back to the lodge. Stop and take a picture at the old stone prayer grotto, then descend through the property's orchards along the Orchard Trail. It takes you into a lush canyon, the park's best place to commune with nature. Walk back up along the challenging South Ridge trail for stunning views of the forest and your best workout for the day.
Fine Art Gallery and Artist in Residence
Just to the left of the front desk sits a long, arched hallway. Once the path to classrooms, it's now a rotating art gallery with everything from paintings to blown glass. The hallway also boasts restored, original floor-to-ceiling windows, so the art is constantly bathed in natural light. The Lodge also hosts an Artist in Residence, who conducts both public and private lessons and showings.
Vita Nova Spa
The ground floor spa offers an infrared sauna, a full menu of wellness and spa treatments and a tranquil outdoor waiting area complete with fire pit.
Fitness Center
If the Northwest weather isn't cooperating but you still want to get in your workout, the ground floor has a full fitness center, complete with free weights, treadmills and cables. You'll rarely be sharing with anyone, though, as the park is a much better exercise option.
Library
The second floor library is the hotel's hidden gem, a stately study with luxury editions of all your favorite board games, loads of table space to work from and big, overstuffed couches. It's a little like the executive lounges you find in business hotels, with a Gilded Age twist.
Food and Drink
The Lodge's restaurant is set in the old seminary dining hall, and if you look closely you'll see tributes to the old space like repurposed freezer doors and original light fixtures. Cedar + Elm's food is also fantastic, with herbs and veggies culled from the onsite garden and a seasonal menu based mostly on what's grown. Though the two-story windows give plenty of natural light, on sunny days eating on the patio with the park as a backdrop is pure summer magic.
Tonsorium Bar
Meander downstairs and you'll find a barber's chair sitting outside a dim cocktail lounge. This is the Tonsorium Bar, so named for the seminary barber shop that once occupied the space. Now it's The Lodge's craft cocktail lounge, where you can retreat after dinner for an intimate martini or two under the watchful eye of its trademark unicorn head. Or you can enjoy the bar during the day on its sunken back patio.
Father Mulligan's Heritage Bar
Father Mulligan's is The Lodge's social center, where guests meet with visitors and groups congregate for a pre-dinner drink. The bright, inviting bar offers flatbreads, burgers and other gourmet bar bites, plus a daily happy hour. It's ideal if you want to sample the food but don't want to commit to a full meal at Cedar + Elm.