Scene
Movies, music and saltwater soaks bring locals to mingle with guests
No city in America does making the old new again better than Portland. And if there's an icon for the movement, it's McMenamins Kennedy School Hotel, an old elementary school that's now one of the city's most sought-after hotels. Locals flock here for the live shows in the old gym, which also doubles as a movie theater. At $5 a ticket for both, it's one of the more popular low-budget entertainment options in the city. You'll also find Portlanders in the Kennedy School's welcoming saltwater soaking pool, an Italian-inspired oasis that's free for neighbors too. 
The hotel's trio of bars are worth hitting, whether enjoying a cigar in the Detention Bar, savoring rare rums in the lush Cypress Room or playing pool in the Boiler Room. The whole place is school themed in case you didn't notice, which makes even things as small as sitting down for a beer a truly unique experience.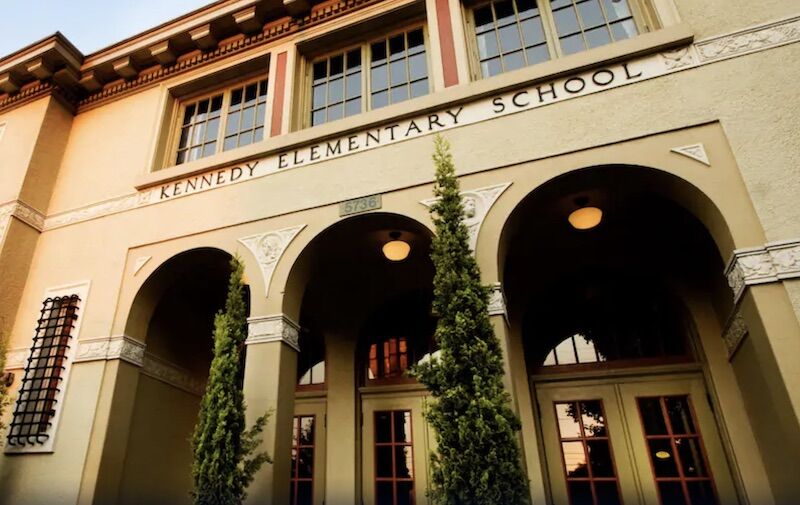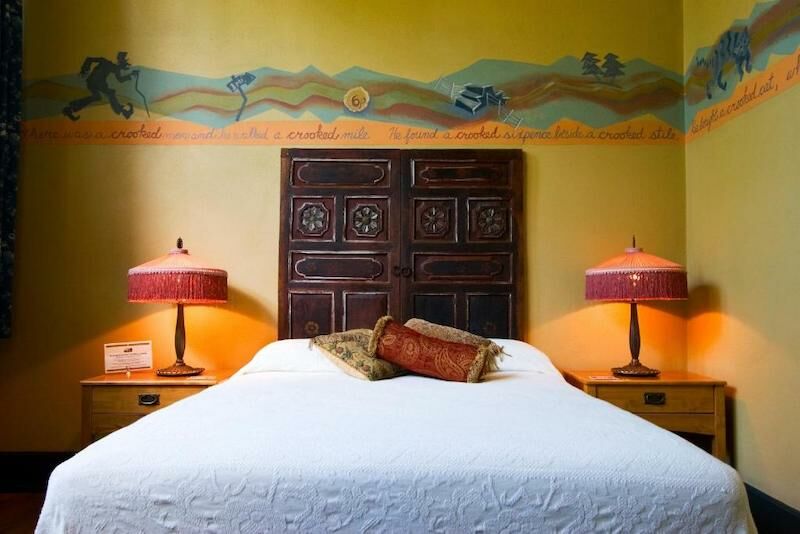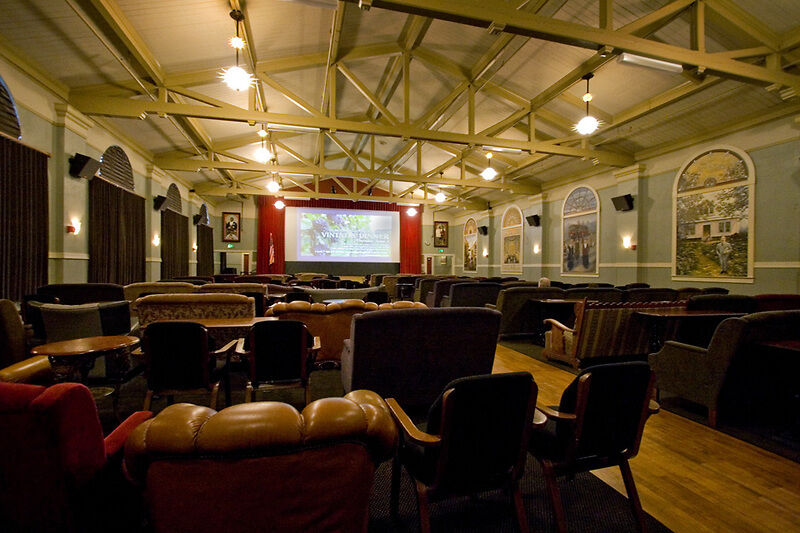 Location
A quiet area that's not too far from everything
McMenamins Kennedy School Hotel sits in Concordia, a northeast Portland neighborhood that's mostly residential and not exactly teeming with nightlife. If you want something centrally located to Portland's attractions, you might want to look elsewhere. That said, getting out and exploring isn't tough, even without a car. The hotel is part of the BIKETOWN area and has four of the public bike program's racks on property. If you do have a car while staying at the Kennedy School, exploring will be even easier, though parking is limited. With a homebase in sleepy Concordia, it's not too painful a drive to lots of lively stuff. 
For Portland's most notable and quintessential experiences, see our Best Things to Do in Portland guide.
Here are nearby places to explore:
Stroll the Alberta Arts District, home to galleries, boutiques and plenty of places to pick up a quirky Portland souvenir. It's the closest attraction to the hotel: about a five-minute drive or 30-minute walk.

 Explore downtown Portland, which is about 15-20 minutes away from the hotel by car depending on traffic.

Catch a Trail Blazers basketball game or a Winterhawks hockey game at the Moda Center, a 10-15-minute drive away.
Feed your brain at the Oregon Museum of Science and Industry and the Oregon Zoo, which are both a 15-20-minute drive away.
Shopping at the Lloyd Center mall might be the main attraction, but you can also strap on a pair of skates and glide along the same ice Tonya Harding once used for Olympic training. It's about a 12-minute drive from the hotel.

Peruse the fresh fruits and veggies, crafts and colorful characters at the Portland Saturday Market, which runs from March through December and is about a 15-20-minute drive from the Kennedy School.
Rooms
Converted classrooms and an English literature wing
When the Kennedy School first opened, the biggest knock on the property were the guest rooms, which were considerably smaller than most hotel rooms and had old windows that were useless in keeping out noise. So, in 2012, the hotel opened the new English Wing, a set of rooms in the school's old courtyard themed after classic works of English literature.
Converted classrooms — The main building's King and Queen guestrooms are all converted classrooms, which means you'll be sleeping in the same spot where kids learned long division in the 1920s. While not overly spacious, the rooms boast the big, arching windows through which many of us used to gaze outside and dream of recess as a kid. Many also have original chalkboards, which complement colorful art on the walls and simple, classical décor. Just be aware the bathrooms are only slightly larger than ones you'd find on a cruise ship, so don't plan on spreading out your week's worth of toiletries.
English Wing — These newer rooms opened in 2012 and are each cleverly themed after classic works of English literature.  If you've ever wanted to wake up under a painting inspired by "Tropic of Capricorn," consider the Kennedy School your dream come true. Though newer and quieter, English Wing rooms aren't all that big either and offer the same small-ish bathrooms as the converted classrooms.
AMENITIES
Three bars, a movie theater and a restaurant in the old cafeteria
The most creative use of old space in the Kennedy School is found in its common areas, where spots like the old gym, the cafeteria and even the boiler room have been transformed into wildly creative concepts. They make the hotel the odd urban property where you can have a great night without ever stepping outside. And while we'd never recommend skipping the urban exploration, you may find it harder to leave school than you ever thought possible.
The Kennedy School also boasts its own onsite brewery set inside an old girl's restroom. Concordia Brewery is a six-barrel brewhouse adorned in colorful murals of playful schoolgirls and is best known for their Yule Shoot Your Eye Out! IPA.