Scene
It could be confused for an upscale youth hostel
If it weren't for the hotel's perfumed aroma and the meticulously clean furniture, the lobby of the Moxy Portland Downtown could easily be confused for an Oregon youth hostel. The front desk is, literally, the bar, and young people from all over commingle in what looks like an unfinished workshop, full of exposed concrete and large open windows that look out on the bustling downtown streets. Just past the bar, a large wooden table and floor-to-ceiling tic-tac-toe board give the hotel's "library" an open-floorplan-office feel. Working guests don't even need to leave for lunch, as two food carts sit on the far edge of the hotel. Between the social hall in the bar, the food options and the office space, one could easily forget a dozen stories of hotel rooms stand above them. Such is the charm at the Moxy though, where the rooms may be spartan but the experience is rich.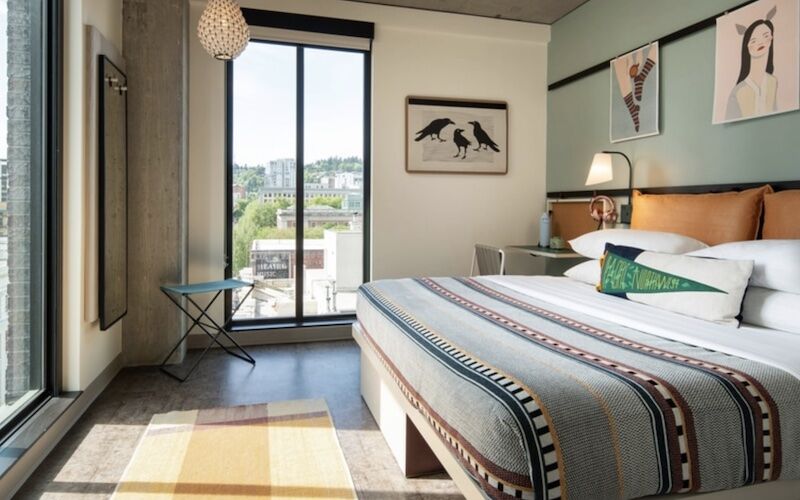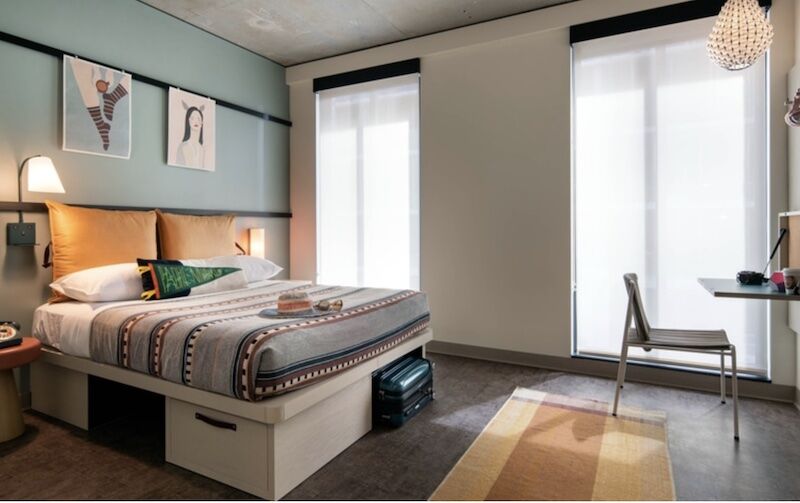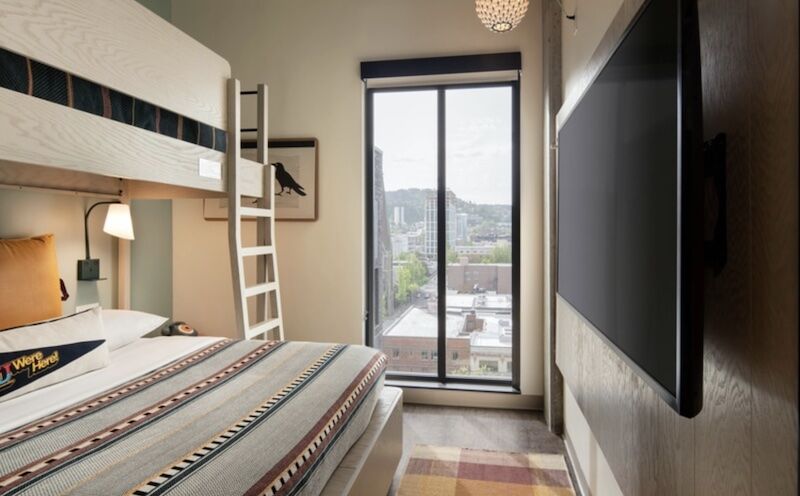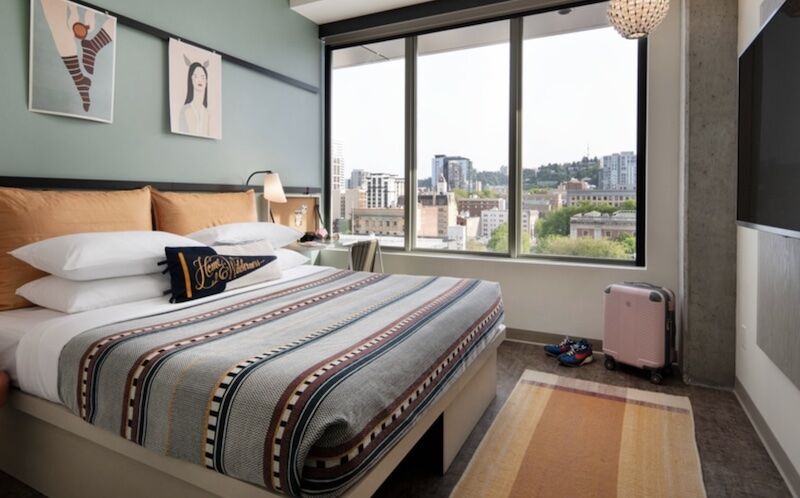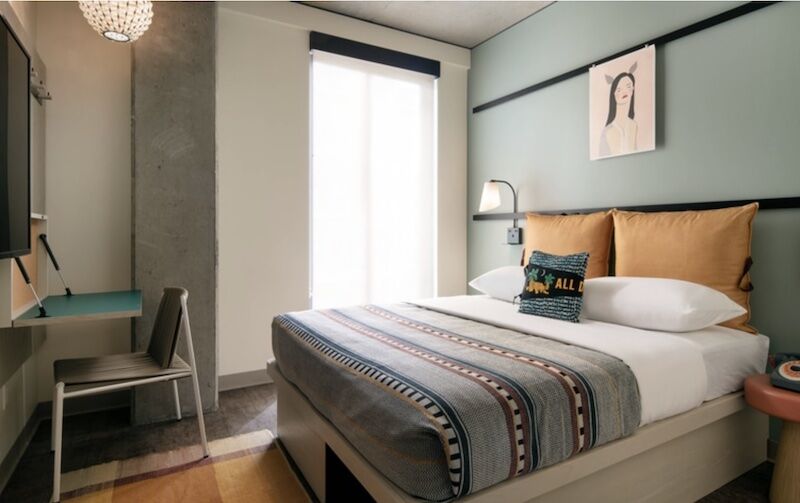 Location
At the crossroads of downtown Portland
The Moxy Portland Downtown is one of the Rose City's newer hotels, and takes up a chunk of downtown real estate that's central to much of what's great about the city. You're only about 20 minutes from PDX airport. Though the quirky, colorful neighborhoods that make Portland so unique will still require a car ride, you can take the streetcar or light rail from stops nearby. Here's our guide to the whole city and a look at what else you can find within a short walk or drive of the Moxy:
Rooms
Spartan, but still chic
As is the trend with lifestyle hotels in the 2020s, the guest rooms at the Moxy Portland Downtown aren't designed for you to spend much time in. If you're a business traveler, or otherwise like to unpack and work in your room, this is gonna be a hard stay. In-room amenities are limited to a couple of hooks to put your clothes on and nightstand drawers.
Make no mistake, the rooms are nice, continuing the lobby's exposed-concrete motif and adding in colorful lamps and tear-away paper art that you're welcome to take home. Some offer a fold-down desk if you're not up for joining the crew at the downstairs library, and each room comes with a 55-inch flat-screen TV. If you're really just here to sleep and shower, the Moxy's rooms get the job done.
The Moxy Portland Downtown's rooms break down into the following categories:
Cozy King Room and Queen Room – The Moxy's entry-level rooms are tight on space at 175-184 square feet, where your spacious bed leaves just enough room to walk past your window and on to the bathroom. You'll also find a fold-down desk with a single chair, but no closet or dresser. Bathrooms include a modern, walk-in shower, and beds are topped with welcoming throw pillows.

(The king room has a king bed, the queen room has a queen bed, if that wasn't apparent)

Corner King Room and Queen Room – Slightly larger than the Cozy rooms at 205-236 square feet, offering floor-to-ceiling windows with views out onto the city.

City Bunk – For space efficiency, nothing beats the City Bunks, which can pack three people into a scant 175 square feet. A queen bed sits on the floor with a twin bunk overhead. This is perfect for parents with one child or a couple traveling with a single friend who's probably not sleeping there anyway. 
Amenities
A bustling bar, a busy library and a row of food trucks
What the Moxy Portland Downtown lacks in in-room amenities — don't worry, there are toiletries and air conditioning — it more than makes up for with its common areas. They've proven so popular that the bar, food truck alley and library have taken on lives of their own. While guests are still abundant in these spaces, the Moxy's scene extends far beyond what you'd find at a typical hotel.
Bar Moxy
The lobby bar is open 24 hours a day (though alcohol service hours vary) and doubles as the check-in desk for the hotel. Upon checking in, you'll receive a free welcome cocktail, which you're best off enjoying while getting to know other guests and patrons in the spacious seating area. It's got a fantastic menu of craft cocktails on the fruitier side, and the daily happy hour from 4-7 p.m. gets you 20% off everything behind the bar.
Library
The Moxy's "library" is really more of a coworking space just past the lobby bar, where a large wooden table is surrounded by welcome distractions like tic-tac-toe and giant Jenga. The bar crowd doesn't always spill over here, but the lines definitely get blurred.
Fitness Center
Down in the basement you'll find the Moxy's fitness center, a surprisingly well-stocked gym complete with dumbbells, a heavy bag and pink gloves to punch it with. For cardio, you'll find an Arc Trainer and the much-sought-after Peloton bikes.
On the opposite end of the lobby from the bar sits "Food Cart Alley," a selection of two quick-service, creative food concepts that nod at the city's food truck culture. The first is Big E, a hip-hop-themed sandwich shop where you'll enjoy stuff  like the California Love (egg whites with avocado, alfalfa sprouts, tomato and cucumber) and It Was All A Dream (steak, American cheese, fried egg and Welch's grape jelly).
Some of the best wings in Portland live right in the lobby of the Moxy hotel. A short menu of wings, strips and Cajun-brined wings come tossed in a fantastic collection of sauces. The cleverly named Doriteaux and Buffaleaux wings are always winners. If you want to get a little crazy, try your wings tossed in Gold Mole or Honey Pecan.
FAQ
Does the hotel have free Wifi?
Yes, the Moxy Portland Downtown offers free Wifi.
Are the rooms non-smoking?
Yes, the Moxy Portland Downtown guest rooms are non-smoking rooms.
How far is it from the Moxy Portland Downtown to the Portland Japanese Garden?
The Portland Japanese Garden is 2.2 miles from Moxy Portland Downtown or approximately a 2.2 mile drive.
How far is it from Moxy Portland Downtown to Pioneer Courthouse Square?
Pioneer Courthouse Square is less than a half mile from the hotel.
How far is it from the Moxy Portland Downtown to Portland Union Station?
Portland Union Station is .8 miles away from the Moxy Portland Downtown or a 6-minute drive.
How far is it from the Moxy Portland Downtown to Portland International Airport (PDX)?
Portland International Airport is 12.2 miles away or approximately a 20-minute drive.
How far is it from the Moxy Portland Downtown to Pearl District?
Pearl District is is .9 miles away.
Does the hotel have a gym?
Yes, there's a fitness center that's open 24-7 with cardio equipment and free weights.
Is the hotel pet friendly?
Yes. The fee is $25 per pet, per stay.
Is this a boutique hotel?
It's part of Marriott.
What is the hotel's address?
585 sw 10th Avenue, Portland, Oregon, 97205
Anything else I should know?
There are board games!
#moxyportland on TikTok