Scene
A tableau of Native American art in an unexpected place
Stopping off the side of I-25 in Albuquerque, you might not notice anything that distinguishes this generic-looking high-rise hotel from the strip malls and Marriotts nearby. But, as soon as you step into the Nativo Lodge in Albuquerque, you'll find a 14-foot shaman welcoming you with open arms. The rest of the lobby is decorated with art and furniture inspired by the Hopi, with wood railings, tables made from traditional drums and colorful murals along the walls.
While the Native American decor gives the Nativo a definite sense of place, it's not the only hotel in New Mexico to adopt this motif. What sets this place apart are its 60 Artist Rooms. The minority-owned, New Mexico-based corporation behind the Nativo Lodge employed Native American artists to create individual installations covering entire rooms. Some, like David Gary Suazo's "Evening's Snow Come," which is painted to feel like an adobe, evoke a pastoral vision of the desert. Other's, like Roberta Begaye's "Contemporary Indigenous: Protection & Eternity," which alternates scribbled poems and graffiti with landscapes and portraiture, could be the cover of an album. If you want a break from your art gallery bedroom, you'll also find an indoor/outdoor swimming pool and a pretty decent bar at the Nativo, though neither is really what's drawing art lovers.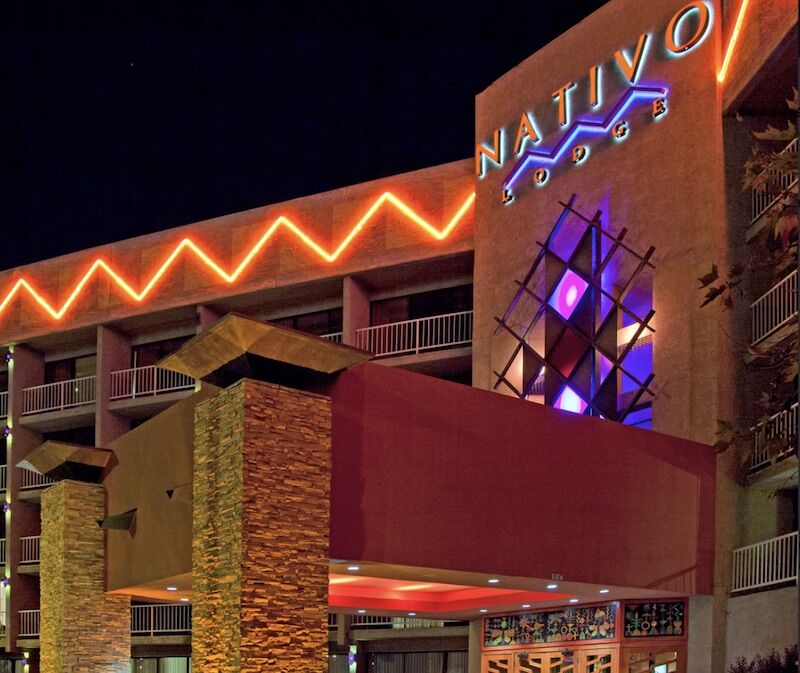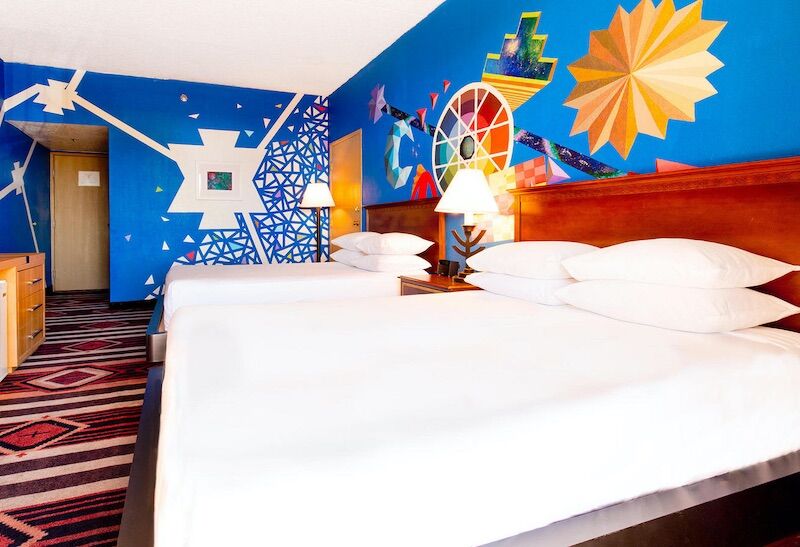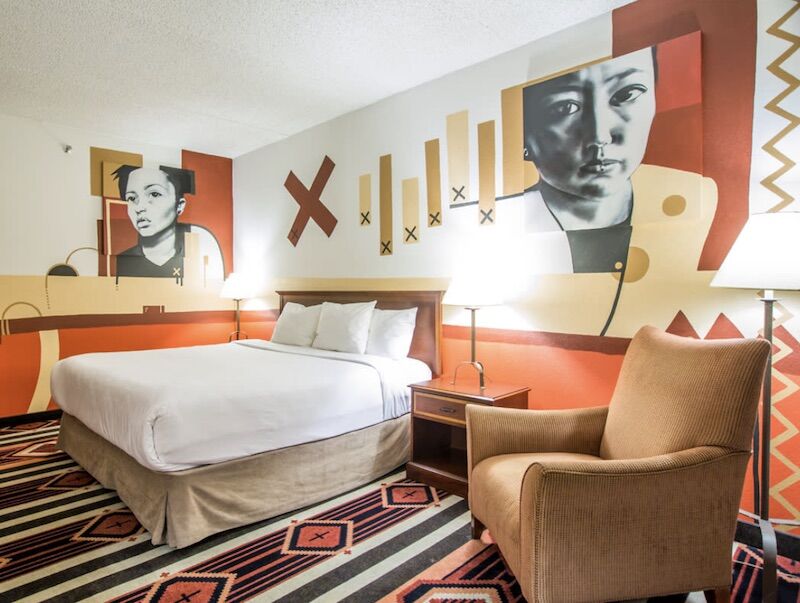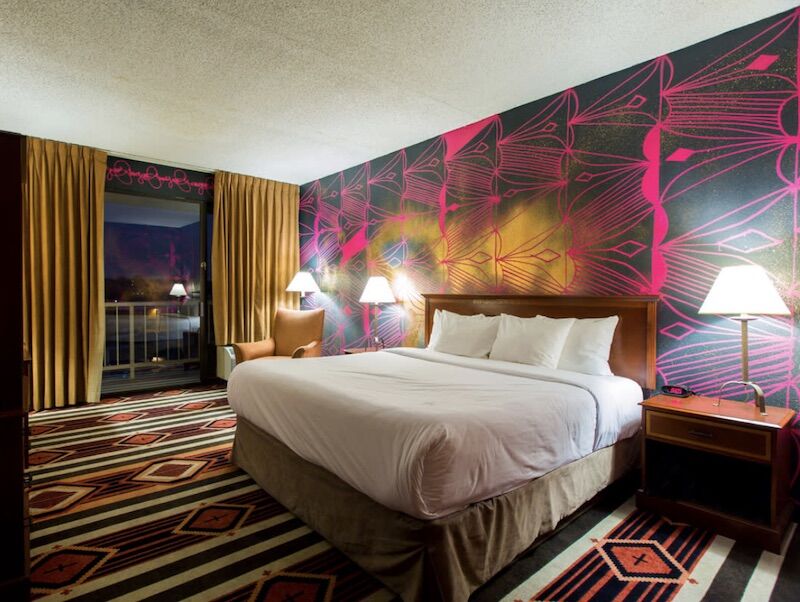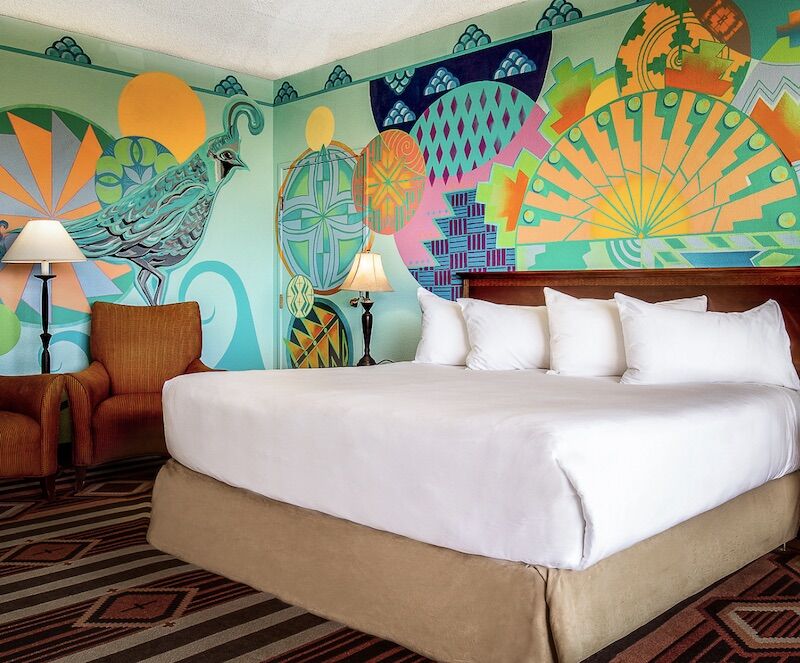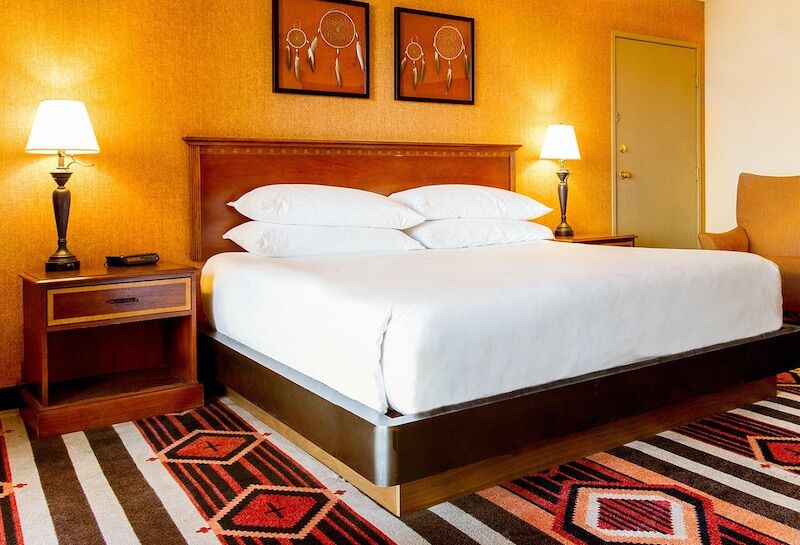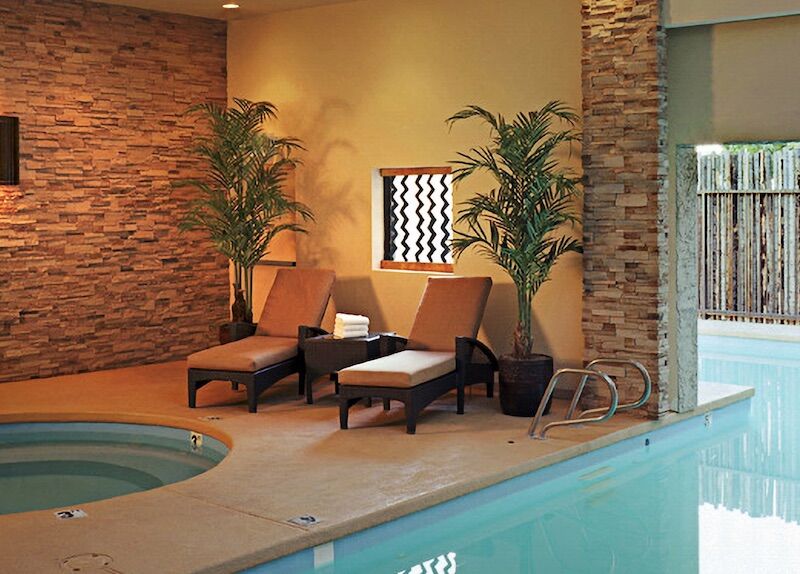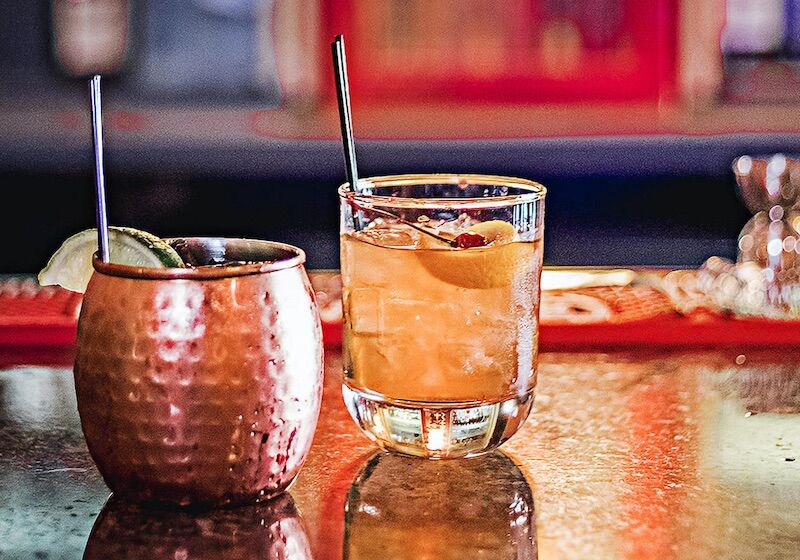 Rooms
Unique street murals with mountain views to boot
Initially, when owner Jim Long decided to transform this cookie-cutter Wyndham into the Nativo Lodge, he teamed with the Southwestern Association for Indian Arts to provide weeklong residencies for Native American artists to design the hotel's conference rooms. It transformed into something much larger, and now 60 rooms in the hotel are filled with provocative murals. When all is said and done, the hotel hopes to have 145 Artist Rooms.  
Yes, the Artist Rooms are each one of a kind but, in terms of furnishings and amenities, they're pretty basic. You'll get a comfortable bed, a Keurig coffee maker, a couple of chairs, a desk and a mini-fridge. If you're looking for luxury or high-end indulgence, the Nativo might not be for you. 
That said, if you're still intrigued and want to peruse what the artists have created, you can view all the Artist Rooms here. They're not the only rooms in the Nativo, however, and the rest fall into four categories:
Traditional Guestrooms – The standard rooms at the Nativo aren't bad, really, they're just a little bit of a letdown after you see the art in the other ones. They're adorned in what most might call Indigenous design, from geometric carpet to dream catcher art hanging on the wall. Each has either two queen beds or one king, and offers chairs, a desk and Keurig coffee maker.
Mountain Guestrooms – These are essentially the same as the Traditional category, but have phenomenal views of the Sandia Mountains and their trademark pink glow at sunset.
Junior Suites – The larger Junior Suites have the same design and ambiance of the Traditional Rooms, but also include their own balcony. They're not the epic, massive suites you might find at newer builds, but they get the job done if you need a little more room to spread out. Some offer great views of the Sandia Mountains too.
Presidential Suite – The Nativo has one Presidential Suite, the only multi-room suite in the hotel with a living room and separate king bedroom. It has two balconies and a fold-out couch in the living room, plus a kitchenette and double vanities in the larger bathroom.
 Room rates range between approximately $75 to $300 or more per night.
#nativolodge on Instagram
Location
You won't be walking much of anywhere, but the freeway isn't far
To put it mildly, the Nativo is not at the center of everything. While it's certainly the best hotel for art in Albuquerque, you're going to need a car if you want to go anywhere other than Petco. The good news is Albuquerque isn't nearly as traffic clogged as other cities, and, once you get in your car, it'll only be about 15 minutes to Old Town, downtown and all the "Breaking Bad" sightseeing you came here to see. For the most notable and quintessential things to do in Albuquerque, see our guide.
Meanwhile, here are some things to do within proximity of the hotel:
Tour the adobe streets of Old Town, where you'll discover some of the historical gems of this desert city that has been around for hundreds of years. Southwestern restaurants, souvenir shops and even the famous

Candy Lady

and her famous blue "Breaking Bad" candy are here.

Speaking of "Breaking Bad," you can take a tour in the same model RV Walt and Jesse used for cooking on the

Breaking Bad RV Tour

, which runs through dozens of locations from the show.

Hike to the top of Sandia Peak for unparalleled views of the city. If you're not up for the four-hour trek,

take the tramway

to the top instead.

Visit the 2,000-year-old

Pueblo of Acoma

, about an hour from the hotel, and one of the oldest continually occupied communities in America.

Cruise down Route 66 in Nob Hill, a neon-filled neighborhood near the University of New Mexico where you'll find wine bars, regular bars and plenty of food filled with green chiles.

Visit one of Albuquerque's eccentric museums.

The American International Rattlesnake Museum

boasts 34 live rattlesnake species and sits only 15 minutes away in Old Town. The

Balloon Museum

—

sort of the epicenter of the Balloon Fiesta

—

is a short eight minutes away.
Amenities
An indoor/outdoor pool and a hookah lounge in a teepee
Not to say that the Nativo is a one-trick pony, but it's also not teeming with amenities either. Probably the coolest one is a teepee in the hotel's outdoor space, where guests can post up and smoke hookah when the weather cooperates.
The Nativo has an indoor/outdoor pool, where you can enjoy the heated pool deck in the winter and the sunny outdoor deck in the summer. There's also a small fitness center, though, if you're in Albuquerque, you'll find better workouts in the mountains. Other amenities at the Nativo Lodge:
Free Wi-Fi

Indoor jacuzzi with jets

Free parking

Guest laundry
Food and Beverage
Lobby Bar
The Lobby Bar at the Nativo Lodge is exactly that: a good place to grab a drink at the end of the night, but not a destination by any means. It does, though, keep the Native American theme in its decor and offers some "Breaking Bad" themed drinks.
Spirit Winds Café
The Nativo Lodge's lone onsite restaurant is open for breakfast and dinner, and offers a decent menu of New Mexican food. It's nothing spectacular, but is a nice change from standard hotel restaurants with nondescript menus. So if you're hankering for green or red chiles and don't have time to drive around town, you can still find stuff here.
#nativolodge on TikTok