Scene
A trip back to Seattle's bygone pioneer era.
Perhaps more than any other hotel brand, Palisociety and its line of Palithotels ingrain themselves in a neighborhood through flawless design. This historic hotel near Pike Place Market is a perfect example, where hunter greens and retro furniture create a sense of turn-of-the-century Seattle in the heart of the modern city. The building it calls home is on the National Register of Historic Places, the former Colonnade Hotel built in 1900 that still retains much of its original structure.
The crowd at Palihotel Seattle is pretty much all tourists, though you might find a smattering of locals enjoying brunch or dinner at The Hart and The Hunter. The restaurant's got a retro vibe all its own, and if you told an unwitting guest that it and the hotel had been open for a century, they'd likely believe it. The whole property is a brilliant throwback to a Seattle of yesteryear, and adds a new layer of travel to any Seattle vacation.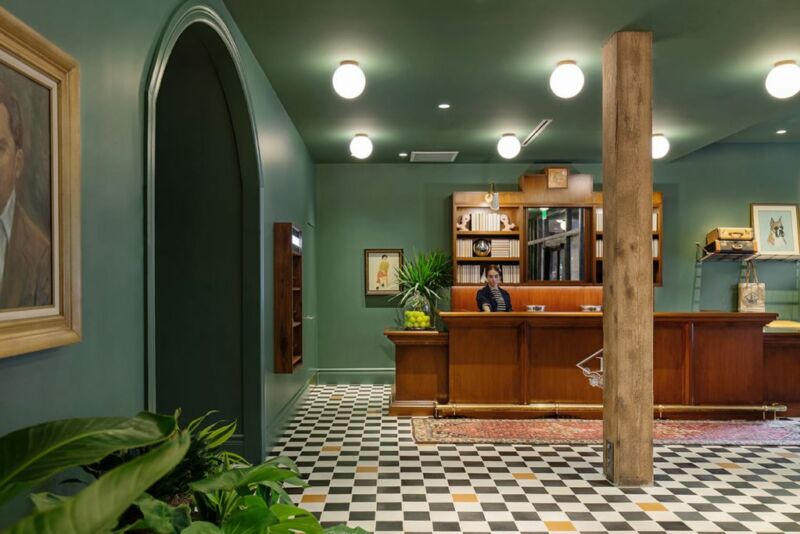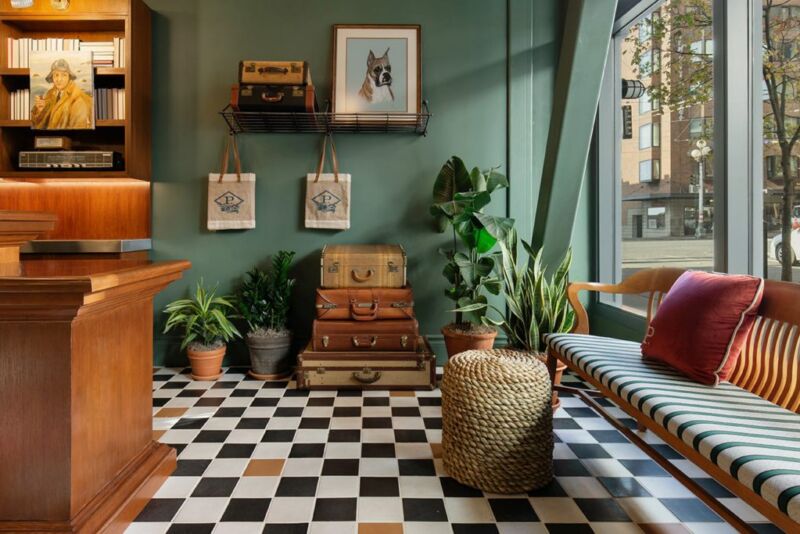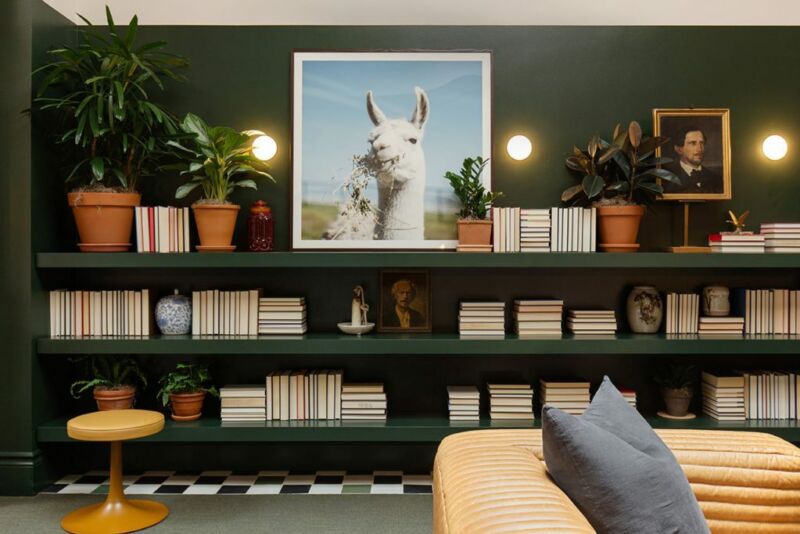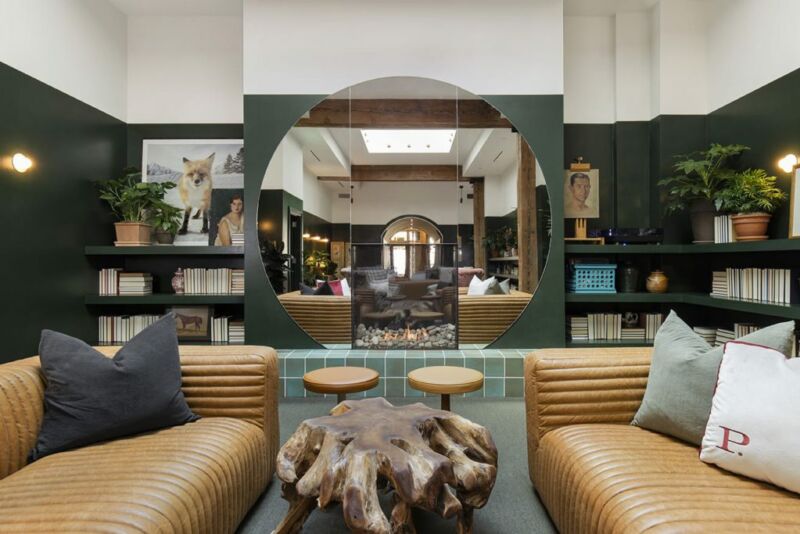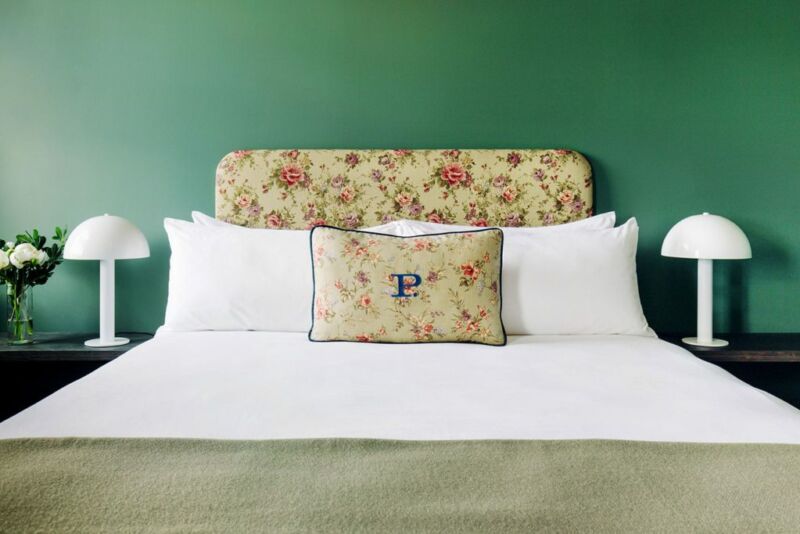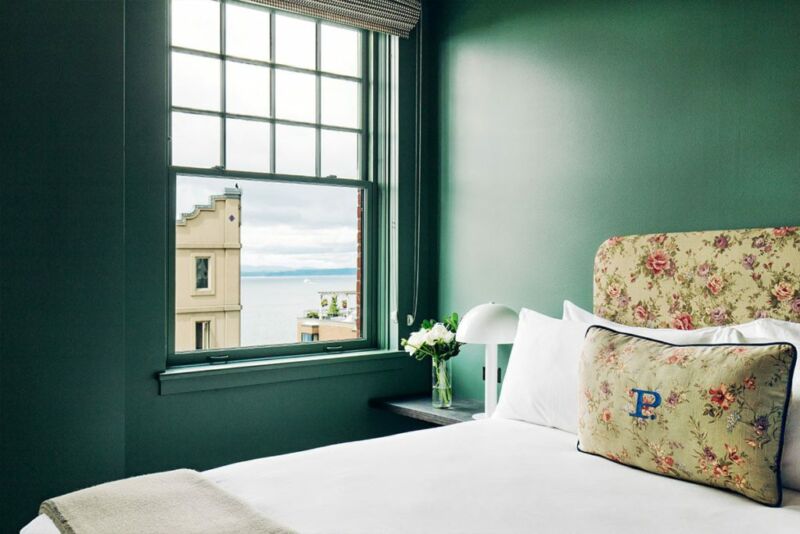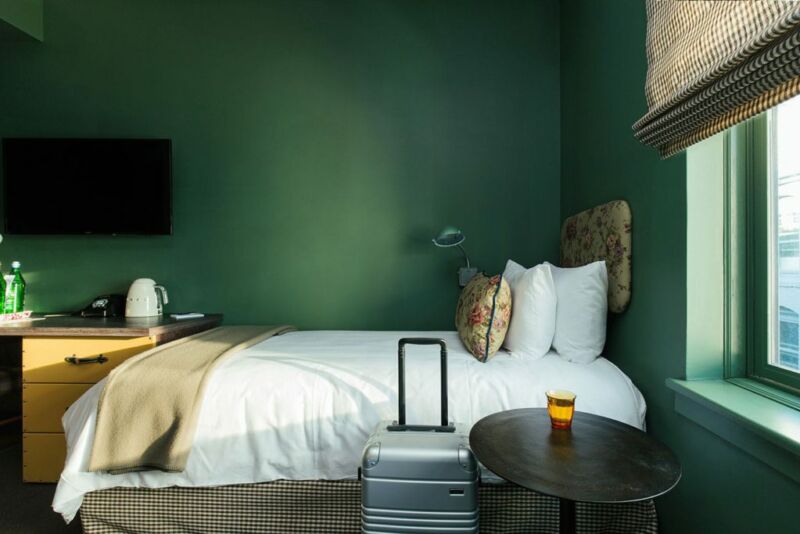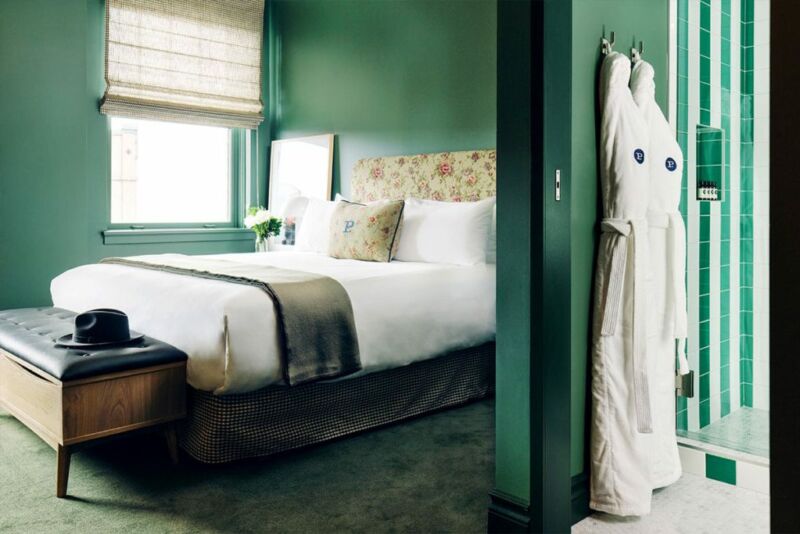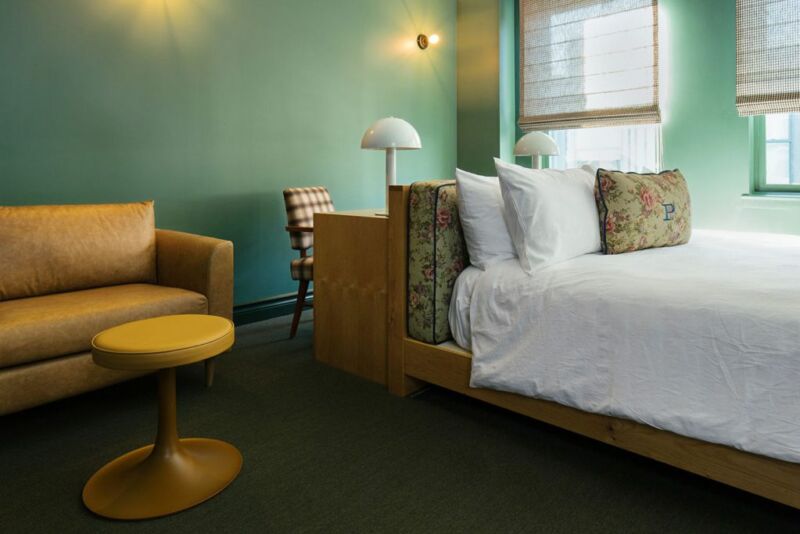 Location
Across the street from Seattle's most iconic market
The Palihotel Seattle sits literally across the street from landmark Pike Place Market, and while the city offers a lot more than flying fish these days you'd be remiss not to check it out while you're there. The central location also makes downtown, the Seattle Center, sports stadiums, and music venues easily walkable. You can also jump on the Metro buses along 2nd or 3rd Ave and easily traverse the city. There's a stop for the Link light rail at Westlake Center a couple of blocks away, which also has a station for the city's short monorail.
Some of the best things to do within a short distance of the Palihotel Seattle:
Rooms
Brick walls a big windows offer a unique perspective on the city.
Though the Palihotel is carved out of a 100-year-old hotel, the rooms are surprisingly large for a space so old. And though you're not exactly crammed into a turn-of-the-century shoebox you won't be spreading out much either. But if you're not there to unpack and stay a while, you'll enjoy how the rooms retain their old-timey charm with original brick walls painted black and a distinctly historic smell. They also have the Palihotel trademark sinks outside the bathroom, a nice touch if you're traveling with another person.
With hardwood floors and big pane windows with views out over the market or neighboring brick buildings, the rooms feel like they might have in 1900. They're decorated in old hunter greens, a nod to the timber days, and offer vintage Smeg refrigerators stocked with local beers and craft cocktails.
The Palihotel Seattle's rooms break down into the following categories:
Amenities
A first-rate coffee shop and restaurant, and a bar open until 9 pm
Living room
The Palihotel's common area is a comfortable space just past the main lobby, ideal for relaxing with your group or reading in peace and quiet. It's done up a little like a friend's weekend house in the San Juan Islands, with tree trunk tables, model sailboats, and book cases topped with native plants. The building's original beams frame the middle of the room, where you can post up on oversized couches or work from a wooden table.
Coffee
While the neighborhood isn't wanting for coffee shops, if you're not up for braving Seattle's notorious drizzle for your morning jolt, the coffee at the downstairs coffee bar is excellent. It stays open as long as the restaurant does.
This popular LA eatery opened its Seattle outpost inside the Palihotel, where checkered floors and original building pillars make it look like it's been there for decades. The food is hearty southern stuff with PacNW notes, like the King salmon burger with pickled fennel, and the butter biscuits with chili butter. It also houses Palihotel's bar, which serves fantastic classic cocktails until the wee hours of 9 pm.
Fitness center
The Palihotel does not have a fitness center.
Parking
It also doesn't have its own parking. If you bring a car, you'll be parking at the 3rd and Stewart Garage, about a block away. The daily rate for guests is $33, about a $2 discount from its usual daily rate.
#palihotelseattle on TikTok