Scene
New York is notorious for its "cozy" living quarters, which is what makes the Penny Williamsburg such a pleasant surprise: Its rooms could easily double as studio apartments. In most cities, a hotel room with a large kitchenette, closet and full-sized bathroom isn't anything to write home about, but in space-strapped NYC, finding a reasonably priced spot where you can spread out is like hitting the jackpot.
In fact, the Penny has a lot of the amenities that New Yorkers shell out for, like a rooftop with a panoramic view of Manhattan. Add the fact that you're just a 10-minute subway ride from the heart of Manhattan, and the place seems just about perfect, even to a local. 
Perhaps the hotel is so livable because people actually live here. The Penny shares space with Bard College, whose dorm rooms take up some of the upper floors and whose faculty sometimes use hotel meeting rooms as classrooms. That means on any given afternoon in the modern-art-filled lobby, you might see students mingling with well-dressed professionals headed upstairs for a margarita, the whole operation manned by tattooed, friendly front desk staff. It's a perfect slice of modern Brooklyn without the rising rents.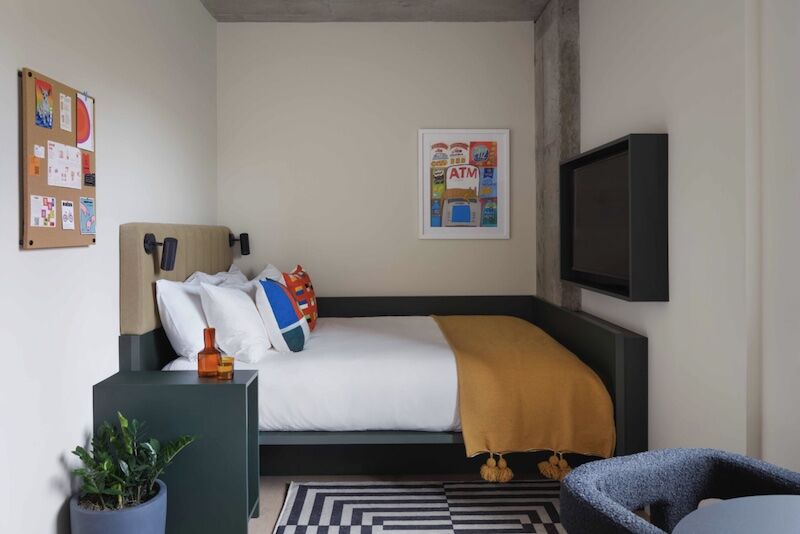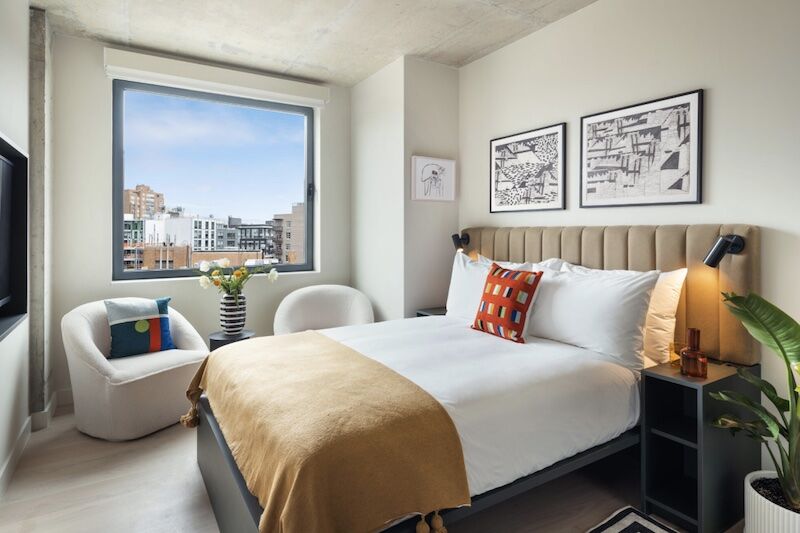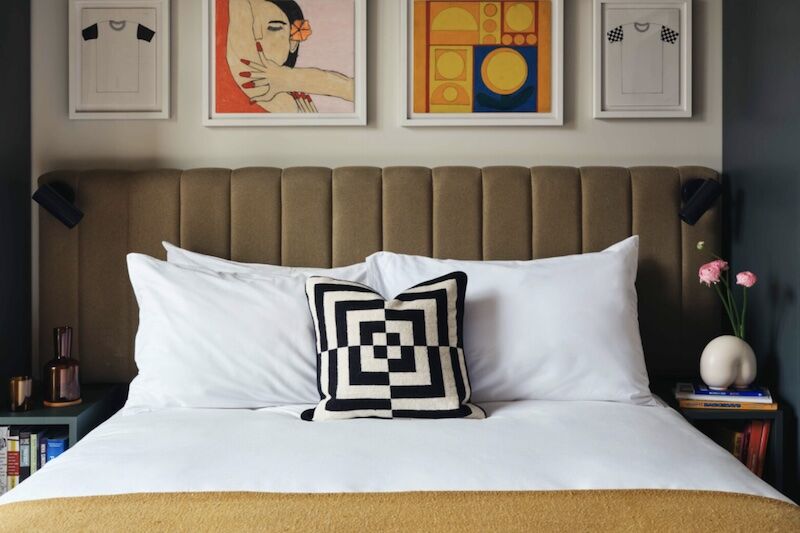 Location
Ten minutes from Manhattan, blocks from the heart of Billyburg
The East River creates a big mental barrier for a lot of New Yorkers, but a lot of hotels in Manhattan are actually further from the action than the Penny. A five-minute walk gets you to the L train, then a quick three-stop ride gets you to Union Square. Likewise, a seven-minute walk gets you to Bedford Avenue, the unofficial heart of Williamsburg. It's a pretty great spot from which to explore both boroughs.
New York City's attractions are world famous, but here is some stuff you may not have heard about that's close by:
Hit New York's celebrated food market Smorgasburg, which takes over Marsha P. Johnson State Park on weekends. It's about 10 minutes away by foot.
If you're a fan of Brooklyn Brewery and its famous Brooklyn Lager, head to where it all started at the Williamsburg taproom. It's less than 15 minutes away.
One of the best food and drink deals in New York is at the iconic Charleston bar on Bedford Avenue, where every beer-and-a-shot combo you order comes with a free cheese pizza. Your cost? $7, fully worth the 10-minute walk.
 If you're up for a train ride, the iconic roller coasters and Nathan's hot dogs of Coney Island are about an hour away on the subway. The Brooklyn Cyclones, a High-A Mets affiliate, play there as well.
Peruse the vintage styles that helped make Brooklyn a hipster hot spot at Brooklyn Flea and Artists and Fleas. The former is about half an hour on the subway, the latter is a 15-minute walk.
Rooms
Bigger than most New York apartments, with beds against the wall
The Penny's 118 rooms all feel like mini-studios, done up in colorful, minimalist design with desks, large bathrooms and full kitchenettes. Corkboards on the wall pinned with Wi-Fi instructions and other information give the rooms a homey feel, as do large mini-refrigerators, the hipster essential pour-over coffee makers and child-like art from Michael Pellew. Rather than a mini-bar, the rooms have a QR code that takes you to a virtual mart stocked with all the snacks and sundries you're used to. If you purchase something, it will be delivered in only a few minutes.
Room types. Okay, here we go. At the Penny Williamsburg break down into the following categories:
Queen Room – These models of special efficiency clock in at 200 square feet, but putting the bed against the wall (in true New York fashion) opens up enough space for a sitting area, desk, full bathroom and kitchenette.
Niche Queen – This room is a little larger at 220 square feet, and allows you to access the queen bed from both sides.
Sleeper Queen – An even larger queen room that also includes a sleeper sofa in case you've got someone crashing with you.
Supreme Queen – The Penny's second-highest tier of room. This one includes yoga mats and rollers, with terrazzo floors, a freezer and a larger work area.
Majesty Suite – At 700 square feet, this is basically a mansion in New York City. OK, that's a stretch, but the Penny's lone suite does have a full living room with bright, modern furniture, a kitchen big enough to cook in, a soaking tub in the bathroom and a private patio with a dining table. If the weather calls for it, eat al fresco. 
Amenities
Art, coffee and a banging rooftop view
Coffee and art
The Penny is named after one of the owner's pet chihuahua, a fact you'll learn as you pour free lobby coffee into a cup adorned with Penny's picture. Thus, the hotel is incredibly dog-friendly, and has a big, graffiti-filled courtyard where dogs can play. There's also an art gallery in the lobby and adjoining meeting space with rotating works, all of them supporting artists with disabilities. The hotels has partnered with two local non-profit organizations, Land Gallery and Pure Vision Arts, to source the art and these groups work with artists with developmental disabilities.
Outdoor spaces
In addition to the central courtyard behind the lobby, the Penny also has a second-floor patio that overlooks the North 8th street below.
The Penny's rooftop bar and restaurant is an absolute stunner, framed by two sprawling patios and floor-to-ceiling windows that look out over the Manhattan skyline across the river. ElNico serves Mexican-inspired cuisine and is ideal for sunset margaritas from the extensive specialty menu. If you get too tipsy to make your dinner reservation, chef Fer Serrano's fried oyster tacos, beet and tahini mole and scallop aguachiles are delicious. The family-style selections ensure you won't leave hungry, especially if you order the carne asada with bone marrow and avocado puree.
Fitness center
The Penny doesn't have an on-site fitness center, but it does partner with nearby Chalk Gym for $25 per day.
Parking
If you're crazy enough to have a car in New York, you can park at the iPark lot at 247 N. Seventh St. for $25 per day.
FAQs
What is the address of the hotel?
Penny Williamsburg is located at 288 North 8th Street, Brooklyn, New York, USA
When is check-in and check-out time at Penny Williamsburg?
Check-in is at 3 PM and check-out is 11 AM. They also offer an express check-in.
What amenities does the hotel offer?
(Also see above) Some of the in-room amenities include complimentary coffee, a mini fridge with freezer, a microwave, in-room micro library, air conditioning, fine linens, robes, HDTVs with Chromecast, fancy toiletries, free wi-fi and more. The hotel also offers parking (that's an extra fee though, see above) a rooftop restaurant, free wi-fi in public areas, luggage storage and a 24-hour front desk.
Does the hotel offer any concierge services?
Dry cleaning and laundry service are offered to guests.
Is room service offered at Penny Williamsburg?
No, though they have a digital minibar and snacks can be delivered to your room.
Is this a pet-friendly hotel?
Pets are welcome at Penny Williamsburg for free. According to the hotel's website, there is a limit of two pets under 75 lbs. Though guests with pets are asked to sign a waiver regarding damages to rooms. Inquire when you book the room or see the front desk.
How far is it from Laguardia Airport to Penny Williamsburg?
It's less than seven miles though depending on the time of day the drive could be a half hour or an hour (or more).
How far is it from JFK Airport to Penny Williamsburg?
It is more than 14 miles between JFK and the hotel. The drive time could be 45 minutes to 60 minutes (or more, or less) depending on the time of day.
How far is the Brooklyn Bridge from the hotel?
Brooklyn Bridge is 4.4 miles away.
Is cash accepted at this hotel?
Credit cards (Visa, Diners Club) and debit cards and accepted. Cash is not accepted.
Is there a free cancellation policy?
There is a free cancellation policy but there are limits on the timeframe. Call the hotel for specific details.
Is the hotel owned by one of the big chains?
The boutique hotels is by the Sydell Group, which is known for other cool hotel brands like NoMad, Line, and Freehand.
Is there anything else to know?
Yes! In true NYC fashion, the staff speaks many languages, including including English, Spanish, French, Chinese, Greek, Arabic, and Vietnamese.
#pennyhotel on TikTok