Scene
An eco-friendly escape
As you approach the Proximity Hotel, you'll likely notice the 100 solar panels on the roof. They are the first hint at the hotel's vibe, which is of an energy-efficient futuristic factory. It touts itself as the "greenest" hotel in America and has cred in this area, as the first in the country to achieve a LEED (Leadership in Environmental and Energy Design) status, back in 2008. The hotel has more than 70 sustainable practices, including high-efficiency plumbing to reduce excess water use and wood salvaged from a downed tree, which was used in the bar. All that doesn't mean it isn't warm and welcoming, because it is. But, it's also a beacon for environmentally conscious travelers or ones looking for modern comfort and green space outside of the tourist zone.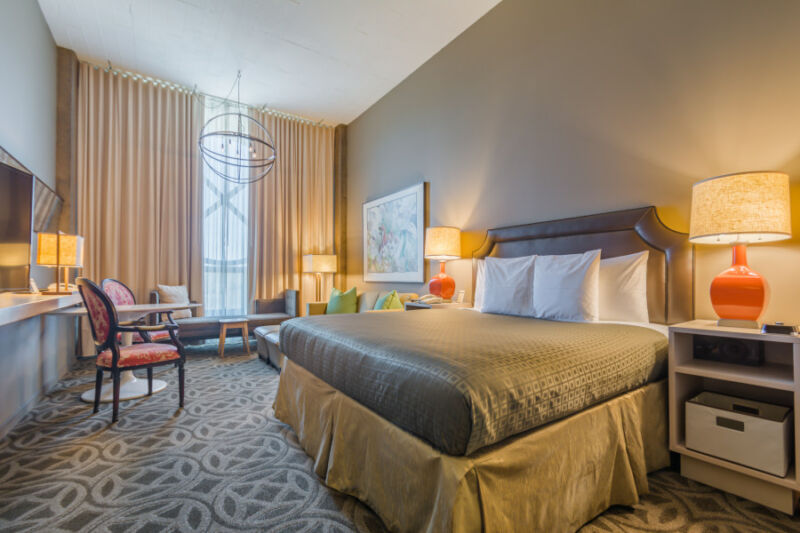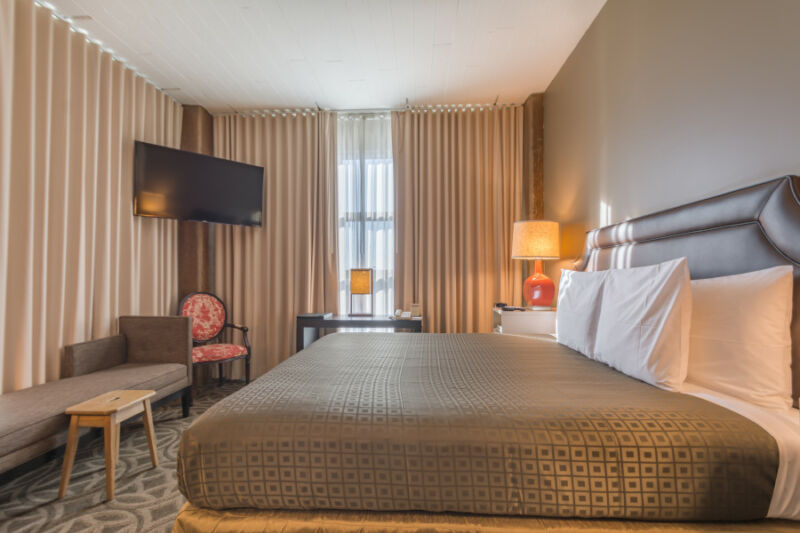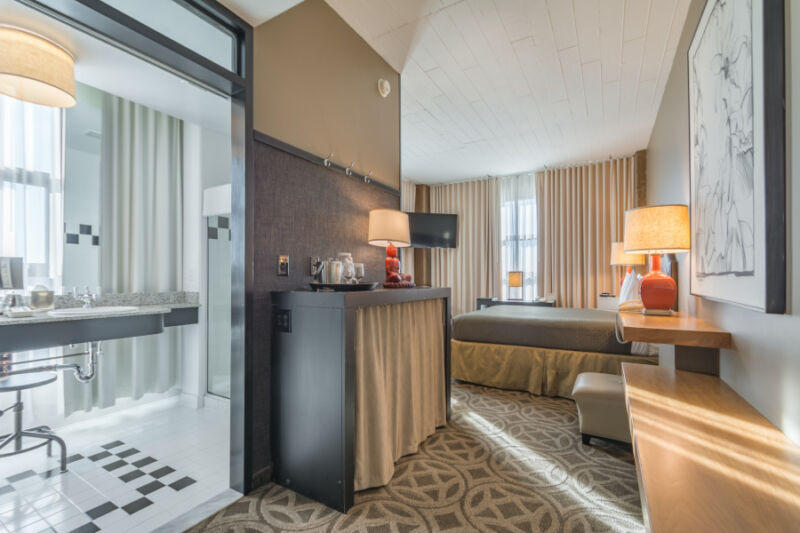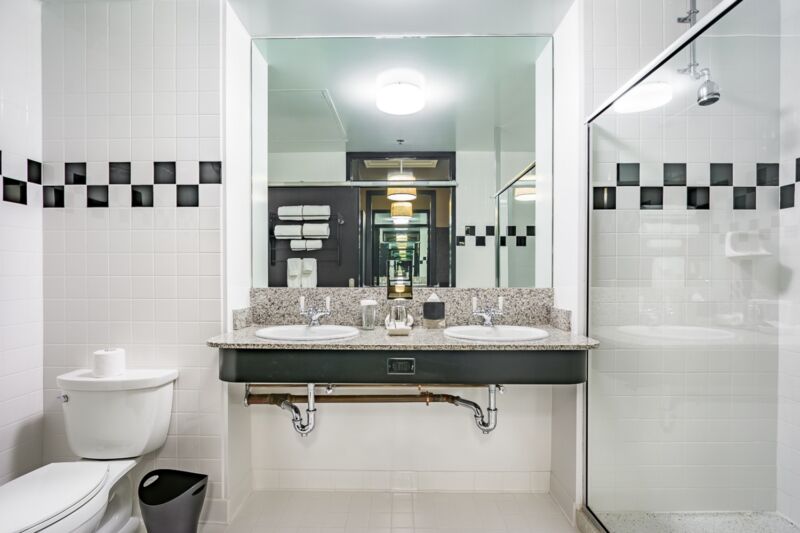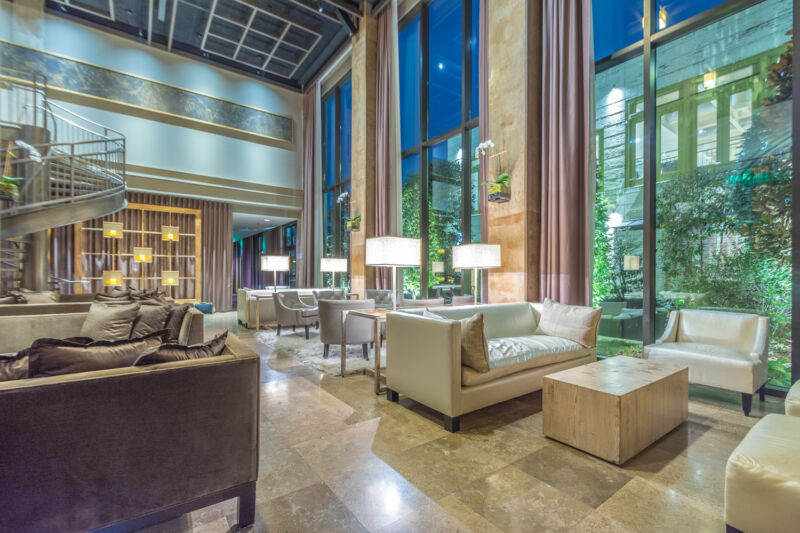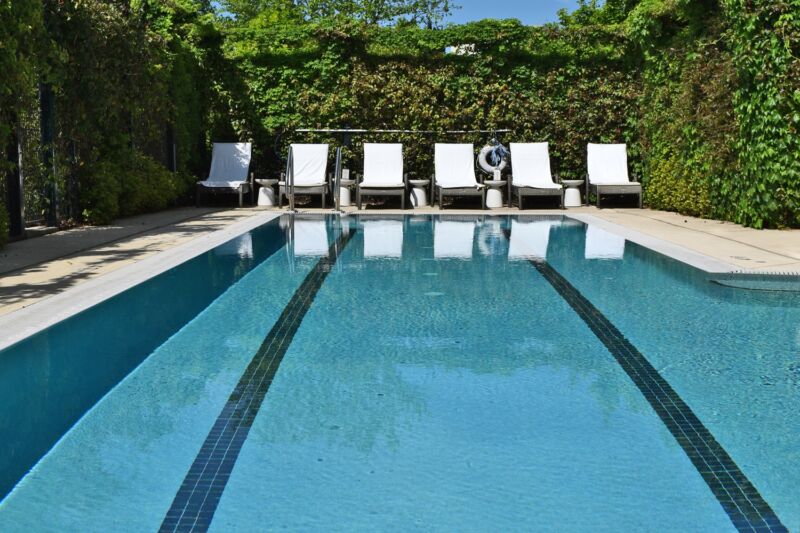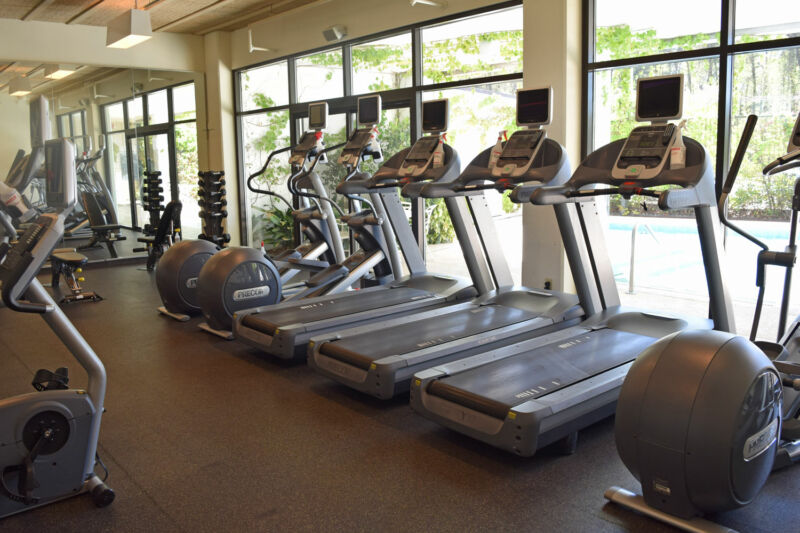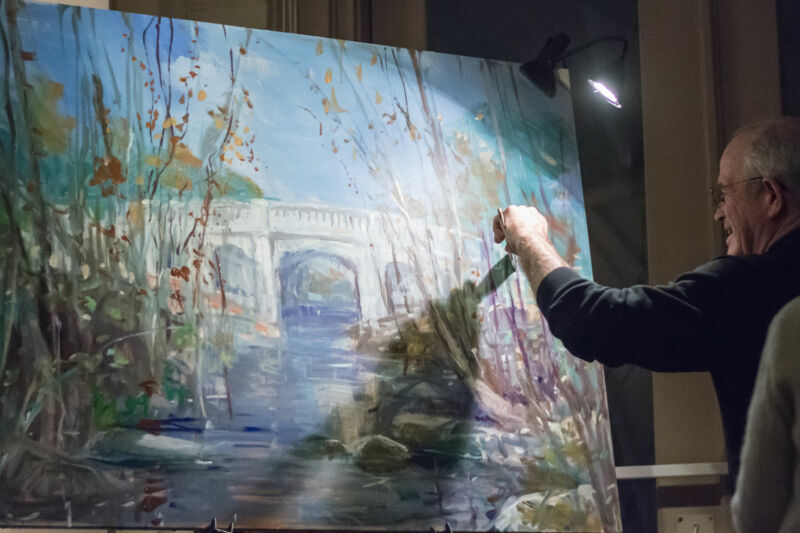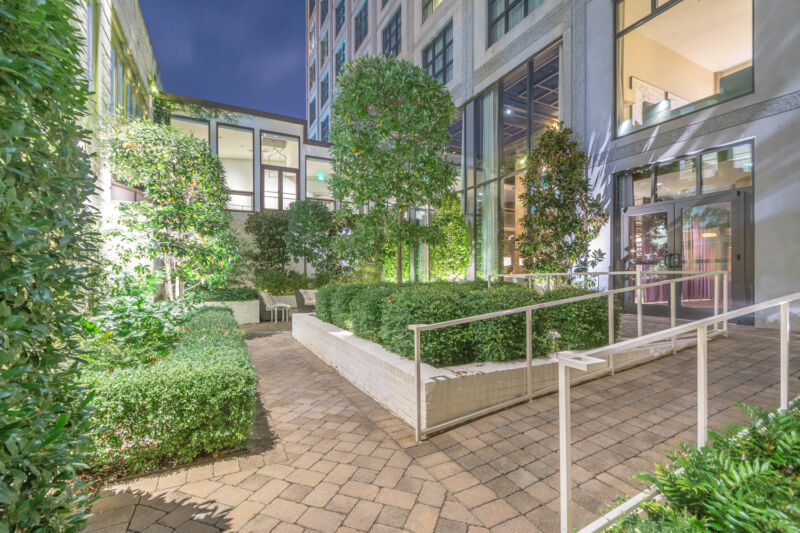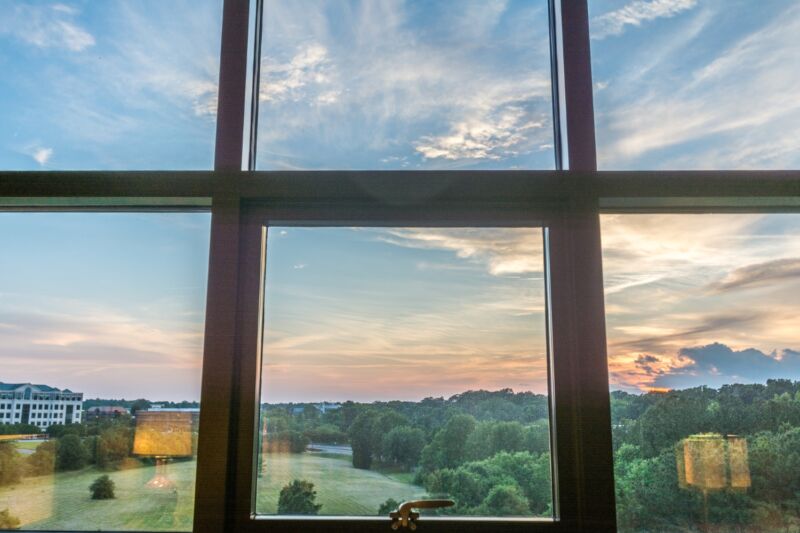 Location
Tucked away from downtown in a quiet area near offices and strip malls
The Proximity Hotel isn't the most convenient in terms of visiting the downtown landmarks like the International Civil Rights Center and Museum or even the college campuses of Greensboro College, Guilford College and the University of North Carolina Greensboro. 
You'll almost definitely need a car during your visit, but it is possible to walk to a few locations from the hotel. One of them is the O.Henry Hotel, owned by the same company as the Proximity, which is named for the writer that called Greensboro home. Guests can also take advantage of bike rentals to get to where they want to go.
A few places you can easily reach include: 
Rooms
Hotel rooms highlight local makers with custom furniture
Proximity Hotel has 147 guest rooms across eight floors, all in a loft-style layout, including accessible rooms and six suites. The furnishings are designed by the hotel's in-house team, and rooms include recent design and architecture magazines. Beds have Magi bedding, and there are blackout curtains over the windows for a restful night's sleep. USB outlets are nearby for charging.
All rooms have free Wi-Fi, seating areas and televisions, with original artwork by artist-in-residence Chip Holton. The bathrooms have plush bathrobes and Aveda bath products. The rooms also have coffee makers and coffee, mini-fridges and microwaves. On each floor there's a station with hot and cold water.
Loft King: These rooms have king-sized beds and have options for corner rooms and rooms in the center of the building.

Loft King Spa: This room has all of the amenities of the other rooms but also has a Terrazzo shower and separate soaking tub, windows that open into the sleeping room and double vanity sinks. 

Loft Double Queen: The queen version of this room is slightly larger than the king and has a tub, but otherwise has the same features.

Loft Studio: The studio room is an add-on for those staying in a king or queen room with a connecting door for added space.

City Suite: The most lavish of the Proximity's rooms, this corner suite on the top floor has a large living area, a dining table and wet bar.
Amenities
Perks appeal to business and leisure travelers alike
The features of the Proximity Hotel are fairly standard, including a seasonal outdoor swimming pool and a 24-hour fitness center with treadmills, ellipticals, stationary bikes and weights. Parking is free, or for a fee if you opt for valet. 
But they also reward frequent visitors and locals. The business traveler loyalty program includes perks like discounted rates and restaurant vouchers. Locals are as common a sighting at the restaurant as hotel guests, and reservations are currently required.  
Speaking of the restaurant, Print Works Bistro actually predates the hotel and is reached through a glass walkway from the social lobby or from the parking lot at street level. The restaurant is open for weekday breakfast, weekend brunch and nightly dinner. 
The menu has a little bit of everything, with European influences. Favorite dishes include quiche Lorraine, pan-seared trout and bacon-wrapped meatloaf. Guests can enjoy their favorite dishes from Print Works Bistro on the creekside terrace or through room service. There's also an extensive bar menu, with 75 wines available by the glass as well as a seasonal cocktail menu. The Negroni is a great choice, made with Emulsion Gin from Greensboro's Fainting Goat Spirits.