Scene
Luxury log cabins set along a mountain creek
"Rustic" almost feels like a misnomer at the Rustic Inn. Don't let the architecture fool you. At first glance, the log cabins and wood-filled lodge look like a trip back to spare structures of the Wild West, but walk inside the resort or any of its amber-walled rooms and you'll be ensconced in an aura of luxury. The hotel's private cabins are set along Flat Creek, which winds its way out of the National Elk Reserve and into downtown Jackson. Beyond the creek, you'll find a seven-acre wilderness preserve, ideal for snow-filled strolls in the winter or fishing and hiking in the summer.
Though it's just a few minutes from downtown Jackson, the Rustic Inn Creekside Resort & Spa feels a world away. Here, you can hole up in your little cabin and enjoy the wilderness without any interruptions.  The cabins and rooms are equipped with balconies and Adirondack chairs, giving guests a front-row seat to the Tetons. The property spans 12 acres, and, even though the inn has 167 rooms, you never really feel like anyone else is there. That is, unless you're enjoying a bison steak at the Bistro, or recounting your days' activities at the bar. The Rustic Inn is perfectly situated for adventure too, with an onsite activities building that'll help you figure out how to best explore Jackson Hole's spectacular wilderness.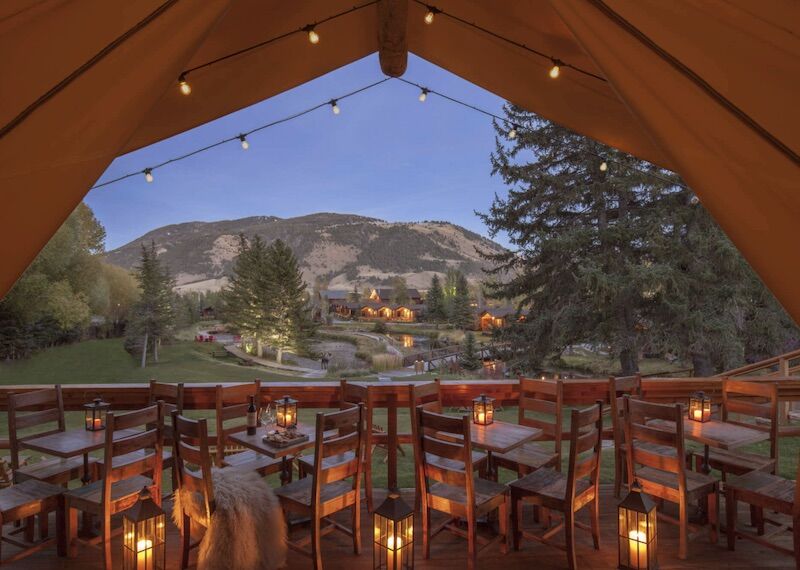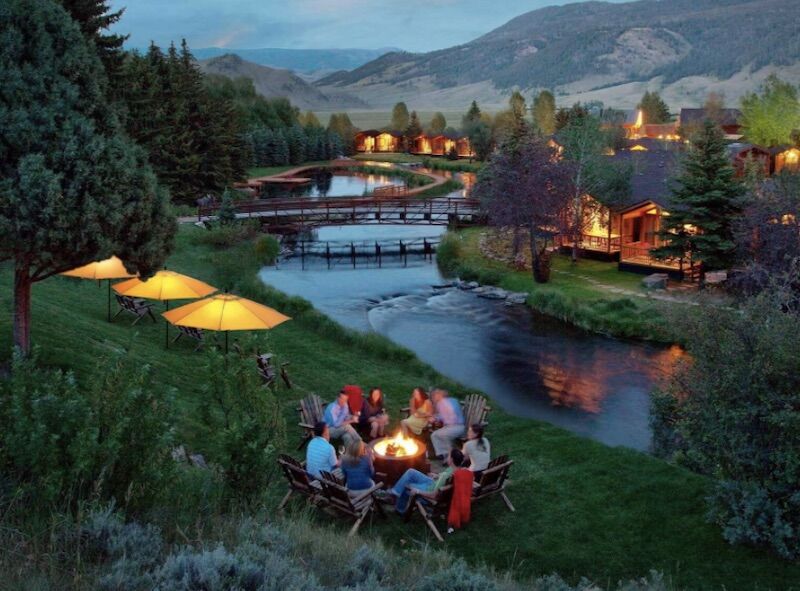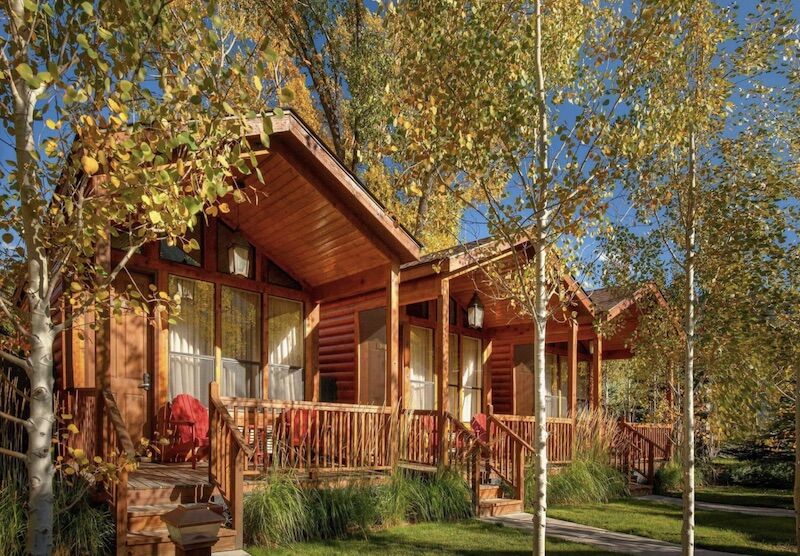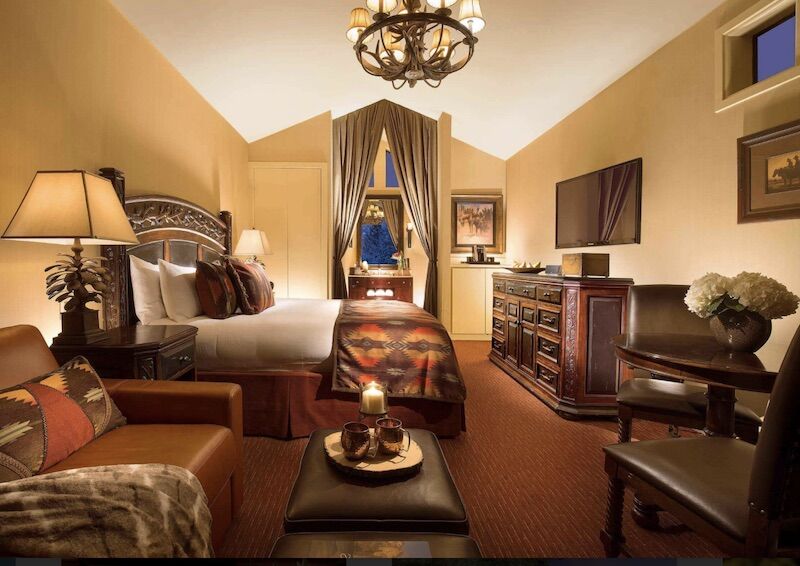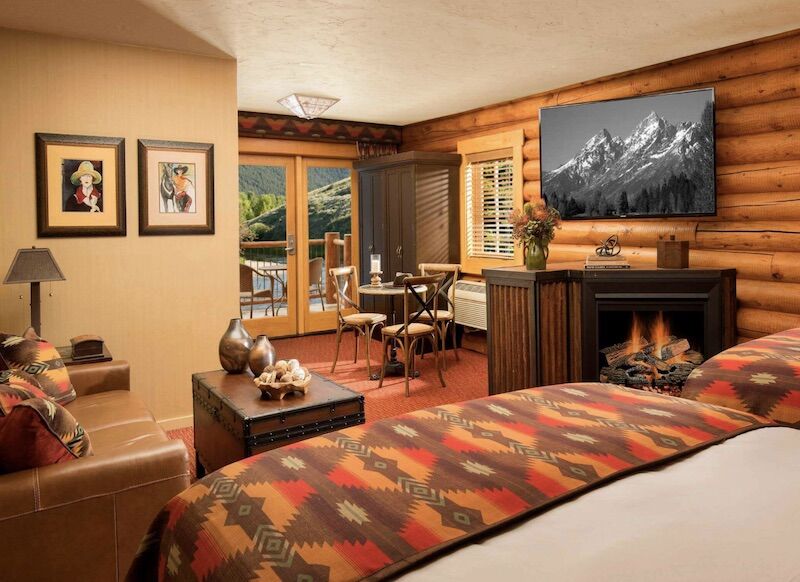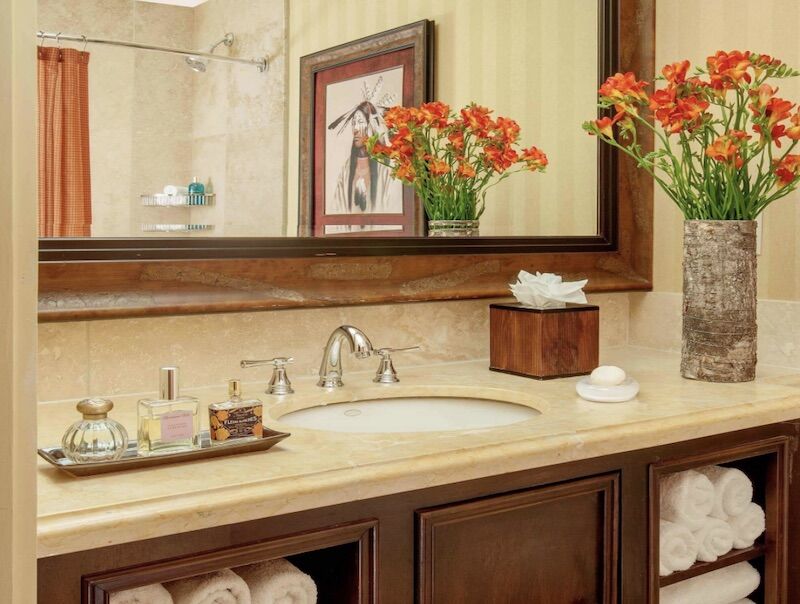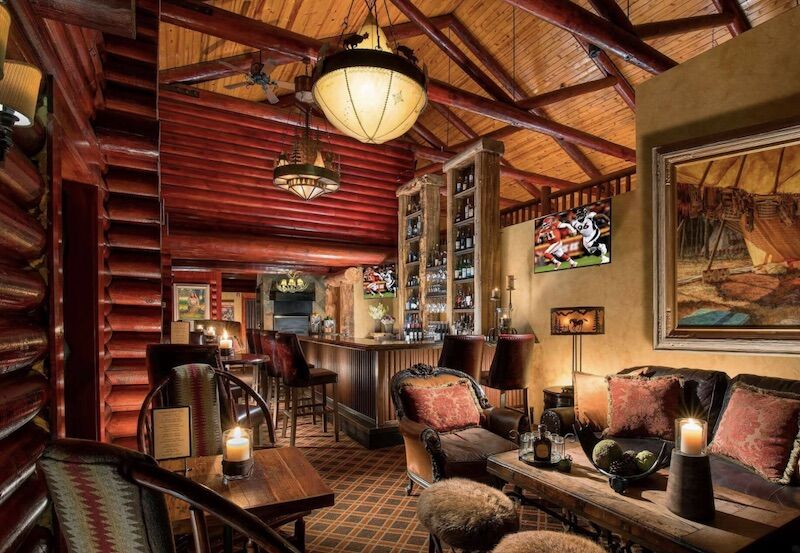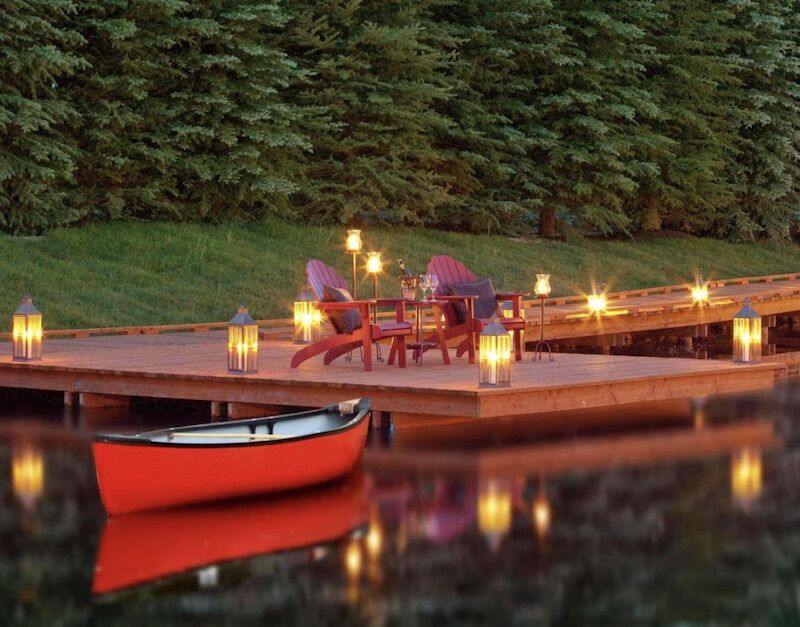 Location
A few blocks from downtown, and an hour from most everything else
The Rustic Inn is four blocks from Jackson's town square, so even in the winter the hotel's easily walkable to pretty much anything in town. Its setting makes you feel like you've absconded to some far-off wilderness, but you can be downing beers at the Million Dollar Cowboy Bar within minutes. The bars and restaurants along Cache Street are all super close and won't take much effort to explore from the hotel.
You're also about 75 minutes from Yellowstone National Park and a scant six minutes from Grand Teton National Park. That's almost walking distance.
To see the most notable and quintessential things to do in Jackson, see our full guide here. Here is some other stuff to check out near the Rustic Inn:
Jackson Hole's town square is home to the longest-running gunfight show in America, which kicks off at 6 p.m. every day between Memorial Day and Labor Day.

Go rafting down the Snake River, which, while not as wild as some others in the West, still serves up Class II and III rapids. The hotel's Adventure Cabin can help you arrange a trip.

Catch an acoustic set at the iconic

Mangy Moose

, Jackson Hole's biggest spot for apres-ski and live music. It's in Teton Village, about 25 minutes away by car.

Closer to home, you can get your live music fix at the

Silver Dollar Bar & Grill

, a Western show and music venue in downtown Jackson Hole.

If you're traveling in the summer, be sure to spend at least one night at the

Jackson Hole Rodeo

, only a mile from the hotel.

Soak among the trees at

Granite Hot Springs

, a naturally heated hot spring deep in the Bridger-Teton National Forest. It's about an hour's drive from the hotel.

One of the lesser-known attractions in Jackson Hole is the

National Museum of Wildlife Art

, a museum built into a scenic hillside with views out over the National Elk Refuge. Inside you'll find over 5,000 works, including an impressive collection of works by Georgia O'Keeffe.
Rooms
Log-lined walls and fireplaces create an homey feel year-round 
The Rustic Inn's guest rooms are its signature, putting guests in log cabins — or guest rooms that feel like log cabins — for a romantic and secluded mountain experience. From the wood-lined walls to the fireplaces and balconies, everything feels cozy, even in the height of summer.
Standard in each room, you'll find free Wi-Fi, double pillow-top mattresses, Molton Brown bathroom amenities and flatscreen TVs with DirecTV.
Room types, cabins and suites fall into the following categories: 
Superior Guestrooms – These double-queen rooms may be the entry-level offering at the Rustic Inn, but they still have log-lined walls and come with their own fireplace. They're adorned with Western art and Native American-inspired decor, as well as a couch, small seating area, microwave and coffee maker. Each room also includes a private deck or covered patio, and are available on the creekside if you want your morning coffee with a water view.
Deluxe King Guestroom – The smallest king rooms are also the only rooms set in the historic log building, offering between 250-350 square feet and vaulted ceilings. They include a desk and small seating area, as well as plenty of space to unpack.
Superior Cabins – These are far and away the most popular rooms at the Rustic Inn, and the hotel's biggest draw. At 400 square feet, they're not huge, but the vaulted ceilings and decks make them feel a lot bigger. They come in both king bed and double queen categories, with the queen cabins offering a little bit more space. The rooms are all detached from the others, and if you're lucky enough to snag a Creekside cabin it'll make for a scenic sunset.
Spa Suites – The Spa Suites sit in a separate building on the south side of the property, with their own grand lobby and private bar and access to the full-service spa. They range from 450 to 1,500 square feet, some with private hot tubs, others with spacious private decks for entertaining. Each suite includes a personal butler and daily, custom-cooked breakfast. Some also have full kitchens, and all have separate soaking tubs in the bathroom.
Room prices can begin as low as $170 and high as $500 depending on the time and season you book. 
Amenities
Nature abounds on a private wilderness reserve
The most unique amenity at the Rustic Inn is its seven-acre wilderness preserve, where wildlife runs free and you may spot anything from an elk to an otter while wandering the grounds. The protected land sits alongside Flat Creek, and, in the summer, you can take fishing trips with one of the hotel's guides. Even if you're not into fishing, it's worth taking a stroll on the Wetlands Walk, an eco-conscious path through the wilderness that immerses you in the terrain. 
If you can't quite decide what part of the great outdoors you want to explore first, head over to the Adventure Cabin, a kind of activity concierge and gift shop not far from the main lobby. They can help you plan your excursions and sell you any gear you might need for your adventure. 
The Rustic Inn also boasts a state-of-the-art spa where you can recharge after a day of  combing through Tetons. Off the main lobby, you'll find the sunny resort pool, which has hot tubs for the winter and a spacious pool deck for summer. There's also a 24-hour fitness center, or gazebo, just in case a full day on the mountains wasn't enough exercise for you weekend warriors.
Other amenities at the Rustic Inn:
Shuttle service, ski shuttles

Free Wi-Fi, internet access

Onsite concierge

Breakfast buffet

Ski resort shuttle service during winter

Business center

Housekeeping on alternate days

In-room spa robes

Keurig coffee machines

Free parking
Outdoor pool
Seasonal room service
Fire pits
Our Spa includes a relaxation room, co-ed steam room, sauna, and outdoor private hot tub
Food and Beverage
What is a mountain lodge without a log cabin bar where you can recount your day over a cold beer and some exotic game? That's the idea at the Bar and Bistro, where guests mingle over cocktails, then indulge in a menu full of dishes you won't find at home. The mountain elk or Wyoming bison steaks are a must. If you're not feeling that much meat, the bison Bolognese is a delightful surprise.
FAQ
What time is check-in and check-out?
The check-in time is 4:00pm MST. Check-out time is 11:00am MST.
How far is Jackson Hole Airport from the hotel?
The airport is nine miles away or about a 13-minute drive.
What is the hotel's address?
475 North Cache Street, Jackson, WY 83001