Scene
Art is everywhere
Milwaukee is known for a lot of things: beer, the Fonz, cheese curds with every meal. Art, however, is one of the city's more under-appreciated assets. No hotel showcases it like the Saint Kate. From the time you walk in the door and are greeted by a life-size wicker horse, staying at the Saint Kate is the closest thing to sleeping in a museum you're finding in Milwaukee.
The lobby's central bar and lounge often host live music, and bartenders pour artful craft cocktails and modern paintings line the wall. Elevators are done up in moving, digital art that add to the sensation of rising and falling. Rooms are covered in art, some complete "canvases" covered by a local artist. There's a gallery in the lobby from the Museum of Wisconsin Art, and even the hotel sundry shop looks more like a museum store than a place to pick up microwave popcorn.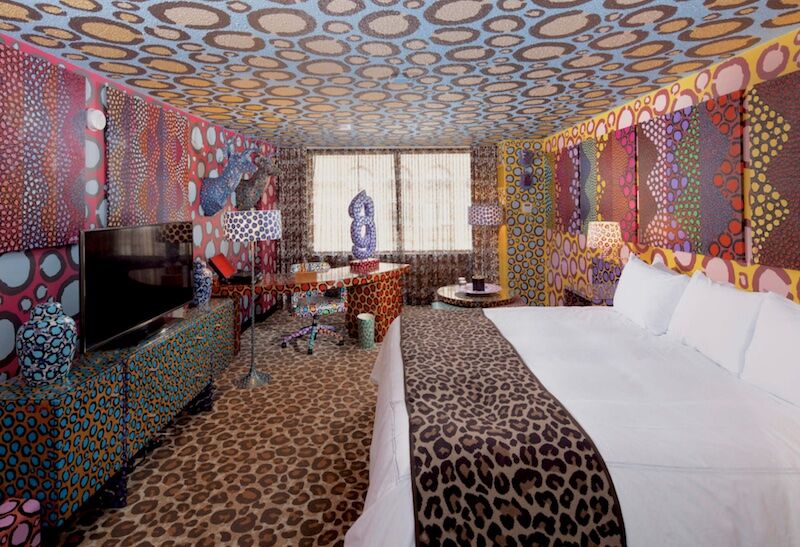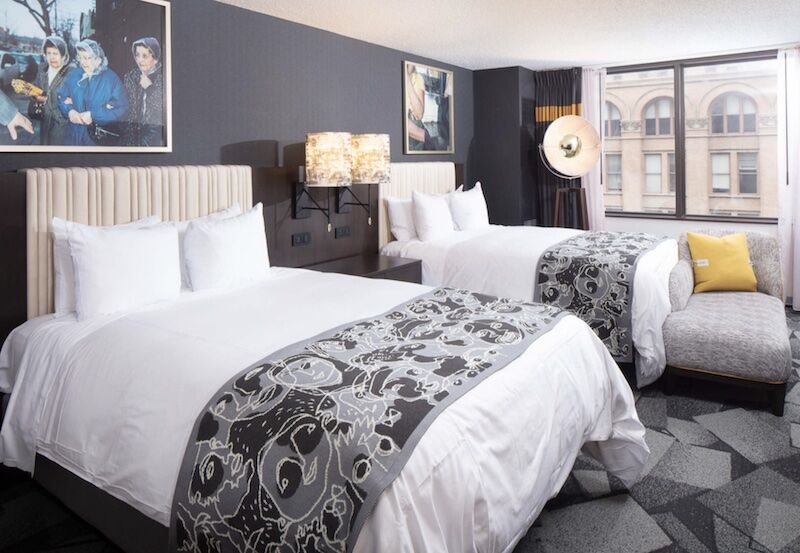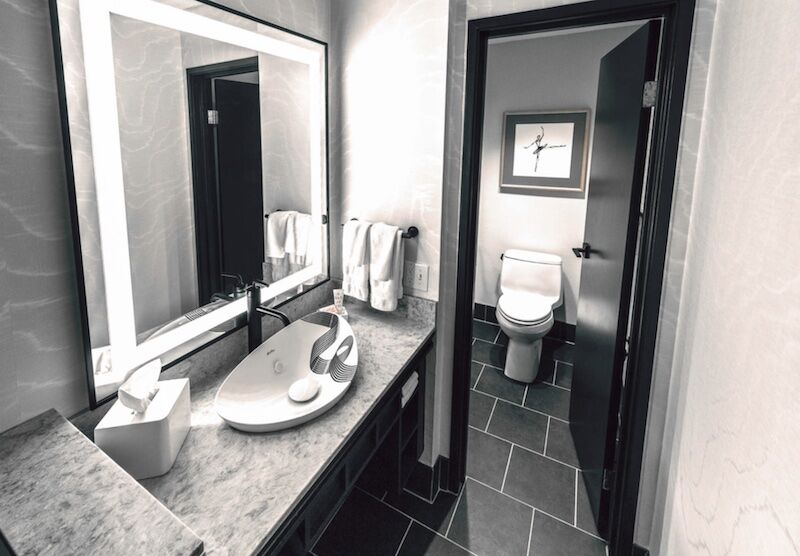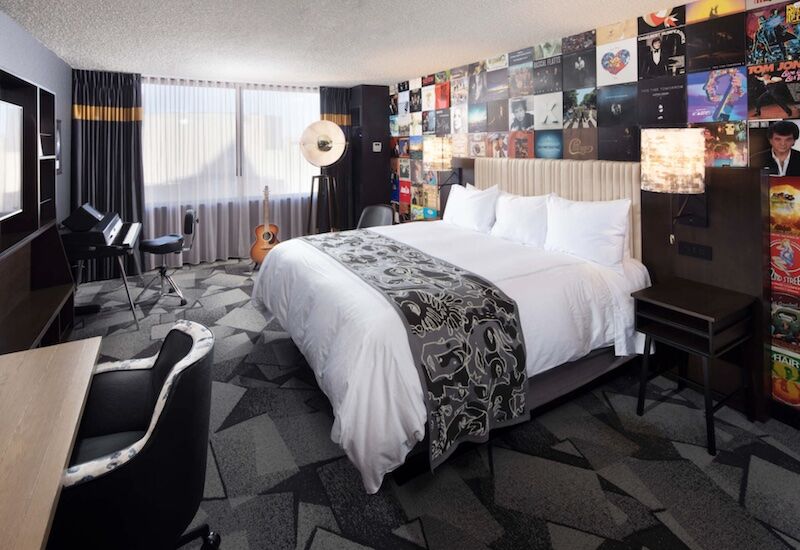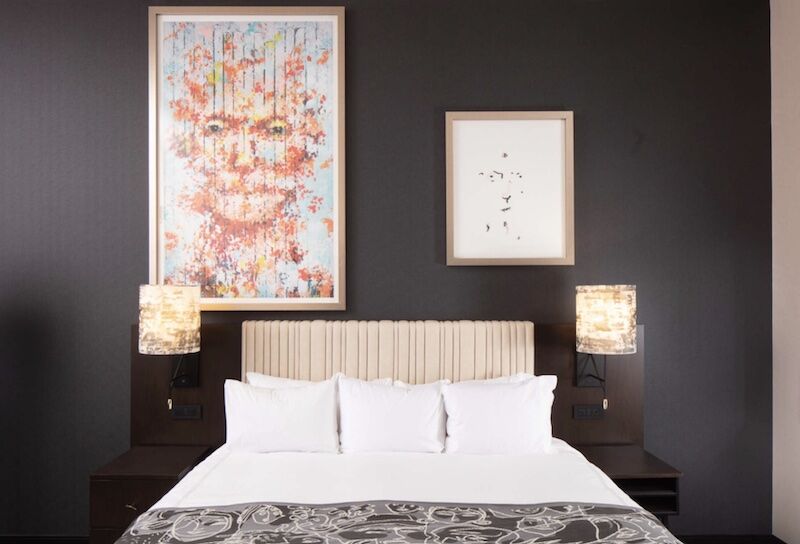 Location
A mile or so from Milwaukee's best attractions
The Saint Kate is located on the east side of the Milwaukee River, on the edge of East Town, though those not familiar with the city might just assume it to be downtown, since it's a short walk to pretty much everything in the center of the city. 
That said, Milwaukee is a city of neighborhoods, and though none are all that far, they're right on the border of walkable and driveable from Saint Kate. Within a mile, you can find most of the city's attractions, so if the sun is shining and you're up for a stroll, you won't need a car. A sampling of stuff to do nearby:
Rooms
Art-filled spaces from the walls to the showers
We'll stop short of calling Saint Kate's rooms "works of art." But they are far more aesthetically pleasing and thought-provoking than your average hotel room. Each one comes with its own record player (though getting them to work is another issue), with a collection of records you can swap out in the lobby at any hour.
The bathrooms feature tile showers with intricate drawings crafted out of the grout work, and the walls are covered in paintings and photos for local artists. You'll also get some butcher paper and colored pencils if you're inspired to create art of your own. Plus a ukulele, if Milwaukee drives you to sing "Somewhere over the Rainbow."
The room categories break down into the following:
Deluxe – The entry-level room at the Saint Kate offers two queen-sized or one-king sized bed and all the amenities listed above. It's also got a desk and comfy chair if you need to knock out some work.
Superior King – This is essentially the Saint Kate's junior suite, a two-room setup with a small living room and a king bedroom. The living room has a small desk for work or spontaneous art, separated by a frosted sliding door from the bedroom. In theory, this could sleep 2-3 people.
Oversized Corner King – These spacious corner rooms offer sweeping city views, and a large seating area ideal for taking it all in. Unlike the Superior King, the seating area is not separated from the bedroom, so it's not ideal for families.
Ovation Suite – The largest rooms in the hotel have full living and dining rooms, a wet bar and bathrooms with separate makeup and sink areas. They also offer panoramic views.
Canvas Suites – The Saint Kate's signature rooms, these spaces are completely decorated by local artists, and run the gamut from colorful leopard print to record-albums-as-wallpaper. While certainly provocative, understand that some aren't exactly "soothing," so you've definitely got to go in with the right expectation.
Amenities
Creativity drives everything at Saint Kate, which is why you'll find peper, pencils, a ukulele and a record player in every room. You'll also get bath products, special "eraser" soap, bathrobes and a 49-inch LCD TV that lets you log into Hulu and Netflix. Keurig machines and chilled, filtered water are available in the elevator lobby on every floor.
Theaters and Galleries
The main lobby is home to the MOWA:DTN Art Gallery, an offshoot of the Museum of Wisconsin Art. The hotel also offers three other gallery spaces for everything from photography to large-scale installations. The Saint Kate is also home to the Arc Theatre, a traditional black box space that houses everything from small, local theater to private receptions.
Fitness Center
Your body is a work of art too, so the Saint Kate's fourth-floor gym is open 24 hours, featuring a full complement of dumbbells, weights, cardio equipment and TWO Peloton bikes. It also has complete locker rooms for both men and women, and towel service.
Food and Drinks
The Saint Kate's lobby bar is the central focus of the ground floor, where guests can post up and work during the day, then kick back with a cocktail at night. It offers live music most nights around happy hour, plus local coffee and fresh juices if you're looking for something quick in the morning. 
On the second floor, you'll find Milwaukee's only champagne bar at Giggly. It offers a slightly more upscale and secluded vibe than the lobby bar, with an expert selection of champagne and sparkling wines.
You can smell this spot as you're walking past the hotel on most days, as its aroma of baking Neapolitan pizzas fills the Milwaukee air. Inside, the smell is almost irresistible, and the fast-casual, quickly cooked pies don't disappoint. The Proof Special with mozzarella, sweet heirloom peppers, sausage, Giardiniera and roasted garlic is the move here, though you'll never go wrong creating your own.
This art-adorned space is Saint Kate's signature restaurant, where the art on the walls feeds your eyes and the New American cuisine fills your stomach. Definitely go for Verne's Chicken and Dumplings for some solid Midwestern comfort food. Then move on to the long-bone short rib pastrami with sauerkraut gnocchi, kale and onion sauté and carrot-caraway velvet.