Scene
A cozy, chic retreat in the Blue Ridge Mountains "bringing the outside in"
After long days of adventuring through the Blue Ridge Mountains, Skyline Lodge offers a cozy, chic retreat from which to refuel and recover. The multilevel lodge from Frank Lloyd Wright student Arthur J. Kelsey embodies the Wrightian concept of "bringing the outside in" with design elements taken from the surrounding wilderness. Windows face the forest and out to the mountains beyond, making every room a total removal from city life.
Guests range from wandering travelers to bougie locals from Atlanta and Charleston, and everyone comingles in the airy courtyard, where fire pits and lounge chairs make every night a campout. The staff is steeped in Southern hospitality, making a trip to Skyline seem more like a weekend at your family's mountain cabin than a stay in a hotel.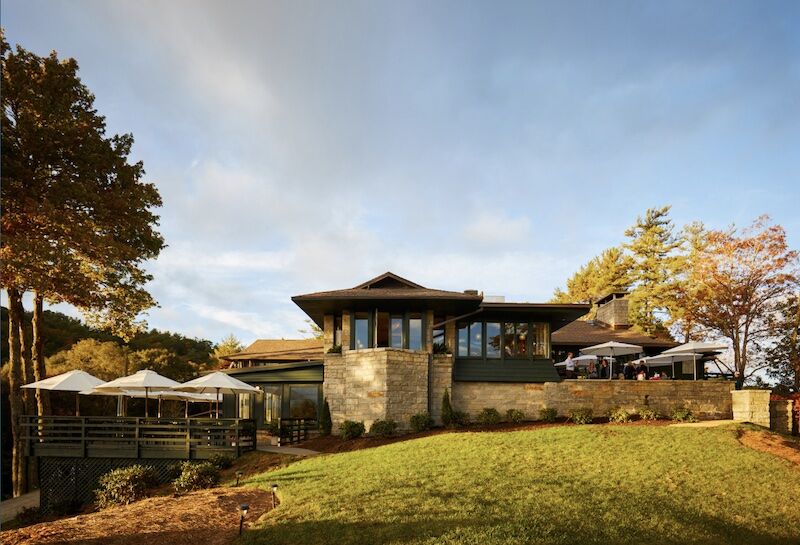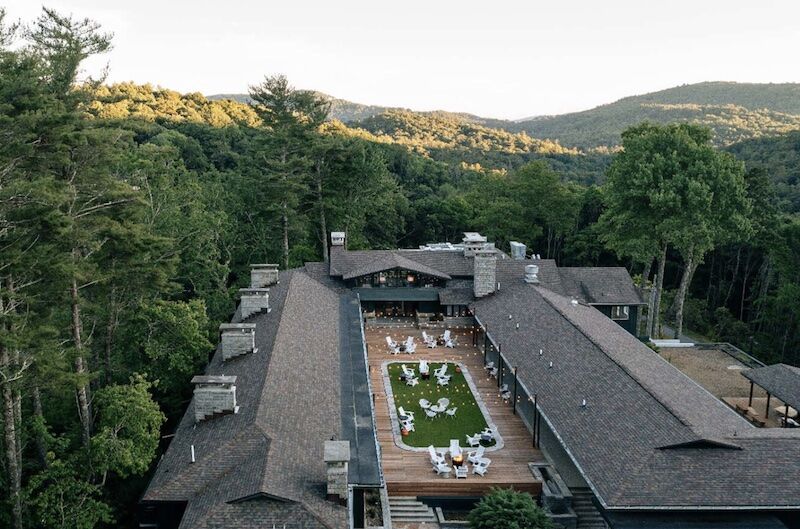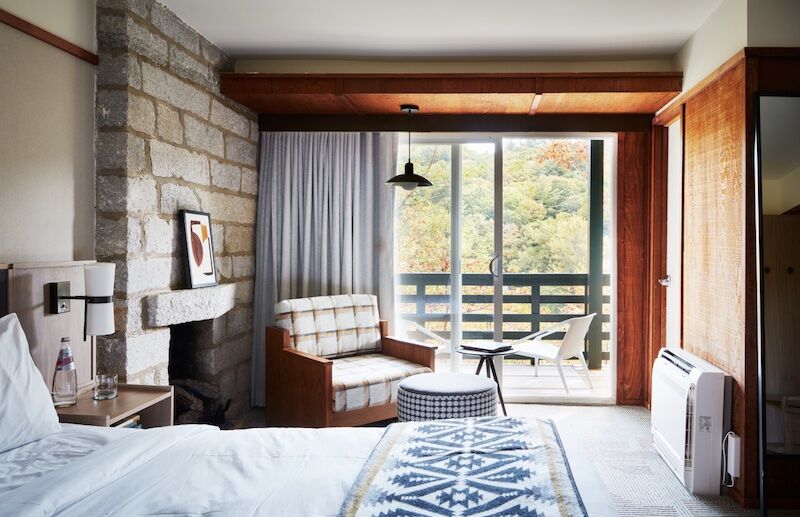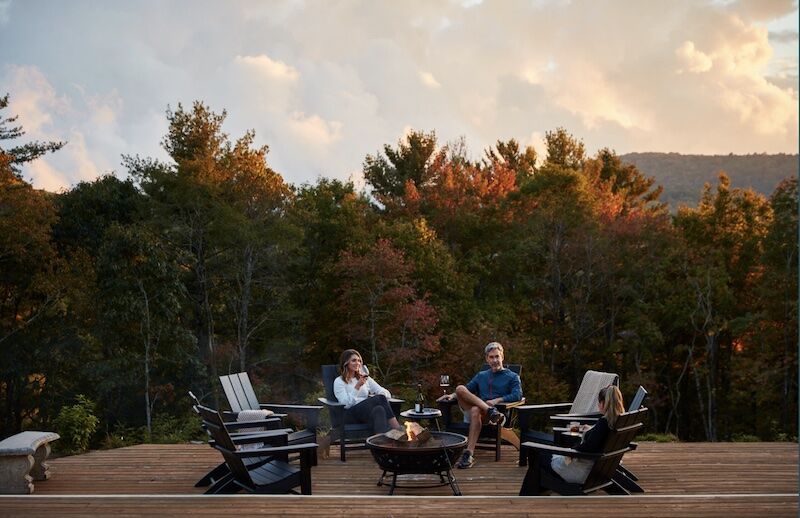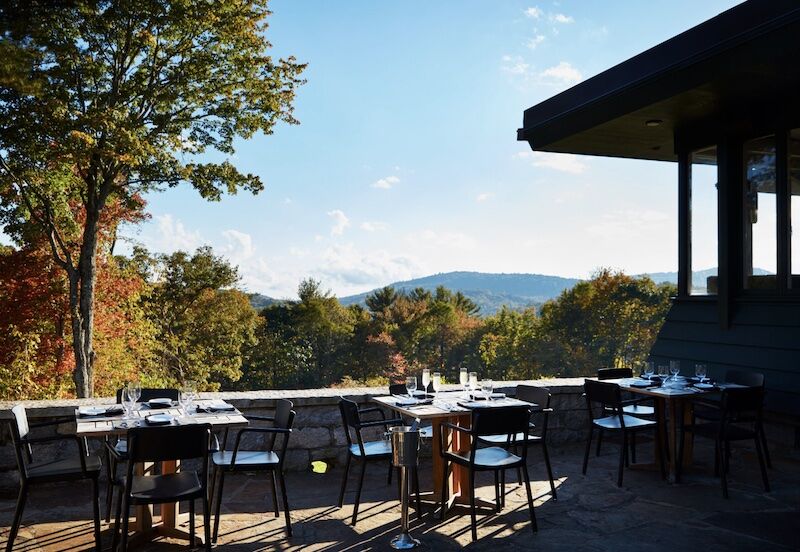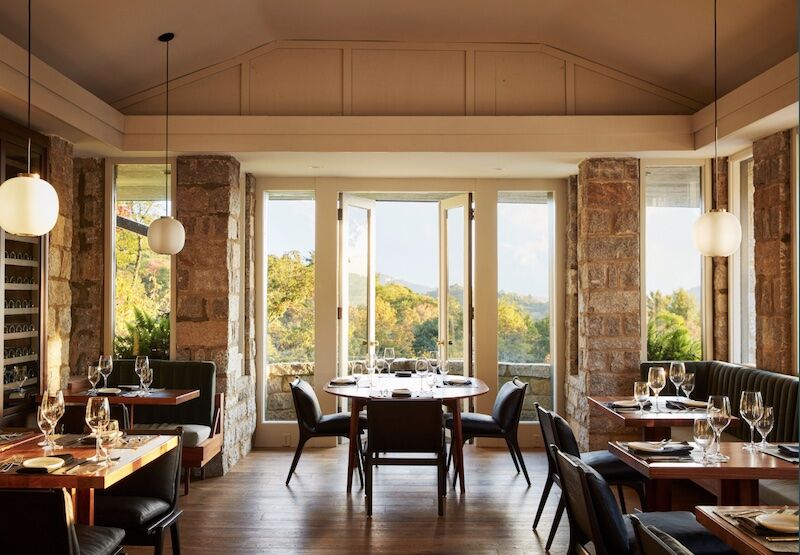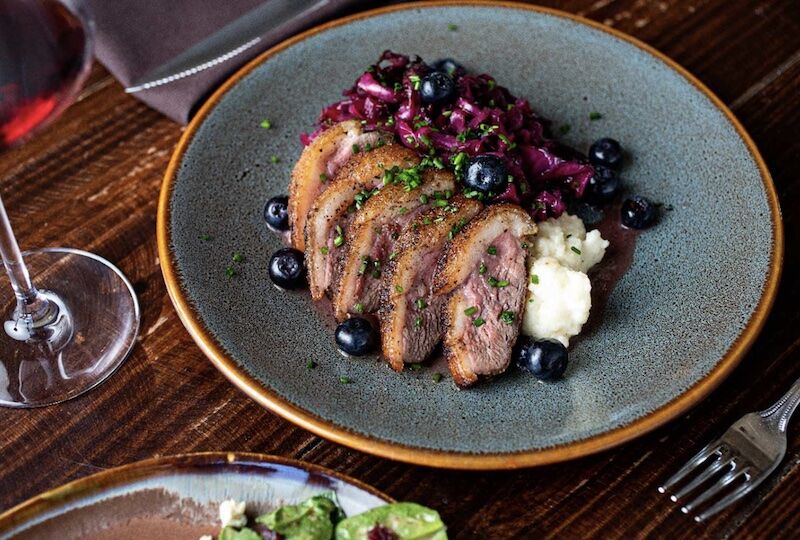 Location
Seclusion in the mountains, a short drive from town
Nestling yourself a few miles outside of civilization has its upsides. But along with the serene quiet comes a decent drive to anything outside the property. Highlands — an upscale mountain town filled with boutiques and expensive cars — is a 10-15-minute drive on winding roads. Easy enough in the summer, but sometimes treacherous in the winter. What we're saying is, going into town to tie one on isn't advised unless you've got a designated driver.
Still, the hotel is less than half an hour from fantastic hiking, great fishing and all the amenities of both Highland and Cashiers, N.C. So if you've got a car and are comfortable on mountain roads, the Skyline Lodge is a perfect home base for exploring the mountains. Some options nearby:
Rooms
Elements from the surrounding nature turn rooms into mini-cabins
The Blue Ridge Mountains are seamlessly integrated into the rooms at Skyline Lodge, with reclaimed redwood walls and granite columns taken from the surrounding mountains. Large windows offer views of treetops and mountain ranges, with private decks and terraces making the outdoors immediately accessible.
Because Skyline Lodge was built in phases over several decades, the rooms vary greatly in size and shape. But most are around 300 square feet, with either two queen- or one king-sized bed, a couple of chairs and a long wooden desk. They're lined in redwood, with modern bathrooms featuring rain showers and bulk amenities.
The Granite King rooms also offer stone fireplaces, though the fires are of the electric variety.
Skyline Lodge also boasts one suite, crafted from two smaller rooms. The Frank Lloyd Wright suite offers an unusual layout, with a Jack-and-Jill bathroom connecting the king bedroom with the large living area. You'll find decks off both rooms, as well as flat-screen TVs and small closets. It's ideal for larger groups, or anyone who wants an entertaining area beyond a couple of chairs.
Amenities
One of Charleston's most beloved steakhouses and a fire pit patio
For now, the Skyline Lodge offers fairly basic amenities. There's no spa or gym onsite, so if you're looking for free weights and a massage you'll need to book elsewhere. But parking is free, as is the Wi-Fi, and you'll find fantastic drip coffee in the lobby every day until noon.
Lobby Café
For a small mountain property, Skyline Lodge offers a good collection of food and drinks in its lobby. A full menu of gourmet coffee drinks complements a selection of fresh-baked breakfast pastries in the morning. You'll also find local beers, a solid variety of wines and premade breakfast sandwiches for purchase. If you're trying to stay on property, you won't be hard up for food as the options here work for a short stay.
The courtyard
The center courtyard is the social hub of the Skyline Lodge, where guests spread out with cold beers and glasses of wine to relive the day's adventures. Real wood fires fill the air on colder nights, so while the campsite vibe might be alluring, just remember you'll be smelling like smoke for a couple of days.
Butler's Bar
The ground floor is home to both Skyline's cozy reading nook and Butler's Bar. The casual bar serves simple drinks, beers and wine, with TVs inside and a sunny patio outside. It's also where you can grab a cocktail to enjoy at Skyline's lower fire pit, where lounge chairs look out over Blue Ridge Mountain sunsets.
One of Charleston's most celebrated steakhouses has an outpost at Skyline, and on a Friday or Saturday night it's typically packed. Plush tables and skilled servers give Oak a genuine fine-dining vibe, but the pitched wooden ceiling and fireplace in the bar make it feel like eating in a ski lodge. The menu is loaded with Certified Angus Beef cuts, ranging from a small filet to a massive tomahawk. Even if you're not into steak, grabbing a drink at the bar offers a lively atmosphere and a spectacular view.