Scene
Live out your early 1900s mining baron fantasies.
Set in the foothills of the Cheyenne Mountains in Colorado Springs and wreathing Cheyenne Lake, The Broadmoor is perhaps one of the most storied hotels in the West, if not the United States, largely because of its colorful founder, Spencer Penrose.
Born in Philadelphia, Penrose moved to Colorado after college and made his fortune in mining. In the early 1900s, he decided he wanted to helm a hotel like those he'd seen in Europe. Initially, he'd hoped to take over The Antlers, but its owner wouldn't sell. Penrose ended up having The Broadmoor built, and as a snub to The Antlers, the "a" in signage and marketing copy is half as big as the other letters. He wanted the letter and the rival hotel it represented to be as small and insignificant as possible. It's probably for the best that The Antlers purchase didn't manifest — The Broadmoor is opulent AF (it was designed by the same architecture firm behind Grand Central Terminal and the Biltmore). 
Penrose was known for being eccentric. For example, in the historic hotel's early days, he kept a menagerie of animals, including elephants (who also worked as golf caddies), monkeys, seals (who swam in the pool, of course), flamingos and more. They weren't necessarily confined to any one area, so things got pretty wild. Eventually, Penrose's wife, Julie, said enough was enough, and he established what is now the Cheyenne Mountain Zoo. 
Penrose was also a notorious partyer. Even during Prohibition, he threw parties — he'd even go so far as to hire private trains to run nonstop between New York's Grand Central Terminal to the resort for guests. When he went blind in his right eye, he had two glass veneers made — a clear one for when he was sober and a bloodshot one for when he was not (the latter is currently displayed in the hotel lobby). When he wasn't drinking, he hid his stash around the resort. A recent renovation unearthed a 600-bottle collection, including myriad wines that were more than 125 years old.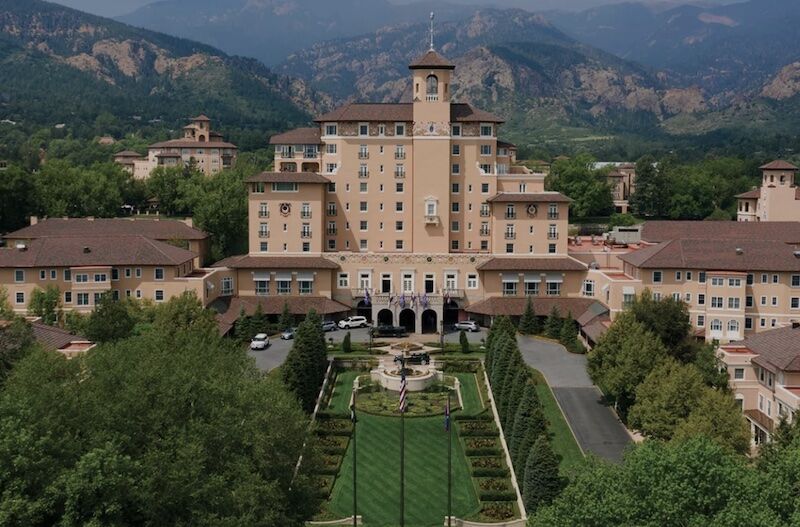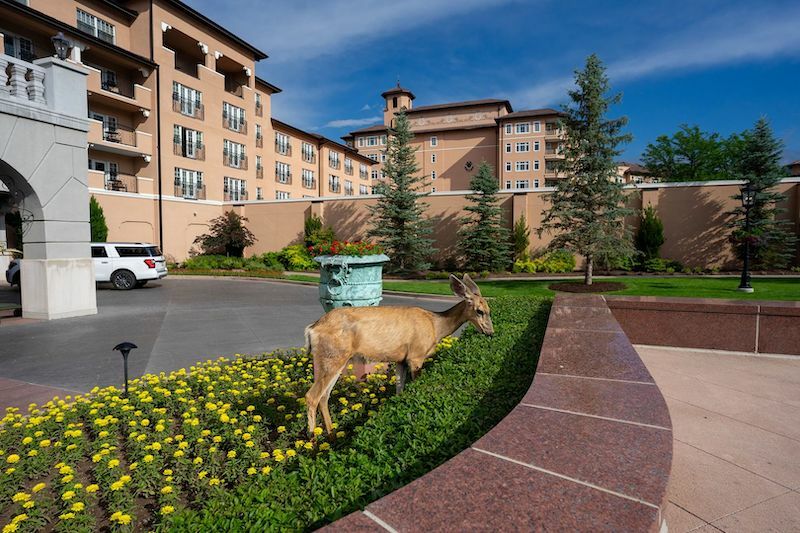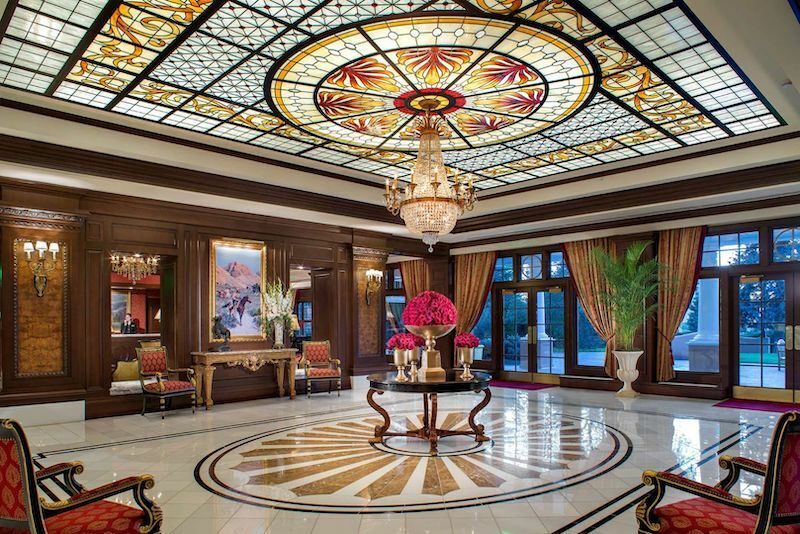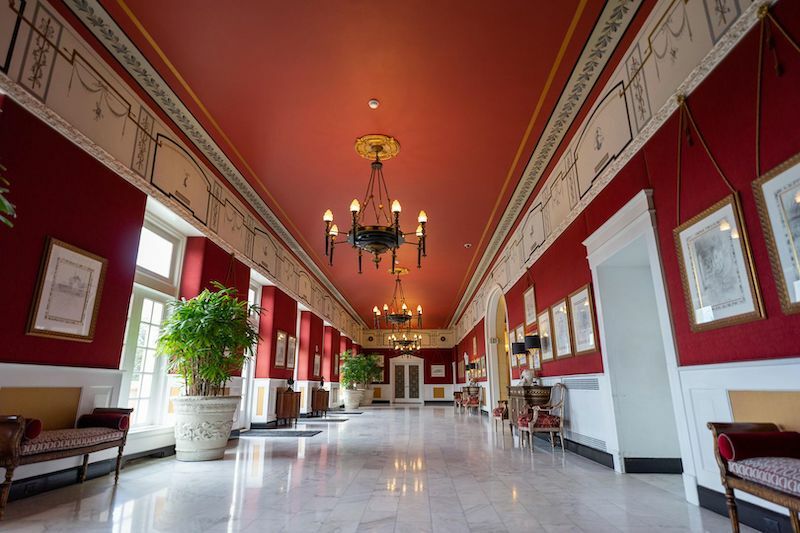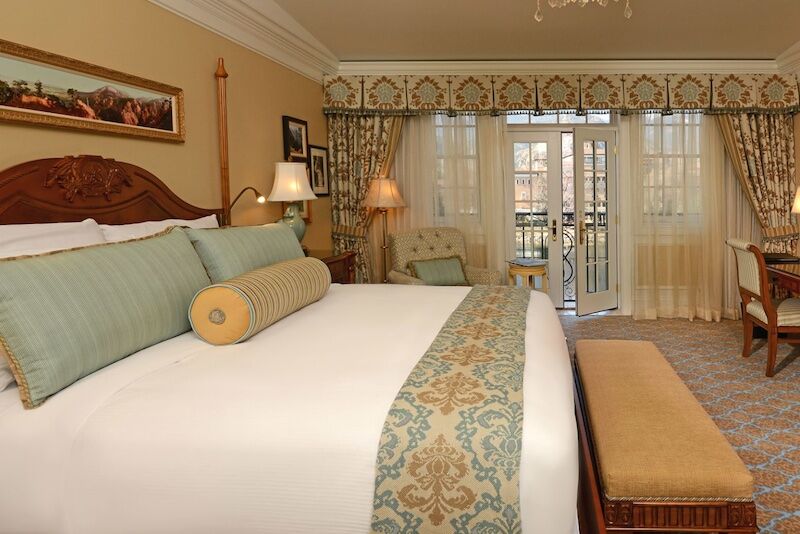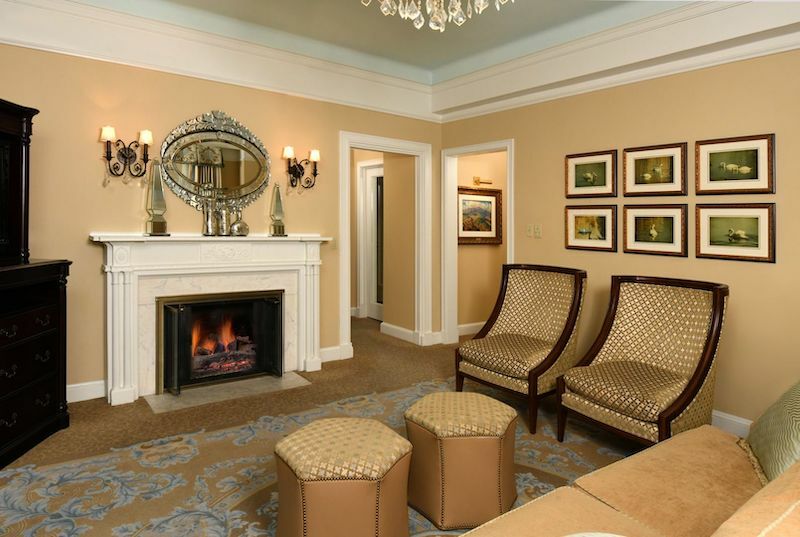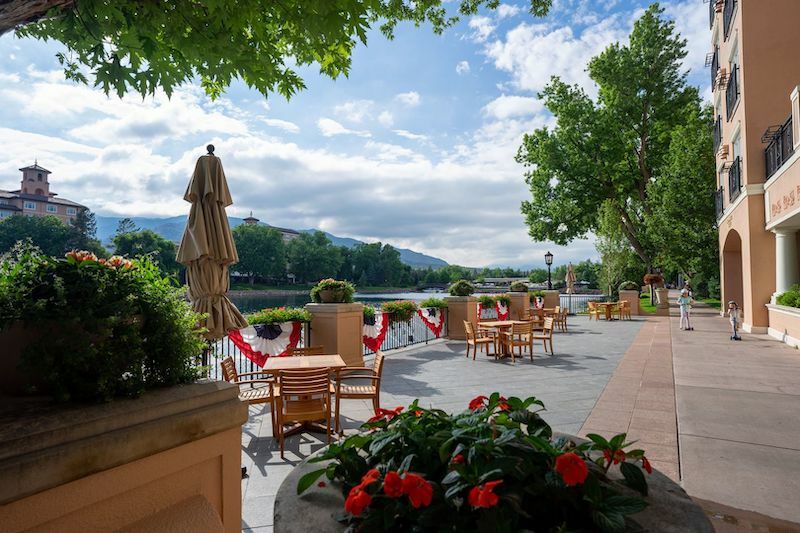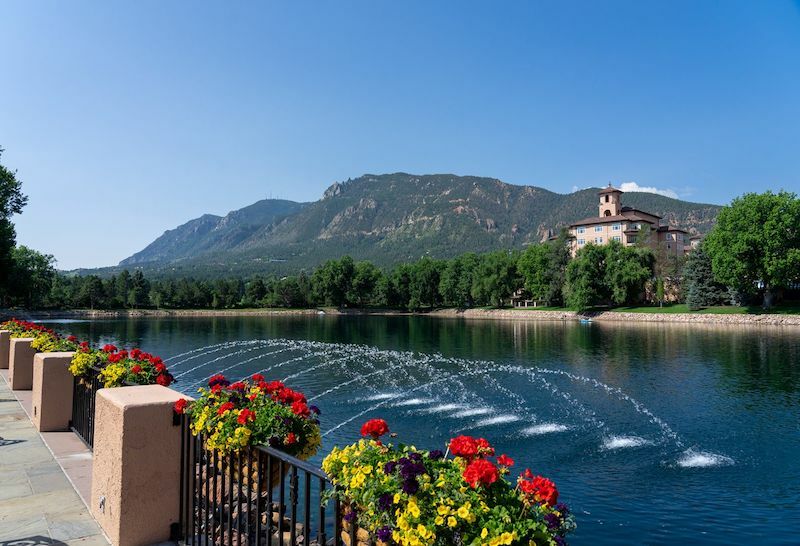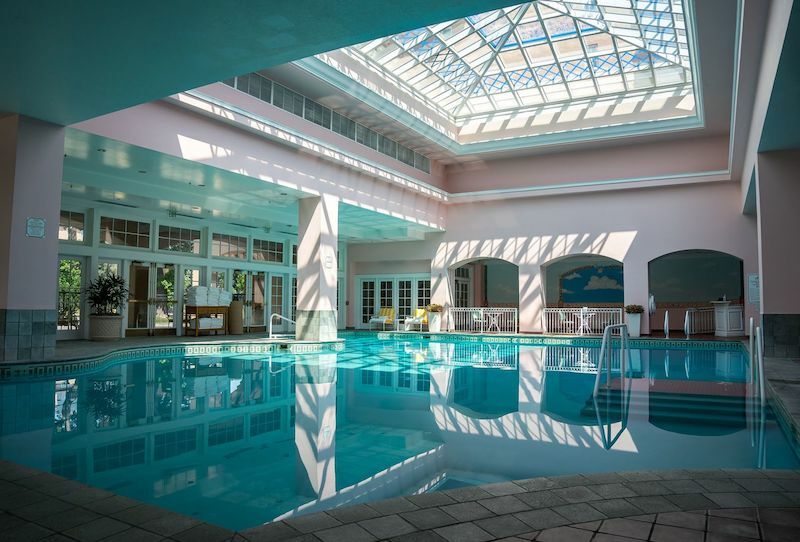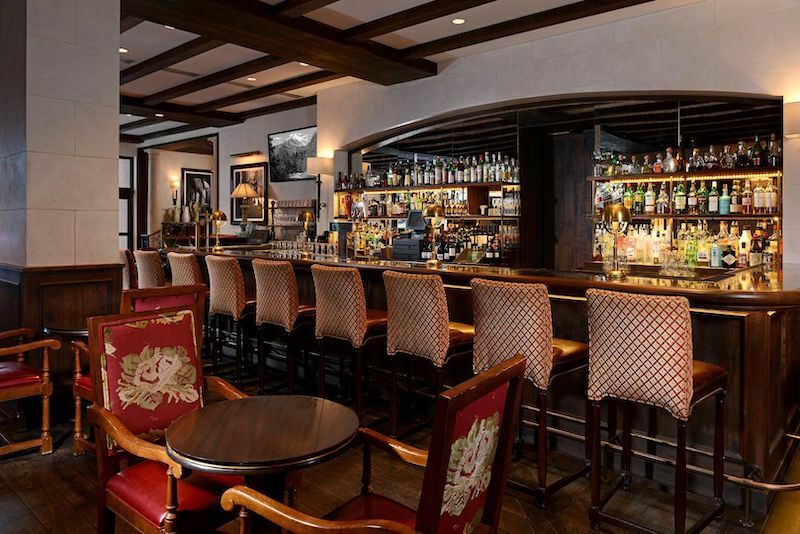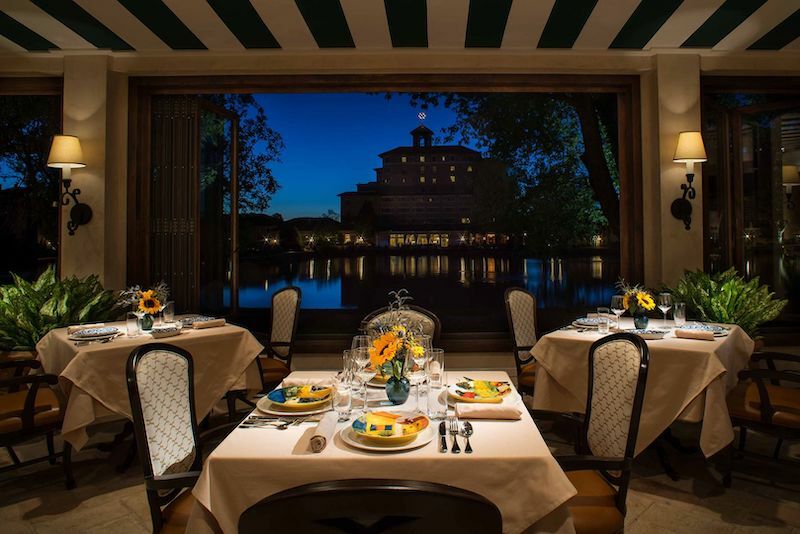 Location
A sprawling complex at the base of Cheyenne Mountain
It can be challenging to tell where The Broadmoor ends and where the upscale residential neighborhood with the same name begins. Located on the south side of Colorado Springs, this area code is characterized by its high-end restaurants, lush green spaces and multi-million-dollar mansions. See the below points of interest and things to do near the hotel. For the best things to do in Colorado Springs see our guide.
Pikes Peak Cog Railway

:

At 14,115 feet, Pikes Peak is hard to miss. You have a handful of options to get atop it, including a multi-day lung-burning hike and a nausea-inducing drive up the 19-mile road with its 156 turns. However, the easiest is hitching a ride on the Pikes Peak Cog Railway. The cherry red locomotive reopened in 2021 with new trains, tracks and a revamped depot. Be sure to plan for the outing to take four hours and to get the donuts at the top.

Seven Falls

: One of the most popular hikes in the area is also one of the shortest — it's just 224 steps. But in that short distance, hikers can see seven waterfalls cascading 181 feet in a natural box canyon. During the summer, the waterfalls are lit with multi-colored lights at night. Also at the falls are a cafe, a few gift stores and an elevator, for those who'd rather get from the base of the falls to the top without breaking a sweat. 

Hiking: There are myriad trails within a short drive from The Broadmoor, including those at Red Rock Canyon Open Space and North Cheyenne Cañon. If you're looking for a local favorite, consider the Manitou Incline. Word of warning, though, it ascends 2,000 feet in just one mile, so don't attempt it if you haven't acclimated to the high elevation yet. 

Falconry: Falcons, and osprey, and owls, oh my! The Broadmoor has a host of raptors that live down the road from the property and a full-time falconer on staff, so it's possible to spend a half day learning about the training tactics and bird commands before taking one of the birds out for a flight. 

Cheyenne Mountain Zoo

: Home to giraffes, big cats, hippos, penguins and more. Penrose founded it as a place to keep his collection of exotic animals. 
#thebroadmoorhotel on Instagram
Rooms
784 luxurious rooms, all built between 1918 and 2001
Each of the 784 guest rooms at The Broadmoor Hotel is uniquely decorated with old-world furniture and decor, so no two are the same. All rooms are pet-friendly (dogs get a special delivery of an oversize dog bed, bowls and liver treats shortly after checkin). A $39 daily resort fee covers Wi-Fi, the fitness center, shuttle service, in-room beverages, an art and history tour and golf clinics. Room types:
Classic, Superior, and Premier Rooms: With high ceilings, open spaces, big closets, marble bathrooms and European-style furnishings, even the cheapest of The Broadmoor's accommodations feel luxe. 

Suites: The Broadmoor has 17 different types of suites, from the Eastmoor Suite (which has a king-sized bed, as well as a pullout queen-sized sofa bed in the parlor) to the Parker Suite (which has a dining room, parlor, fireplace, patio and two king bedrooms). 

Cottages: Overlooking the 18th fairway of one of the golf courses, the cottages range from one to eight bedrooms. Each has indoor and outdoor fireplaces, an outdoor patio, gathering areas and bathrooms with heated floors. 

The Estate House: If you're traveling with a tribe (and have some funds to blow on a luxury lodging experience), the Estate House is a good choice. Spanning 12,000 square feet, this residence has five bedrooms (each with its own private bath), a parlor that can hold 60 people, a dining room that can seat 16, a library, a full-size kitchen and a backyard with gardens and lawn games. 

Brownstones: Swanky, modern vacation homes with two bedrooms and a fourth-floor patio with views of the mountains. 
Amenities
The bigger, the better
Some of the amenities include: room service, valet parking, concierge, dry cleaning and laundry services, FedEx office and print center, business center, three outdoor hot tubs (two seasonal), two outdoor pools (one seasonal) and one indoor pool, and two championship golf courses. Below are more details.
Golf courses: ​ Not only does The Broadmoor Golf Club have three golf courses, but gold legends designed them: Donald Ross, Robert Trent Jones, Ed Seay and Arnold Palmer. Over the years, they've hosted numerous tournaments, including the PGA Cup and U.S. Women's Open (and in 2025, it'll be the location of the U.S. Senior Open). 
Spa: The full-service spa has more than 40 treatment rooms, saunas, steam rooms, oxygen rooms, a swanky co-ed relaxation room that overlooks the mountains (and has snacks), a hair salon and a nail studio. 
Pools: In the summer, guests can bob around in the outdoor infinity pool right next to the lake. There's also an indoor pool located in the same building as the spa, a lap pool and a whirlpool open year-round.
Fitness: In terms of tennis courts, there are three cushioned hard courts (two of which are in a heated bubble for year-round play), two Har-Tru tennis courts and three pickleball courts. 
Movie theater: Every night, the Broadmoor Theater holds a movie screening for its guests. 
Bars and Restaurants: There are 17 restaurants, coffee shops and bars on property, including Ristorante Del Lago (an Italian restaurant with an extensive wine list), La Taverne (an opulent steakhouse), Cafe Julie's (a Parisian patisserie with a chocolate kitchen), Penrose Room (an AAA five-diamond, 24-seat semi-private and elegant dining room) and the Golden Bee (an English pub). According to The Gazette, former President George W. Bush decided to quit drinking after waking up with a hangover following a night at the Golden Bee in 1986. 
The Broadmoor also offers three offsite, all-inclusive accommodations under a "wilderness experiences" banner. These include a fly fishing camp, cloud camp and a ranch.
Fly Fishing Camp: Located 75 minutes west of resort along a five-mile stretch of the Tarryall River, Fly Fishing Camp is an all-inclusive experience with fly-fishing, lodging and dining. The Broadmoor Fly Fishing Camp, is available for overnight stays, family reunions, and meeting retreats.
Cloud Camp: Sitting 3,000 feet above the resort is The Broadmoor's Cloud Camp. You're here for the unobstructed 360-degree views, located on the site of Broadmoor founder Spencer Penrose's Cheyenne Lodge.
The Ranch at Emerald Valley: A short ride up the mountain from The Broadmoor are 13 cabins, all equipped with gas fireplaces and modern amenities. You'll spend your days outdoors — fly fishing, hiking, biking, horseback riding — and then spend the evenings dining courtesy of the onsite Broadmoor chefs.
FAQ
How far is it from the hotel to the Colorado Springs Airport?
It's 11 miles about or about a 20-minute drive.
Does the hotel offer an airport shuttle service?
Yes. There are one-way and round-trip rides available. Reservations are required at least 48 hours in advance. Call 855-266-2522.
Does the hotel have a business center?
What the resort's address?
1 Lake Avenue, Colorado Springs, CO 80906
#thebroadmoor on TikTok