Scene
A laid-back place for a groovy time in Music City
In another time and place, the half-burned-out neon sign, fake wood paneling and collection of cheap beers might have been a parade of red flags that screamed, "Staying here will leave you with scabies, at best." But in 2020s Nashville, it just means the place is unapologetically ironic, where a spectacular attention to detail has turned lowbrow into luxury with clever throwback design. The Dive may rightfully call itself the most hipster motel in America, where retro fun permeates everything on the property.
"Dive" has dual meaning, both referring to the hotel's cleaned-up dive ambience and to the public swim club at the pool. On warm weekends, the swimming area turns into one of Nashville's best pool scenes. And while not quite a Vegas rager, it does give the city a laid-back place to enjoy cold beer with a chlorine chaser. The lobby bar, filled with '70s kitchen furniture and vintage beer signs, hosts a similarly fun-spirited crowd. And the rooms, while motel small, keep the motif going with music, disco balls and bright orange bathrooms.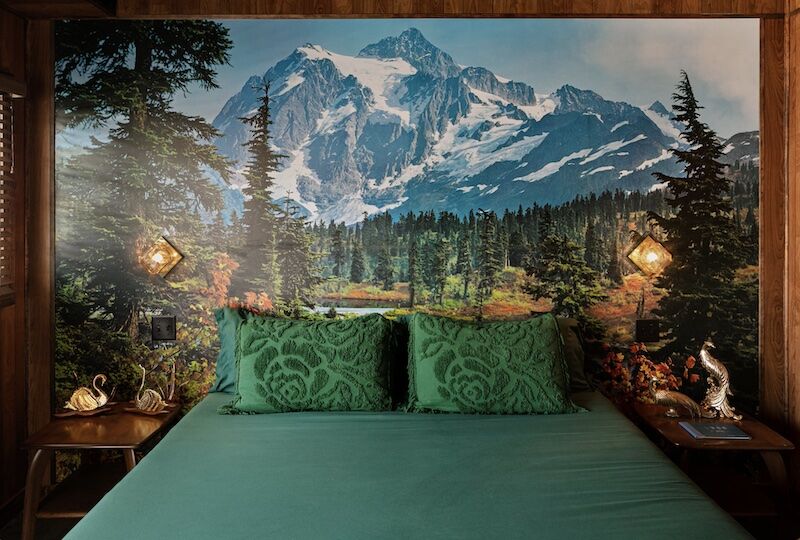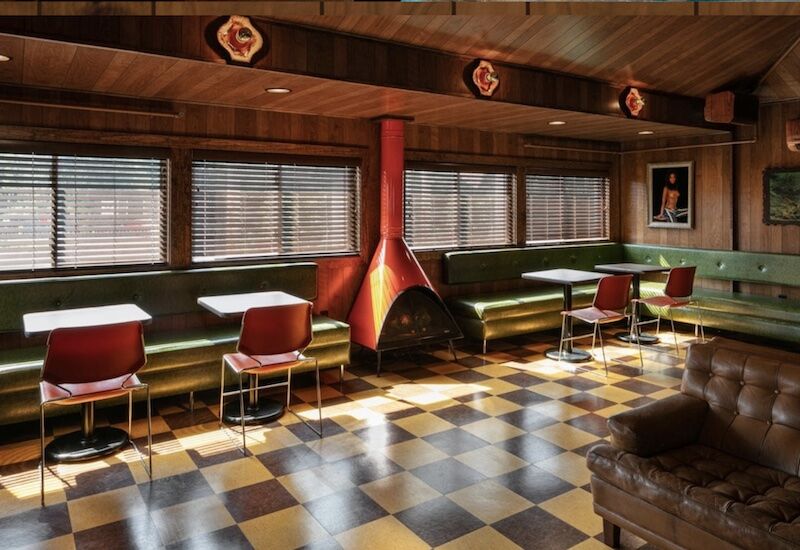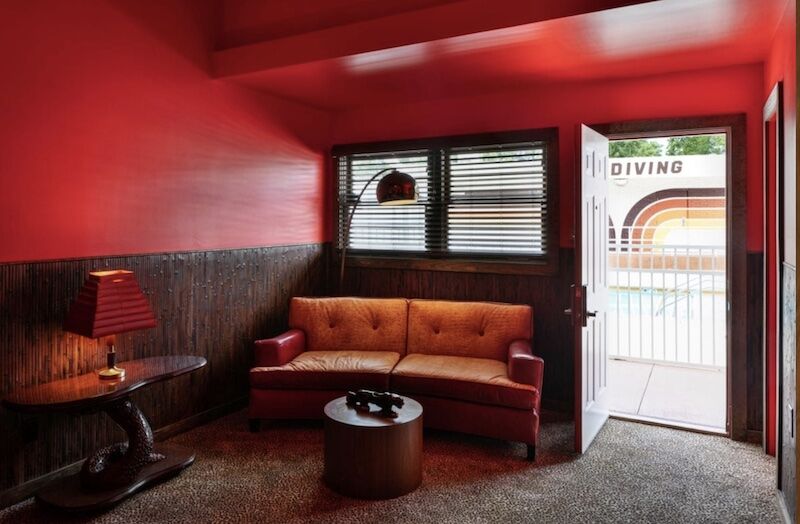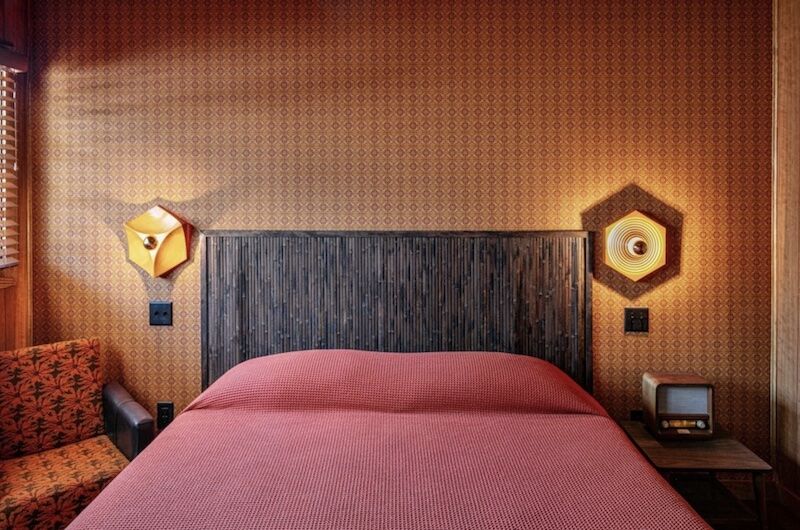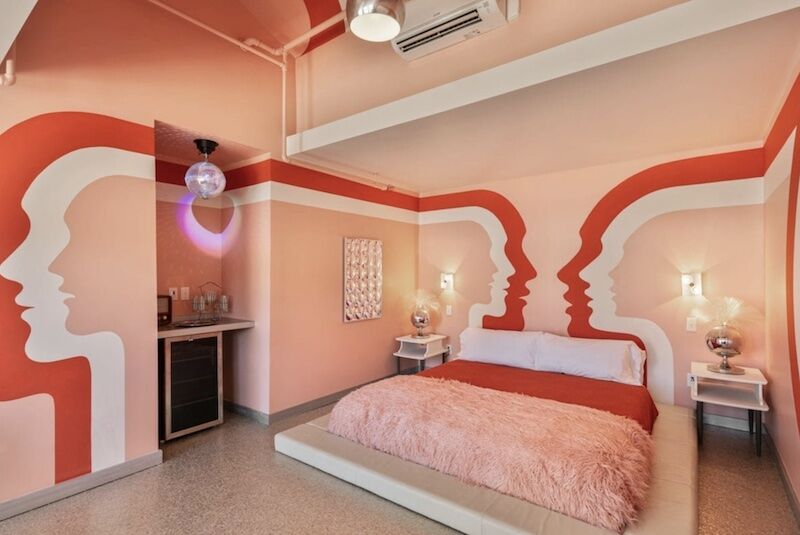 Location
While you're not 50 years from the present, you're still pretty far
The Dive is set on a rather barren section of Dickerson Pike in East Nashville, which makes its run-down aesthetic just that much more real. You'll find Brother Z's Wang         Shack across the street, next to Wheel Repair of Tennessee and Bellshire Hardware and Guns. Not that the area is sketchy; it's not. But walking anywhere other than the Wang Shack won't be the honky-tonk Nashville you came for.
That said, the Dive isn't too far from Five Points, an area that's recovered impressively from the tornado that ravaged it a few years back. And you can get to downtown Nashville and Broadway in 10-15 minutes. If you've got a car, the Dive offers a character-driven place to call home, but location isn't really its selling point.
Other stuff you can check out not far from the Dive:
New York cocktail sensation

Attaboy

, and its "We don't have a menu; tell us what you like and we'll create something" ethos, sits in a nondescript building in Five Points, about three miles away.

Butcher and Bee

, a celebrated Nashville restaurant, is also about three miles away.

The bright neon lights of Broadway and the throngs of bachelorette parties that occupy it are about four miles, or 10 minutes by car.

America's most famous live music venue at the

Grand Ole Opry

is about 15 minutes away. It's morphed into far more than a concert hall, though, boasting 3,000 hotel rooms, shops, restaurants and an indoor waterfall.

If you're looking for hot chicken, head to the

Assembly Food Hall

on Broadway. It's got an outpost of Prince's, plus a full bar and loads of other food options if someone in your group is trying to be "healthy." 
Rooms
Live the '70s with disco balls and shag carpet
Whoever designed the rooms at the Dive either spent years perusing garage sales or is a hall-of-fame thrifter. The interiors look like movie sets ripped from "Casino" or "Boogie Nights," wood-paneled dreams of shag carpets and loud, tacky wallpaper. Each room boasts an entirely unique design, ranging from mountain scene accent walls to hunting cabin chic. And each is adorned in furniture that you may recognize from your parents' childhood photos.
What each room does have in common, however, is a glimmering disco ball, which starts its show when guests activate the "Party Switch" located near the door. Turn it on, and a playlist themed "Sex," "Drugs" or "Rock and Roll" emanates from a vintage radio near the custom minibar. You've gotta have a good sense of kitsch to appreciate the Dive, but if you do it's an absolute paradise.
Though each room has its own character, the Dive's categories break down as follows:
Amenities
A public swim club and a dive bar that doesn't smell like old cigarettes
The Dive really goes all-in with its 1970s immersion, keeping the amenities offerings pretty on brand for 50 years ago with no gym, business center or fax machine – an invention that lived and died in the years between. It does, however, offer free Wi-Fi and free parking.
But if you're coming to the Dive to get some work done and knock out a Peloton class, you've come to the wrong place. The Dive is all about nostalgic, colorful fun, and in that regard it excels.
Irony takes no breaks at The Dive Motel, whose signature pool is adorned with a giant sign reading "No Diving." The pool deck is lined with cabanas and a full wood sauna, and sells day passes for $15 a pop to anyone who feels like joining the party.  Drinks are available to go from the Dive Bar's window and can be enjoyed poolside, and the jacuzzi stays open late. We like to imagine the whole thing ending up like "96,000" by about 4 p.m.
Thankfully, the Dive stopped short of full authenticity with its bar. Likely because someone would have had to sit inside and chain smoke for a month to really capture the appropriate aroma. Still, the wood panels, vinyl booths and old beer ads make this look like a bar where suburban dad dreams went to die.
But we mean that in a good way. This is a dive without the grime and with a lot more class, where you can order up a spicy margarita or expertly made Old Fashioned and chase it with a Montucky or PBR. It's all the decor of a dive with a much lighter personality.
Xiao Bao Biscuit
While the Dive is full of surprises, perhaps the most welcomed is its Chinese food truck between the lobby and swimming pool. The small menu is massively satisfying, whether you're scarfing fried mochi with caramel pork or spicy beef noodles. Xiao Bao also has hard-to-find okonomiyaki, an eggs-and-bacon-topped cabbage pancake that cures your hangover before you ever have it. All the food is delicious on its own, but after a few poolside drinks it tastes like pure heaven.