Scene
A youthful offering in one of the Midwest's most popular destinations
Door County, a 70-mile-long peninsula less than an hour from Green Bay, Wis., is pure Instagram fodder. Loaded with orchards, wineries, cute soda shops, family-owned cheeseries, centenarian lighthouses, rocky coastlines and wilderness trails with golden hues, the whole place comes pre-loaded with an Americana filter. 
And though Door County has long been a favorite getaway for Wisconsinites (and those from the Chicago-land area), it's been a staggeringly long time since there's been a new place to stay. The Dörr, which opened in 2021, was the first new offering in nearly 20 years.
This Nordic-inspired hotel, just steps from the marina in Sisters Bay, a 3.5-square-mile village on the western side of the peninsula, brings a decidedly more youthful vibe to the region. Case in point: They have multiple wines on tap and cornhole set up in the yard near the firepit.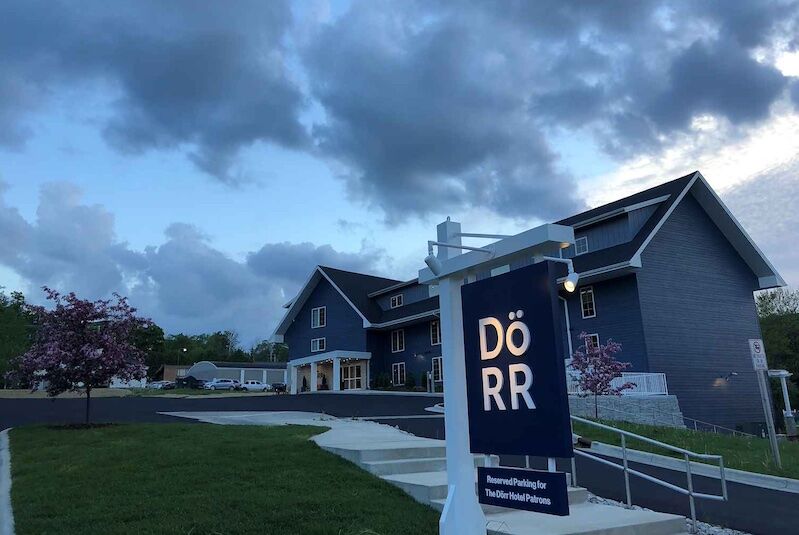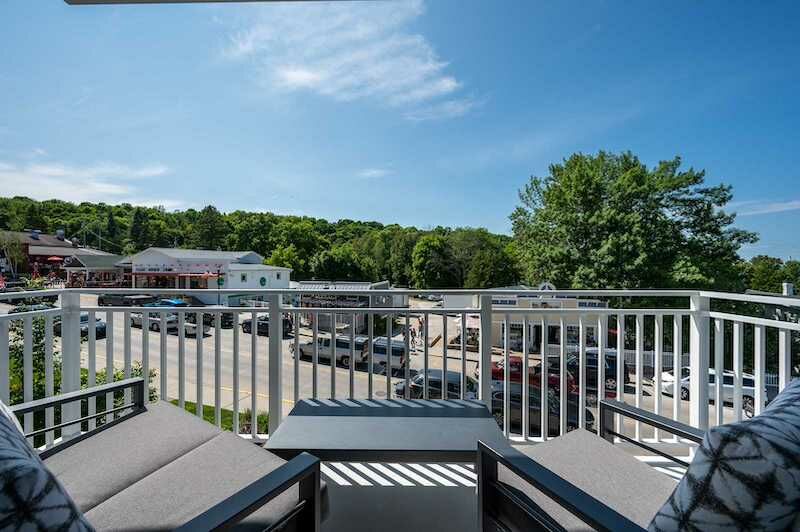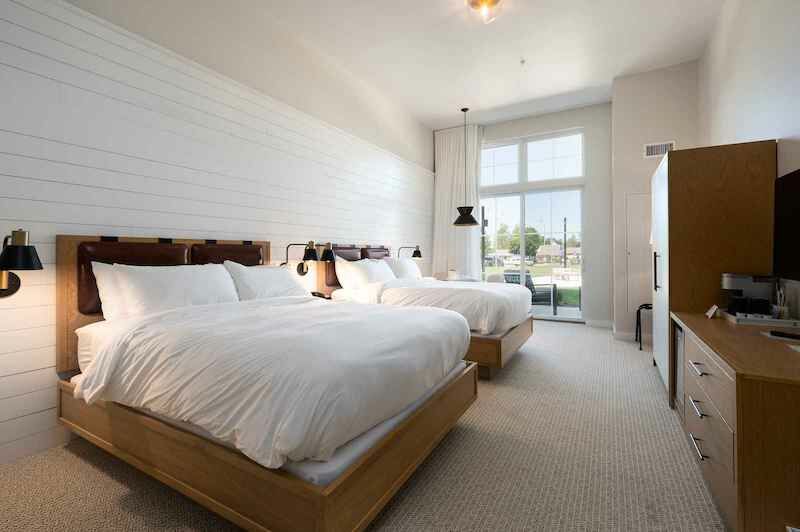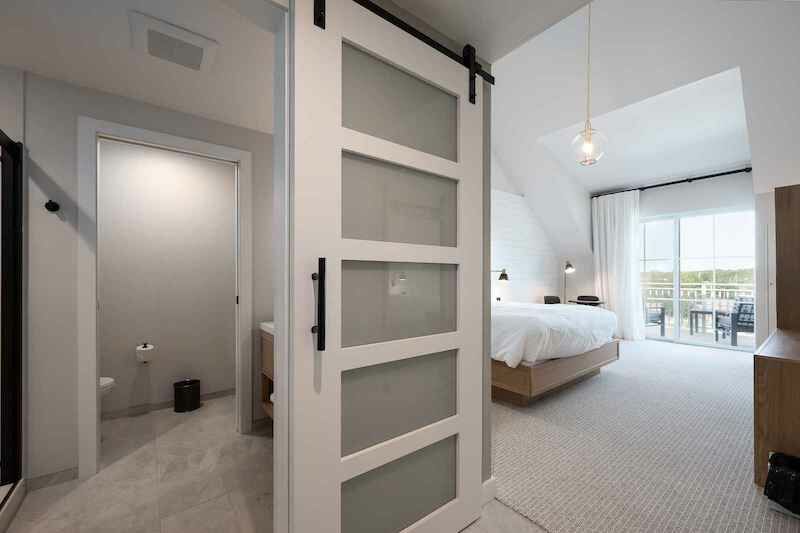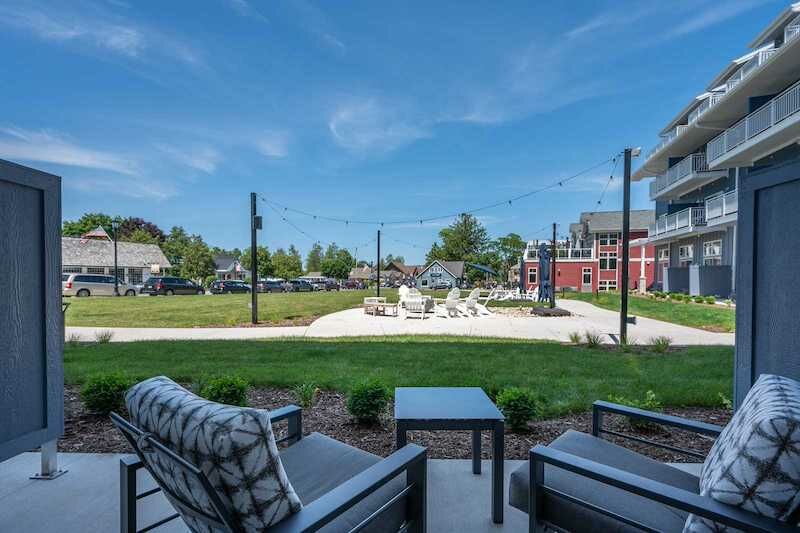 Location
In the heart of all the action
At its thickest, Door County is only 18 miles wide. But it is also 70 miles long, boasts more than 300 miles of wiggly shoreline and claims 11 villages. Chances are, you'll find something you're into (provided what you're into is charming antique stores, historical places, woodland areas and restaurants where cheese dominates the menu). While the hotel is in Sister Bay, toward the top of the peninsula, it's near all the action. Here are some notable things to do not too far away.  
Rooms
Hygge and then some
There's a concept in Scandinavian living called hygge. Simply put, it's about finding comfort or pleasure in simple, soothing things, like candles, relaxing music or sipping a cup of tea (or a really nice glass of rosé) under a cozy blanket. Generally, it's meant to help combat the long, dark, cold winters found at northern latitudes, but at Dörr, it's a year-round state of being. It doesn't matter which of the 47 rooms you score, expect neutral colors, minimalist decor and homey touches. 
The Dörr Suite: The largest and swankiest of their suites, this room features a private balcony, sitting area (with a sleeper sofa), a high-definition TV, a Keurig coffee maker, a Bluetooth speaker, a fireplace, Wi-Fi, private-label toiletries and a Kohler shower (trust us, that

mean

s something in Wisconsin). 

King Suite and Classic King Room: Much like the Dörr Suite, but a touch smaller (the latter also doesn't have a sitting area or fireplace). 

Double Queen: If you guessed that this room would have two queen-sized beds, you should probably buy a lottery ticket. This option has the same amenities as the Dörr Suite (minus the sitting room and fireplace).
Amenities
Minimalism, but in a good way
Arguably Dörr Hotel's best amenities are its chic, Scandinavian design and favorable location — you can see the beach from many of the rooms. While the hotel does try to focus on minimalism, it doesn't mean they're scrimping or cutting corners. It means they're providing just the right amount to make you feel at home and encourage you to explore the area. 
Grab and go breakfast: Break your fast with muffins, energy bars, fruit, Icelandic yogurt, juice and coffee in the hotel lobby. 
Onsite bar: If there were a litmus test for where hotels rank purely based on their check-in process, those that offer a welcome drink would be at the top. The Dörr doesn't offer a welcome drink, but rather a token for a complimentary beverage that can be used whenever, which, as far as we're concerned, is even better (especially if you happen to get there early in the day). Patrons can enjoy their beer or wine at the bartop, near the lobby fireplace or in their rooms.
Gear closet: Bocce balls, bean bags and bike helmets, oh my! Dörr guests have full access to the library of outdoor accoutrements, ranging from snowshoes to picnic baskets, all of which are provided free of charge. 
Fitness center: There's not a fitness center within the hotel, but the Dörr has a deal with the nearby Sister Bay Athletic Club, where there's all your standard gym equipment, as well as an onsite pool.