SCENE
Greens Hotel is a simple, modern motel with more cool than you'd expect
Imagine driving along the fabled Lincoln Highway during the dawn of the American road trip and pulling into dusty, sweltering Sacramento on a particularly hot afternoon. As you drive into your motel parking lot, the first thing that greets you is an oasis of cool blue swimming pool water surrounded by lush California greenery. That's the feeling you get as you roll through the metal gates at The Greens, a converted retro motel in North Sacramento, an area undergoing all kinds of conversions.
But make no mistake, nothing about The Greens feels old or outdated. The crisp, white room interiors make each stay cool and comfortable, and the simple pool deck and lobby create welcoming places to meet other budget-minded travelers. The Greens isn't fancy by any stretch, and if you're looking for luxury this may not be the play. But if you want a modern room with a touch of style, an eye toward eco-friendly living and plenty of cool people — plus a refreshing pool deck — there isn't much better in Sacramento.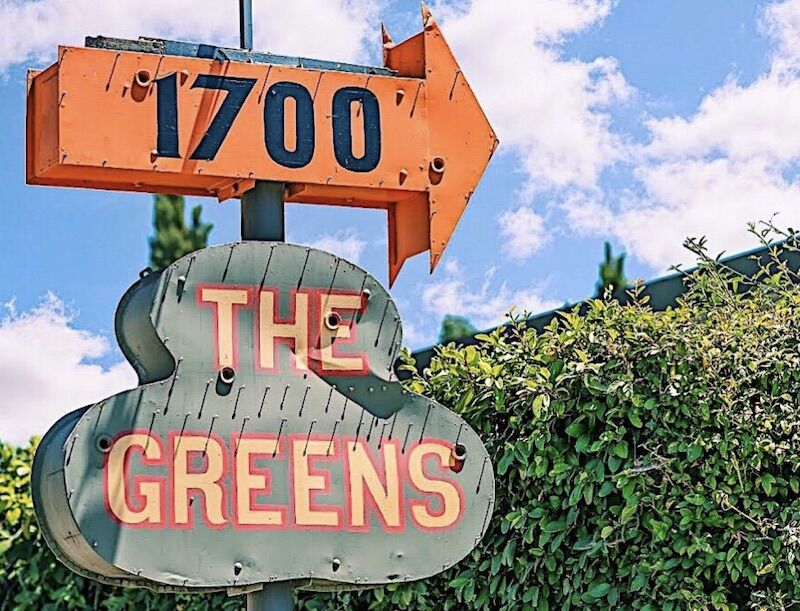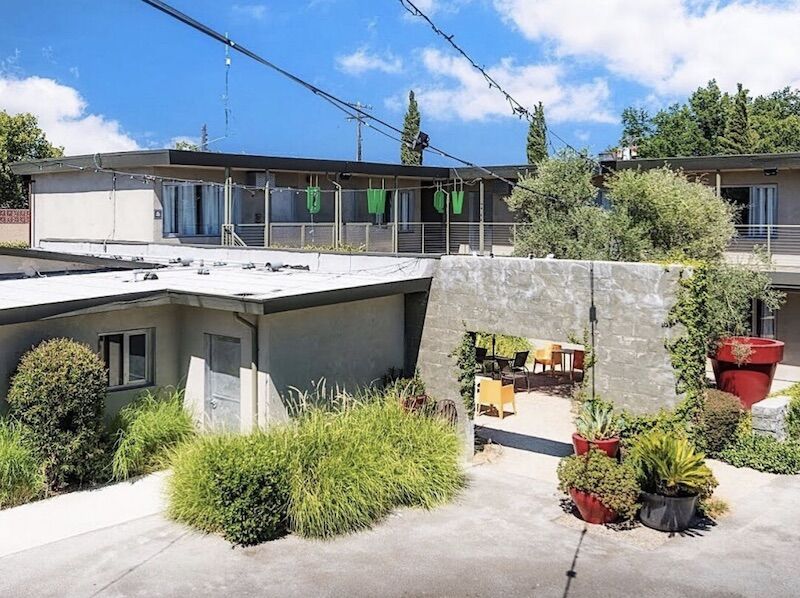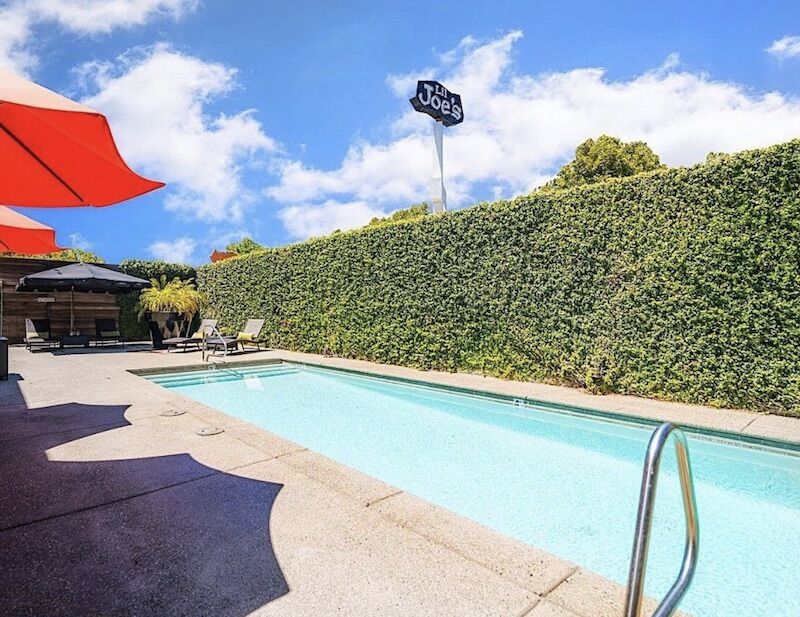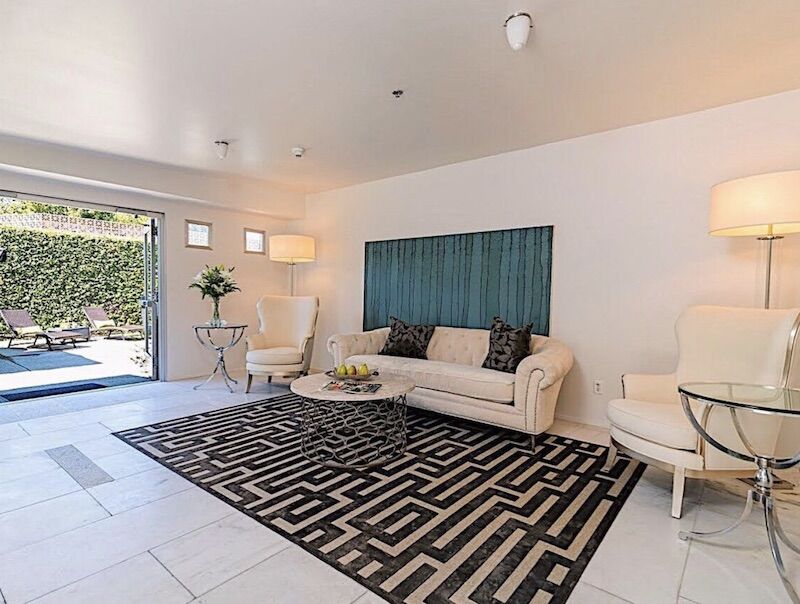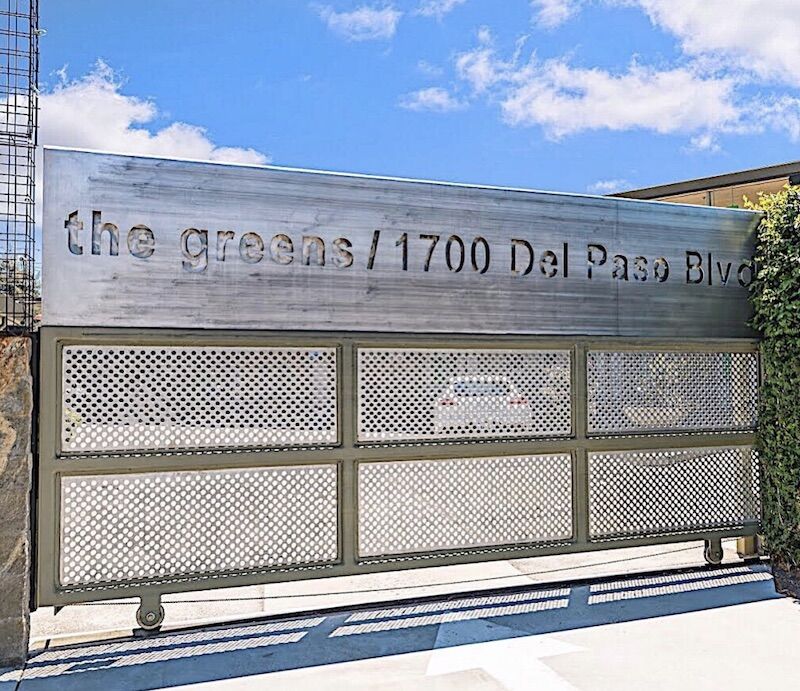 LOCATION
A neighborhood on the come-up that's 15 minutes from everything
The Greens on Del Paso Road is located in Old North Sacramento, an area that just over a decade ago was a forgotten strip of storefronts you'd rather not visit. But over the past decade or so, it's attracted some destination businesses that now alternate with the auto repair shops and payday loan stores. Spots like King Cong Brewery and the Shift Coffee Bar give Del Paso Road some drinkable anchors with art galleries, print shops and other signs of creative life popping up around them.
Though Old North Sac is fun and definitely worth exploring, you'll need to leave the neighborhood to really experience Sacramento. And The Greens makes it easy, sitting less than a mile from I-80 Business and a short drive from the American River Parkway. Just across the American River you'll find Sutter's Landing Regional Park. Just south of that are midtown and downtown Sacramento. For less than the price of a room at a chain hotel in the suburbs, the location is an outstanding value. 
For a look at the most notable and quintessential things to do in Sacramento, see our full guide. And here's some other cool stuff that's not so far from The Greens:
The

American River Parkway,

a 32-mile bike and running path that runs from Old Sac to Folsom Lake, is less than five minutes away by car and about 10 minutes by bike.

If you're not trying to bike all the way to

Old Sacramento

on the trail, you can drive there in 10-15 minutes. In Old Sac, you'll also find the

California State Railroad Museum

, a fascinating look at how early industrialists built a transcontinental railroad in less time than it takes to repave an offramp today.

Sacramento's noted street art is all over downtown, also about 15 minutes by car from the hotel.

The Crocker Art Museum

is the best art museum you'll ever find in an old Victorian home. It's spread into a much larger facility now, too, and is about 15 minutes from The Greens by car.

Bogle Vineyards

, the winemakers who pioneered petite Syrah in America and are in nearly every grocery store, are only about a half-hour's drive away.

Catch a local band or a national touring act on their way to San Francisco at the

Ace of Spades

. The venerable Sacramento venue is only a 10minutes drive away.

The

Golden 1 Center

is less than 10 minutes away by car. And while the home of the Sacramento Kings might not offer the best on-court product in the NBA, you can make a case that the brand-new arena is the coolest in the league with its in-house grocery stores and, depending on the seat, its in-seat beer delivery service.
ROOMS
Simple rooms with plush amenities that make for a perfect night's sleep
When simple hotels talk about their rooms being "clean and comfortable," sometimes it  sounds like a nice way of saying, "Hey, at least you won't have to worry about tetanus." But at The Greens, the stripped-down rooms really are exceptionally clean and comfortable, starting with the bright white decor that's impeccably maintained. Each room has Smart Elegant Suite beds: big, fluffy mattresses that make it easy to sleep until noon. The ice-cold air conditioning and blackout curtains only hasten your slumber.
Every room comes with a flat-screen TV, a Keurig machine, a phone and a private bathroom with eco-friendly bath products. Remember, though, this is still a converted motel, so don't expect tons of room to spread out your cosmetics. Similarly, don't look for much in the way of storage for clothes in the bedroom. Still, if you're not planning to stay for a week and are OK pulling stuff out of your suitcase, any of The Greens' room categories should fit what you're looking for. 
Queen Rooms – The entry-level rooms at The Greens are perfect if you're traveling by yourself or even with a partner. They're between 200-250 square feet and come with a queen bed, a chair and a shelf. They are also available with two queen beds in case you and your traveling companion aren't trying to spoon.
King Rooms – The larger of The Greens' room types are all lined up on the courtyard, so they're ideal for meeting other guests. But they can also be loud if these other guests are trying to stay up late when you would rather be sleeping. King rooms are between 312-370 square feet and come with a desk, a chair and a king-sized bed.
Patio King – Some King suites also offer private patios, which are particularly nice if you're in town in the summer and want to enjoy the perfectly cool evenings. They also make an ideal place to enjoy your souvenirs from a day of wine tasting in Lodi.
AMENITIES
You're not here for the amenities
The Greens is a great place to stay if you want somewhere to lay your head that still has a little bit of style, but long on amenities it is not. The pool is perfect for unwinding after a long day on the road or a particularly rough day on the bike trail. There's also a lovely picnic area where you'll likely get to converse with other guests enjoying a beer al fresco. And the lobby has a microwave and constant supply of coffee.
Beyond that, you won't find a whole lot in terms of services at The Greens. But you will find the following:
Free Wi-Fi

Free on-site parking (though it's limited)

Cable television

Phones in every room

Microwaves

Refrigerators

Pets other than service animals are not allowed