Scene
Portland cool mashed with frat house chic
A lot of hotels like to say they feel like home, but the Hoxton hits the right note as soon as you walk in. Your first impression is a smattering of remote workers with laptops open, posted up on mismatched lobby furniture. It looks a little more like a cleaned-up frat house study hall than a hotel lobby, and smells a lot better. The vibe is the laid-back, professional cool that's defined Portland over the past decade and a half, and that aesthetic carries through the hallways, which are etched with original art, and the retro-outfitted rooms. Hoxton's scene is as close to "being seen" as it gets the Rose City, where a rooftop Mexican restaurant packs 'em in for weekend happy hours and the funky lobby eatery offers fine wine and tasting menus amid thrift store chic. Hoxton is the picture of what cool means in 2020s Portland, and spending a few nights here gives a better sense of the city's culture than almost anywhere in town.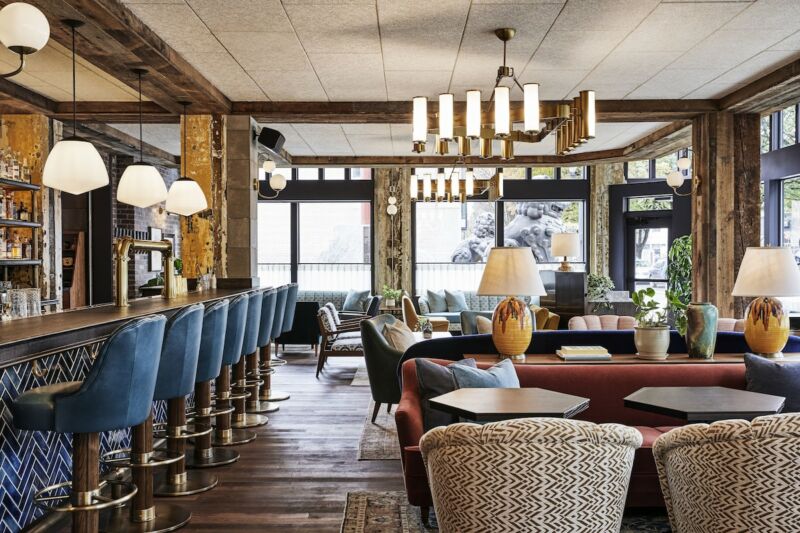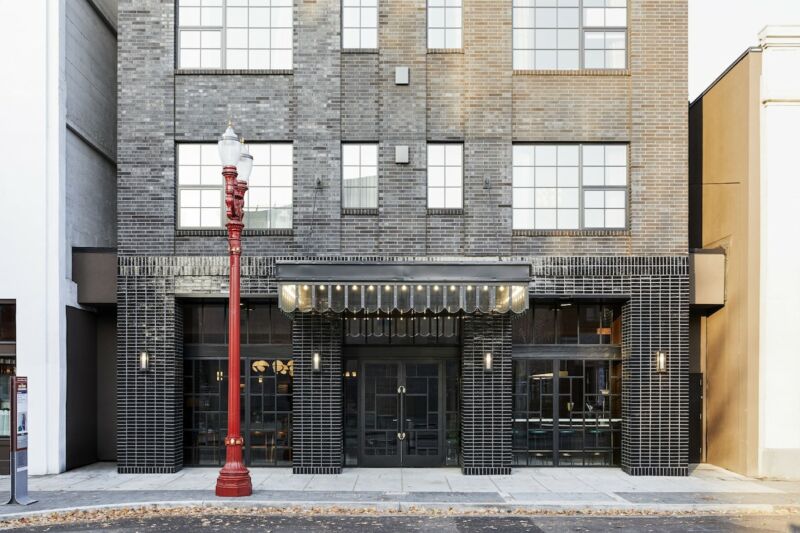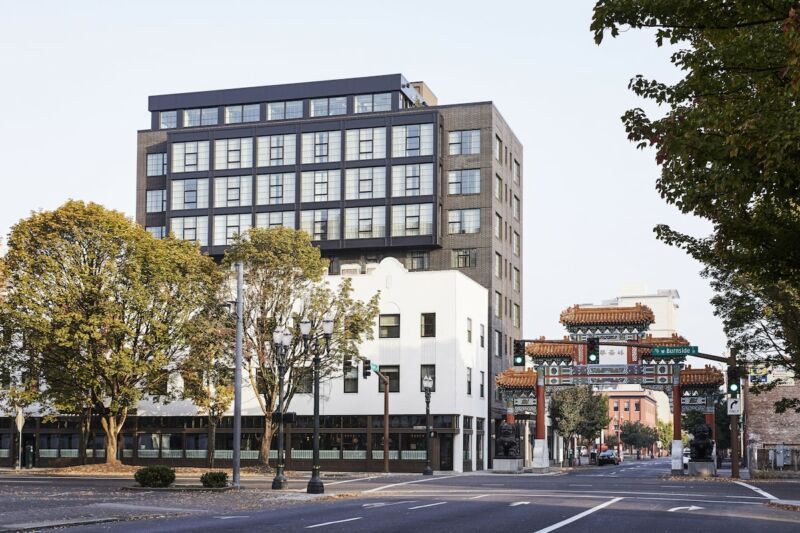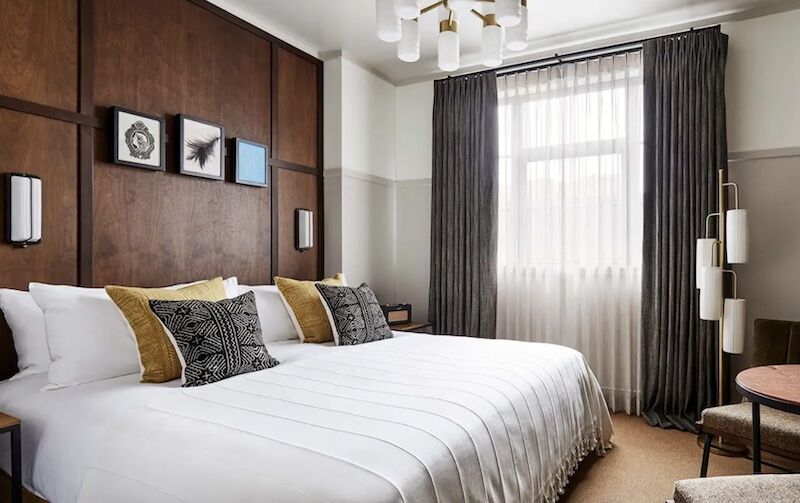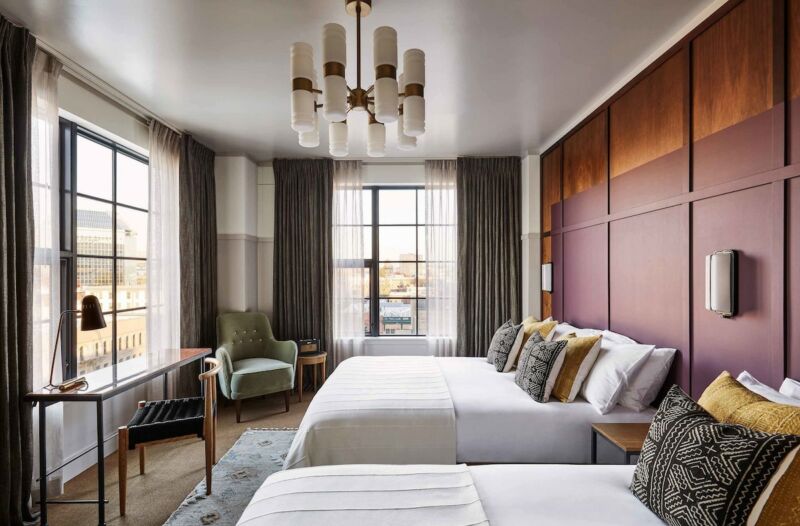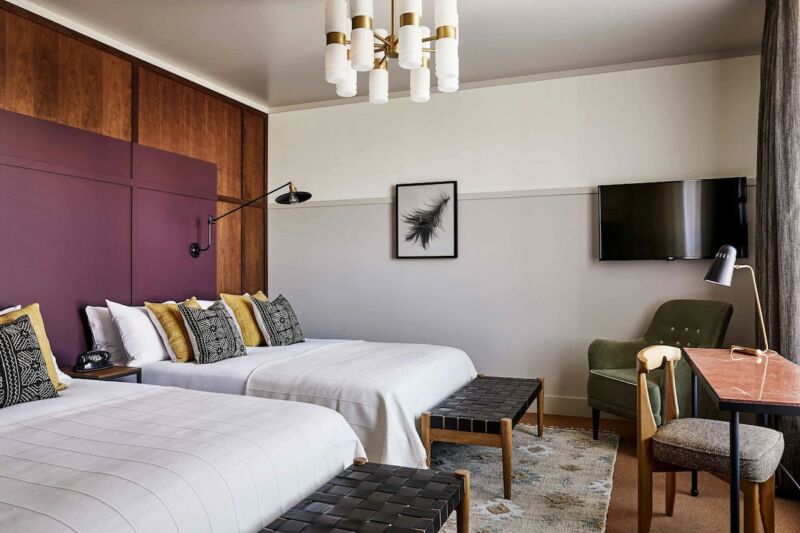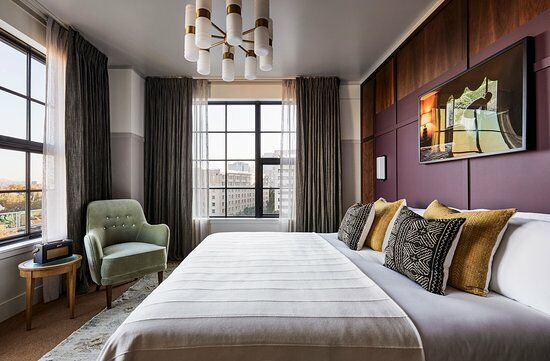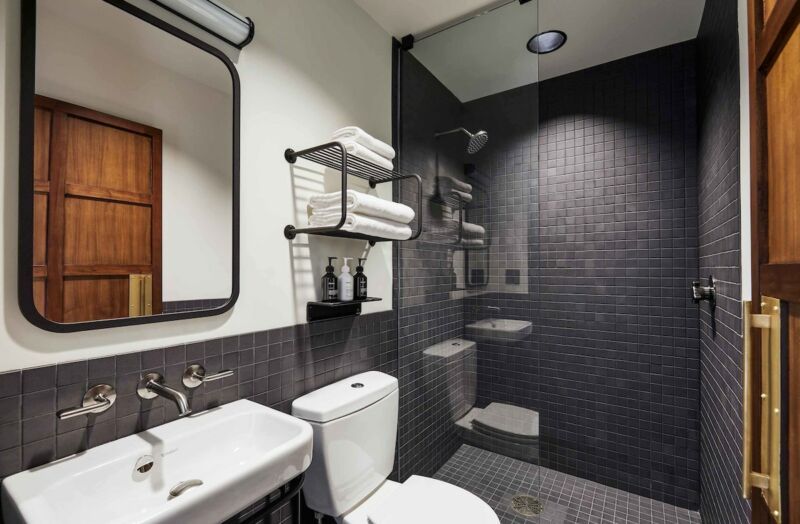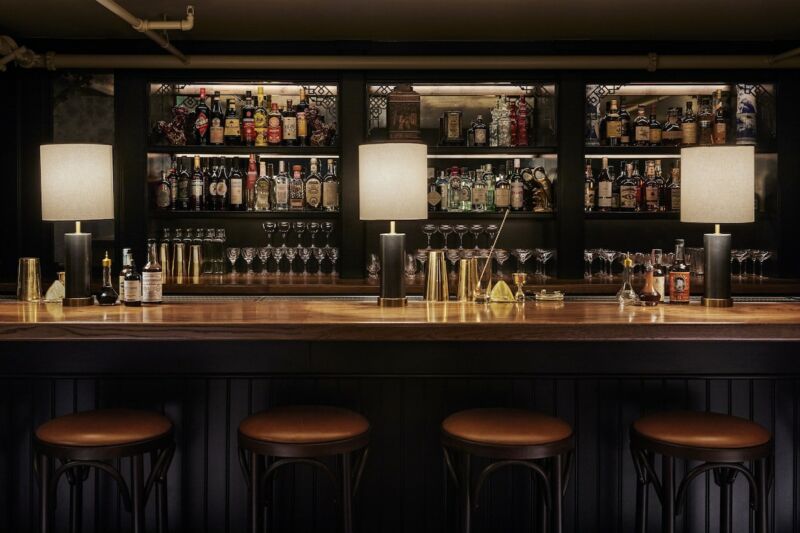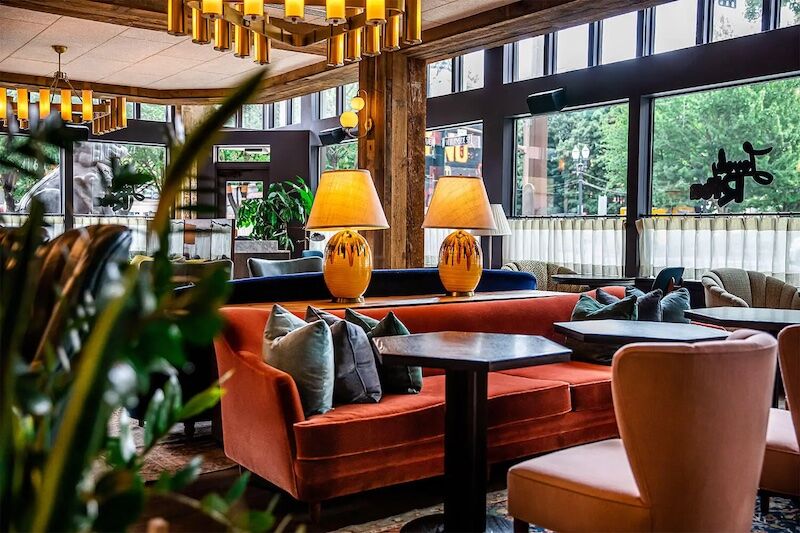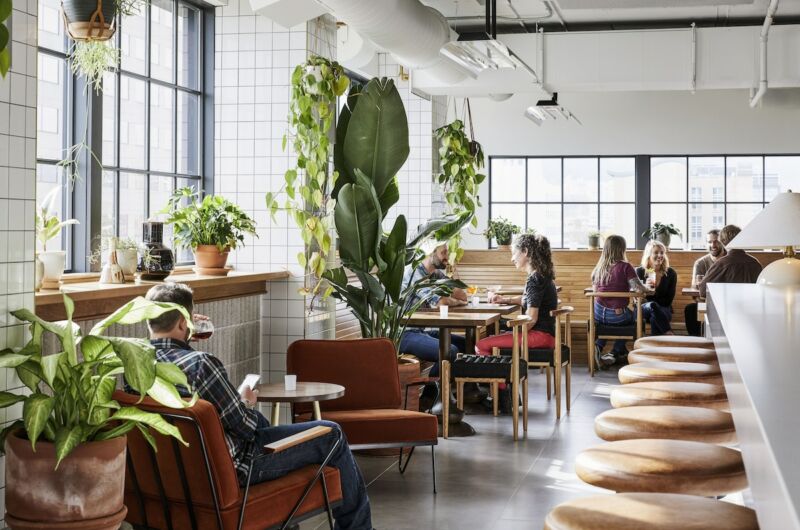 Location
Right across from a landmark strip club. Do you really need anything else?
The Hoxton sits just west of Portland's landmark Burnside Bridge, a short walk from Old Town and strolling distance to almost anything in downtown. More importantly, the iconic strip club Mary's Club is right across the street, and if you've never been to an exotic dance emporium in PDX the experience is unlike any other in America. We'll leave it at that, and let you wander across the street once curiosity (and maybe a few beers) get the better of you. Beyond that particular attraction, the Hoxton is a stone's throw from the Pearl District, generally considered the best area for bars and restaurants in town. If you feel like exploring farther, the MAX light rail has a stop only two blocks away, giving you access to most of the city.
Here's our guide to the city and here's some awesome stuff to do nearby:
#hoxtonportland on Instagram
Rooms
Midcentury-modern with touches of original art
Hoxton's rooms are furnished with retro radios and old timber walls and accented with pastel pink marble and brass, bringing a little bit of tropical to the Pacific Northwest. Local art curators at the Upfor Gallery found the art for the rooms, and the little ceramic knick-knacks on the shelves come from local artisans too. Hoxton doesn't let the creativity end with the décor either, as they have some of the more accurately named room categories you'll ever find:
Shoebox – A nice euphemism for a room that's slightly larger than a walk-in closet at 115 square feet. You'll be sleeping on a single twin bed, but you still get a private bathroom, old-school radio, safe and cool faux-rotary phone.

Snug – Same as the Shoebox, but with five more square feet to accommodate a queen-sized bed.

Cosy and Cosy View – Hoxton comes to Portland from London, so their "Cozy" room comes spelled with an "S." They also come with a small seating area and queen or king bed. The "View" versional also offers panoramic views of the city skyline and, on higher floors, the mountains in the distance.

Roomy – The Hoxton doesn't sell you on space, as its largest rooms clock in at only 270-310 square feet. Still, they make for comfortable homes away from home, with sleek desks, a sitting area and either one king or two queen beds. 
Amenities
Two of Portland's top restaurants onsite
Where the Hoxton really creates its aura of cool is with its amenities. Not really the stuff you find in the bathroom, but destination dining for breakfast, lunch, dinner and happy hour makes the Hoxton as much a local hangout as a place for visitors.
Hoxton's signature restaurant is Tope, a slow-smoked-meat taqueria that doubles as one of the hottest rooftop bars in the city. The signature margaritas and epic mezcal bar are a big reason why. But step out onto the patio and its sprawling views of Mt. Hood, Mt. St. Helens and the iconic Welcome to Portland sign, and you'll find yourself uncontrollably posting pictures to your Story. If you're thinking of stopping in, be advised the line gets long early on weekends. So unless you're a guest, plan ahead.
The lobby restaurant is no slouch either, where craft cocktails and a multicourse tasting menu make it a little like fine dining in a vintage store. Make a point to start out with a barrel-aged Manhattan or Negroni, then move on to multicourse, family-style dinners featuring Northwest-inspired cuisine from chef Joel Lui-Kwan. Lovely Rita also offers a $50 wine pairing, where you'll see what Willamette Valley specials go best with the night's selections.
Roseline Coffee
The lobby also offers  a small outpost of Roseline Coffee shop, where you can grab fancy coffee drinks if the stuff in your room ain't cutting it.
Art
Art in the rooms is all curated by the local Upfor Gallery. But the most interesting works are the sketched murals in the hallways by muralist Sarah Buckley. They're worth going floor to floor to explore.
Bike Loan
The Hoxton has a bike loan program with custom bikes from Built by PDX Cycles. Stop by the front desk to reserve or check one out.
Fitness Center
The Hoxton does not have a fitness center, but does have a partnership with nearby Knot Springs, where guests get 15% off fitness 
Parking
The Hoxton has valet parking available for $48 per day.
#hoxtonportland on TikTok