Scene
Creativity builds community in an old motel
Not so very long ago, Portland's Central Eastside was a run-down neighborhood that visitors to Portland avoided at all costs. That began to change in the early 2000s, when one of the Central Eastside's more notorious heroin hotels was taken over by entrepreneur Kelsey Bunker. Long before rehabbing old motels was the "it" thing in hospitality, she took the old spot and made it one of the coolest hotel concepts in the city.
The result is The Jupiter Hotel, a sleek, cozy motel with Pop Art rooms that oozes creativity. Even on cooler days, the spacious courtyard is filled with musicians, artists and travelers having impromptu jam sessions and late-night laugh fests. And you'll be hard-pressed not to join them over an IPA or glass of pinot noir.
This social, generative spirit carries into the hotel's café and restaurant, Doug Fir Lounge. Locals frequent the establishment more than guests, seeking out the stellar cocktails and the live bands that  play here at night. You can also learn about the local art scene by exploring the Gallery @ Jupiter on the ground floor.
The Jupiter Hotel concept was developed to prioritize experience over profits, but that's not to say Bunker's not making money now. During the summer and the weekends, rooms here are hard to come by.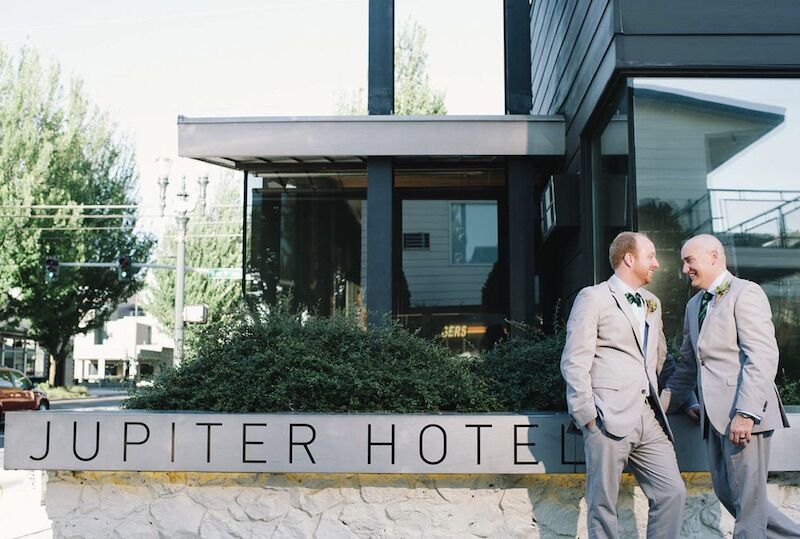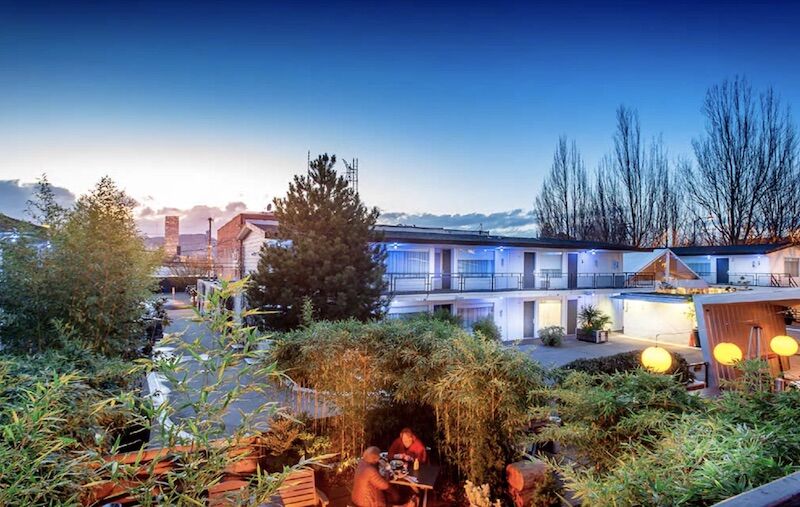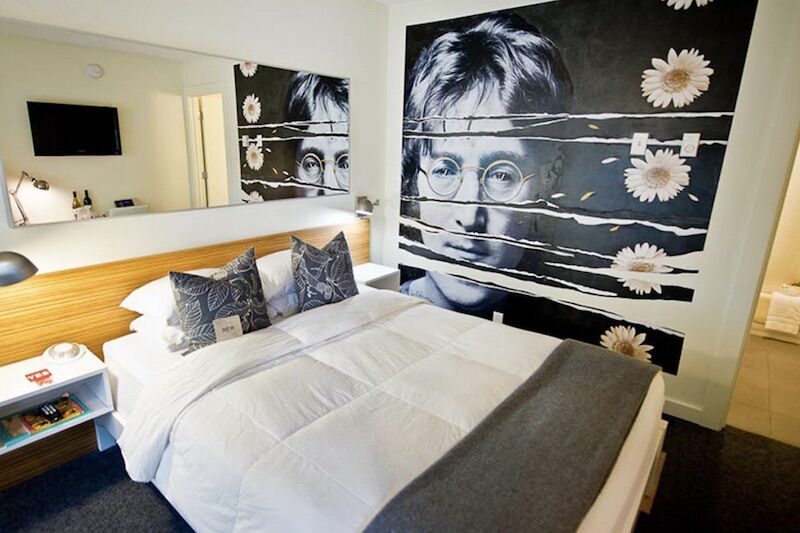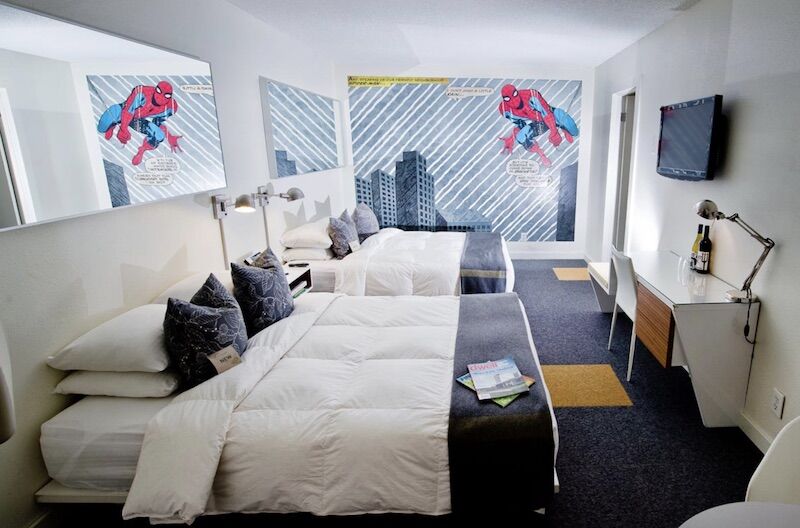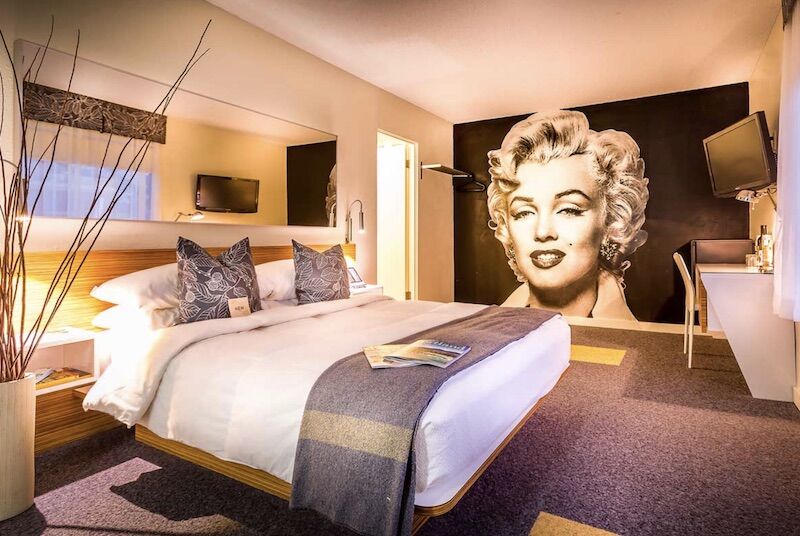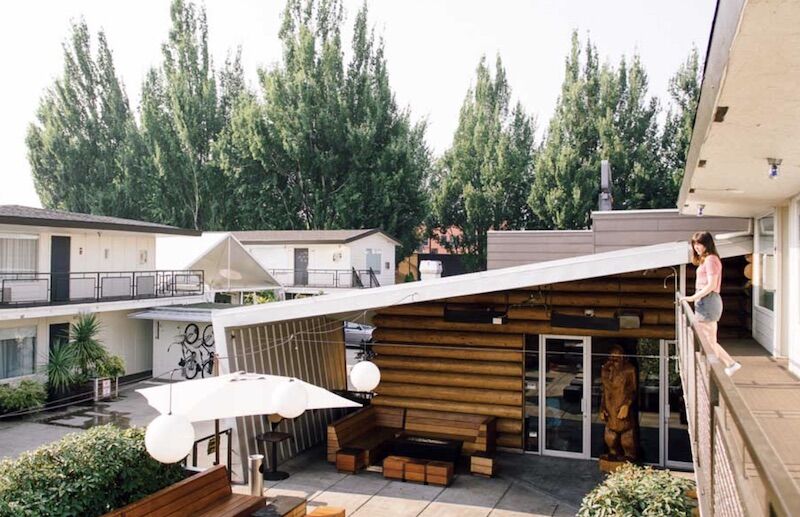 Location
Explore the neighborhood this hotel helped bring back
The Central Eastside doesn't necessarily owe its rehabilitation to The Jupiter, but the hotel has definitely helped. From your front door, you can easily walk to dozens of bars and restaurants, including the landmark Union Jacks strip club and Voodoo Doughnut. On weekends, the Doug Fir isn't the only live music venue in the area, and you can easily catch a show at any of the nearby spots after dinner or before drinks. The Jupiter also sits just down E. Burnside St. from the Oregon Convention Center, and, while it doesn't trade much in convention traffic, the convenience is a plus. For all of the notable and quintessential things to do in Portland, see our guide.
All within a distance from The Jupiter you can:
Rent a bike from The Jupiter and ride downtown, cruising along the bike path by the Willamette River.

Learn about science and technology and peruse the fossils in the paleontology lab at the Oregon Museum of Science and Industry, about a half-hour walk from the hotel.

Take a morning stroll to

Voodoo Doughnut

,  the city's most famous donut shop, less than 10 minutes from the hotel on foot.

Stroll up E. Burnside St. to the lush confines of Laurelhurst Park, and be sure to stop into

Fire on the Mountain

for Portland's best wings.

Enjoy city views with a glass of Oregon wine at

Noble Rot

, two blocks away.

Explore

Jupiter NEXT

, the hotel's sister property across the street that's home to Hey Love and a refreshing collection of tropical cocktails.
Rooms
Comics on the wall make these small rooms feel like home
Because The Jupiter was, during most of our lifetimes, a seedy motel with not much concern for space, the rooms at The Jupiter are still on the smallish side, but that's about all that remains of its past. The rooms now are filled with large beds boasting high-thread-count sheets and clean, modern furniture. Each room has at least one wall completely covered in a Pop Art mural that depicts a cultural touchstone like John Lennon or a comic book hero. You won't find much in the way of storage space, but you will find desks and chairs that make working a breeze. Though, again, the fun of the hotel is outside of the room. 
Room prices begin at $134 for a weekday and easily surge over $200 on the weekends. 
The room categories include:
Lobu rooms

: If you just want a place to crash out at the end of the night and don't need to impress anyone with your digs, these rooms are ideal. The fun décor and comfortable furniture make them welcoming after a long day, but there is no draw to spend time in this room after you've rested up. 

Deuce rooms

: As the name might imply, these rooms are best if you're traveling with someone and you'd like to sleep in separate beds. They've got big desks and loads more space, plus chalkboard doors so you can leave your travel buddy little messages.

Metro rooms: If you'll be staying at The Jupiter for a while or are visiting with a partner, book one of these mural-lined rooms. They're similar to the Lobu in spirit, but offer a lot more space, plus a desk and chalkboard door.

Metro Max rooms

: These are the upgraded version of the Metro Room. Both rooms are similar, but the Metro Max is a smidge larger at 340 square feet and comes with a seating area.

Dreamsuite

: Think of this suite as a rock 'n' roll party palace for bands who haven't made it big yet. The large glass table, floor-to-ceiling mirrors and tucked-away location within the hotel just beg for all night debaucheries

—

or business meetings, whatever's clever. Either way this mega-room will let you do pretty much whatever you want, without input from your neighbors.
Amenities
An art gallery, a log cabin restaurant and a live music venue
Everything about The Jupiter screams imagination, and that starts at the art gallery off the courtyard on the ground floor. It's open 24-7 in case you need some late night serenity or contemplation, and the couches inside let you enjoy the art in comfort. You can also lounge in the courtyard filled with plush outdoor couches. It's the best place at The Jupiter to make new friends.
If you're looking to get out and explore, you can  rent a bike through Nike Biketown's rental station right outside the hotel. And if you're staying in, here are the other amenities the hotel provides:
Paid overnight parking

High-speed Wi-Fi

24-hour front desk
The Jupiter Hotel's biggest star is the Doug Fir, a wood-paneled nightspot that draws big local crowds for almost nightly live shows. When it's not hosting up-and-coming bands, the Doug Fir is an amped-up diner and bar. Here, you can enjoy upscale versions of comfort favorites like chicken wings and burgers while sipping one of its impressive original cocktails that attracts people far beyond the hotel guests. They'll even throw a shot of CBD in your drink if you ask nicely. The bar's daily happy hour runs from 3-6 p.m., and its $4 beers are a great way to start your night.
You should also know…
Jupiter NEXT and Hey Love
Next door at Jupiter NEXT, you'll find a more luxury-focused property, with sleeker rooms and virtual concierge service. It has more the feel of a business and lifestyle hotel than the funky Jupiter, and is home to most of the property's event spaces. If you like The Jupiter's vibe but want to stay somewhere quieter and more relaxing, look into the rooms here. They're a little more expensive, on average, but offer city views and more space. The lobby also boasts an outstanding cocktail bar at Hey Love. The tropical-inspired spot is long on crisp, fruity drinks and offers lighter fare with a slight Asian influence.
Related
See our Best of the U.S. Bucket List series for your guide to the city: