Scene
Industrial, art-forward urban hotel
When you walk into The Maven's lobby, the first thing you notice is the 10-foot-long suspended hand. Crafted with reclaimed wood by artist Andrew Ramiro Tirado, the piece is intended to be a celebration of all things handmade. It's a theme that repeats itself throughout the hotel and the micro-district surrounding it. 
Like many other art-forward hotels in Denver, the more than 700 unique pieces at The Maven were curated by NINE dot ARTS. The bulk of the works, ranging from sculptures to paintings, were made by Colorado-based artists, and many call upon recycled elements. 
Another upcycled piece, titled "Dark Matter Gathering," is an installation comprising 300 black-and-white framed family photographs. The artist, Travis Hetman, found each photo at garage sales and added what looks like a miniature cosmos to each — the hotel calls it "American folklore meets the 'Twilight Zone.'"
Actually, the whole building was rehabbed — it originally was a working dairy (surprising, considering the space is found in what is now Denver's Lower Downtown, just a block from Coors Field and Union Station). Though the building — nearly as big as a city block — isn't just an independent hotel; also within its walls are a happening food hall, boutiques, bars and more. Simply put: There's a lot to explore here.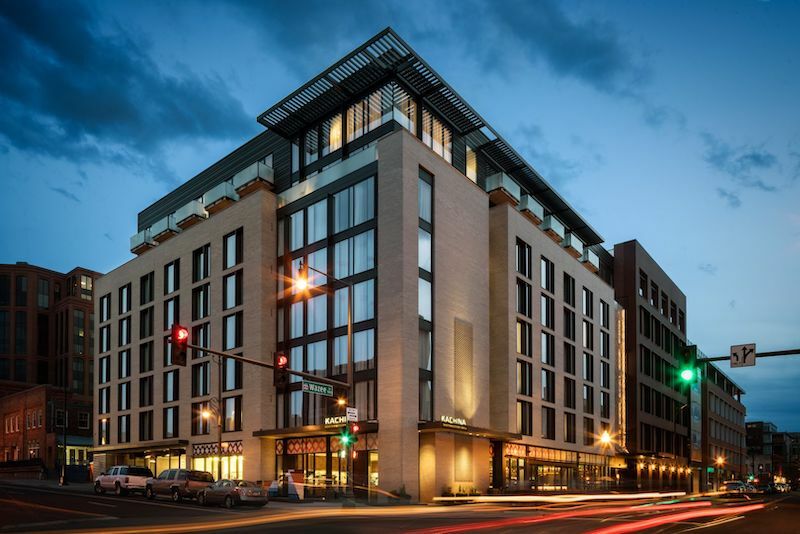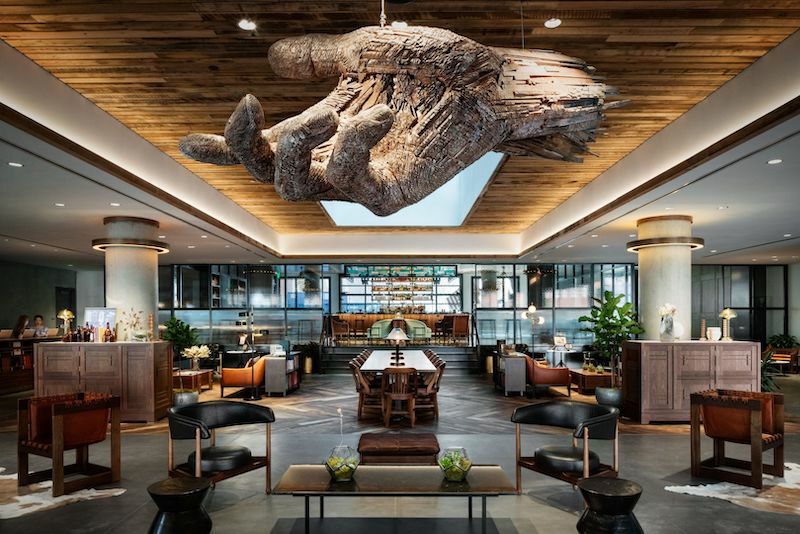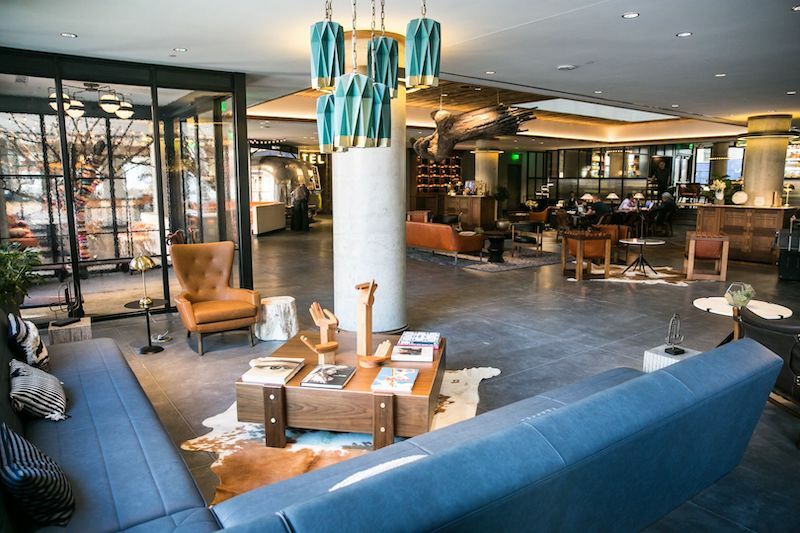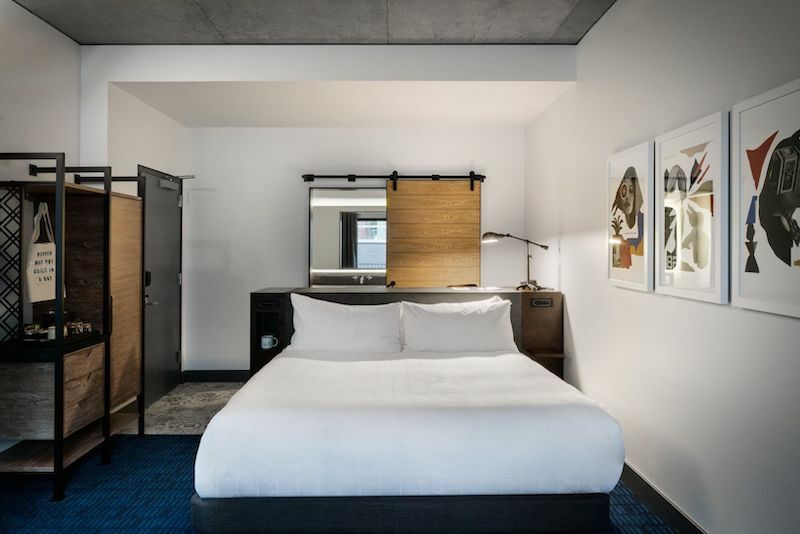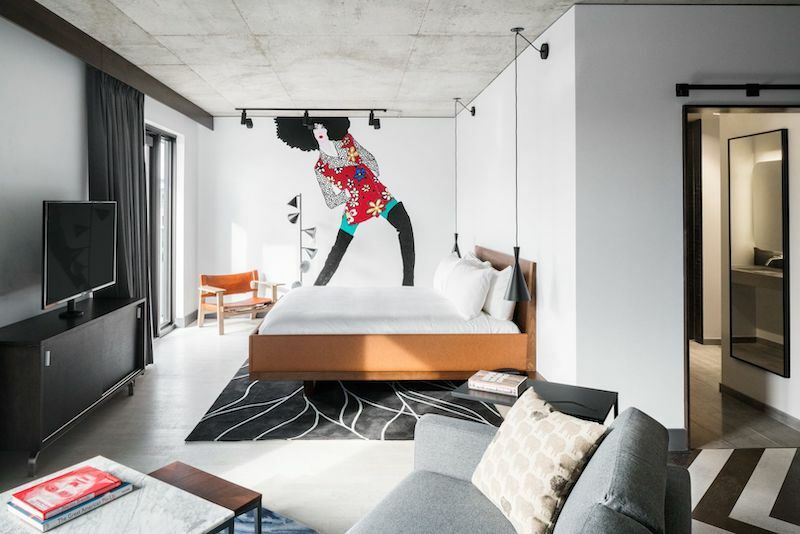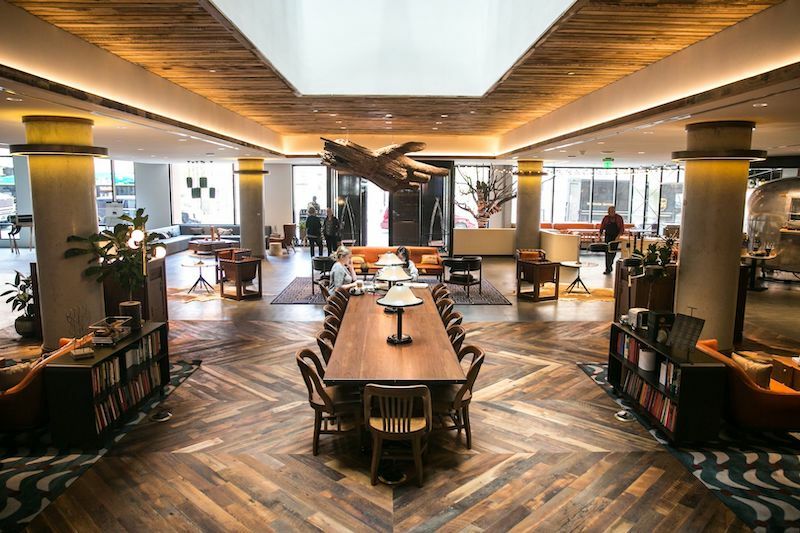 Location
A Denver micro-district with a community focus
Up until the 1940s, this block was the Windsor Dairy. Now there are 15 boutique shops, 19 restaurants, seven bars, a barbershop and a coworking space, so you don't have to go far to find a creative cocktail, a tasty treat or a place to blow your paycheck. If you're looking to explore the city, see our guide here.
Rooms
172 sleek loft-style guest rooms
Lofted ceilings, full-wall windows, funky artwork, spacious bathrooms and views of downtown (or Coors Field) define the various rooms at The Maven. Each room comes with a pour-over coffee bar and standard hotel room features like an iron, hairdryer and safe.
Apprentice King, Journeyman King, Journeyman Queen: Expect an industrial-chic room with a king-sized bed or two queen-sized beds, unique artworks, a smart television, a desk and a multi-purpose wardrobe. 

Journeyman Bunk Bed and Craftsman Bunk Bed: Ideal for families, these rooms feature a king-sized bed with a perpendicularly placed twin-sized bunk bed. There's just a swing chair in the former, whereas there's a sectional sofa in the latter. 

Craftsman King: Pretttty much the same as the Apprentice and Journeyman Kings, with one difference: There's a walkout balcony. 

Master King and Master Two Queens: Extra-large rooms with a seating area. Some, but not all, of the rooms have a soaking tub and a separate shower. 

Innovator Suite King and Innovator Suite Two Queens: These suites have either one king-sized bed or two queen-sized beds, a full sofa, a wet bar, a dining table and chairs, a flexible workspace and a patio. 

Maven's Loft: At 700 square feet, these corner suites are bigger than most apartments in downtown Denver. Each comes with a king-sized bed, a sectional sofa that could seat a small crowd, an oversize patio with furniture, a wet bar, a soaking tub and an office space. 

Maker's Suite and Diamond Suite: Sure to inspire you, these 770-square-foot suites are the only ones on the property with separate living and bedrooms space. A round, stand-alone soaking tub, dual vanities and double-head showers are in the bedroom. There's a large sofa, a six-person dining room table, a wet bar and floor-to-ceiling windows on two walls in the living room. 
Amenities
The best amenity? The location. 
Denver Milk Market: This one ranks near the top in a town full of incredible food halls. Each of the 16 unique concepts was designed by acclaimed local chef Frank Bonanno. Stalls include a poke spot, a handmade pasta joint, a pizzeria, an ice creamery and a handful of beer and cocktail bars. Be sure to come on Sunday for the Drag Queen Bingo Brunch. 
Poka Lola Social Club: This art deco lobby bar describes a drink titled "The North Remembers" (made with banana-infused Santa Teresa Rum, golden raisin and chocolate chai tea) as having "PSL vibes without the ridicule." It's just one of its many interesting and inventive signature cocktails. 
Kachina Cantina: This modern Mexican cantina serves dishes like fry bread tacos, chicharron guacamole, dry-aged strip steak and dozens of tequila- and mezcal-based drinks. Because this is Colorado, expect to find green chile on many of the plates. 
Huckleberry: If you need a kick of caffeine to start the day, this is the place to get it. Hotel guests get a free drip coffee, and all barista-prepared drinks are 10 percent off until noon. Pair it with a scone or a muffin from the nearby LoDough Bakery. 
Flex Office: This swanky coworking space has tons of places to get some work done, ranging from leather couches to dedicated offices. There's also a photo studio, a podcast studio, conference rooms and event spaces.
Pet-friendly policy: "Woofs, Wags, and Welcome" reads the handwritten note that comes with the dog bed, bowls, treats and map of the dog-friendly joints and parks nearby in the pet-friendly rooms. There is a limit of two dogs, under 60 lbs. per room, and a $50 per pet cleaning fee. 
There is a $25 Destination Amenity Fee, which includes in-room pour-over coffee and bottled water, Wi-Fi, use of the courtesy car, access to the fitness center and a free margarita from the converted Airstream in the lobby from 4-7 p.m. Flashing your room card also gets you discounts at local businesses, like 10 percent of all food and nonalcoholic beverages at Denver Milk Market and 20 percent off the bill at Deviation Distilling, among others. 
#mavenhotel on TikTok