Scene
A hotel anchoring a new entertainment mecca
Culver City, if you weren't aware, makes more of the movies and TV shows you see than Hollywood. Sony, Warner Brother Discovery, Apple and Amazon all have huge presences in the westside enclave, a fact you'll realize almost immediately upon walking into the lobby of The Shay hotel. The long work tables are frequently filled with writers and other creative types putting together scripts. While the table talk about projects is limited, working at The Shay can sometimes feel like being in an offsite Hollywood writers' room.
Upstairs, the scene feels like a different side of SoCal: a pastel pool and adjacent cocktail bar create a quintessential LA party scene. It doesn't rage quite like the Standard of the early 2000s, but with great food, attractive scenesters and views of the LA skyline and Hollywood Hills, it's an achievable simulacrum of the California dream. The hotel is also the centerpiece of Ivy Station, an old railroad depot that's been renovated into Culver City's trendiest new live-work destination. You may end up conversing more with locals than visitors.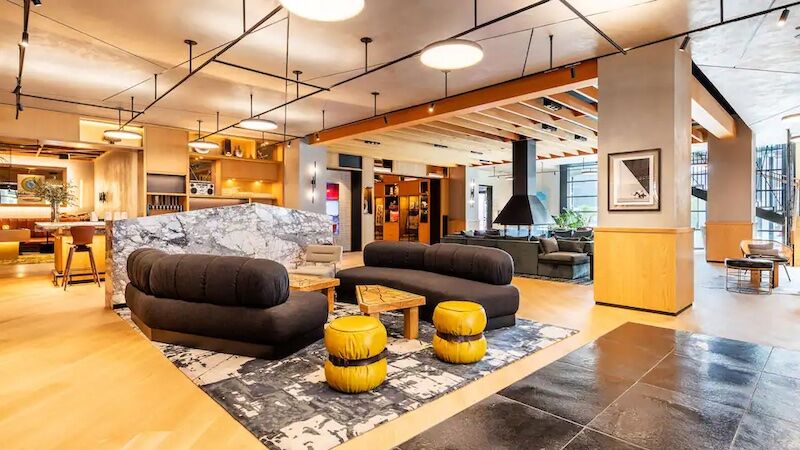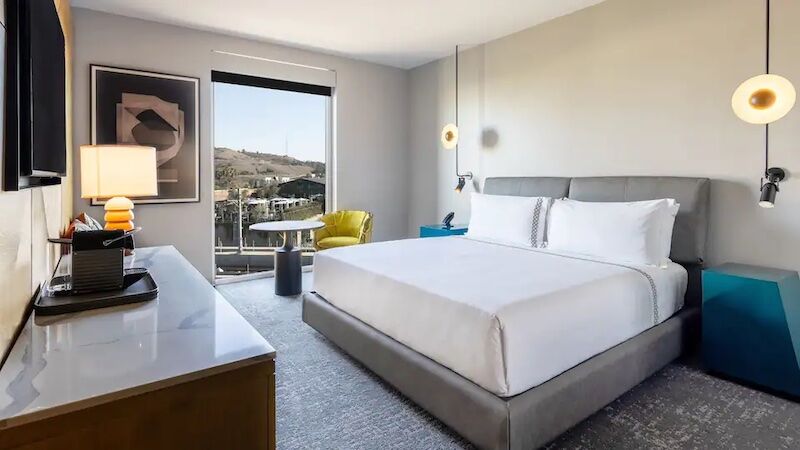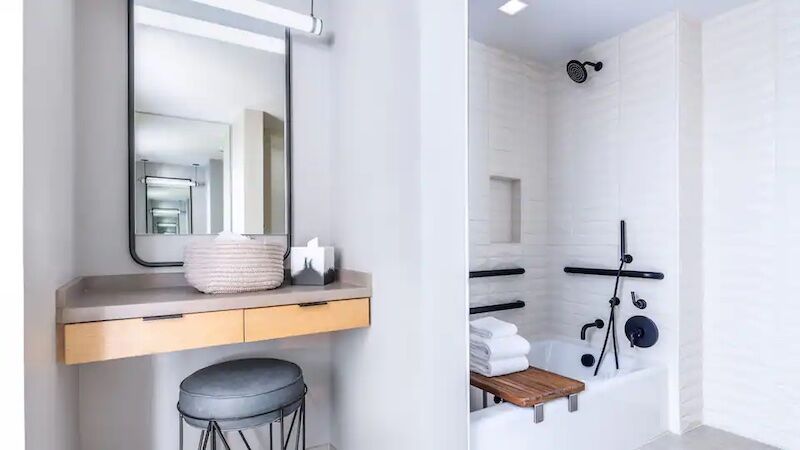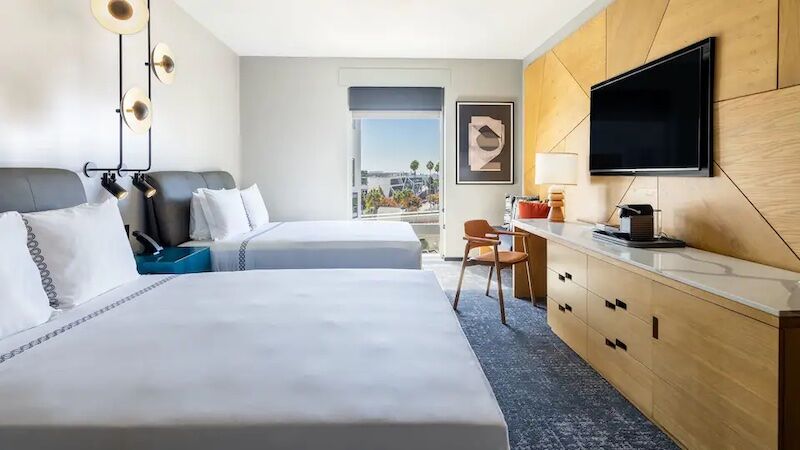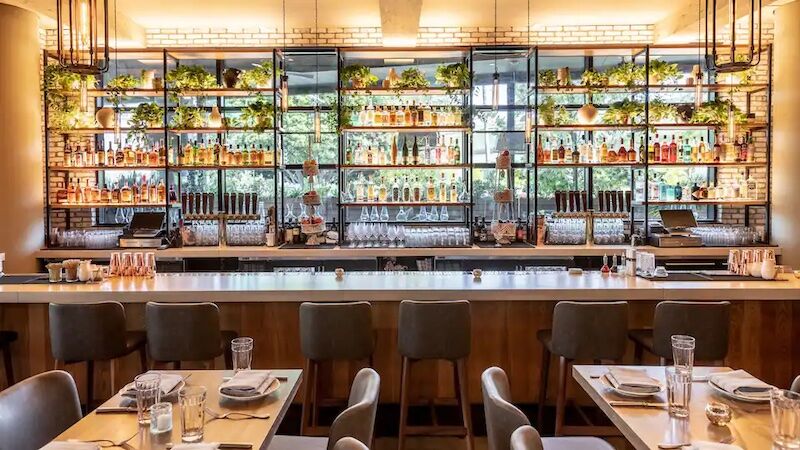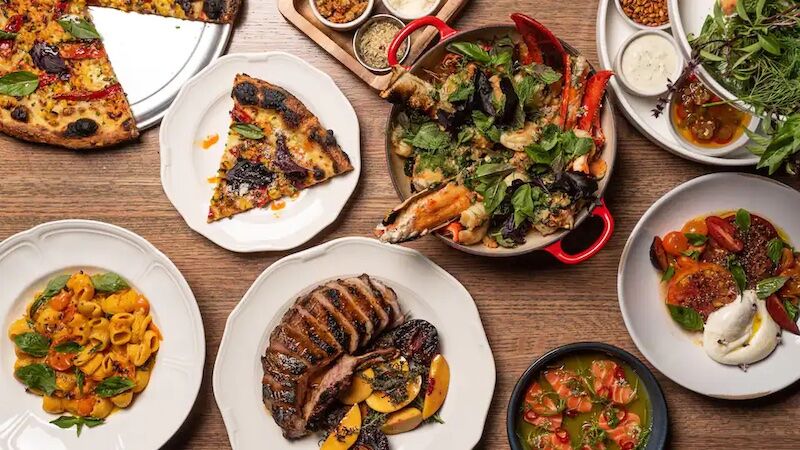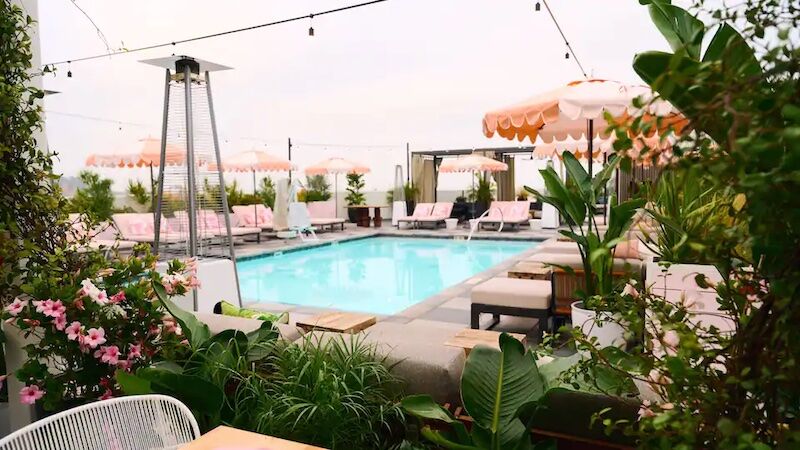 Location
The heart of Culver City, but still close to the beach (by LA standards)
Culver City may be home to a slew of movie studios, but these studios don't offer tours like Universal Studios or Warner Brothers over in Burbank. Still, Culver City has loads of movie history to explore, like the iconic downtown Culver Hotel and the shops and restaurants in former studio backlots. Culver City is also convenient to the west side beaches, downtown and Hollywood. Remember, this is LA, so you're going to be driving, but, by Southern California standards, nothing is painfully far. Within half an hour of The Shay, you can:
Walk or jog to the top of the

Baldwin Hills overlook

. This popular park has views of all of Los Angeles and is only five minutes away.

Ride the rides at

Pacific Park

on the iconic Santa Monica Pier. The Ferris wheel that appears in establishing shots of Los Angeles sits on the shore only 20 minutes away.

Stroll the shops and see the street performers along Venice Beach. Southern California's most personality-packed stretch of sand is a straight shot down Washington Avenue, about a 20-minute drive.

Take selfies on the Walk of Fame and pose in front of the Hollywood sign. The famous sights of Hollywood are less than half an hour away by car.

Shop for fresh produce and crafts at the Culver City farmer's market. It's an LA staple and open every day, only five minutes by car.

Explore Ivy Station, home to LA Ale Works, Equator Coffees, a stretching studio, a yoga studio and a bevy of small restaurants.
Rooms
Modern, muted rooms with floor-to-ceiling windows
The Shay's rooms feel like an extension of fashionable glass-and-steel exterior, with big windows, light woods and thoughtful mid-century fixtures. Each room has a mini fridge, 55-inch HDTV, blackout curtains, a hair dryer, garment steamer and robe. They also have large dressers and ample closet space. 
The Shay's rooms break down into the following categories:
King – The Shay's standard room is a spacious 300 square feet, with floor-to-ceiling views of the Hollywood Hills or Culver City and the LA skyline. It also includes a small workstation, though the desk isn't big enough for much other than a laptop.

2 Queen – Similar to the King, but slightly larger at 350 square-feet.

Balcony – These 430-square-foot rooms on lower floors have private balconies with views of Culver City, or, more accurately, views of the small courtyard and apartments next door.

King Bed Studio – Effectively The Shay's Junior Suite, this 500-square-foot space is a King room with a large living area, complete with a large sofa, long dresser and plenty of open floor space.

2 Queen Bed Patio – For those who like to lounge outside but aren't up for the pool scene, the patio room is the move. The indoor space isn't huge, but you can easily step out onto a furnished patio with seating for four and enjoy the LA sunshine.

 
Amenities
One of the west side's best rooftop pools, and one of Chicago's top Italian restaurant.
Rooftop Pooldeck
The Shay's biggest draw is its pool, a pastel and pinstripe rooftop oasis where guests and day users waste away on sunny afternoons. The bar cranks out craft cocktails served poolside, and a live DJ spins on Fridays and Saturdays. Those who aren't staying at The Shay can buy day passes via Resort Pass, which is great until you realize you have to leave at the end of the day.
The rooftop restaurant serves the same drinks available by the pool at both covered and uncovered tables. It offers breakfast from 7 am to noon, and dinner from noon until closing. The double smash burger with cheddar is the big hit, so make sure to order one early because they've been known to sell out. The crispy fish sandwich is a nice consolation, though. The filet is double the size you're probably expecting.
The ground floor Italian trattoria comes to Culver City by way of Chicago, opening its first west coast outpost at The Shay. The menu is a mix of wood fired meats, pizzas and pastas, crowned by a 40 oz. bone-in short rib that could easily serve three people. The yogurt marinated chicken adds a middle eastern accent to the long list of Italian selections.
Lobby bar
The lobby bar is the first thing you see when you walk in. It is ideal for a morning coffee and pastry, or a fresh pressed juice in the afternoon. You can also stop in for a drink well into the evening.
Game Room
Just behind the lobby bar, you'll find a game room equipped with a pool table and colorful local art. Between shots, you can scan a QR to learn more about each art piece and how to buy it, or just peruse the board games sitting near the plush booths.
Fitness Center
The Shay's gym is impressive, set across a small breezeway with a mural near the entrance. Inside you'll find a Smith machine with plates, cables, kettlebells up to 24 pounds and dumbbells up to 50 pounds. For cardio, the gym has three treadmills, two ellipticals, a rower and two Peloton bikes. If that's overwhelming, personal trainer Kasey Essers is also at your disposal and available for private sessions.
Parking
The Shay offers valet parking for $50 a night.
#theshayculvercity on TikTok