Scene
A white Georgian Colonial Revival hotel on a hill overlooking Estes Park
If you've heard of Colorado's The Stanley Hotel, it's probably because you're a Stephen King fan. The story goes that the author and his wife visited the hotel in 1974, on the night before it shuttered for the winter season, and were the only guests. During the night, King jolted awake from a nightmare involving a fire hose chasing his screaming son down the hallway. He lit a cigarette, and by the time it was down to the butt, he'd laid the blueprint for what would become "The Shining" in his mind. The movie wasn't filmed there, but the TV miniseries was, as were the scenes from "Dumb and Dumber" where Jim Carrey and Jeff Daniels' characters were in "a little place called Aspen." 
The hotel, which is in the National Register of Historic Places, is named for the man who built it (or, more accurately, paid for it): Freelan Oscar Stanley (F.O. Stanley). Stanley was an inventor (he and his brother were the duo being the Stanley Steamer, a steam-powered car) who came to Estes Park in 1903 to spend what he and his physician thought would be his final days, as he had a gnarly case of tuberculosis. Surprisingly, he ended up making a full recovery and, in 1909, constructed a home there, as well as a lodge for his wealthy friends to spend the summer. That lodge would go on to become The Stanley Hotel.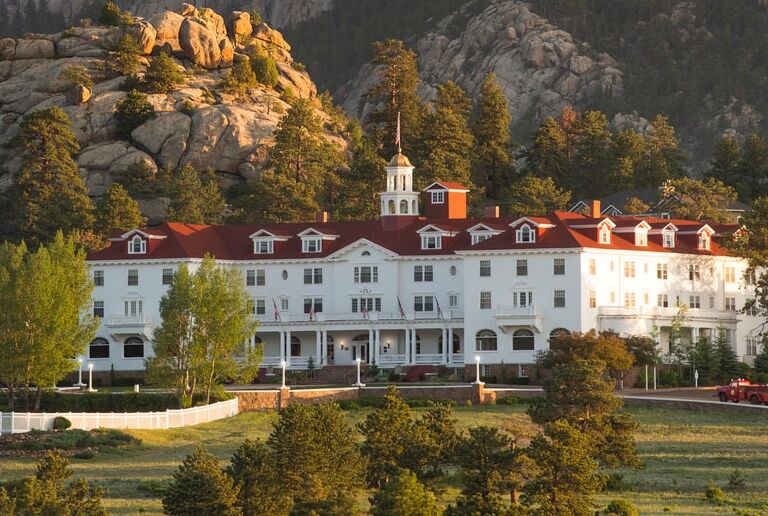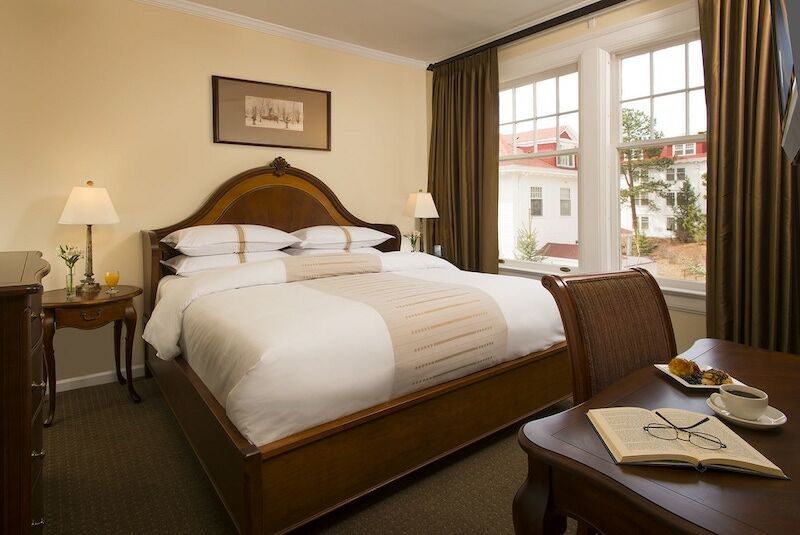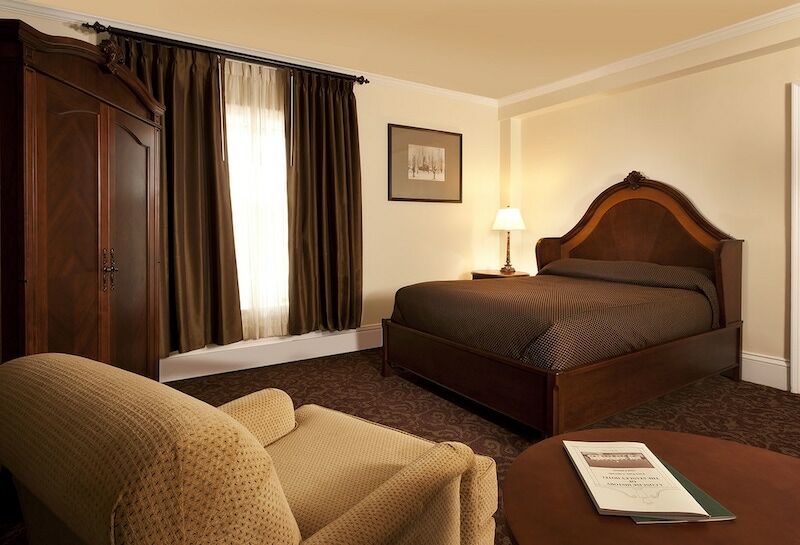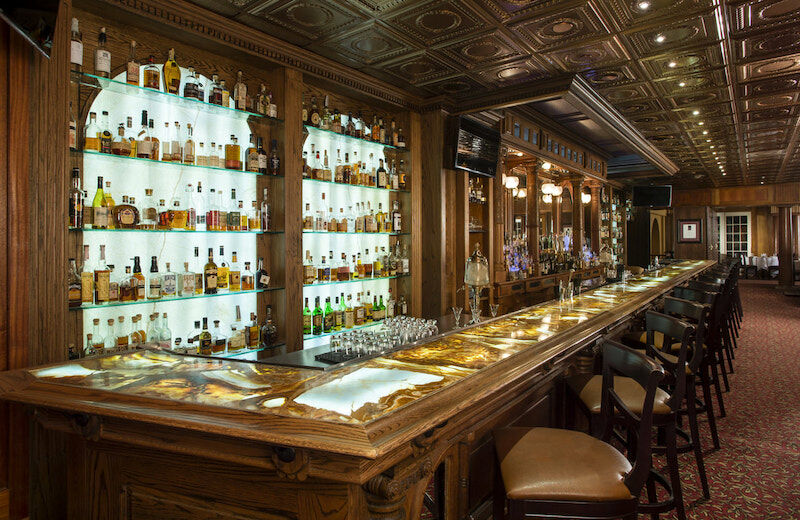 Location 
Four miles from Rocky Mountain National Park
The hotel is located 66 miles north of Denver in the tiny mountain town of Estes Park and surrounded by Rocky Mountain National Park and Roosevelt National Forest. Rocky Mountain National Park, the vibrant heart of the Rockies, is likely the reason you trekked out to Estes Park. Between the massive herds of elk, nimble bighorn sheep and pine-covered slopes, the park doesn't disappoint. That being said, it's an increasingly popular park, so if you're looking for a deeper dive (and insight into the quieter areas), Yellow Wood Guiding does fabulous ranger-led tours. Here are some spots nearby to check out while at the hotel.
#stanleyhotel on Instagram
Rooms
Historic (and small) spaces 
Because of The Stanley's alleged connection to the paranormal, the hotel is usually fully booked between Labor Day and Halloween. If you're hankering for a spooky-season supernatural sighting, plan ahead. And if you want to bed down in the same room King plotted his novel, good luck. That room, 217, is booked out six months in advance — or nearly a decade if you want to stay on Halloween. 
Within the main building, the guest rooms haven't changed much since the hotel's inception in 1909, which means it's not going to look or feel like a modern hotel. The doorknobs are notably lower than you'd expect, the rooms are small, there is no air-conditioning, and each of the rooms has classic furnishings (much of which could use some TLC). That being said, the rooms weren't designed to spend a lot of time in but there is loads of old-world charm. As the website tells it, "multiple renovations have restored this 140-room hotel to its original grandeur." But remember, Stanley expected his guests would enjoy the common areas and the grounds. 
Each guest room has either one or two queen-size beds or a single king. Furnishings are simple, perhaps except for the flat-screen TV. 
Spirited Rooms: While these rooms are essentially the same as others within the main property, the hotel charges more because it's believed there's a greater likelihood of experiencing paranormal activity. They are rooms 217 (where King stayed), 401, 407 and 428. 

Presidential Cottage: Three bedrooms, two-and-a-half baths, a kitchenette, dining and living room areas and a private deck. There are also two lower-level units, each with a king-sized bed and a bathroom. 

The Lodge at The Stanley rooms: If you're looking for a room with a more boutique feel, these are a good bet. They aren't, however, in the original hotel. 

The Residences at The Stanley: These fully equipped private condos come in one-, two-, three- and four-bedroom sizes. These accommodations are found behind the original hotel. 
Amenities
Dining, tours and a possible supernatural encounter
Officially, The Stanley maintains that it's not a haunted hotel. That's largely because they don't want guests to expect paranormal activity (or ask for their money back when they don't get one). Still, they play up their connection to Stanley Kubrick's "The Shining" with memorabilia, bar drinks with names like "Redrum," a (very short) hedge maze and multiple nightly ghost hunts. You can see what we mean in the online gift shop, too.
If you're there just because you want to stay in a historic hotel, there's a pool, various restaurants, some grand communal spaces and beautiful grounds to walk around. If you're a hotel guest, parking is free. If not, expect to pay $10 a day. 
Hotel tours: The Stanley offers two tours: the Historic Day Tour and the Spirited Night Tour. The daytime tour covers the history of Estes Park and the hotel, as well as a bit about Stephen King, the various celebrities that have stayed and some pop culture. The after-dark tour leans hard into the spirited parts of the hotel. The latter is admittedly pretty hokey. 
Cascades Restaurant & Lounge: If you have a hunger that only rare meat can satisfy, you've come to the right place. Look for the "MEN WALK ON MOON" New York Times article, much like the one Jim Carey's character gets excited about in "Dumb and Dumber." 
Whiskey Bar: Technically in the Cascades Restaurant & Lounge, the hotel treats it like a separate entity. It has one of the largest whiskey collections in the state.
The Post Chicken & Beer: The motto is "Hot Chicken Loves Cold Beer." That should give you a pretty good idea of what's on offer in this restaurant found in a renovated 1909 carriage house. Guy Fieri also featured it on Food Network's "Diners, Drive-Ins & Dives."  
Aiden Sinclair's Underground: Hidden behind a bookcase on the lower level of The Post Chicken & Beer, this speakeasy-style lounge hosts magic shows (often with a seance theme) with its eponymous performer several nights a week.
FAQ
How far is it from The Stanley Hotel to Boulder? 
It's 38 miles and about an hour drive from the hotel to Boulder.
What time is check-in and check-out at The Stanley Hotel?
Check-in is 11AM and check-out is 4PM.
Is there free parking?
Parking is free for all guests staying at the hotel.
Is there Wi-Fi at the hotel?
Yes, there's free Wi-Fi at the Stanley.
Is The Stanley Hotel pet friendly?
No. The Stanley does not allow pets to stay in the guest rooms.
Does the hotel have meeting rooms?
It has many meeting and event rooms including a concert hall and a billiard room.
Is there anything else I should know?
There's no air conditioning at the hotel. Though, at Aspire Hotel and Spa, they offer air-conditioning in modern apartment-style rooms. Aspire is owned by The Stanley and .3 miles away from the hotel.
Who was Flora Stanley?
Flora was the wife of F.O. Stanley. You can read about her extraordinary life here.
Who was Elizabeth Wilson?
A former chambermaid, if you'd like to read the stories that have been reported, Google "Elizabeth Wilson, Stanley Hotel chambermaid" and "ghost."(The hotel also offer a Spirited Night Tour for $30 per person, if you're interested in a ghost tour or the paranormal.)
What is the address to the hotel?
333 Wonderview Avenue, Estes Park, CO 80517.
#stanleyhotel on TikTok