Scene
American West meets Music City
Any place that greets you with a Mason jar of whiskey is alright with us. But it's not what makes a place memorable (in fact, it probably has the opposite effect). 
In a city where sleek new hotels seem to go up every month, Urban Cowboy is in a league of its own. Found in a retrofitted Queen Anne mansion, this bed and breakfast marries flamboyant Victorian-era furniture with somewhat kitschy Western accents (think antler chandeliers and dessert-inspired artwork). Because it wasn't meant to be a hotel, the rooms are oddly shaped (and have slanted ceilings, so if you're particularly tall you might have a hard time here), but as far as we're concerned that only adds to the charm. 
It's worth noting that the Urban Cowboy is strictly adults only, so those traveling with a family will have to find another spot.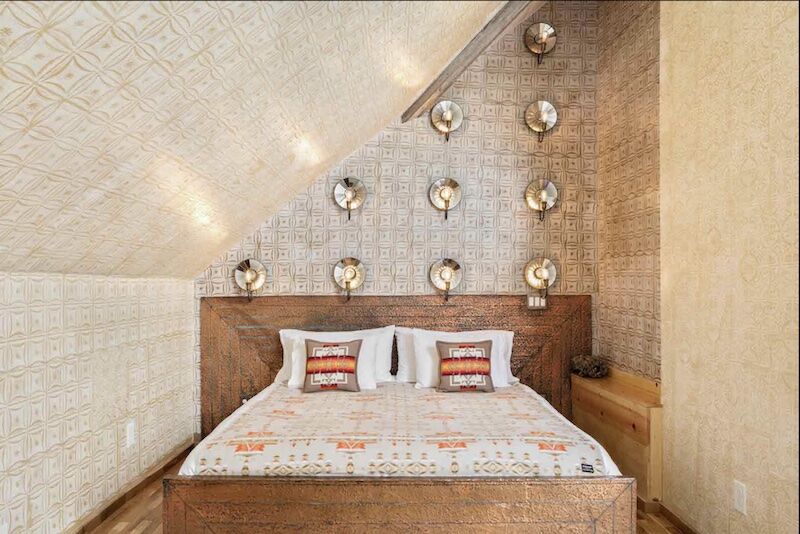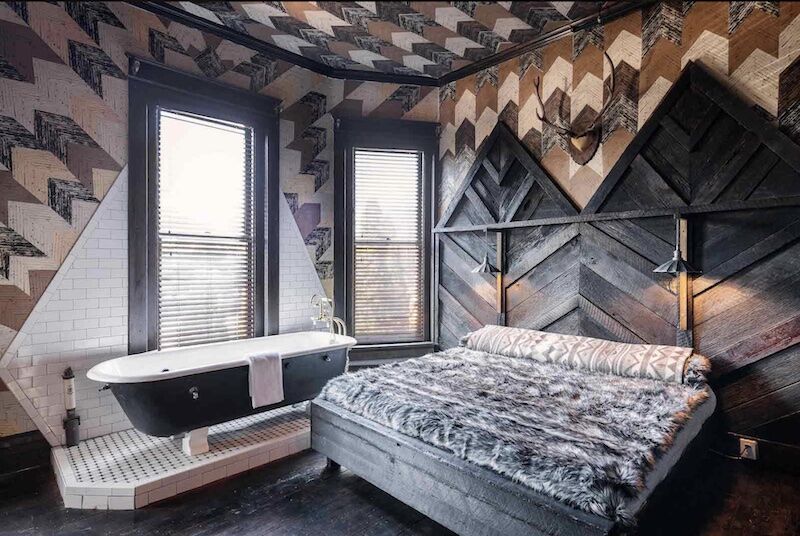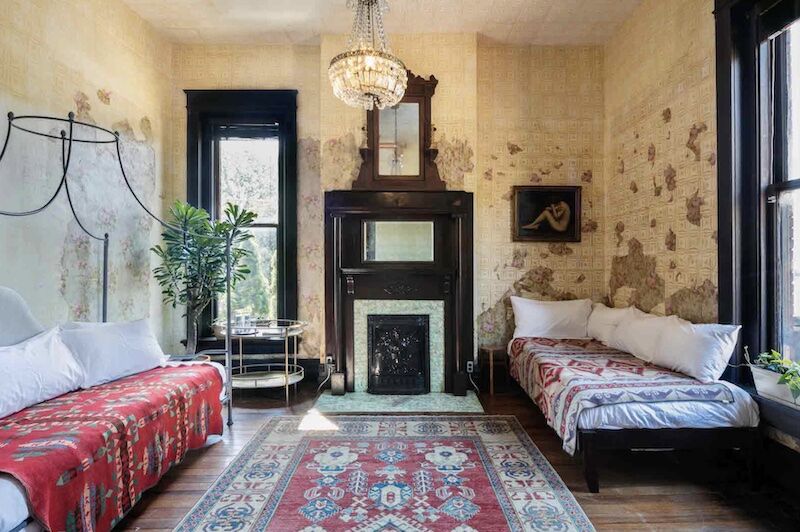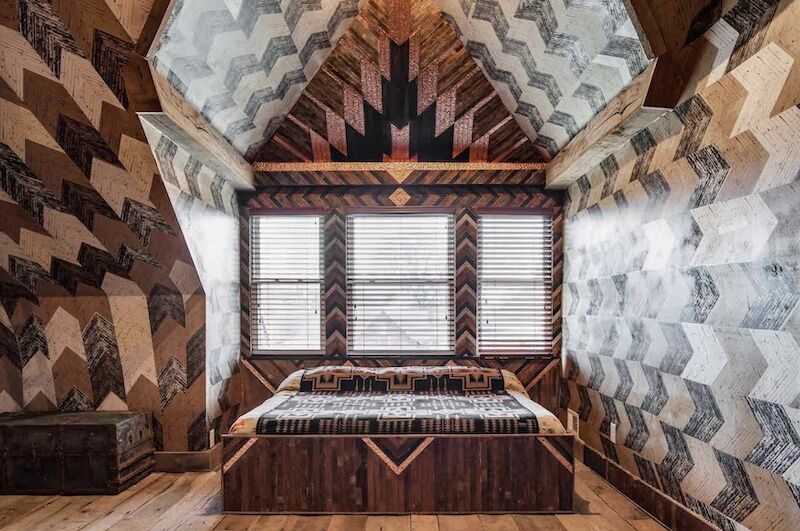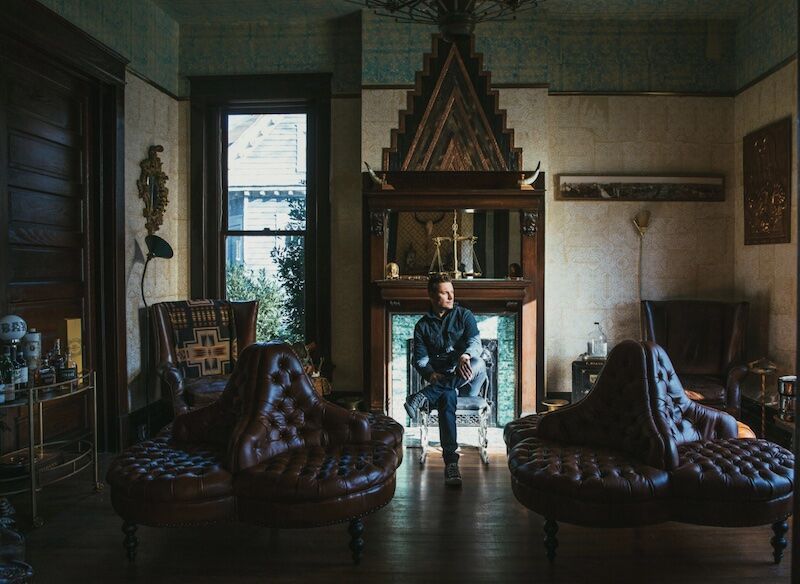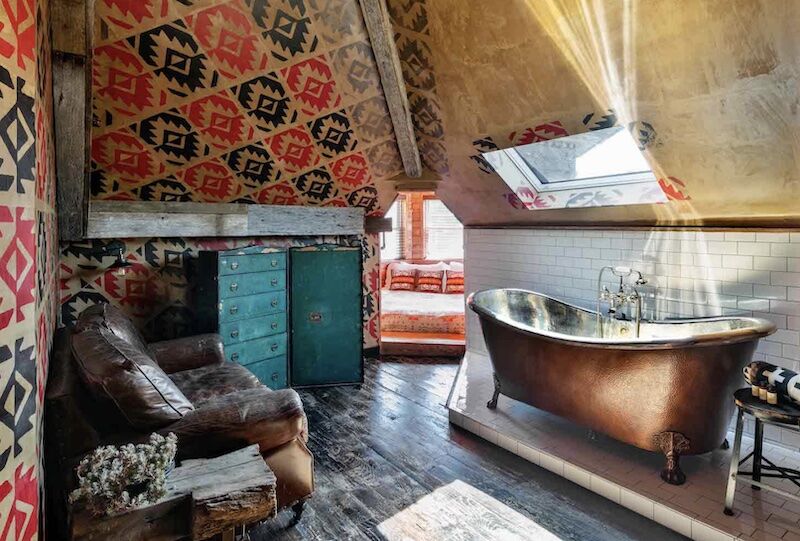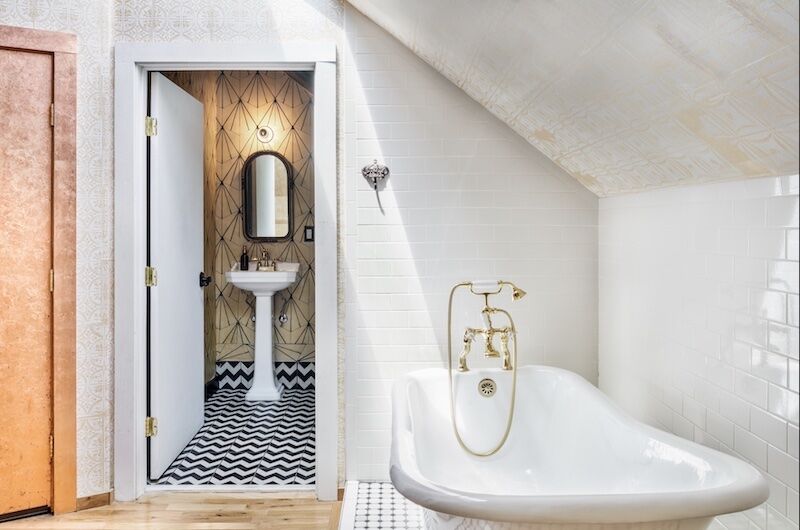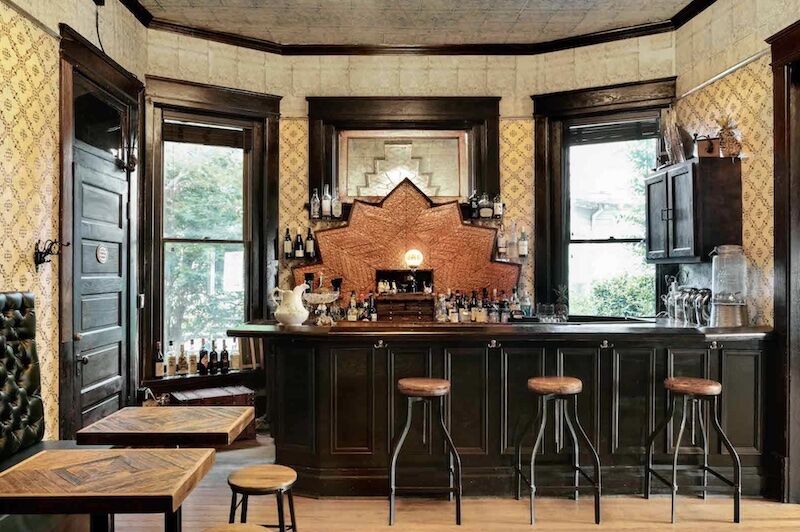 Location
In a quieter neighborhood, but not far from the action
East Nashville is home to the city's creative class, and it shows. The area is full of eclectic, historic homes, many of which are seeing a second life as an offbeat vintage shop, a colorful dive bar, a bougie cocktail joint, a trendy restaurant, boutique accommodations (as is the case for Urban Cowboy) and more. Given the hominess (see what we did there) of the businesses and the fact that the vast majority are locally owned, there's a real community vibe to the neighborhood. 
It's definitely a quieter neighborhood than places like downtown or Music Row, and considering how frenetic Nashville can feel, particularly after dark, it might be nice knowing you're just a quick Uber away from a quiet night of rest. Though if you'd prefer to stay within walking distance, below are some spots to check out. And if you're looking for a guide to the city, see our recommendations.
While the building was originally constructed in the 1930s to be a service station, today it's a cozy eatery where classic French cooking meets Southern comfort food. The menu changes weekly, but past mains have included dishes like grilled pork chop with creamy polenta, mustard greens, orange and chiles, as well as buttermilk fried chicken thighs with cauliflower cheese, stewed peppers and tomato. Beyond the main dining room, there's also a covered brick patio, a pet-friendly open-air dining area and riotously colorful gardens. 
The Pharmacy Burger Parlor & Beer Garden
Sure, you can get a standard beef, lettuce, tomato and onion burger here. Or you can opt for one with doused in house-made Coca-Cola barbecue sauce. Or one made with falafel. Or another that has a portobello mushroom patty. That's all to say, this burger parlor likes to have fun with its food. And like a retro pharmacy, you pair your handheld with an egg cream soda, phosphate or a chocolate shake.
One of the oldest dive bars in Nashville, Dino's is a distinctly local place to tie one on — and an even better place to recover the next day, thanks to their brunch menu. You should know though, there's only one item on said menu: a breakfast patty melt. Why the combination of a beef patty, bacon, egg, cheddar and a secret sauce layered between buttered slices of toast is the perfect tonic after a big night, we're not sure, but we'll take two. 
Some things are just better together. The Fatherland District (found on Fatherland Street between 10th and 11th Street) comprises about a dozen local businesses, including shops hawking retro Western wear, Nashville-made goods, pet products, handmade blankets and more. 
Thin-crust pizza meets craft beers at this laid-back spot. You're welcome to grab a table inside to order one of their signature pies, but if you're on the move and just need a little somethin' somethin', they also have a walk-up window where you can purchase slices to go.  
Rooms
Eclectic design, deep-soaking tubs and offbeat accents
Each of the six single king-bed "experiential suites" has a different theme, but there are a couple of through-lines. They all have soaring ceilings, large windows (or skylights), claw-footed tubs and oodles of Insta-ready details like custom-made wallpaper and patterned towels. We're partial to The Captain suite, largely because one of the windows is a porthole and there's a sign on the bathroom door that reads "poop deck." (FYI, The Tower and The Muse suites don't have stand-up showers, just the tubs.)
The other two rooms, The Penthouse Suite and The Cabin, are meant for groups traveling together. The former is located within the mansion and has one king-sized and two full-sized beds, so it can sleep up to six. Granted, there are no true dividers — the fulls are in window nooks, but they're far from private — so you better really like your friends and hope that none of them snore. 
The Cabin isn't actually in the mansion, but rather is a freestanding suite at the back of the property, with a queen-sized and a king-sized bed, separated by the bathroom, as well as a large seating area. It also has a private balcony overlooking the Public House Bar (perfect for eyeballing celebs and musicians who visit — the watering hole was reportedly a favorite of the "Nashville" cast).
Amenities
Bare bones but includes a loved local bar and plenty of places to lounge
As of right now, Urban Cowboy offers pretty bare-bones amenities. You're not going to find a gym on property or even a TV in your room. But there are multiple inviting indoor and outdoor spaces to hang out in (the rocking chairs on the wraparound porch are a nice touch), ample street parking, free Wi-Fi and a continental breakfast (oatmeal, fruit, pastries and coffee) included each morning. 
Lobby area: Dust Bowl-hued and decorated with myriad musical instruments, including a cello, an upright piano, a French horn and various guitars, it's got that Nashville vibe. Most of the seats are funky, antique leather numbers, including those in the lobby bar, where there's a selection of wines, cocktails and whiskies. 
Spa: While Urban Cowboy doesn't have a proper spa, you can order some services, like massages, to your room. The suites are also stocked with a variety of goodies you can purchase to use in your tub, like lavender bubble bath and Epsom salts. 
Public House Bar: Inventive craft cocktails, tasty bites and plenty of fire pits to gather around, this bar found in a retired stable in the backyard checks all the boxes for a fun night in Nashville. Because it's open to the public, you can't charge your libations to your room tab.