Scene
The Vagabond Hotel is a retro spot with all the modern conveniences
Driving past the stream of neon-lit motels along US-1 south into Miami, it's easy to imagine an era where these were beacons to weary, tropical road-trippers. Though many of the hotels in Miami's stunning Miami Modern district have fallen into disrepair, the Vagabond Hotel has returned as something even greater than it was before: a retro motel with all the modern conveniences.
The first thing that catches your eye is the Vagabond's pool and bar. Set up like a slice of South Beach on Biscayne Boulevard, the lively duo draws a younger pack of guests and locals looking to avoid crowds. The swimming pool's sparkling water sits atop a mermaid-and-dolphin mosaic on the pool's bottom and is surrounded by deck chairs boasting the kind of aspirational bodies you expect from Miami.
The hotel's exterior hallways mostly look out on the pool, meaning the party can sometimes spill over into them. While we wouldn't call the scene "wild," it's certainly got a lot more going on than you'd find at a typical roadside motel. It's an ideal place to find some Miami energy that's not in the swarm of South Beach.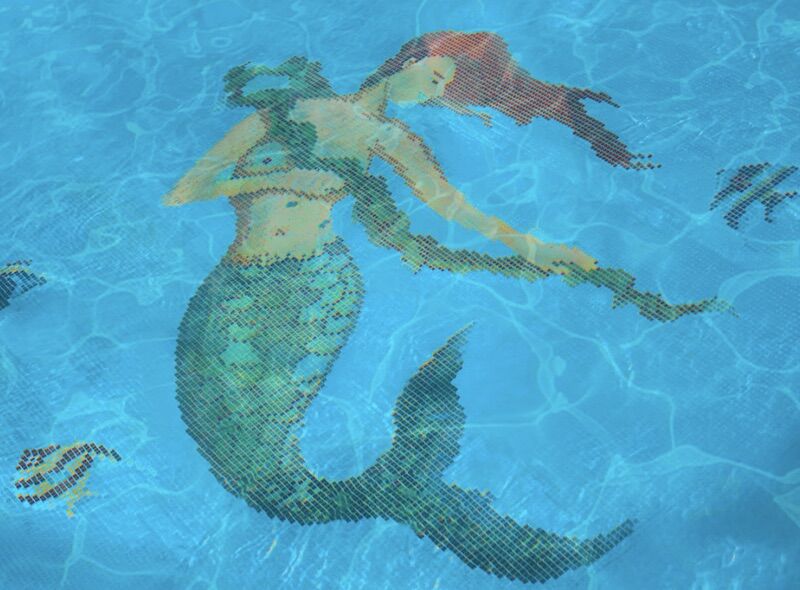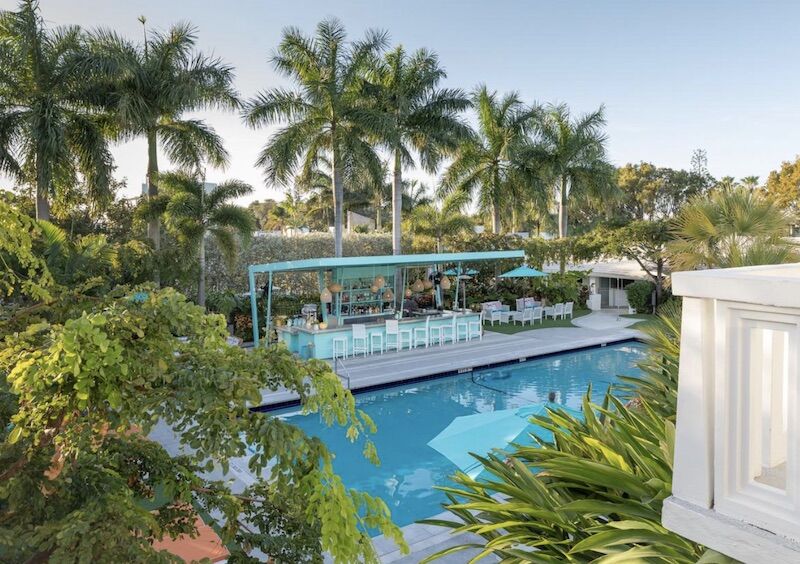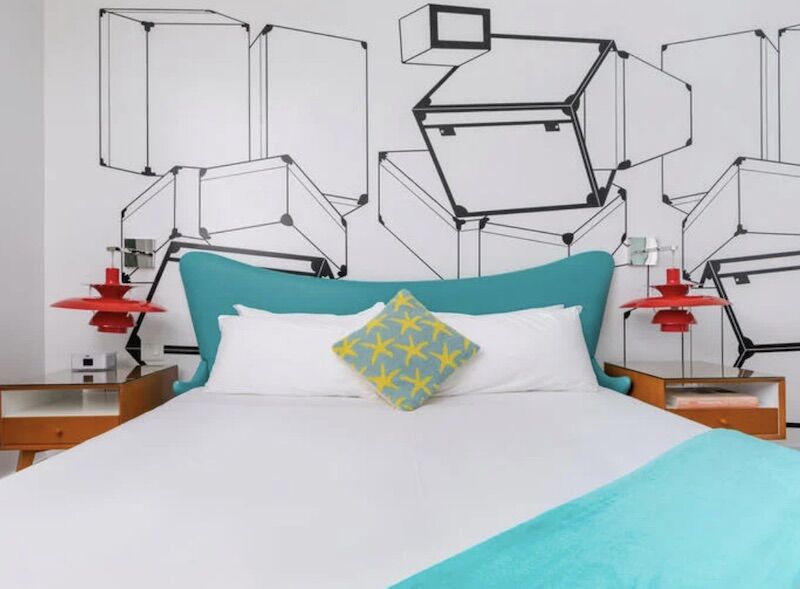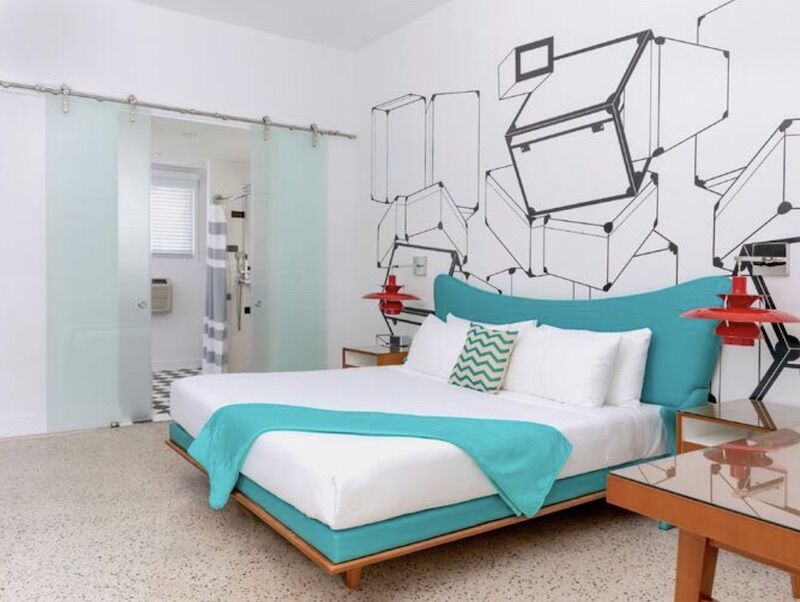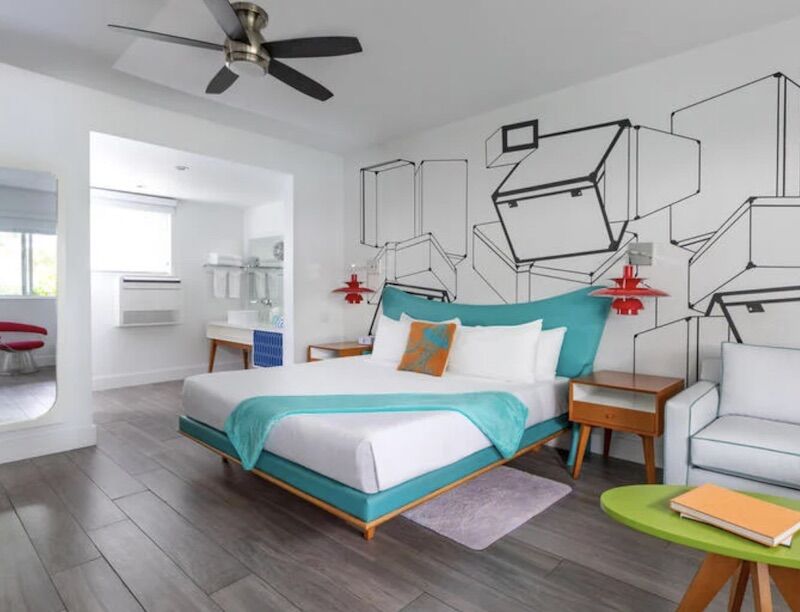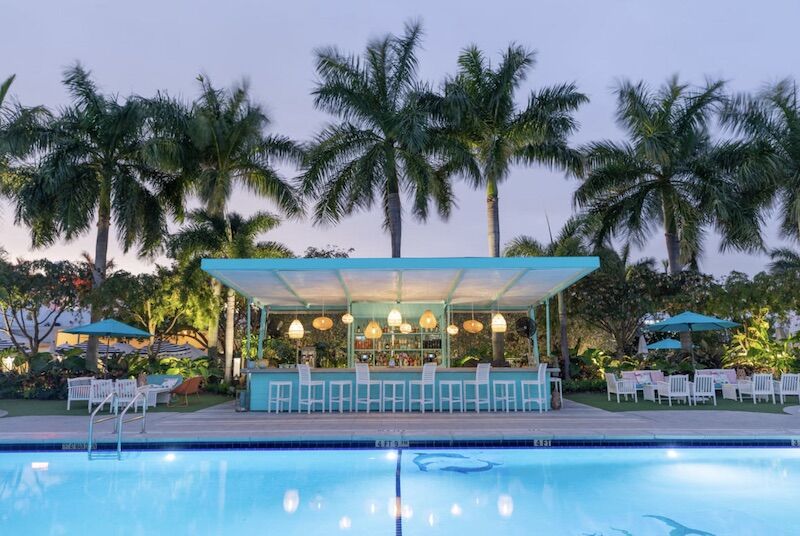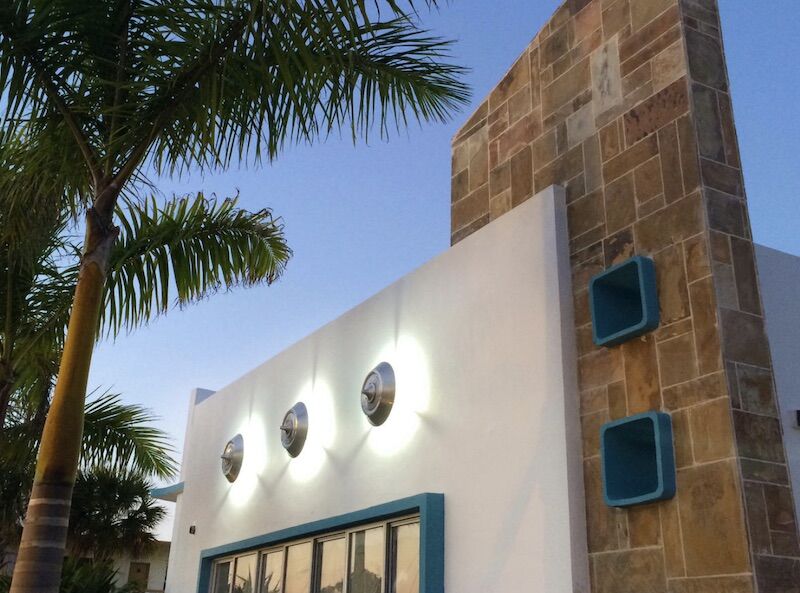 Location
In MiMo, one of the last bits of colorful grit left in the city
Miami's MiMo district, on Biscayne Boulevard a few miles north of downtown, is one of the last bits of colorful grit left in the city. Where South Beach has turned itself into an American Riviera, MiMo has all the bright, creative architecture without the exclusivity. This means you can stay in a unique place like the Vagabond, but still see some…colorful characters walking the streets outside.
You'll definitely want to take a stroll up Biscayne to see all the Miami Modern motels — it's a preserved historic district and unlike anything in America. But, other than a handful of fantastic restaurants (Blue Collar and Phuc Yea are must-eats), you'll likely need a car to experience the rest of the city. The good news is MiMo has easy access to expressways and isn't far from a lot of Miami's other draws. 
For a complete look at the most notable and quintessential experiences in the city, see our Best Things to Do in Miami guide.
When staying at the Vagabond Hotel, here are some places close by to check out: 
The Wynwood Walls

, and the miles of street murals that surround them, are less than 15 minutes away from the Vagabond by car.

The soft sands of South Beach are just across the Julia Tuttle Causeway and about 20 minutes away by car.

Miami's Museum Park, with the stunning

Perez Art Museum

and the equally scenic

Frost Science Museum

, are only a few miles down Biscayne Boulevard, about a 15 minutes' drive from the Vagabond.

American Airlines Arena, home of the Miami Heat, is next door to Museum Park, and you can hit

Bayside Marketplace

for a drink before the game.

If you're looking to have one of THOSE nights in Miami and leave the club when the sun has already come out, superclub

E11even

is only 10 minutes away by car.

Churchill's Pub

, a dive bar that's also one of the most storied live-music venues in Miami, is only five minutes away.
Rooms
A very Miami take on the retrofitted motel
The Vagabond Hotel's rooms are a very Miami take on the retrofitted motel, all-white masterpieces interspersed with heavy doses of pastel. Every room maintains its original terrazzo and wood floors, keeping the "back-in-time" feel of the rest of the hotel. The rooms are a lot bigger than you'll find in older hotels in South Beach, perhaps a nod to the family road trip crowds that stopped here back in the day. You can spread out and work while the ceiling fan whirs overheard, enjoying coffee from your in-room Keurig.
The furniture stays perfectly in line with the Miami Modern neighborhood, an exclusive creation of designer Stephane Dupoux. While the Vagabond isn't exactly a luxury property, you will get a nice robe to wear down to the pool and high-thread-count sheets on your bed. The Vagabond keeps the room choices simple, too, with only three categories:
Skylark Double – This is a pretty standard, no-frills double room with two beds, a dresser, nightstand and a ceiling fan. It's very much the shared-room motel accommodations you remember from road trips of yesteryear with a 21st-century update.
Galaxie King – The ideal room if you're traveling by yourself, this standard room comes with a king bed, a dresser and a closet big enough to stay for a few days. Unlike a lot of newer hotels, the Vagabond is big on storage space, and we appreciate that.
Electra Deluxe – The Vagabond's biggest rooms are all over 310 square feet, and are the best option if you're traveling with another person. The storage space isn't a whole lot more than the smaller rooms, but you will get a pull-out sofa if you don't want to share a bed, and a nice, big sitting area for some relaxation space away from the hotel's scene.
 Room rates begin at 159 and run to 209 dollars or more.
Amenities
A pool scene, popular food and drink options plus more
The pool scene at the Vagabond is far and away its biggest draw. Not just because it once threw legitimate, regular pool parties, but because it's one of the most unique in the city. When the Vagabond underwent its massive restoration, the mosaic mermaid on the pool's floor was painstakingly restored with old tiles found onsite and new ones imported from Europe. It became a focal point and makes for a colorful addition to a pool deck surrounded by lush, tropical shrubbery and a bar mixing some of the best drinks in the city.
Beyond the pool and its adjacent gardens, the Vagabond is also home to Mr. Mandolin. This Greek-inspired restaurant is an offshoot of Mandolin Aegean Bistro, one of Miami's most popular Mediterranean spots, and lets you enjoy its collection of kebabs, pitas, mezzes and Greek salads without ever leaving the pool. It's not quite as big on atmosphere as the original Mandolin, but, if you're staying at the Vagabond, you'll be hard-pressed to pass a plate of its food without wanting to grab some for yourself.
While the food and drink at the Vagabond are as good as any hotel in this price range, there's some other great luxury amenities here, too, including:
Full fitness center with treadmill, bike, elliptical and limited weight equipment

Free morning coffee or tea, which you can drink by the pool

Keurig coffee makers in every room

Plush robes and slippers in every room

High speed Wi-Fi throughout the property

Computer station in the lobby with free printing

Free bottled water in your room