SCENE
Virgin Hotel Nashville is all about the old-meets-new, farmhouse chic with a touch of modern glass and red highlights. If that means nothing to you, think Dolly Parton as produced by British super-producer Brian Eno. 
With its thriving food scene, historic music venues and some of the best hotels in the South, it's no surprise that Virgin Records founder Richard Branson wanted in on the Music City action. Virgin Hotel Nashville, one of the chain's six locations in the U.S. and the only one in Tennessee, opened on Nashville's Music Row in July 2020. It's old-meets-new, farmhouse chic with a touch of modern glass and red highlights. 
Years in the aviation industry helped the designers streamline and maximize the feel of personal space in the hotel. Every room has elements that can be moved to compartmentalize or customize to the guest's needs.The hardest part about staying at this Nashville hotel will be leaving the cushy poolside cabanas and comfortable barstools to go explore the rest of the city.
The crowd is a mix of traveling music-industry types, parents visiting their children at nearby Vanderbilt University and bachelorette parties. This makes for a festive atmosphere, especially in the bar and lounge area. During the day you'll find a few locals mingling in the coffee shop, but the real action is by the pool. 
Contactless check-in is the first of many luxuries that this hotel provides, and the property also features three restaurants, 262 rooms, a 24-hour fitness center and a rooftop outdoor pool in a part of town that's close to (but still removed from) all the action.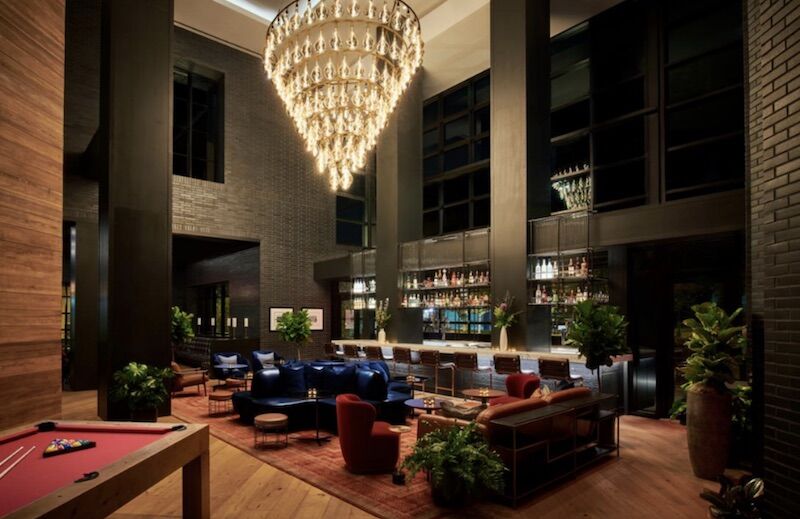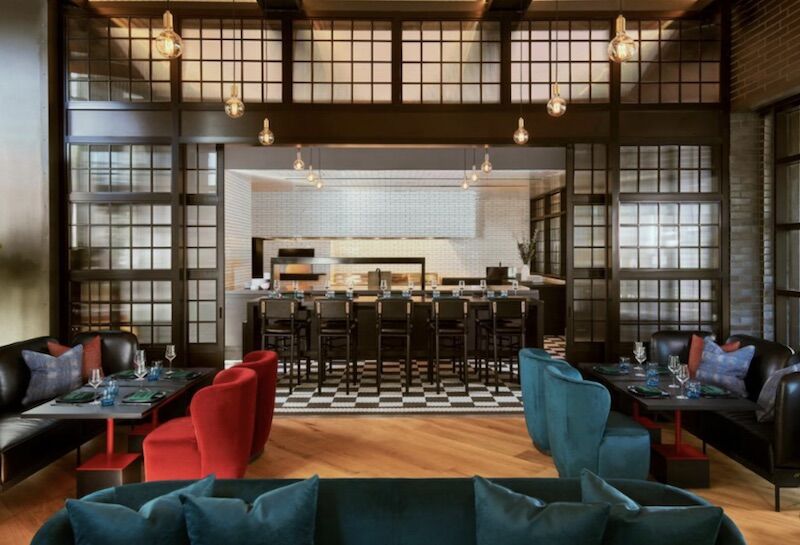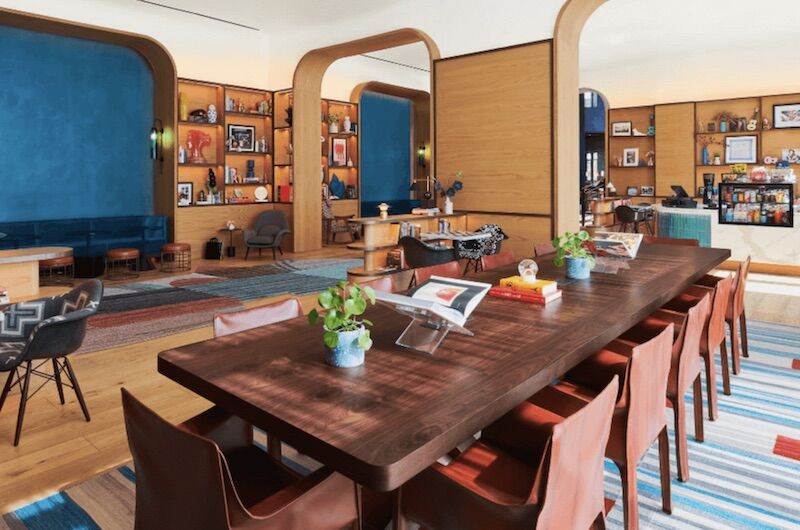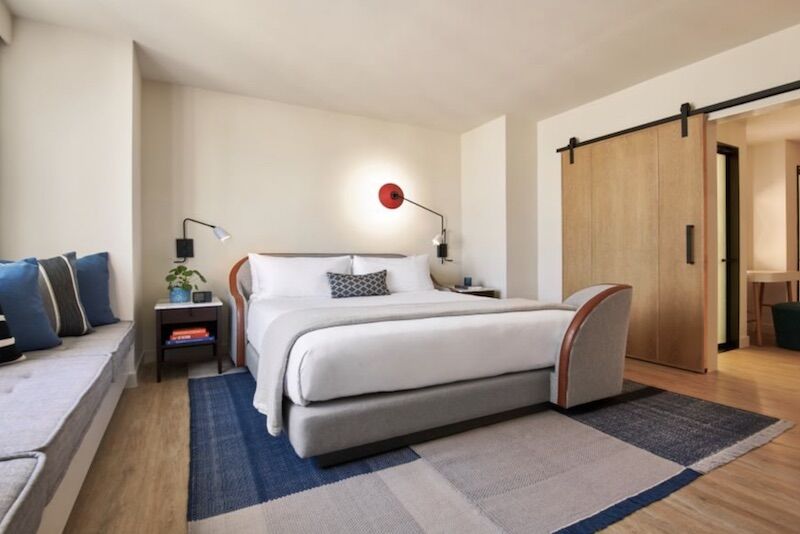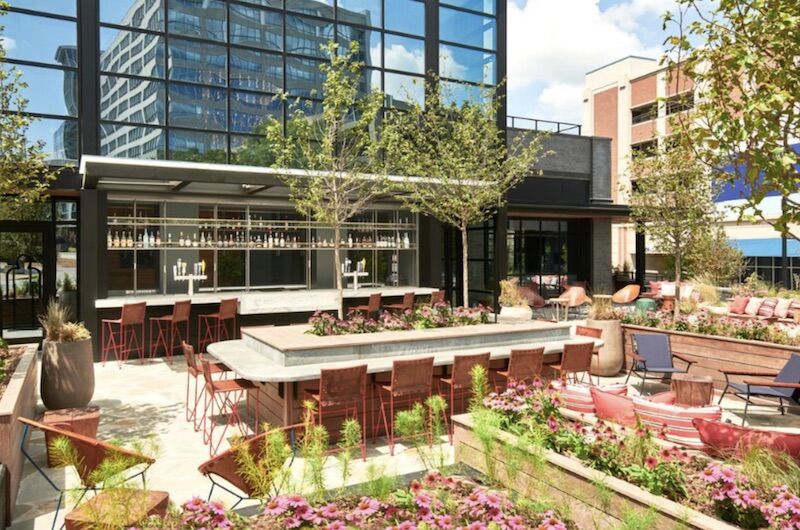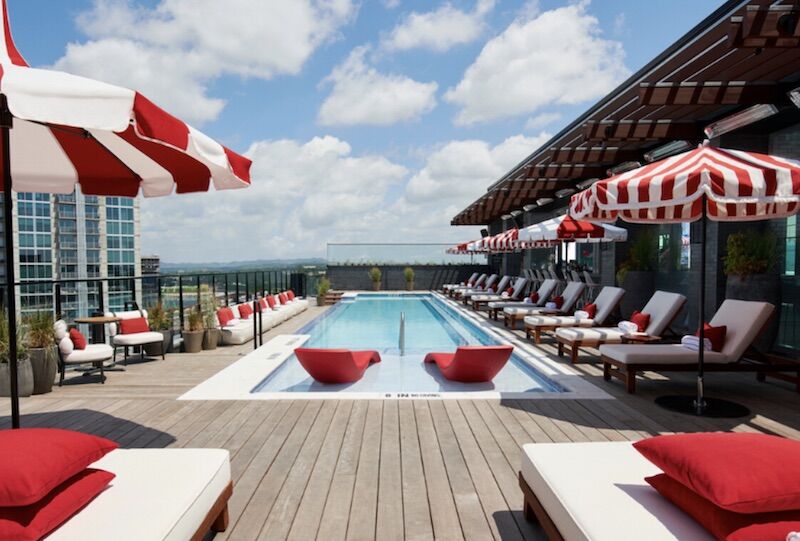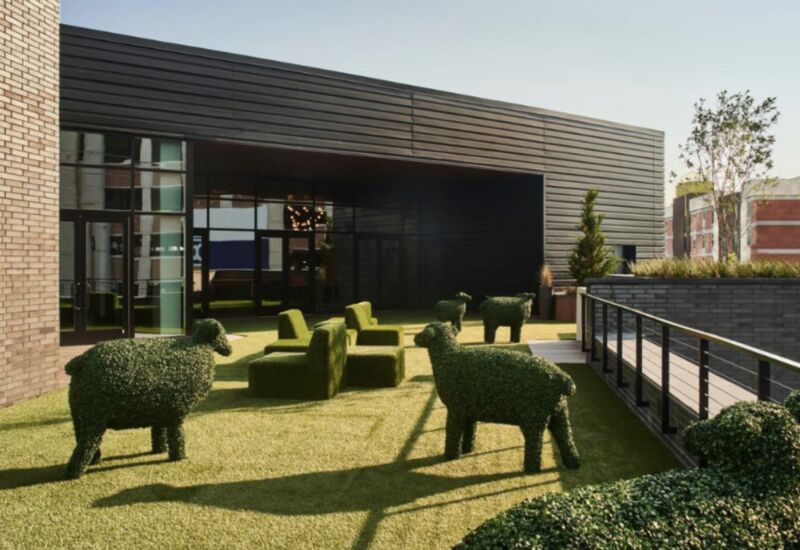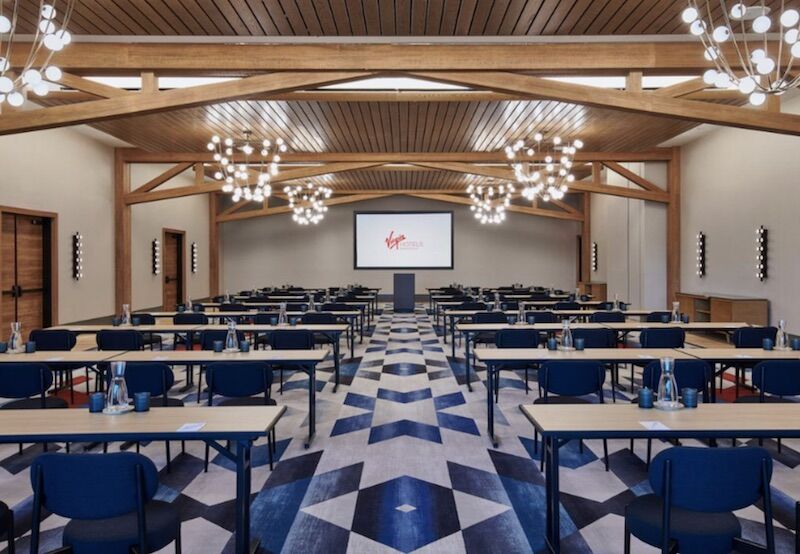 LOCATION
The hotel anchors the end of Music Row, which is the center of the city's entertainment industry
Situated southwest of downtown, Music Row is where the real work happens in Nashville. The hotel anchors the end of the row, which is considered the center of the city's entertainment industry. It's home to every record company in Nashville, including the historic RCA Studios. 
With a location close to Vanderbilt University and overlooking the Demonbreun (pronounced deh-mun-bree-uhn) strip of bars, the immediate crowds outside the hotel tend to skew more collegiate in age and tastes. There are, however, some gems within a short walking distance: The Patterson House (cocktails), The Catbird Seat (chef's counter) and DeSano Pizza (Neapolitan-style pizzeria). Nothing in the city is farther than 10 minutes by car from this centrally located hotel. 
ROOMS
The "chambers" feature two distinct spaces in every room 
The 262 guest rooms, referred to as "chambers" by the hotel staff, range from $159 to $1,400 per night. As with other Virgin enterprises, there's a lot of red in the design palette. Eschewing hard edges, the guest rooms feel futuristic, but still accessible and well laid out. It's all curves and soft surfaces that are conducive to lounging.
Every guest room is designed to feature two distinct spaces that are separated by a sliding barn door. This airline-inspired feature comes in handy if a hotel-mate needs to squeeze in a little work or a workout while you nap. 
The "dressing room" combines the hallway, bathroom and closet with a full vanity and makeup desk. The "lounge" area features a patented lounge bed, a red SMEG refrigerator, TV, yoga mat, pedestal table, a smattering of charging ports and built-in window seating that provides views of the Nashville skyline and Music Row.
Chambers
Chamber King — The Chamber King room features the hotel's two-chamber concept and this one includes the dressing room and lounge. The dressing room has a full vanity tucked between two closet systems, a sit-down makeup desk and a shower (with a bench!). A sliding barn wooden door separates the space from the lounge side, which features the king bed, mini-fridge stocked with street-priced snacks, high-def TV, a yoga mat and views of the Nashville skyline and Music Row. (300 square feet)
Chamber Queen 2 Beds — This is exactly like the Chamber King room except there are two queen beds instead of a king bed and the room is slightly larger at 360 square feet.
Grand Chamber King — You see the pattern here. This room is like the above rooms, but has a king bed and is anywhere from  354 to 377 square feet.
Suites
Grand Chamber King Suite — Includes a dedicated living room, dressing room, and sleeping lounge separated by a privacy door. (562 square feet.)
Sir Richard's Flat — Overlooking Nashville's Music Circle, Richard's Flat is a two-bedroom, two-bathroom penthouse on the 12th floors. It features a massive dual-head shower with a red bathing tub inside, a private balcony, an in-suite pool table. (1,164 square feet.)
AMENITIES
A focus on quality and convenience
Virgin is hard to beat when you're considering ease of use and price point. Dedicated customer service is a throughline in all of Richard Branson's communications about his companies, and his hotels prioritize quality and convenience.
The hotel's app (dubbed Lucy) enables a "touch-free" guest experience featuring contactless checkin/out, mobile room keys, app-based room service and in-room lighting and thermostat control, among other offerings. The hotel is also all in on Virgin's celebrated "No Nickel and Diming" policy. For guests, this means street-priced minibars, free WiFi and no resort, urban or amenity fees.
And the amenities are a step above standard. The hotel gym is open 24/7 and features free weights alongside state-of-the-art Technogym cardio machines. For business travelers, there are corporate meeting spaces of multiple sizes available. A make-or-break for some, the hotel is pet friendly. 
Chef Ryan Lachaine, who has received national accolades for his work at the globally inspired bistro Riel in Houston, oversees the food program. He brings his Eastern European heritage and Gulf Coast experience to the hotel's cuisine.
Food and beverage options include:
Serving ethically sourced coffee from actor Hugh Jackman's Laughing Man Coffee Co., the Funny Library is the perfect place to get quality coffee or a light bite. With a full breakfast menu, locally made snack options and even beer and wine, this coffee shop is more of a daytime lounge than a dedicated workspace. 
The Virgin Hotel's rooftop features a lounge and pool area with a dedicated bar and restaurant. In the summer, you can sip cocktails and try light snacks before enjoying a dip in the pool. In the winter, The Pool Club is transformed into a lodge experience with fire pits, heaters, cabanas and hot drinks. 
The Commons Club is the main dining attraction at the Virgin Hotel and features three distinct areas: The Bar, The Kitchen and The Shag Room, a semi-private cocktail lounge. 
FAQ
Is there a front desk?
Yes. There is a 24-hour front desk team.
Is there an ATM on site?
What time is check-in and check-out?
Generally, check-in is 3PM and check-out is noon, but they have flexible check-in and check-out times. Just call the Junction team and they can help cater to your trip, if needed. There are no fees for early check-in or late check-out.
Does the Virgin Hotel Nashville have free Wi-fi?
Yes, there's free Wi-fi throughout the hotel.
Does the Virgin Hotel Nashville have concierge services?
Is the Virgin Hotel Nashville smoke-free?
Yes, there's no smoking at the hotel.
Does the hotel offer dry cleaning?
Does the Virgin Hotel Nashville have a swimming pool and a rooftop bar?
Sure does. The Pool Club Nashville is the hotel's pool club rooftop and offers an outdoor pool and bar with cabanas, loungers, and daybeds. Weekend access to the pool is restricted to Hotel Guests. Day beds and cabana rentals are available for purchase for non-hotel guests through www.vhpoolclub.com/nashville.
Does Virgin Hotels Nashville have room service?
In-room dining is available for breakfast and lunch from 7am to 2pm  and dinner from 4pm to 10pm. You can place your in-room dining order on the Virgin Hotels App, or even on the room's TV.
Does the Virgin Hotel Nashville have valet?
Yes. There is valet parking available 24/7 available through the hotel's front driveway. Overnight parking is $48/night plus tax. If you have an oversized vehicle, valet parking will be $58/night plus tax. If you're here just for dinner, feel free to valet for $8 with any outlet validation.
How far is the hotel from downtown Nashville?
Virgin Hotel Nashville is less than a mile away from all the action on Broadway.
How far is the hotel from Bridgestone Arena?
Bridgestone Arena is 1.3 miles away.
How far is the hotel from the Ryman Auditorium?
Virgin Hotel Nashville is 1.6 miles away from the Ryman Auditorium.
Is the hotel wheelchair accessible?
Yes, the hotel is ADA accessible. The hotel offers rooms that feature roll-in accessible showers, tubs with grab bars, wider entrances for the rooms, as well as lowered countertops and amenities.
Where are the other Virgin Hotel locations in America?
Virgin Hotels is currently operating in Chicago, Dallas, Las Vegas, Nashville, New Orleans and New York City.
What neighborhood is the hotel located?
The hotel is in the Music Row neighborhood and is located on Music Square West.
What is the address for the hotel?
1 Music Square W, Nashville, TN 37203
For more info visit virginhotels.com