Scene
The Virgin lifestyle comes to the Big Easy
Nothing from Virgin could be described as "subtle," but nearly all of it is well thought-out. That mixture of art and functionality is omnipresent at the Virgin Hotels New Orleans, where everything from the lobby to the bathroom gives you something curious to cock your head at. Colorful furniture, Pop Art, and patterned floors dominate the landscape, as does the brand's signature crimson decor.
The hotel emanates cool even from the outside, part of why the rooftop Pool Club is as much a draw as the property itself. If it's privacy you're looking for, the Virgin Hotels New Orleans is not your spot, as its Southern restaurant and day-party destination fill the place with more non-guests than guests. Of course, retreating to your room still makes for a welcomed respite, as the calming, cool design might bring down the energy, but not the creative vibe.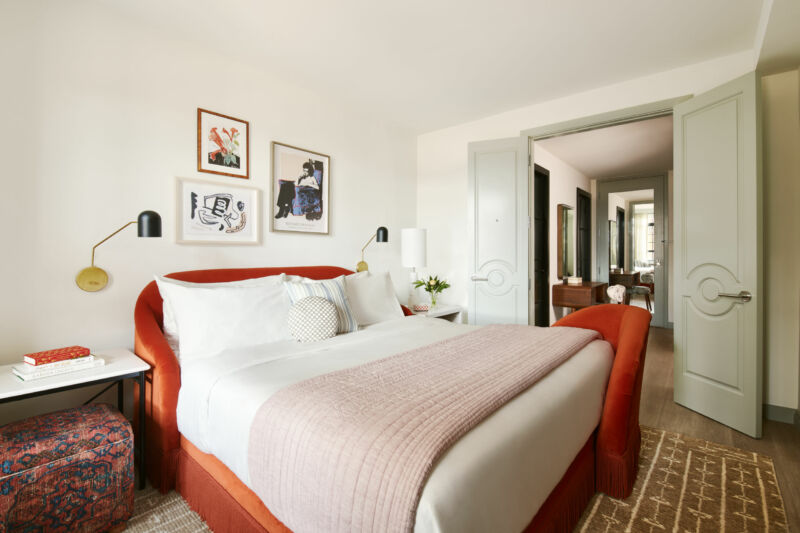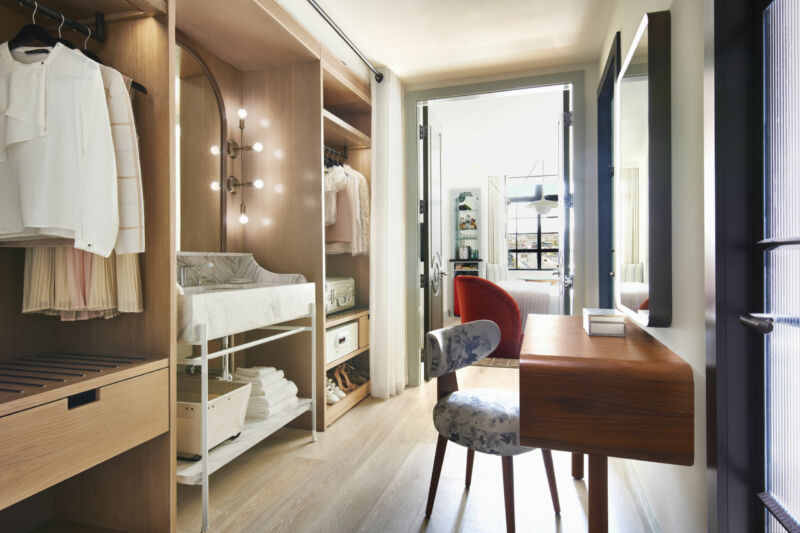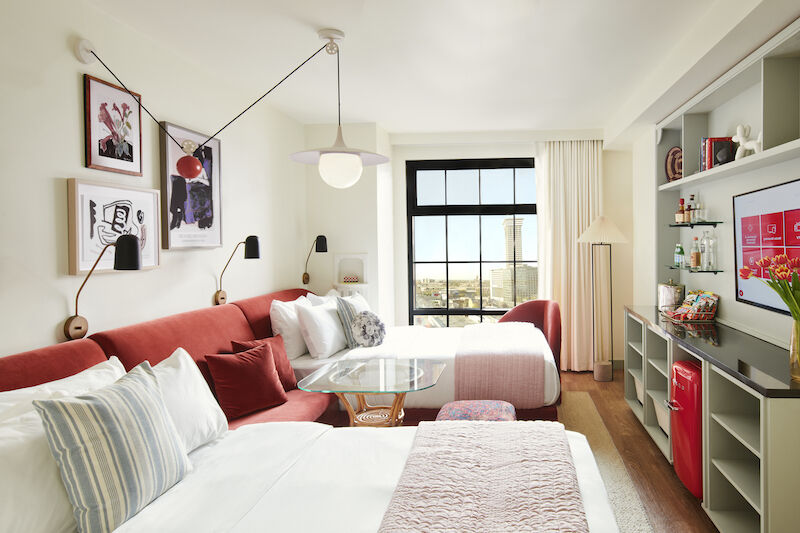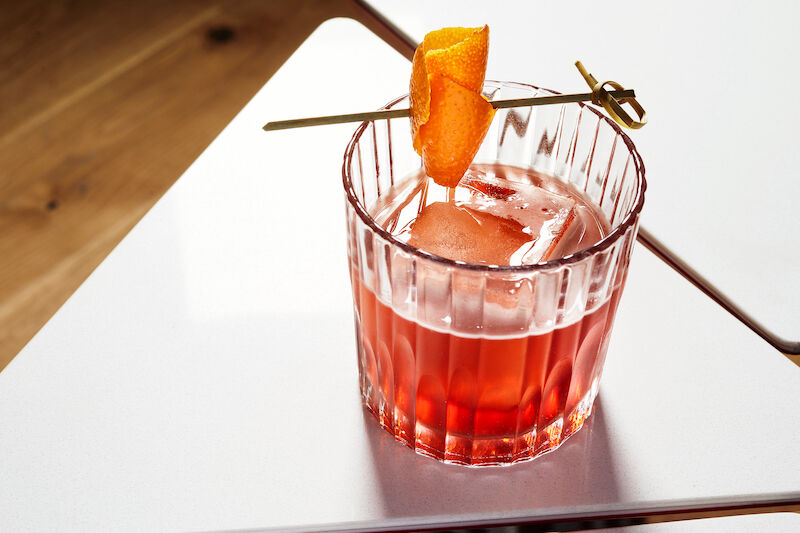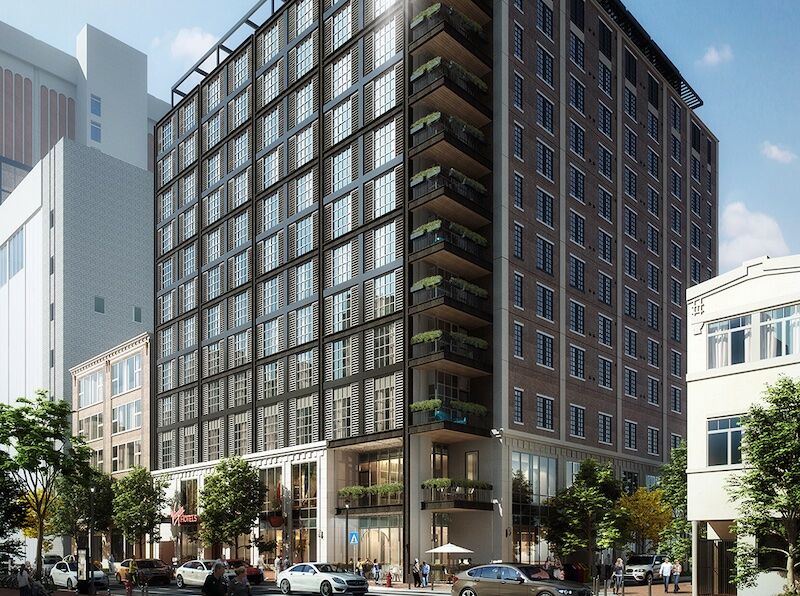 Location
The centerpiece for New Orleans' Warehouse District
The Virgin Hotels New Orleans is in the Warehouse District, located — as many warehouse districts are — just outside downtown. While it's an up-and-coming area (some might even call it "hip") it's not in the heart of the street-staggering French Quarter of your Big Easy dreams. The Quarter's not far, but if you were planning to pop downstairs and stroll over to Bourbon Street, you're in for a bit of a walk.
Still, you won't need a car staying at the Virgin Hotels New Orleans, as you're a medium-length walk or short streetcar ride from pretty much everything you'd want to do in the city. And with so much going on at the hotel itself, you'll probably find leaving to be far less alluring than you thought. Still, if you're looking to explore the city, here are some nearby highlights.
Listen to some live jazz! New Orleans is America's best city for it, and

landmarks

Preservation Hall

and the

Spotted Cat

are both within about a mile and a half.

Stroll the French Quarter. Even if you're not here to drink hurricanes until you black out, the architecture alone is worth the walk. It's just across Canal Street, about 10-15 minutes' walk away.

Peruse the most curious shop in the city at

Marie Laveau's House of Voodoo

. The mystic store on Bourbon Street is 20 minutes away.

If you're looking to do something active, rent a bike and pedal along the

Lafitte Greenway.

It's a refreshing way to see the rest of the city, and it drops you off on Basin Street, just outside the French Quarter.

Grab a drink at, not only the oldest bar in Louisiana, but the oldest bar in America,

Lafitte's Blacksmith Shop

. It's a little over a mile away in the French Quarter.

Gamble the night away at

Harrah's New Orleans

. The landmark casino is just a few blocks away and lets you add another sin to your trip.
Rooms
Thoughtful design, art and technology combine for the coolest rooms in New Orleans
Drilling down the coolest thing about the Virgin Hotels New Orleans is tough, but the guest rooms might be the runaway winner. Referred to as "chambers," they range from 294 to nearly 1,100 square feet, each one appointed with work from local artists, top-tier technology and original furniture. Chambers feature French doors as tribute to the city's architecture and motion-detecting lights that turn on when you walk into different parts of the room.
The bathrooms include vanities and larger-than-normal showers, with a full complement of Red Flower bath amenities. The rooms have fully stocked mini-bars, priced about like you'd find at a 7-11. Beds are ergonomically designed, and help you sleep off whatever you've done in New Orleans in total decadence. And Virgin's Lucy app allows you to control everything from the air conditioning to the lights from your phone.
The rooms break down into a few categories.:
Chambers King and Double Chamber Queen – These are effectively the Virgin Hotels New Orleans' standard rooms, starting at just under 300 square feet. Each one comes with a private bath and full make-up ready vanity, flatscreen TV, yoga mat, desk, seating area and a king bed or queen bed. But through the miracle of Virgin design, they still feel immensely spacious.
Grand Chamber Suites – The suites are actually connected single rooms, and while certainly more spacious are, in effect, renting two rooms with a connecting door. Good if you have a group that's looking for togetherness and privacy, but not worth it if you're a longer-term traveler who just wants more space.
Richard's Flat Penthouse – The grand poobah of rooms is named after Virgin CEO Richard Branson, offering a large living area, kitchenette and separate master bedroom. It tops out at 1,100 square feet, and boasts floor-to-ceiling windows with grand views over the skyline.
Amenities
A bar, club, and restaurant that may be bigger names than the hotel
The Virgin Hotels New Orleans really feels like one, giant amenity. The space is welcoming to guests and street-level passers-by, beckoning them with soothing house music, pastel lights, and eccentric décor. But step inside, and you'll find a hotel with more to offer than any in New Orleans.
Fitness Center
Virgin Hotels New Orleans' fitness center has every piece of weight and cardio equipment you'll need, all equipped with wi-fi and interactive programming. It's open 24 hours a day, and is only available to hotel guests.
The accurately named coffee shop inside the Virgin Hotels New Orleans is filled with mismatched furniture, colorful Pop Art, and deep wood walls. The book-lined shelves offer an intellectual ambiance to enjoy coffee drinks, pastries and other dessert specialties.
The NOLA hotel's restaurant is helmed by local chef Alex Harrell, and offers three different spaces to enjoy his Southern specialties. The Bar is the Virgin's hotel bar, and good for dining solo. The Kitchen is an open-kitchen concept that feels every bit the modern American restaurant. And then there's The Shag Room, a not-so-subtly-named lounge with craft cocktails and plenty of innuendo.
If you're looking to relax on your New Orleans vacation, the Virgin Hotels' pool is not the place to do it. But if you're looking to rage, you won't find a better day party than the one here, where outside visitors and hotel guests mingle on the panoramic rooftop. The weekend party is one of the best in the city, with live DJs and plenty of food to keep revelers fueled.
This is the indoor space at The Pool Club, and during more-pleasant weather it opens up to be an indoor-outdoor space. It's got a lush, tropical feel and a drink menu to match, and if you're looking to enjoy a cocktail in air conditioned comfort — with a stellar view — this is the spot.
Misc.
Check-in and check-out times are "flexible," according to the hotel. Call their Junction team for more info. There are no fees for early check-in or late check-out.
It's pet friendly. Pets are welcome with no extra fees.
In accordance with their LEED Gold Certification, the Virgin Hotel New Orleans does NOT allow smoking and is "100% smoke-free property."
Room service is available for breakfast from 7am-11am. They offer contactless delivery and your order can be delivered to your door or to the sliding door in your chamber.
Valet parking is available 24/7. Overnight parking is $48/night plus tax.
The hotel offers free wifi,
Room service is available for breakfast from 7am-11am. They offer contactless delivery and your order can be delivered to your door or to the sliding door in your chamber.
The hotel is located in New Orleans Central Business District
The hotel is an 8-minute walk to Canal Street.
The hotel is a 9-minute walk to Bourbon Street.
The hotel is a 10-minute walk to the Superdome.
The hotel is an 11-minute walk to the Smoothie King Center.
Credit card, debit card, or cash deposit required for incidental charges,
There is an ATM on site.
There is a rooftop bar and terrace, and a rooftop pool.
There is a front desk and concierge.
There are dry cleaning and laundry service on site.
Meeting rooms and event spaces are available on site.
There is a 24-hour fitness center
The hotel's address is 550 Baronne St, New Orleans, LA 70113
#virginhotelnola on TikTok