Scene
A Music City luxury hotel accentuated with music history 
If you've been to a W Hotel, you know the deal: Cool people doing creative things in a locally inspired, art-driven setting. The Nashville outpost is no different, offering Music City's spin on the theme in a trendy new neighborhood. The lobby is teeming with remote workers and people who look like they were just dropped from Hollywood, where bright windows and comfortable seating make for a buzzing communal space.
The rest of the hotel is awash in Nashville's musical history, from rock 'n' roll photos — think Janis Joplin, the Stones — filling the rooftop bar to colorful murals over the beds and invoking a cartoonish representation of the musical dream in Nashville. Some walls are made of speakers. Some ceilings look like recording studio acoustic tiles. And floor-to-ceiling windows are everywhere, giving this W a definite sense of place. It's also a bit removed from Broadway, and while that won't guarantee you'll escape the bachelorette parties, it does at least give you some distance.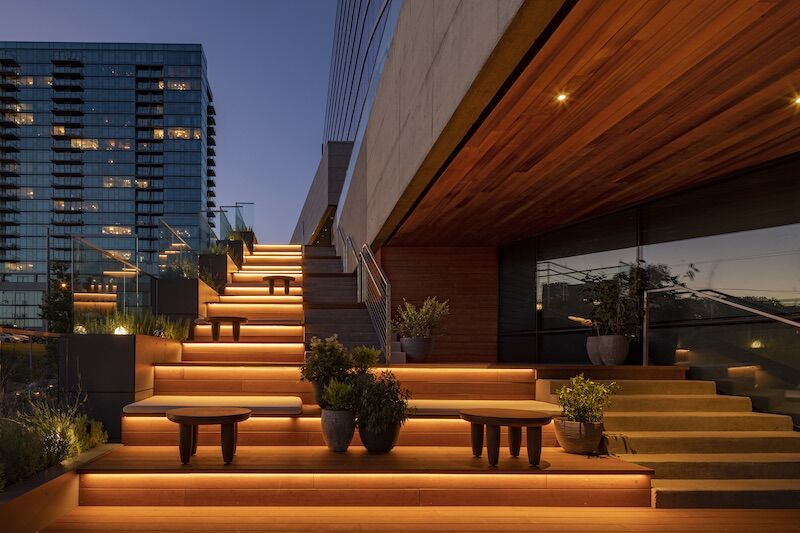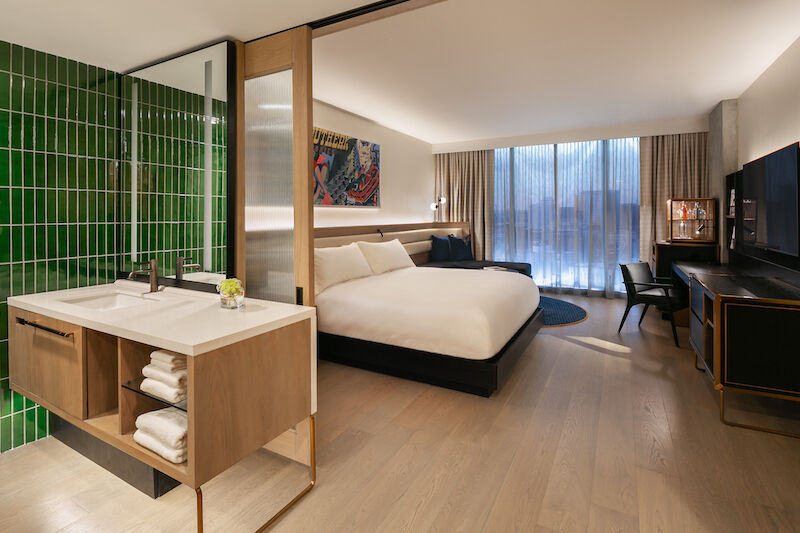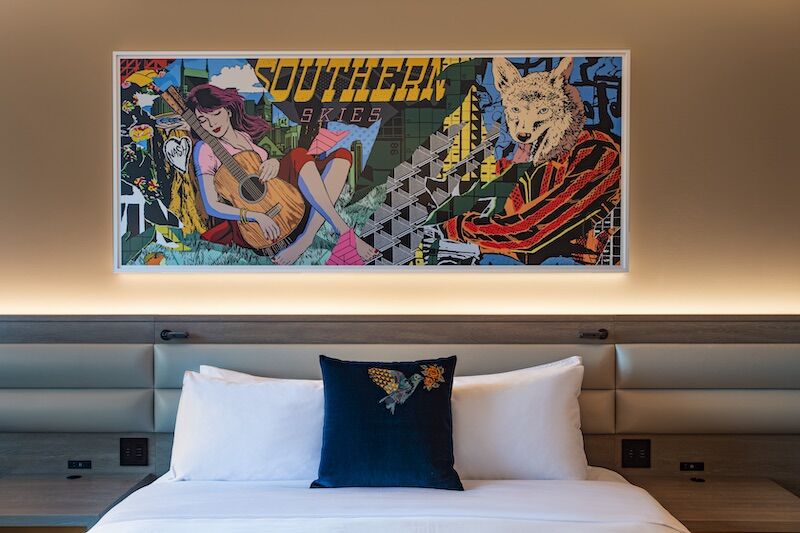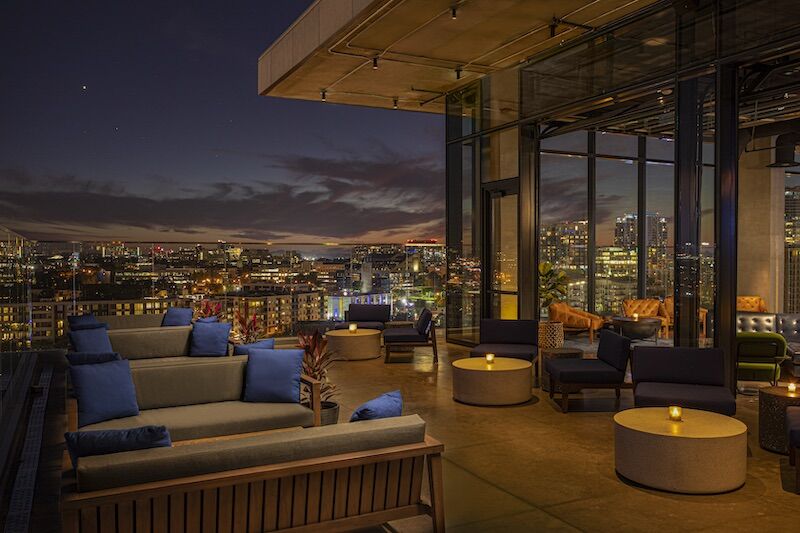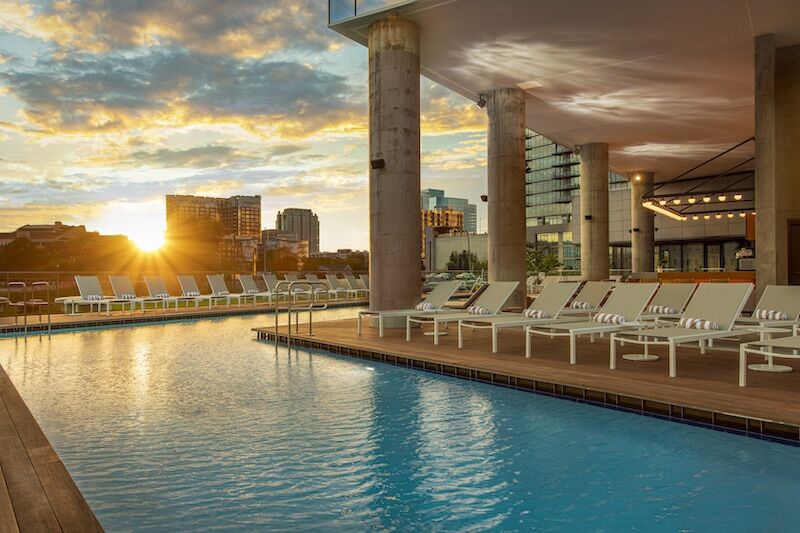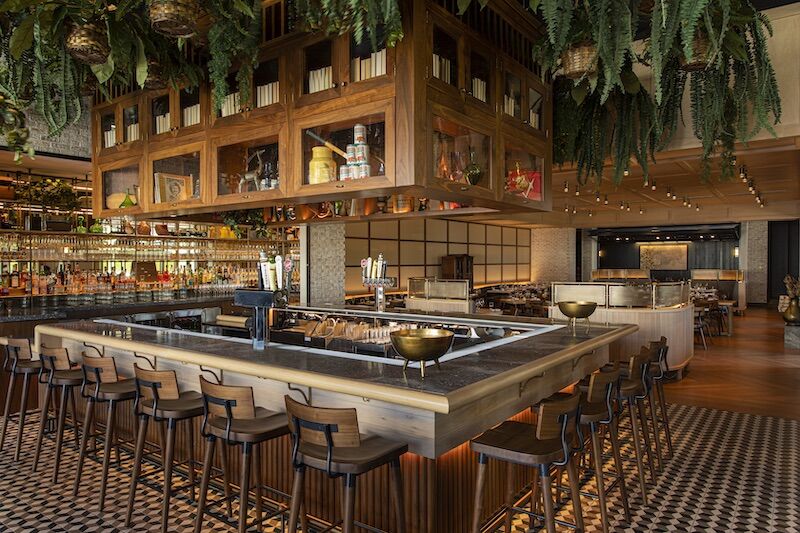 Location
It's a good walk to Broadway, but it helps you burn off those bushwhackers
The W Nashville sits in The Gulch, a multi-use, new-construction neighborhood where Bar Louie and Pure Barre are both within sight. That's not to say The Gulch isn't cool, but it's not the neon-and-honky-tonk wonderland of your Nashville dreams. Still, getting to top attractions isn't hard; your Uber rides are rarely over 10 minutes or 10 dollars. And if the weather is cooperating, the 30-40-minute walk to Broadway can begin to clear a mild hangover.
In addition to the slew of bars on Broadway — which you'd be well-served to hit earlier in the day to avoid the masses — here are some other cool things to check out not far from the W. For the best things to do all around the city, see our guide.
You're gonna want hot chicken, so head to the

Prince's

outpost at the

Assembly Food Hall

. The lines are never bad, and if you aren't feeling fried bird there's everything there from Chinese to cheesesteaks. It's less than 10 minutes by car.

Delve into the history and influence of Black music at the

National Museum of African American Music

. 

Learn the history of country music legends, hitting the

Patsy Cline Museum

, the

Johnny Cash Museum

and the

Country Music Hall of Fame.

All are less than 10 minutes away.

See an exact replica of the Greek Parthenon in

Centennial Park.

It's less than 10 minutes west of the W.

If you happen to be in town on a Tuesday, you'll find a tourist-free honky-tonk experience at the American Legion Post 82. It's about 15 minutes away.
Rooms
Floor-to-ceiling views and loads of sitting space
W guest rooms are always a lesson in chic, thoughtful design, and Nashville's offer thought-provoking art with abstract representations of Music City's music culture. Each room splits the toilet and shower into two separate spaces, ideal for those traveling together. And they're stocked with MOMO bath products and large bottles of scented lotion. Floor-to-ceiling windows fill every space. While you won't find many balconies at the W, your room will still immerse you in the area, as many offer a city view.
W Nashville's room types fall into the following categories:
Standard rooms – The hotel's standard rooms are split into three levels — Wonderful, Spectacular and Fabulous. That's a catchy way of saying they sit on different floors, with Wonderful rooms on the lowest floors and Fabulous on the highest. Rooms are available with a king bed or a double queen, and push-button blackout shades, a sizable desk and minibar complete with high-end bourbon. You'll also get a separate seating area with a wraparound couch large enough for friends to crash.

Studio King – Slightly larger versions of the standard rooms, many of which are set on corners with panoramic views.

Fabulous and Marvelous Suites – The two-room suites come with full living rooms equipped with minifridges, minibars, sofa and chairs. Most sit on corners of the hotel, so you'll have a full view of the skyline whichever way you face. The larger bathrooms allow you to lay out your skincare routine pretty easily, though closets are a little short on storage space for a room so big.

WOW suites – As the name implies, these giant rooms are awe-inspiring, boasting a spacious living area with half bath, a dining room table and full living room. They're ideal for entertaining or doing business while in town. A handful are merged with smaller suites across the hall, giving guests nearly an entire wing of the property.
Amenities
If any hotel chain is more about its amenities than its rooms, it's the W. Nashville's are especially alluring, with two restaurants from chef Andrew Carmellini, a rooftop bar and a WET Deck that offers so much more than sunbathing.
Fitness Center
W Nashville's 24-hour fitness center is one of the more impressive hotel gyms you'll find, with a heavy bag, Stairmaster, kettlebells and two Peloton bikes. You'll also find dumbbells up to 50 pounds, treadmills, towels, water and complimentary Honeycrisp apples.
WET pool deck
Spanish steps lead from the lobby to the outdoor pool, where you'll find a seasonal cocktail bar, cabanas, shufflepuck tables and foosball. It's a perfect place to play, if you're into doing more than laying in a cabana.The scene during summer is tough to beat. Again, poolside bar.
Living Room
W calls its lobbies "Living Rooms," and while this one is spacious and offers plenty of plugs, it can be difficult to work if you're not a fan of listening to the always-on music. The Living Room is also where the hotel hosts local live music events (you're in Nashville, folks!). If you're looking just for a place to work and you don't need to take phone calls or can concentrate easily, it's a beautiful spot. But if you need quiet, use the desk in your room.
Wi-Fi
Wi-Fi is free for Marriott Bonvoy Members, but will incur a daily charge if you're not. Signing up is free, so get an account before your trip.
Parking
Valet parking is available for $44 per night. There is an electric car charging station, too.
Barista Parlor Coffee
Local hit Barista Parlor provides the lobby coffee at the W, and it might be the best you'll ever have. Skip the in-room stuff and opt for a fresh cup of Daredevil, their Ethiopian beans that can hold their own with any in America. There's also a fresh assortment of pastries and gourmet coffee drinks too, making it an easy call for hangover breakfast.
Living Room Bar
The lobby bar is adorned in custom-made wallpaper, depicting a wilderness scene from the Tennessee countryside. The local feel continues with a bourbon-focused cocktail menu, and the wall of speakers on the far side of the bar doubles as the entrance to the Speakeasy (get it?), a hidden back room used mostly for private events.
Proof
The scenic star of the W Nashville is its rooftop bar Proof, coyly named for the gallery of rock 'n' roll photos that line its entry. Views from both the bar and the attached patio are spectacular, putting you on eye level with Nashville's iconic "Batman building." Drinks and food don't fall off either, with a menu of shareable plates perfect for kicking off the night. Or the morning, since Proof is where the hotels hosts its "Not Your Average Brunch" with bottomless mimosas, cocktails, and, again, shareable bites.
The Dutch
Chef Andrew Carmellini's New American spot that crushed it in New York and South Beach opened its Nashville outpost inside the W. The small menu is highlighted by its signature Dutch burger, a two-pattie special covered in cheese and That Sauce. The cocktails are entertainment unto themselves, served in tiki-like glasses, sometimes with flashing lights.
Carne Mare
If you're up on your Italian, you correctly guessed the W's upscale restaurant is a posh seafood and chop house. The dark-wood interior and impressive selection of dry-aged beef and fresh seafood make it a special occasion kind of place. But vacation is nothing if not a special occasion, so go ahead and indulge.
Other amenities include:
Daily housekeeping
Dry cleaning
Breakfast available
24-hour room service
Coffee shop/cafe
10 meeting rooms/events spaces
24-hour front desk
Laundry service
Concierge services
Air conditioning
FAQ
What time is check-in and check-out?
Check-in is 4PM and check-out is 11AM,
In which nabe is the hotel?
The W Nashville is in the Gulch neighborhood.
How far is the hotel from downtown Nashville?
W Nashville is 1.4 miles south of downtown.
How far is the W Nashville hotel from Nashville International Airport?
It is 8.2 miles away or about a 12-minute drive.
What's the W Nashville's address?
300 12th Avenue South, Nashville, TN 37203