Scene
A taste of Southern hospitality in the heart of the city's bustling Old Fourth Ward
A step removed from the famous parties of Ponce De Leon Avenue, entering Wylie Hotel from the valet stand is like entering someone's home. Yellow monogrammed chairs, eclectic artwork and fresh-cut flowers, some of which are for sale, fill the lobby. Despite its cozy appearance, this hotel sits atop what was once a local LGBTIA party revolution. In the 1980s, the building's basement housed Mrs. P's Tea Room, the first openly LGBTQIA-friendly bar in Atlanta and the site of the city's first drag show. While the clandestine parties of the '80s long ago ceased, today, just beyond the check-in desk, sits the hotel restaurant and lounge, Mrs. P's, named for the trailblazing establishment. Yes, this hotel is buzzy, but, unlike other hotels in the nabe, it's not loud or clubby. Locals come to the restaurant and its outdoor terrace to grab coffee and set up their laptops alongside guests. Indeed, this might be what a club turns into when it grows up, has kids and subscribes to Architectural Digest.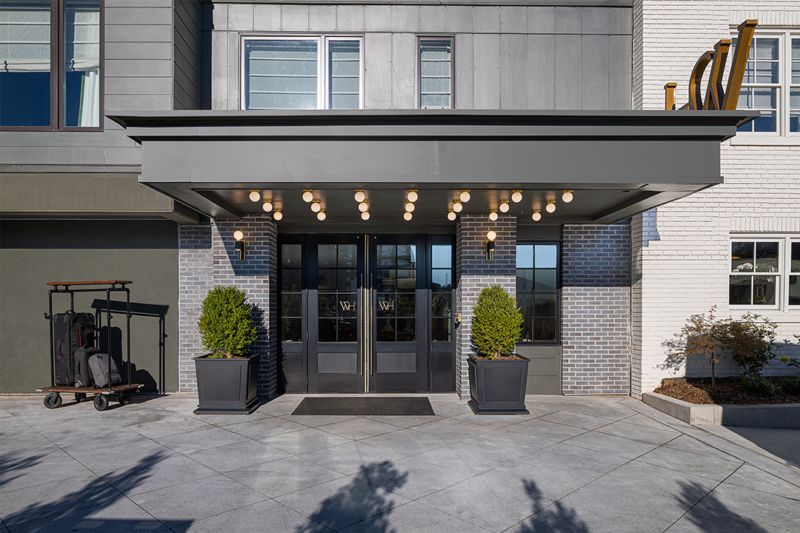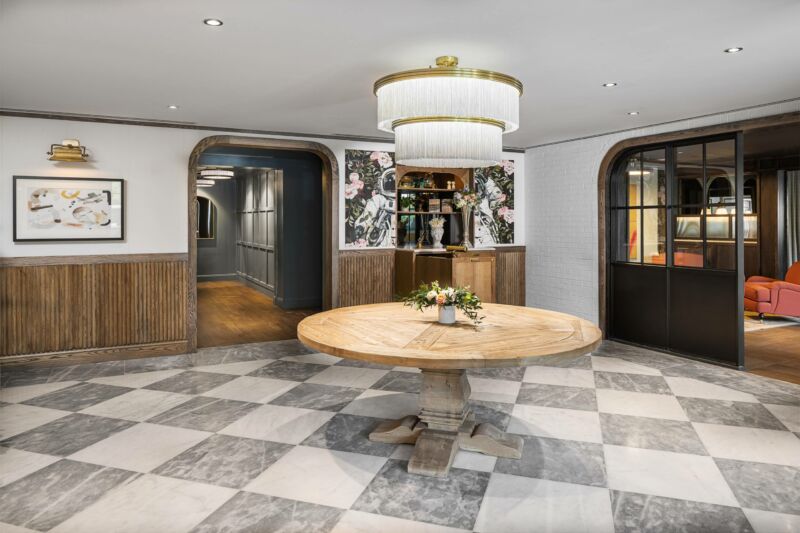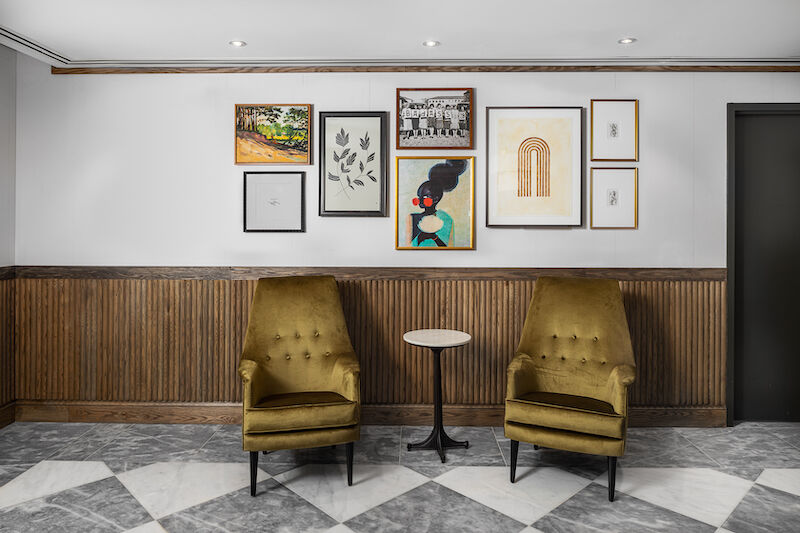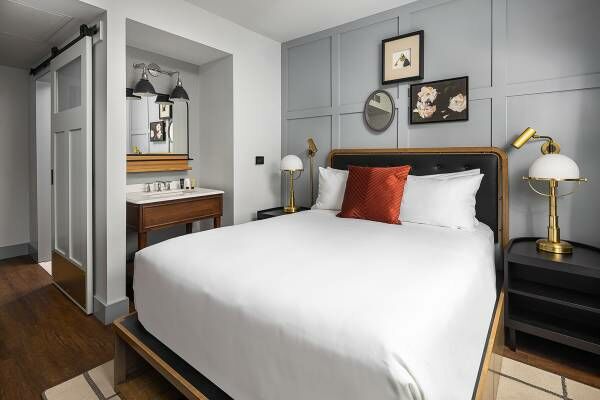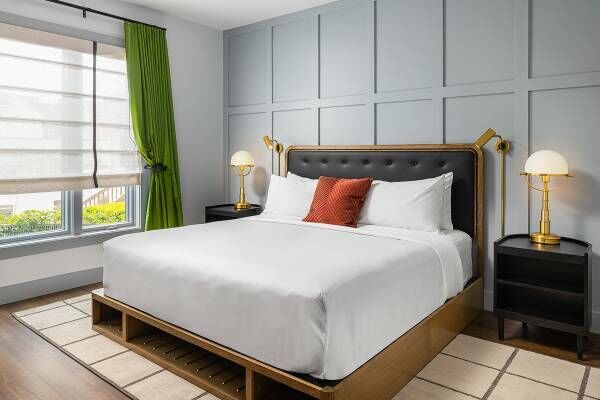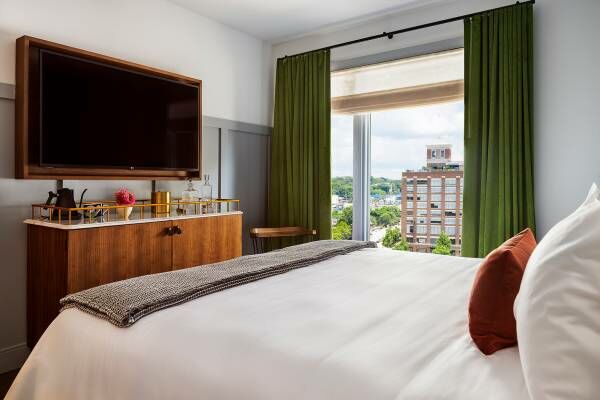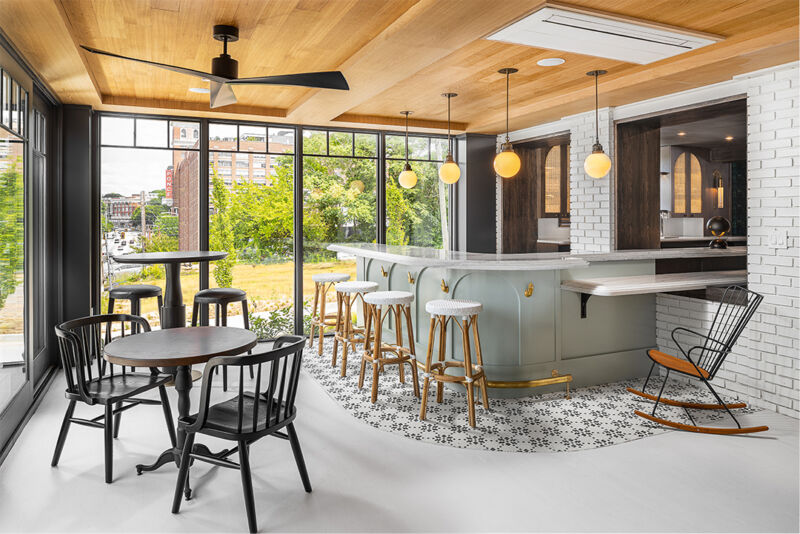 Location
One of many adaptive reuse projects in the heart of Atlanta's mural-filled neighborhood
Wylie Hotel is located inside one of the many preserved 1920s buildings in the city's bustling Old Fourth Ward, where Martin Luther King Jr. grew up. The neighborhood is young and energetic, home to Atlanta's first drag show and a raid known as the city's Stonewall. These days, the Wylie is a mile from the North Avenue MARTA station, which has connections through the city via bus and rail.
The many places close to the hotel include:
#wyliehotel on Instagram
Rooms
The midcentury-meets-farmhouse decor would make Joanna Gaines proud
The Wylie Hotel has 111 pet-friendly rooms over five floors, including two suites, P and Q. Each has a different design but all feature tones of green and gray. Guests access their rooms from the hallway, which has psychedelic carpet and framed copies of Great Speckled Bird or "The Bird," a counterculture newspaper from 1960s Atlanta that covered the LGBTQ community. 
The nostalgia carries over into the rooms, which have framed postcards, photos and room keys from the Ponce de Leon Hotel heyday. The suites have plush couches and chairs with kilim pillows and a seating area for dining or working. 
The rooms come with flat-screen televisions equipped with streaming apps. There's also a radio and USB plugs to keep you connected. Sconces and lamps by the bed make bedtime reading possible. Pamper yourself with Guild toiletries and cozy bathrobes. 
The mini-bars are stocked with the standard fare as well as top-shelf spirits from Chattanooga Whiskey. If you need a cup of coffee, you don't have to go far. Rooms have gooseneck kettles and pour-over Dean Street coffee, to be served in floral vintage-inspired mugs.
Wylie Hotel's room types include: 
Classic Queen has a queen-sized room in a 200-square-foot space, with the sink in the bedroom and a bathroom separated by a barn door. 

Classic King has a slightly larger footprint with the same amenities as the Queen, along with coffee pour-over station, a mini-fridge, and a mini-bar. 

Classic Double Queens have two queen beds with the same amenities as the King rooms. 

Deluxe King has the same features as the Classic Queen, but with more space. Some of these deluxe rooms also have balconies.

King Suite is spread across 400 square feet with a separate living area for relaxing and entertaining. 
Amenities
Everything you need is steps away
Complimentary Wi-Fi is available throughout the hotel. Valet parking is available since space is at a premium at a cost of $45 per night or $10 per hour up to four hours. The hotel also has a modest fitness center with two Pelotons, treadmills, ellipticals and weights. It's on the second floor, along with the terrace, where you can cool off post-workout. 
The Wylie's restaurant, Mrs. P's Bar and Kitchen, pays homage to the LGBTQ landmark that grew out of the hotel. The velvet booths have curtains for privacy or standard tables if you want to be seen. The restaurant serves breakfast, lunch and dinner, including favorites like the fried green tomato BLT with pimento cheese, short rib stroganoff and Mrs. P's Old Fashioned. There's also two-hour validated parking for non-guests.
There's also a small shop in the lobby where you can pick up local souvenirs like copies of books by Georgia-based publication The Bitter Southerner and Wylie Hotel t-shirts before heading home. 
#wyliehotel on TikTok