Scene
A classic mountain lodge with approachable amenities
When one imagines a trip to Jackson Hole, it's natural to see yourself basing out of a wood-lined mountain lodge, fueling up on stuff like elk and bison before heading out for a day taming the mountains. This may have been the case decades ago. Today, Jackson is awash in luxe resorts with high-end spas, which while still long on cozy fires and animal heads also come with skyrocketing price tags. But the Wyoming Inn of Jackson Hole maintains much of that rugged mountain ethos at a price that won't demolish your vacation budget.
The lobby instantly immerses you in Jackson culture, where a towering elk antler chandelier and bucking bronco statue dominate the space. A tall stone fireplace and wood carvings of bighorn sheep line the walls, giving a not-so-subtle nod to the rustic lodges of yesteryear. Of course, the recently renovated hotel is far from stripped down, as you'll find everything from a late-night jacuzzi to a gym with Peloton bikes. And the restaurant in the lobby is a destination on its own.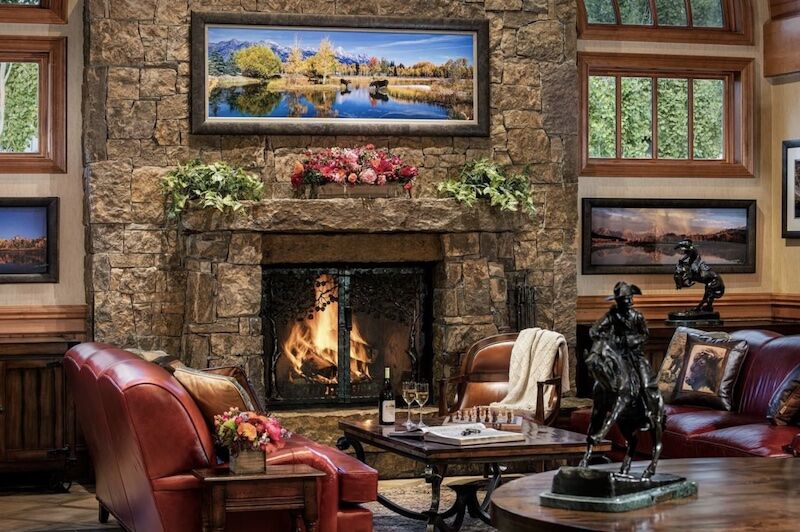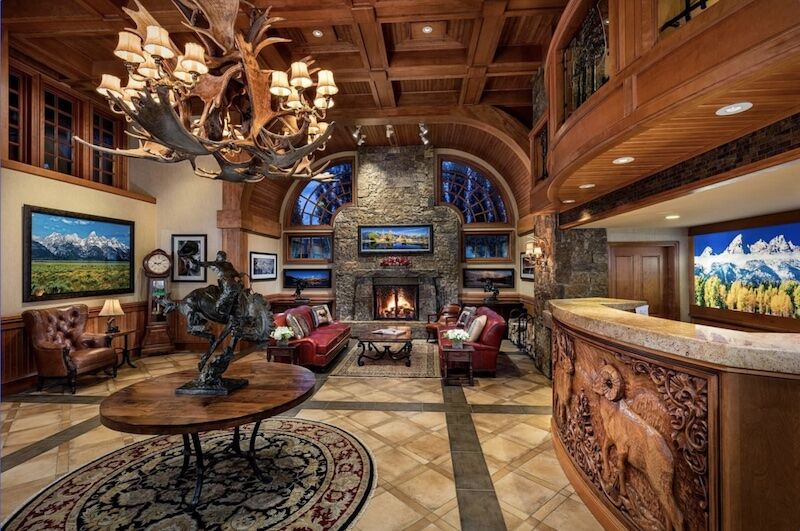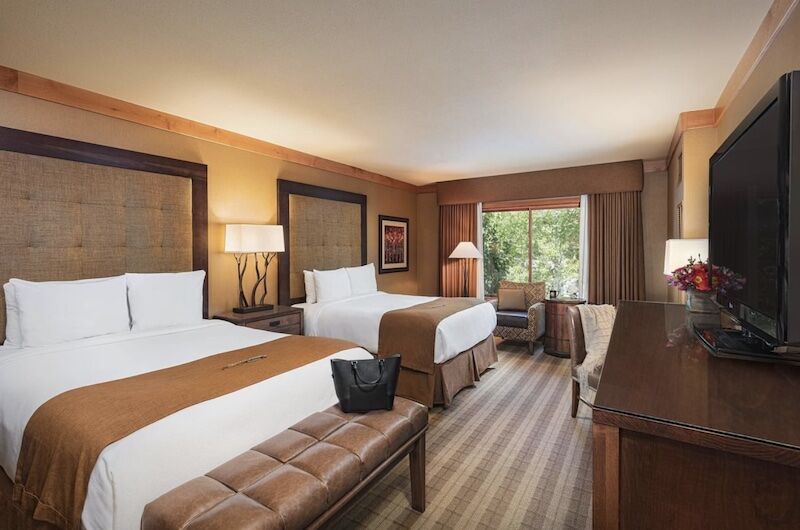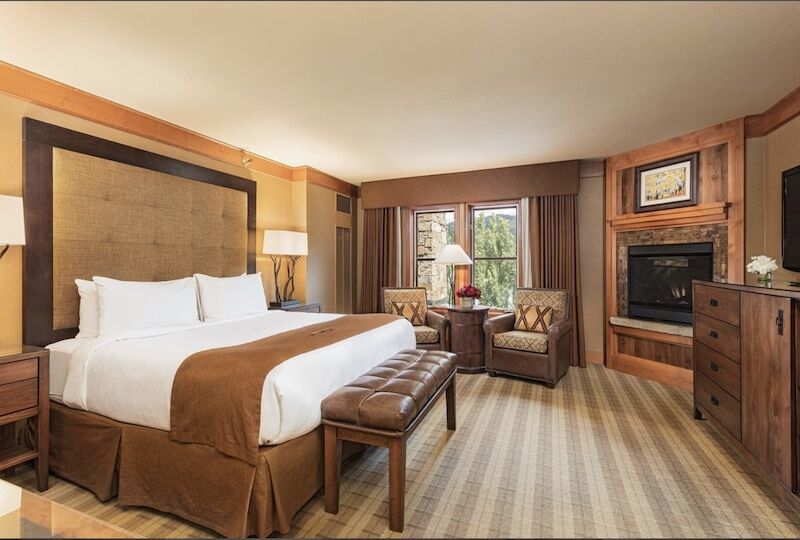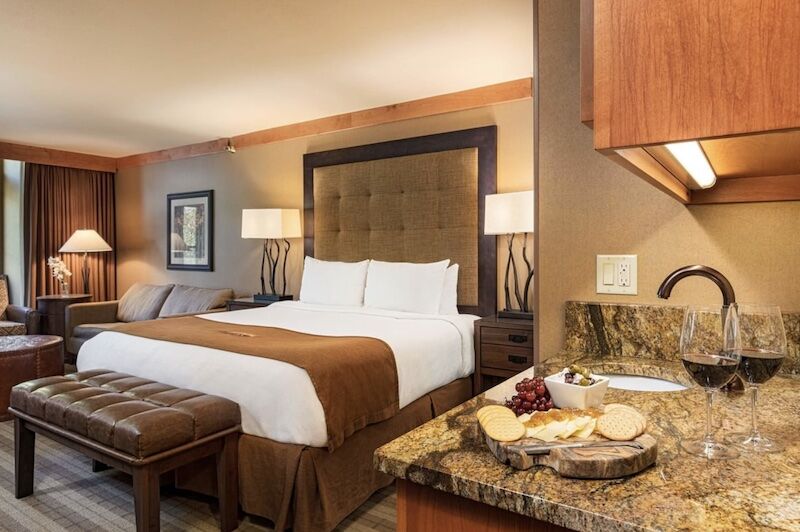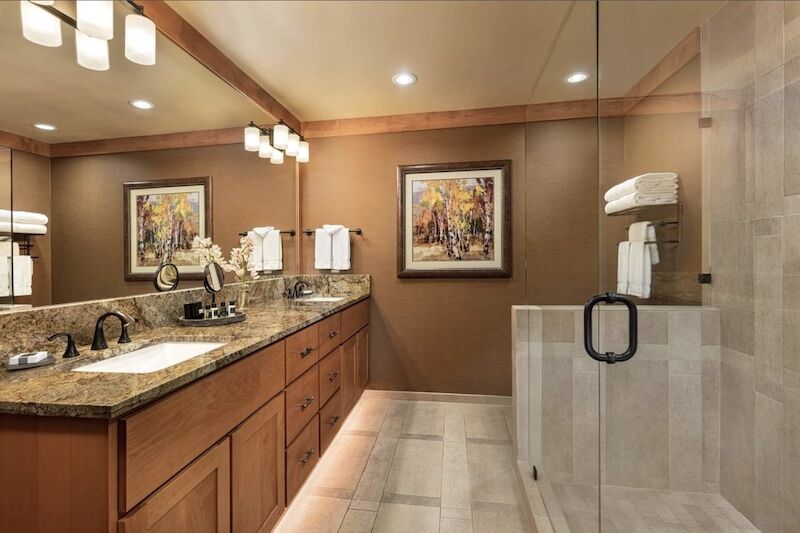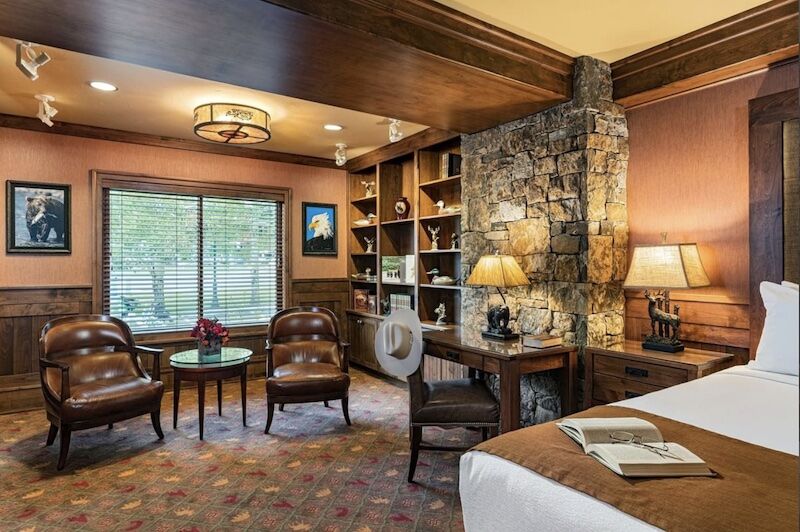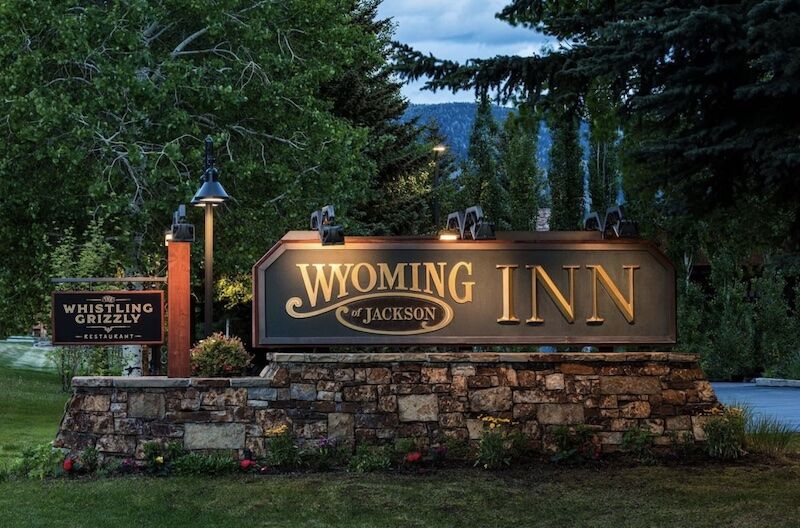 Location
A quick jaunt to downtown and easy ride to the mountains
Jackson Hole can be a jumping-off point for the two of America's most stunning national parks — Yellowstone and Grand Teton. It can also be a place where one spends their days perusing boutiques and nights carousing with cowboys. The Wyoming Inn of Jackson Hole is pretty well-situated for either, offering a short car ride or pleasantly long walk to downtown. And as it's a bit removed from the heart of the city, it is a little closer to the national parks.
Still, if you didn't rent a car or aren't looking to delve into the wilderness quite yet, there's still plenty of cool stuff nearby. When you're looking for the must-see Jackson guide, we have you covered.
#wyominginn on Instagram
Rooms
A home in the mountains with plenty of space
Rooms at the Wyoming Inn of Jackson Hole seamlessly combine modern and the mountains, providing a calming respite from active afternoons. While not every room has a fireplace, they're all done up in light browns and dark wood, bringing the forests inside with accents of home. 
The Wyoming Inn of Jackson Hole's rooms break down into the following categories:
Premium King and Two Queen – The hotel's entry-level rooms are a lot bigger than what you'd expect from a baseline, offering seating areas with a couple of leather lounge chairs and a full work desk. You'll have plenty of room to unpack with ample dresser space, and also enjoy a Keurig coffee maker, microwave and mini-fridge.
Premium King Fireplace – These rooms feel like mini-mountain cabins, where the spacious bedroom gives way to a small living area, adorned with a copper-lined stone fireplace. The fire is easy to manage via remote control, and makes for a perfect place to end the evening. It also brings all the amenities of the Premium King, with slightly more space.
King Sleeper Sofa – These rooms are similar to their fireplace and non-fireplace cousins, but also include a plush sleeper sofa in the seating area. It's ideal for a family or groups of 3-4.
Premium King Junior Suite – The lone suite category at the Wyoming Inn offers a wet bar, sleeper sofa and oversized lounge chairs. A fireplace sits in the living room area, and though it's not a significant upgrade from the King Sleeper Sofa rooms, it's still the hotel's most spacious option.
Amenities
A stone spa and spectacular restaurant
The lodge-like façade on the Wyoming Inn of Jackson Hole doesn't scream "full-service resort," but between the jacuzzi and the on-site restaurant it doesn't leave guests wanting for much.
When you pass by the lobby restaurant at the Wyoming Inn, it doesn't look like much more than a place to grab breakfast. But pass by at night, and you'll notice there's not an empty table in the place. That's because the restaurant is hands down one of the top spots in Jackson, boasting a menu full of local ingredients and dishes endemic to the area. Start out with the Wyoming Cowboy Pops, made with short rib, Wyoming slaw and chive oil. Then move on to the red wine marinated elk tenderloin with huckleberry gastrique. You can also carb load with wild game Bolognese or squash and pumpkin pappardelle. And the bison burger is never a bad move.
Hot tub
The Wyoming Inn's hot tub sits in a stone-walled room with fireplaces and deck chairs, and while the hotel doesn't boast a pool area, this room will have you forgetting all about it. It's open until 10 p.m.
Fitness Center
The gym packs a lot into a small space, offering full dumbbell racks, physio balls and a Peloton bike and treadmill. It's open 24 hours.
START Bikes
Guests can rent START bikes free from the front desk. Since Downtown is just over a mile away, they make for an ideal way of getting there when the weather cooperates.
Bus Tickets
Of course, biking in the snow isn't always the best idea, so during winter months the Wyoming Inn also offers free bus tickets to get to downtown and JHMR Village. The ride takes about 30-45 minutes, with trips once an hour.
#wyominginn on TikTok