(Above) Fans lining up outside Atomic Books in Baltimore for a chance to meet John Waters.
Something important gets lost in big-box bookstores. The big guys lack a sense of place. More than anything, these national corporations care about selling the most popular books to the largest number of people across the country. Thus, they can forget about the strident, the local, the funky, the experimental titles — the books that may not be on the bestseller list, but can keep you reading late into the night all the same. That's where independent bookstores come in. These small shops curate titles for the specific communities they serve, combing the literary landscape and selecting books, both popular and unknown, that best reflect the area they live in. Independent bookstores often sell books by local wordsmiths or about topics relevant to their region. Moreover, these stores act as gathering spaces, book club headquarters and event halls where authors give talks. Perhaps, then, the best way to get to know a place is by poking around its independent bookstore scene. Here are 15 independent bookstores that can take exploration to a whole new level.
Atomic Books, Baltimore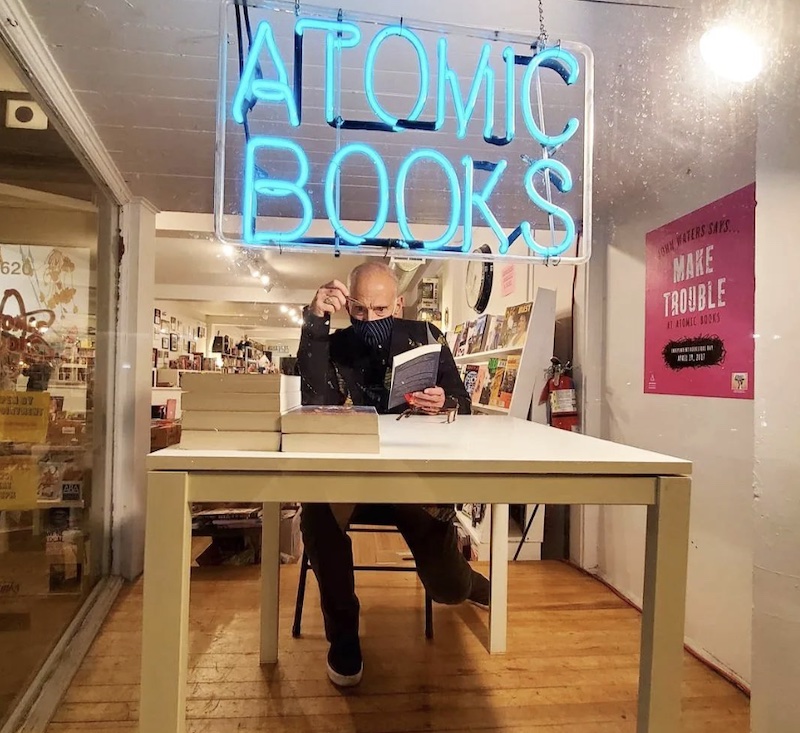 Baltimore native and cult filmmaker John Waters (think: "Hairspray") gets his fan mail sent to this independent bookstore. Atomic Books' inventory specializes in all aspects of art books and prints, comics, manga and titles on pop culture and has Eight Bar, its adult beverage counter space. Who knows, maybe you'll see Waters wander in to get mail while you're sipping a beer and reading a Vonnegut novel.
The Book Loft of German Village, Columbus, Ohio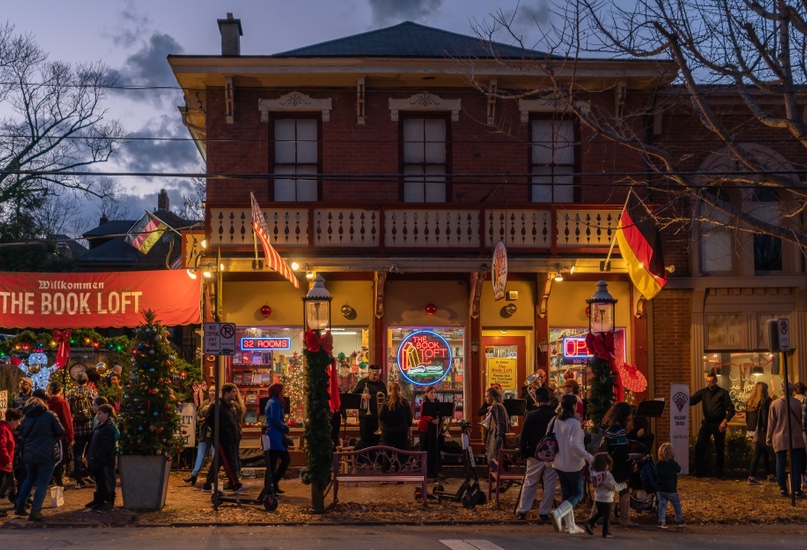 Based in Columbus' historic German Village, The Book Loft is a mystery unto itself. A city block long and constructed from a grouping of pre-Civil War buildings, its interior is set up as a labyrinth of 32 rooms full of books of various categories, toys, games, journals and other fun, bookish merchandise. Don't worry, the store provides maps you can use to make your way around this literary paradise, and staff members are always happy to point you in the right direction. That said, it's pretty easy to lose track of time at The Book Loft, and it's not a bad idea to make a day trip out of your visit here. If you do decide to hang out in the German Village for a while, head over to the German Village Society, a cultural center preserving the neighborhood's German past.  
The Dock Bookshop, Fort Worth, Texas
Opened in 2008 by sisters Donya and Donna Craddock, The Dock Bookshop is the largest Black-owned bookstore in the Lone Star State and the Southwest. The shop serves as a gathering spot with open-mic nights, book clubs and authors' events, plus it's co-hosting Fort Worth's one-day Trinity River Book Festival in September 2022.
The Flying Pig Bookstore, Shelburne, Vt.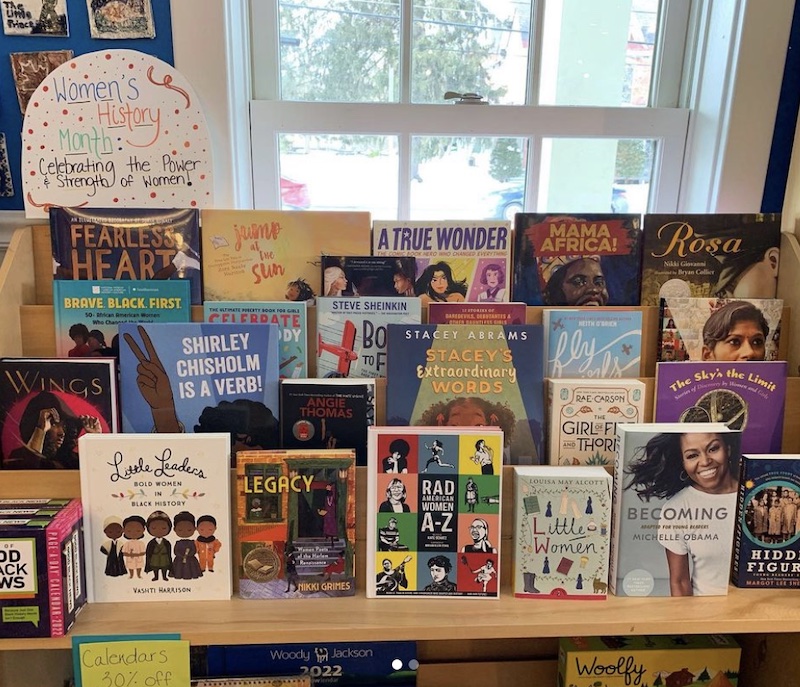 The Flying Pig Bookstore started as a children's bookstore in a Vermont post office in 1996. It still caters primarily to children and young adults, but has expanded its selection to promote Vermont authors and illustrators. Children here can feel like a VIP customer as the staff help them pick out a book. Adults, too, can find something to read amid its stacks or pick up a cool wordy tote bag. The storefront looks quintessentially Vermont: the shop is situated inside a big yellow house on a main road in Shelburne. Its main street sits near other great local businesses like the Shelburne Country Store, a wonderful gift shop. Every year during the holiday season, the Flying Pig's Snowflake Giving Project encourages shoppers to purchase a book and donate it to kids in need. Each time someone makes a donation, the staff hangs a paper snowflake in the store. Educators receive discounts year-round.
hello again books, Cocoa, Fla.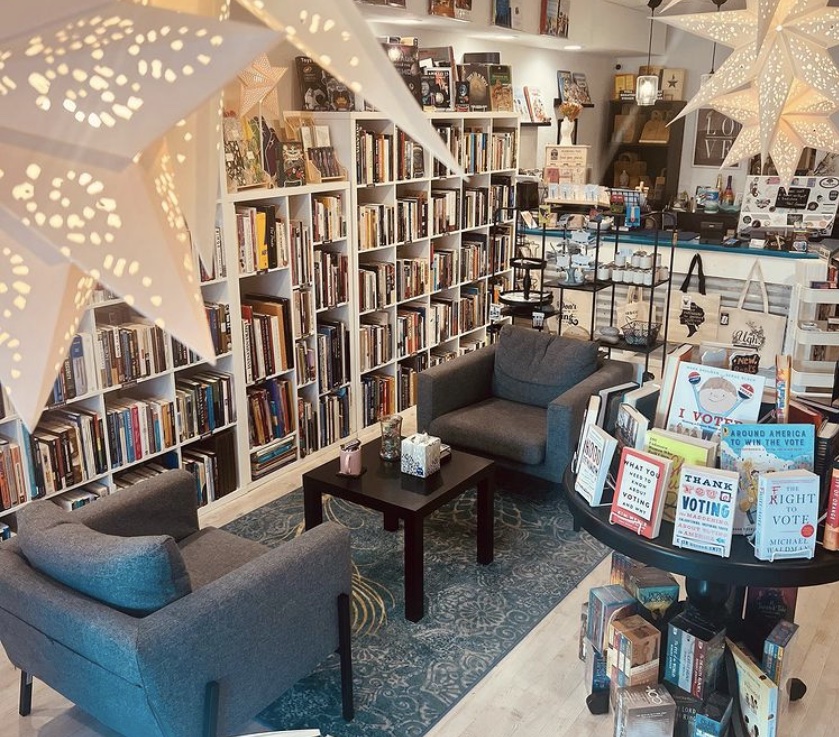 This woman-owned Cocoa Village bookstore carries mostly gently used books along with some new releases and books covering topics like diversity, human rights and LGBTQ issues. hello again books' event schedule runs the gamut: Pride events, theme nights, a knitting group, a movie night and storytelling sessions. While the staff often obtains books from library and estate sales, Floridians are often kind enough to bring in donations. The bookstore is in proximity to Cocoa Riverfront Park, a waterfront with a boardwalk and playground.
Indy Reads, Indianapolis
This bookstore in the trendy Fountain Square neighborhood has a page-turner of a mission. It's run by a nonprofit of the same name dedicated to eradicating illiteracy in Indianapolis. Their various programs support adult learners in job readiness, English language acquisition and the attainment of high school equivalency degrees. Book purchases at Indy Reads help fund these programs. The bookstore also promotes local authors and hosts open-mic nights, a chess club's meetings and drag story hours. When you're finished with drag story hours, check out the Fountain Square Theatre Building with its duckpin bowling alley, seasonally open rooftop cocktail lounge and bar and game room.
Page & Palette, Fairhope, Ala.
This family-owned bookstore on Alabama's Gulf Coast promotes stories of all kinds. The store has an events space and bar known as The Book Cellar. Here, Page & Palette serves literary cocktails such as Tequila Mockingbird and The Last of the Mojitos, and mocktails such as Fancy Nancy and Pete the Cat. Since 2005, Page & Palette has selected a "One Town, One Tale" book to encourage a community read to promote a love of the written word; 2022's pick is Ben Raines, "The Last Slave Ship."
Parnassus Books, Nashville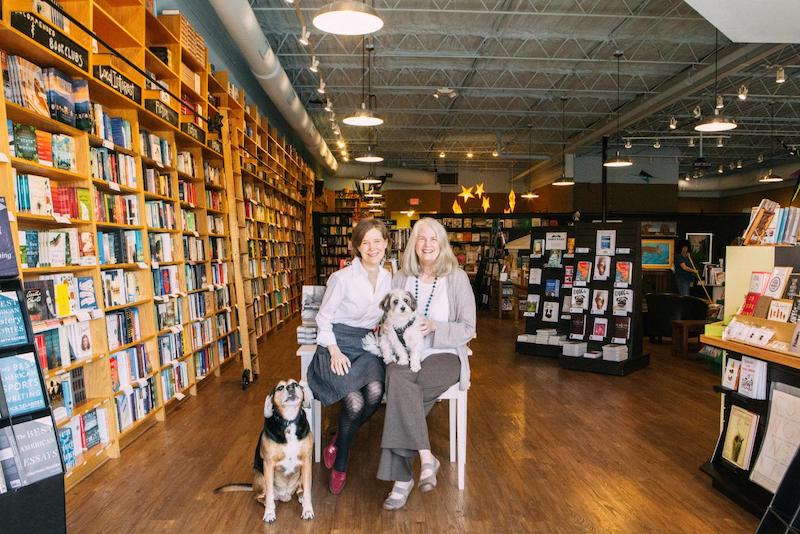 Printers Alley is now a major nighttime spot, but, in its heyday, it was the location of the city's printing industry. Among many other notable Nashville bookstores, Parnassus Books in Green Hills is co-owned by novelist Ann Patchett and her business partner, Karen Hayes, and draws its name from Greek mythology. (Mount Parnassus was the figural home of literature, learning and music.) At the shop, Ann adds her signature to her novels, and crowds come in for author events that sometimes grow so large they are moved to a second location. After perusing Parnassus, visit Hatch Show Print, a letterpress print shop that opened in 1879 and still makes new or revised advertisement posters. In the evening, head to The Bluebird Cafe, a live music venue where up-and-coming songwriters take the stage.
A Room of One's Own, Madison, Wisconsin
This queer- and trans-owned feminist bookstore has been in business since 1975 and has continuously been noted as a safe space for LGBTQ+ customers. Located in downtown Madison, A Room of One's Own also has a range of other books, puzzles, toys and gifts for various ages and interests. This store regularly holds author and book events, and is involved in the annual Wisconsin Book Festival, which brings new and established writers to the state for various engagements. Extra bonus: Its location on Atwood Avenue is near Glass Nickel Pizza Co. and Forward Craft & Coffee.
Semicolon Bookstore, Chicago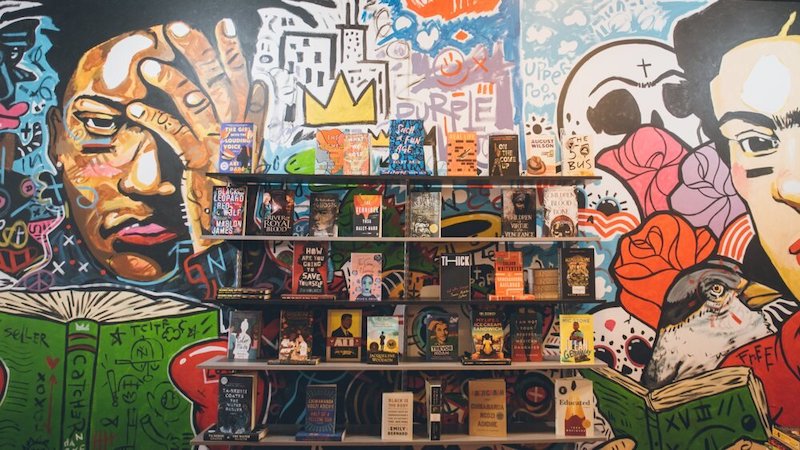 Owner Danielle Mullen combined her love for art and literature to create a supportive community and cultural space at Semicolon. The walls of this Black-woman-owned bookstore and art gallery are adorned with murals by Chicago artists, and the windows are decorated with quotes from books and public figures. Reviewers have noted that the store's book selection is full of works by writers of color, even in the children's room. 
Sherman's Maine Coast Book Shops, various locations
This family of bookstores spread across Maine's coastline has a book (or a few) on just about every topic related to the state. Maine-centric titles cover its lobster legacy and Acadia National Park, and shelf space is given, of course, to Ruth Moore, Stephen King and other native authors. Cookbooks teach how to assemble a lobster bake, ghost stories and mysteries delve into the Pine State's darker corners, and children's books provide a fun kids' point-of-view on it all. The oldest bookstore in Maine, Sherman's has been around since 1886. It began as a printing press in Bar Harbor before founder Bill Sherman incorporated book sales into his business. Their downtown Bar Harbor location is a favorite among visitors, with its charming squeaky floorboards and bargain deals. Aside from books, you can buy souvenirs like stationery, journals, games, puzzles and knickknacks.
Talk Story Bookstore, Hanapepe, Hawaii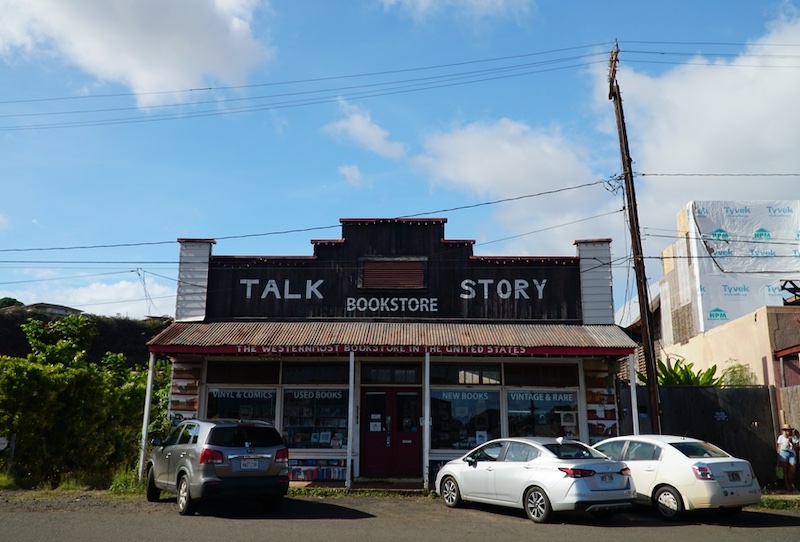 Around since 2004, this store on Kauai not only carries new, used, children's and vintage books but also is stocked with all things Hawaiiana. There are cookbooks, novels and books on Hawaiian language, traditions, wildlife and history. Yet the biggest find was Celeste. The Cat Boss, passed away in 2022; her memory lives on via her Instagram page, and, apparently, in merch. The bookstore is near the Hanapepe Swinging Bridge, a pedestrian bridge that does bounce upon crossing. Close-by eateries include Japanese Grandma's Cafe, which gets high marks for its garden-style restaurant as well as for their sushi and non-sushi orders.
Vivienne Kitchen & Pantry, Portland, Ore.
Yes, Powell's is a Portland powerhouse, but this literature city has many types of bookstores. Among them is Vivienne Kitchen & Pantry, a woman-owned culinary bookstore with vintage kitchenware and new linens plus a daily wine bar. The bookstore holds cooking classes, with some themed around a specific book, or kitchen takeovers by culinary professionals. It's next to the Hollywood Theatre, a restored Prohibition era cinema now presenting films and live performances, and the Moon & Sixpence, an English pub with 20 taps and a dart room.
Vroman's Bookstore, Pasadena, Calif.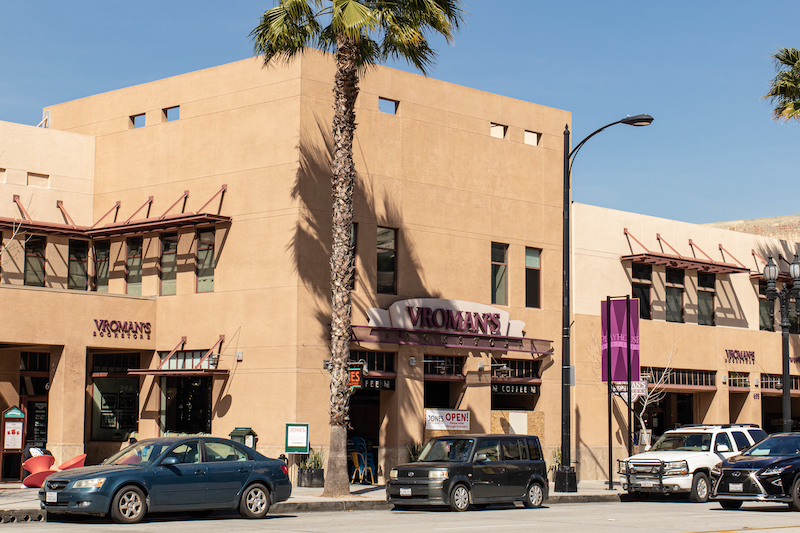 A Pasadena institution since 1894, Vroman's Bookstore has been involved in its community since its early days. Its Gives Back program donates a portion of purchases to local nonprofits, and community events span from storytimes to concerts to author lectures. The bookstore also has a wine bar called 1894.
Ye and Me Books, New York City 
New York City is a treasure trove of indie bookstores, but newcomer Yu and Me Books in Manhattan's Chinatown is the city's first female Asian American owned bookstore. Since 2021, owner Lucy Yu has highlighted stories about immigrants and people of color, with an emphasis on works by Asian American authors. After visiting Yu and Me, take some time to explore Chinatown. The shop sits across from Columbus Park, a popular gathering spot, and near bakeries, gift shops and dumpling spots like the century-old Nom Wah Tea Parlor on historic Doyer Street.