In Kentucky, they love them some horses. Not that this is news to anyone who's ever heard of the Kentucky Derby, but the state's passion extends far beyond the first Saturday in May. You won't find another state in America where horse racing passes for small talk, and kids learn how to make exacta wagers before they learn to drive.
Which is why going to the races in Kentucky is such a special experience. This is especially true in Lexington, a city that eats, sleeps, and breathes horse racing. And nowhere is that passion as tangible as at the city's iconic racetrack, Keeneland.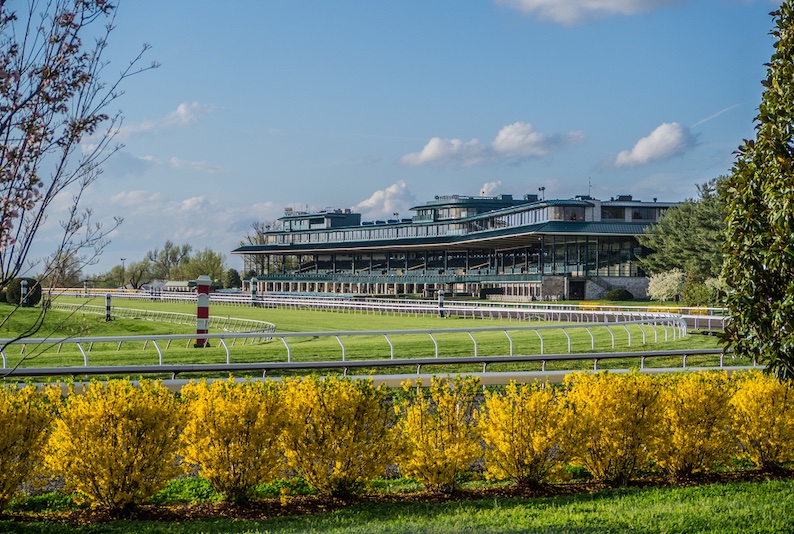 Keeneland Racing Track in Lexington, Kentucky. Photo via Shutterstock.
Keeneland is, as many locals will tell you, the Augusta of horse racing. It's historic and tranquil and beautiful, and while not the oldest or most famous horse track in America is its most emblematic. It's the horse track in the middle of horse country, where you won't find many amateurs and every race day is a major event.
That's because unlike most tracks — which run for months — Keeneland only holds two, three-week meets a year. The scarcity makes those few glorious weeks in the spring and fall like holidays, when the track comes to life and reminds you why they once called horse racing the Sport of Kings.
Grey skies, bright leaves, and hot tips
I'm here for the fall meet in late October, and the bright red trees along Keeneland's main driveway shine a brilliant contrast against the gray-white sky. The clubhouse is an imposing limestone castle, which combined with the misty, mid-50s temperatures and the rolling hills beyond may as well be Ireland.
It's Wednesday, and where typical weekday track attire is maybe a half-step below what people wear to the gym, the crowd milling outside Keeneland looks dressed for an afternoon cocktail party. Wool blazers and tailored slacks on the gentlemen. Ladies are in dresses, some in sundresses despite the chill. I wonder if any of these people have jobs. Then I realize in Lexington, going to the races is probably a legitimate excuse to miss work, kind of like fresh powder days in Utah.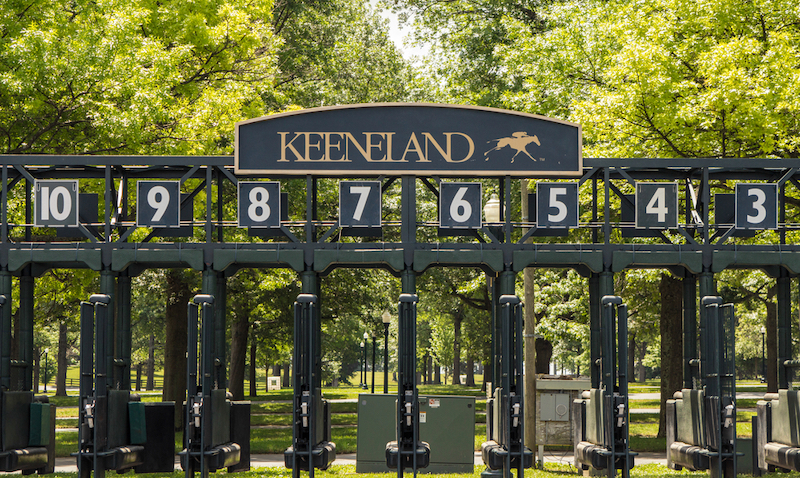 Walking in the front gates is crossing a threshold into another time and place when horse racing ruled the American sports consciousness. While it's relegated to a niche sport in most of the country, in Keeneland the energy feels like college gameday in the SEC. Crowds fresh off a parking lot tailgate pour into the historic stands, and though the bourbon might be what's fueling everyone's good mood, people seem legitimately stoked for horse racing.
I post up in the courtyard between the main clubhouse and a portable VIP clubhouse, and wait for the horses for the first race to parade through. They slowly begin crossing in front of me, mighty chiseled beasts that look every bit the part of an elite athlete. Men in jackets hold their racing forms in one hand, bourbon cocktails in the other, and inspect them like they can tell any difference.
"I like the five," says a man next to me to no one in particular, but maybe for me. At the track, this is like saying, "Hot today, isn't it?"
I nod at him. "One looks good too," I say. He raises an eyebrow. At Keeneland, racing tips pass for pleasantries.
After inspecting the flesh I make my first trip to the betting window, and decide to box me and my new friend's selections in an exacta. I throw in the favorite, Passionfortreasure, for a trifecta box. I make my way to the finish line on the track level so I can watch my inevitable victory unfold.
The two horse, My Good Fortune, comes in second, and costs me the trifecta. This is what I get for mistaking a polite hello for a legitimate race tip.
Race day drinks don't make you bet better
After ripping up my tickets in disgust, I head to the bar in the VIP portable behind the courtyard, where the bartender gives me a quick lesson in the Keeneland Breeze. It's a base of bourbon, of course, but then adds in orange liqueur and ginger ale. The well-heeled, jacketed patrons seem to be downing them like 4% domestic drafts.
"People in Lexington can drink bourbon for breakfast," the bartender tells me without even a hint of exaggeration. It's barely 1 pm, and I see several people who are easily on their third.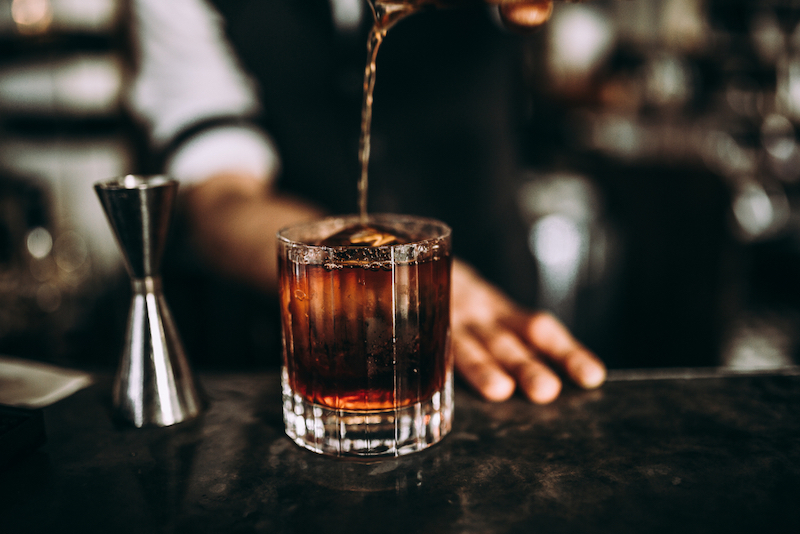 No judgment, as this is the VIP tent, and no doubt at least a few of these lushes had the good sense to put My Good Fortune in their trifecta. Which sober me did not.
The class of people in this "VIP" section seem no better dressed or higher class than the hoi polloi out near the finish line. They're not betting much more money either, or drinking any less. Because everyone at Keeneland treats a day at the track like a special occasion, the only visible difference in the crowd is how much their ticket cost.
People talk horse racing at Keeneland the way men who meet at bars talk football. It's the universal language in Lexington, which is refreshing to someone who's spent their life teaching people the difference between a Win and Place bet.
"I heard Gaffalione's riding the 10 horse in the next race," one man says to another. "He's unbeatable from the outside post."
"He was 0-for-6 last time I was here," the other one remarks. "This one's a sprint, too. Maybe at the distance I'd take him. Outside post at 6 furlongs? I'll put him in a few trifectas, maybe."
At Keeneland, everyone knows their shit. Everyone except me, apparently, as even when surrounded by a chorus of bourbon-soaked racing analysis, I lose the second and third races too.
Betting with Bergoo, and a Betologist
Not discouraged, I move to the upper reserved grandstand seats, hoping the elevated perspective will bring me a little more luck. From up here, you can see out past the infield into Kentucky horse country, the fertile land from which the best American thoroughbreds emerge. Out somewhere in those hills sit the stud farms where horses like American Pharaoh, Justify, and Tiz the Law live in unbridled luxury.
As I try to salvage my day during Race 5, I consult with one of the track's resident Betologists, a guy named Nick Tooth. His job is to explain to novices the basics of horse wagering and how to read the odds, forms and programs.
"I've been doing this since I was 8," I tell him so he doesn't waste his time explaining to me what a furlong is. "Not successfully, mind you, but I know how to read a form." Nick laughs.
"How you doing today?" he asks.
"Haven't cashed a ticket, Nick," I say. "You got any advice?"
"I can't tell you how to win," he says back. "If I could do that, I'd be a billionaire." I'm sure he's made that joke 100 times today. But he also offers a smidge of insight into Race 5, tipping me to the unbeatable combination of trainer Chad Brown and jockey Tyler Gaffalione on a horse named Running Bee.
"He's a big favorite, though," he says. "If you want some prices, find a longshot for the exacta. The rest of the field is wide open."
I pick a few horses with longer odds. Nick is right, and a longshot named Bakwena comes in second. Bakwena is apparently an old native word meaning "not the longshot I picked."
Nick suggests some Burgoo, Keeneland's iconic beef stew that he says is known to bring people luck. This seems to be the same kind of "luck" people have when a seagull takes a dump on their head, as I proceed to lose races 6 and 7. The Burgoo does warm me up, though.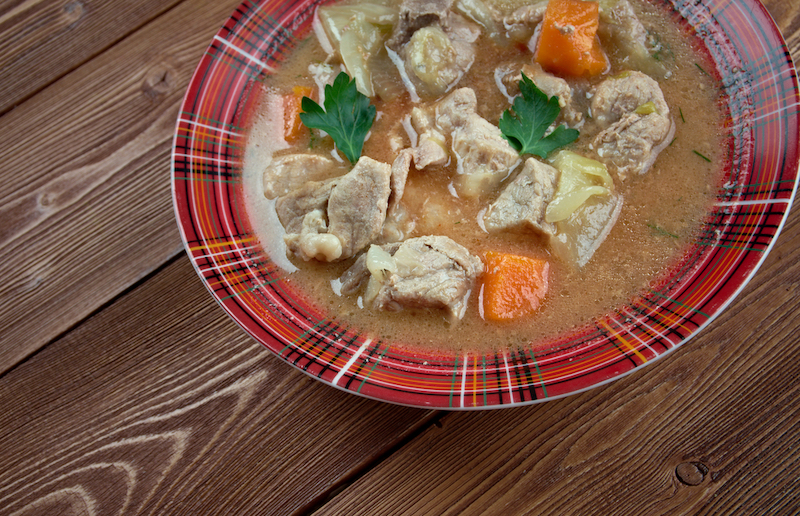 Race 8 rolls around, and I decide it's time to make what my railbird uncle used to call "get-even-for-life" bets, since there's no point in betting short-price favorites when you've been losing all day. I box an 8-to-1 horse named Lucky Dude (which I am not) with a longshot named Hurry On Out (which I will be if I lose). They are running first and second in the middle of the home stretch, and for a brief instant I think I may salvage my day at the races. Then, just as I'm excitedly knocking over my empty cup of Burgoo, the race favorite Master Game comes charging ahead, and overtakes them both. My day in the heart of horse racing has ended without a single win.
But a day at Keeneland isn't about winning or losing. At least, this is what people who lose every race tell themselves. It's about immersing yourself in the spirit of the sport, and living among other avid horse players for a few hours. Keeneland is pure class, and a trip to a time when everyone was a horse racing fan. And even though I left a couple hundred dollars lighter, I still had a smile on my face.