This story is part of our first-ever music special, which includes the results of our music survey, the resulting top music cities ranking and an in-depth look at the most travel-worthy music cities across the country. See all the coverage here.
---
As soon as I got a car for my 16th birthday, I knew where I was headed. I called my best friends and we packed ourselves into my non-air-conditioned, 1986 Mercedes-Benz (RIP Bartholomew) and headed an hour north to Austin. Our first stop, and the entire reason for the trip, was Waterloo Records. I had been to the shop a handful of times with my parents, but it was always quick, more a brief entertainment of my vinyl fascination than a respectable trip to the music mecca. When I finally had a chance to explore the store on my own, my life-long love affair with records officially began. I may have only left with an Elliott Smith record that day, but that trip informed my relationship with vinyl from that day forward.
The thrill of digging in the crates and finding unknown pleasures is a feeling that keeps pulling music lovers back to the record store. Some of the country's most legendary record stores have stood the test of time, surviving recessions, online retailers, the pandemic and compact discs. Lucky for us, the vinyl revival of the early aughts means that you can now buy records in stores that you never could back in the day (Urban Outfitters?). There are some stores, however, that outshine the rest. As a testament to the staying power of these musical houses of worship, we've compiled a list of some of the most iconic places to buy a record in the United States. Each one of the shops stands alone as a unique destination, yet they're collectively chock-full of rarities and run by knowledgeable vinyl lovers who are eager to point you in the direction of an auditory goldmine. Make sure you bring curiosity and an open mind — and for the love of Chet Baker, please invest in a worthy turntable.
A-1 Record Shop – New York, N.Y.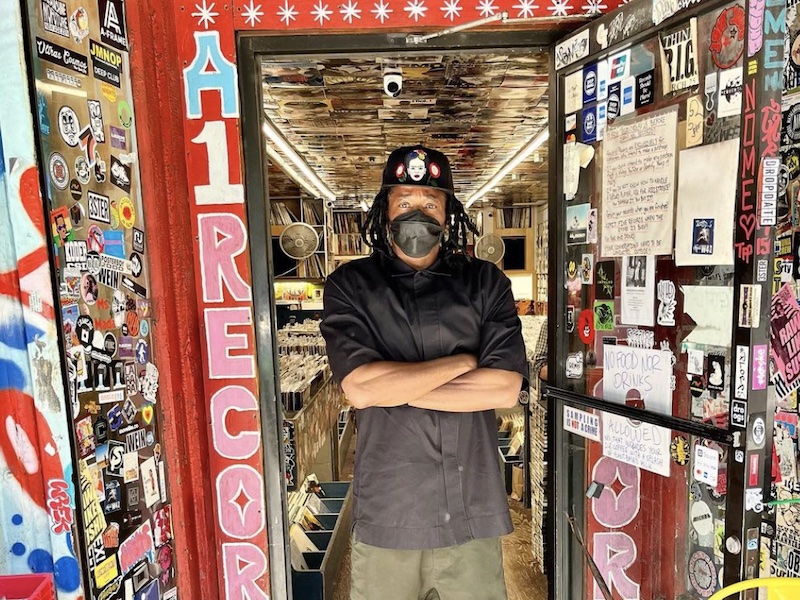 (pictured: Q-Tip at A-1 via Instagram)
Like the title of The Dramatics' 1971 smash hit "Whatcha See Is Whatcha Get," A-1 Record Shop is a no-fuss, no-frills spot in Manhattan's East Village that's been buying and selling vinyl since 1996. Not much has changed at the store since it opened nearly three decades ago; the ceiling is still covered with music posters, the three rows of shelves are still jam-packed with records, and you can still find folding tables out front covered with crates and bus tubs of vinyl, as if the store is bursting at the seams. A-1 maintains a curated selection of records, specializing in hip-hop, jazz, funk and dance music records. The staff here also knows their stuff and stocks rare finds that have had artists like DJ Premier, Pete Rock and Lord Finesse digging in the crates here for years.
Amoeba Music – San Francisco, Calif.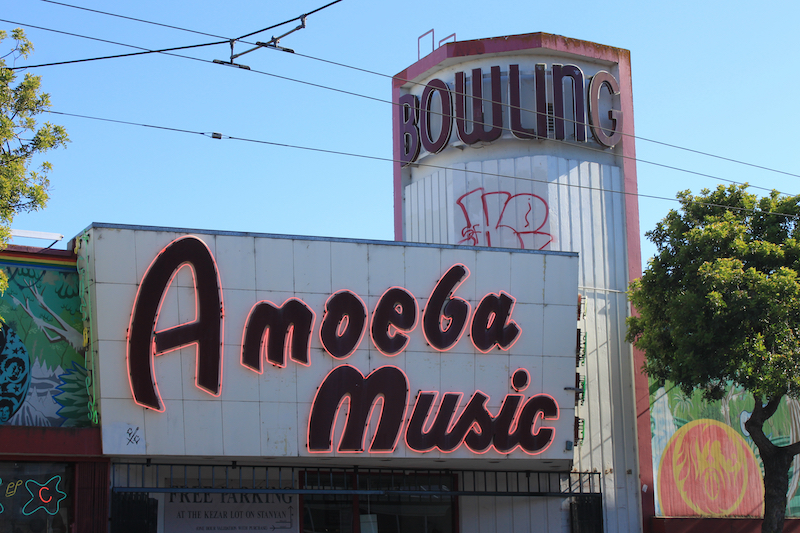 You can't talk about America's most iconic record stores without mentioning Amoeba. The influential flagship location was founded in Berkeley in 1990 by former employees of Rasputin Records, another major player in the Bay Area. Billed as "the world's largest independent record store," Amoeba now has two additional locations in Los Angeles and San Francisco, the latter of which is located in the former Park Bowl bowling alley, a massive 25,000-square-foot space. Visiting the Haight-Ashbury location is a rite of passage for vinyl collectors, as Amoeba regularly has over 100,000 new and used records, CDs and cassettes stocked to peruse. Check their calendar online before visiting, as they host free live shows and album release events in stores. If you can't make it in person, check out their YouTube channel and their "What's In My Bag?" series, which follows artists and musicians through the store as they pick out and talk about records.
Easy Street Records & Café – Seattle, Wash.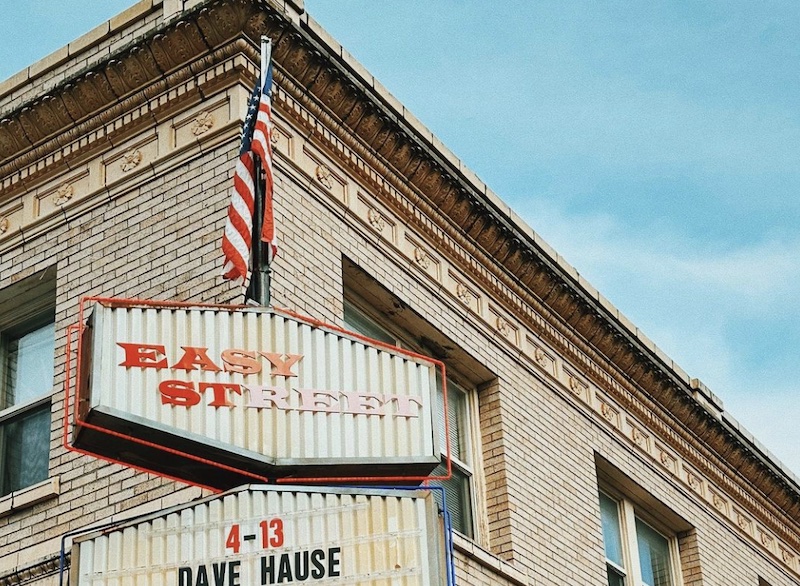 Easy Street Records & Café sits on a busy corner in West Seattle's California Junction and might be best described as a record store-meets-greasy spoon, selling new and used vinyl records alongside breakfast and lunch favorites. Entrees are named after musicians like the Hank Williams Western Omelet, Dolly Parton Stack (pancakes) and the Salad of John and Yoko. After filling up on eggs Benedict (aka Bennie and the Jets), peruse their two-story space of records, films and books — perhaps you'll bump into local West Seattleite Eddie Vedder. The Pearl Jam frontman has a longstanding relationship with the store, and the band performed at Easy Street in 2005, releasing a special EP of the show named "Live at Easy Street."
Electric Fetus – Minneapolis, Minn.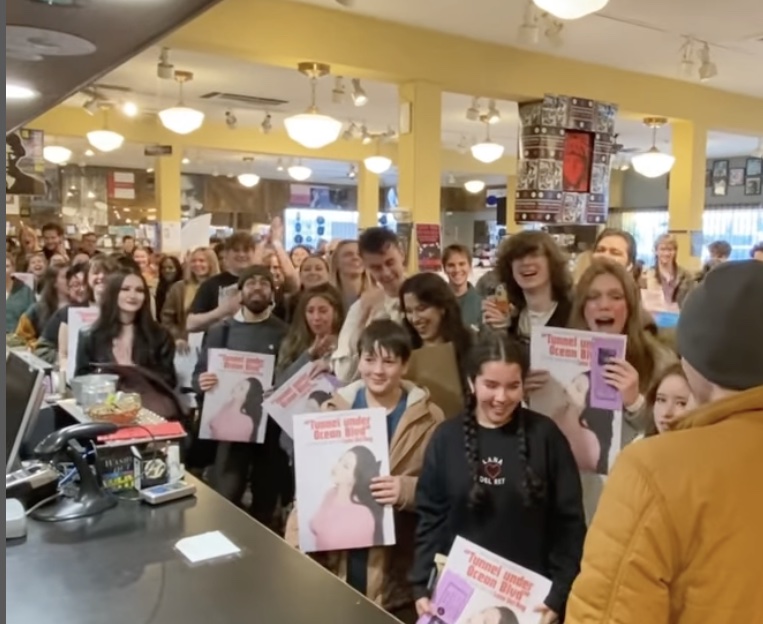 Founded in the summer of 1968, Electric Fetus was said to be Prince's favorite record store and the last one he visited just five days before his death. The shop has been continuously operating in the Whittier neighborhood since 1972 and is broadly regarded as the most popular independent record store in the Land of 10,000 Lakes. It's a fantastic place to flip through a wide variety of new and used records, assorted house and beauty wares, strange tchotchkes or even buy a turntable if you're in the market. National Lampoon magazine once called Electric Fetus "the worst name for a business," and the store once held a Streakers' Sale where music lovers could leave the store with all they could hold — so long as they were completely nude.
Gramaphone Records – Chicago, Ill.
If house music was born in Chicago, then Gramaphone Records is the church where it was baptized. Established in 1969 while psychedelic rock 'n' roll was still all the rage, the checkered-floor shop has had its finger on the pulse of electronic music since the '80s. While Chi-town's beloved Reckless Records may cover a broad spectrum of genres, Gramaphone's legacy is about losing yourself to dance, spotlighting both aspiring and veteran electronic musicians' projects and serving as a place of employment for up-and-coming DJs. You're here to browse an expertly curated smorgasbord of dance music, including jungle, drum 'n' bass, breakbeat, house and even Italo disco. Stop by the historic shop for a record release event or browse their inventory on Discogs.
Jackpot Records – Portland, Ore.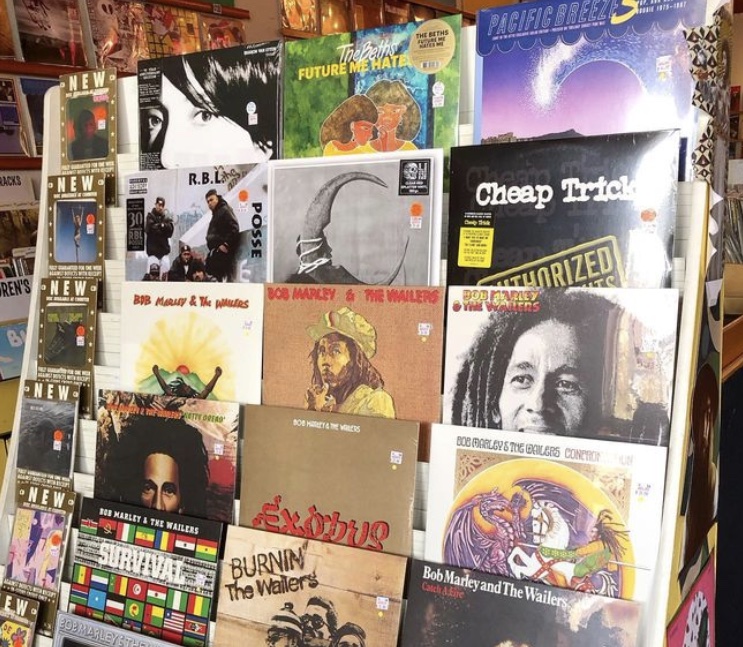 Nearly 26 years after opening, Jackpot Records remains Portland's favorite record store, beloved by music lovers who've lived in the City of Roses for decades and newer transplants. Upon entering the modest Hawthorne store, you're greeted with a neon red sign that reads "Records," along with a crimson ceiling and a Las Vegas motif throughout the store. (Hence the name, Jackpot.) Back in 2015, owner Isaac Slusarenko made one of the largest record acquisitions, adding a staggering 125,000 pieces of used vinyl to the store's inventory — just in case you were worried they wouldn't have something you'd like. In addition to the records, CDs,and music equipment Jackpot sells, the revered store hosts in-store performances, meet-and-greets and the occasional record signing. The store also has an in-house record label of the same name, which focuses on preserving and reissuing classic records.
Louisiana Music Factory – New Orleans, La.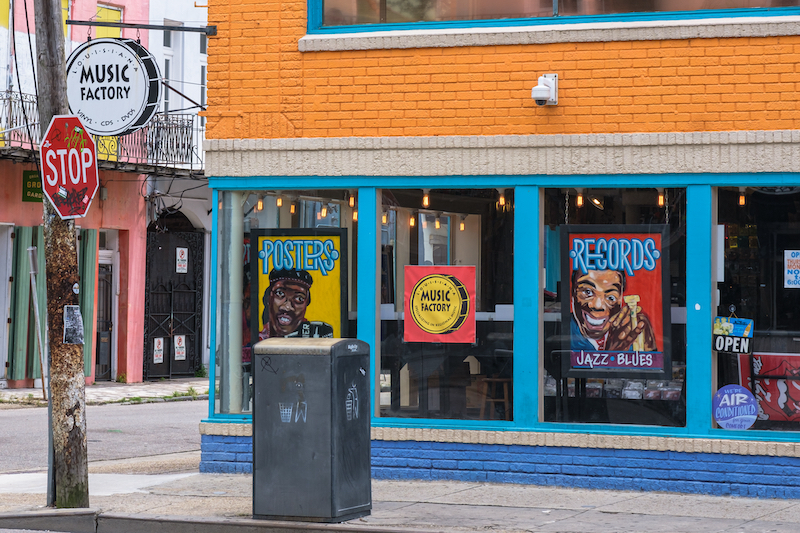 The crown jewel of the Faubourg Marigny neighborhood, the Louisiana Music Factory maintains a bespoke inventory of Cajun, zydeco, jazz and blues albums recorded by New Orleans and Louisiana musicians. The esteemed shop first opened in 1992 and relocated twice before it landed at its current home on the buzzy Frenchman Street back in 2014. Despite its relocations, the bayou-inspired store has been in nearly continuous operation for 31 years, weathering Hurricane Katrina and being one of the first music shops to open afterward. When you visit, expect to be greeted with the signature New Orleans hospitality and an atmosphere as electric as the sounds it sells. Pick up a New Orleans Jazz & Heritage Festival flag or maybe "Gris-Gris" by Dr. John.
Newbury Comics – Boston, Mass.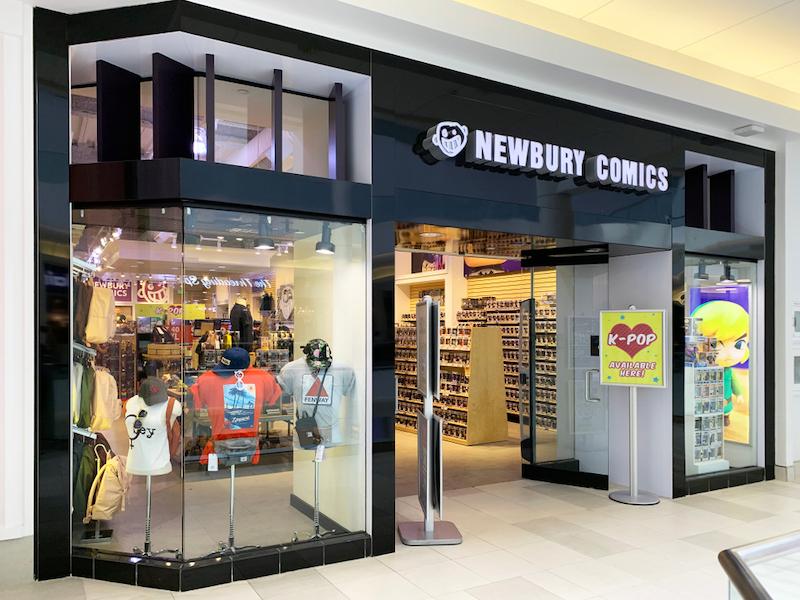 If you've spent any significant amount of time in New England, then you've likely heard of Newbury Comics. The independent comic book-meets-record store is a one-stop shop for pop-culture enthusiasts. Now a chain with over 30 locations spread across five states, the original Newbury Street store in Boston was founded solely as a comic book store in the late '70s by two MIT students before expanding into what it is today. Expect to find walls of Funko Pop! figurines, music memorabilia, manga, anime, movies and a broad selection of obscure vinyl when you visit the store.
Third Man Records – Nashville, Tenn.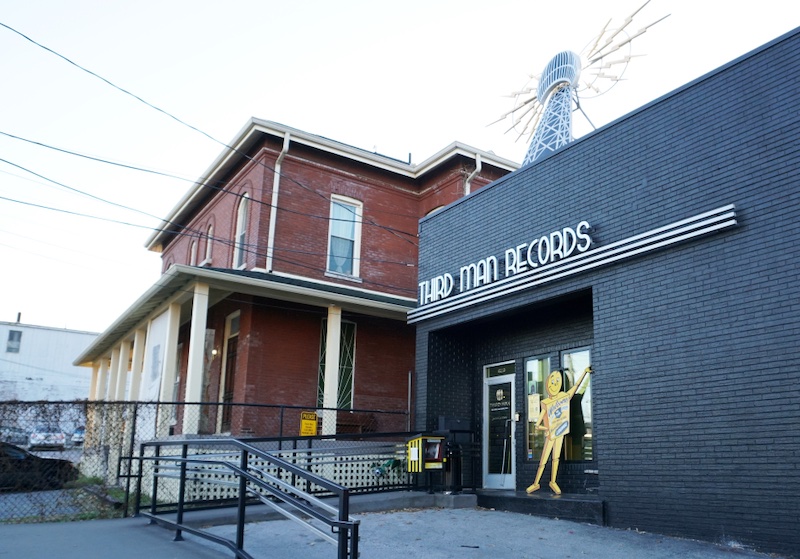 Founded by musician Jack White of indie rock bands The White Stripes, The Raconteurs and The Dead Weather, Third Man Records is one of the most unique record store experiences in Nashville. White first opened the store in the Music City back in 2009 before eventually opening locations in London and his hometown of Detroit. The record store is more like a complex and acts as the headquarters for White's record label of the same name, which focuses on pressing innovative and artsy albums. You're here to dig for rare vinyl releases shelved alongside copies of White's own recordings and an expansive merch section that is shamelessly tailored to devotees of his music. The complex is also home to the Blue Room, the world's only live-to-acetate venue where music performances are directly etched onto vinyl records. It can be hard to know where to begin, so visit on a Friday for an in-depth tour of the facilities. After, you can duck into the 1947 Voice-O-Graph booth and lay down your own two-minute recording directly onto a six-inch vinyl.
Waterloo Records – Austin, Tex.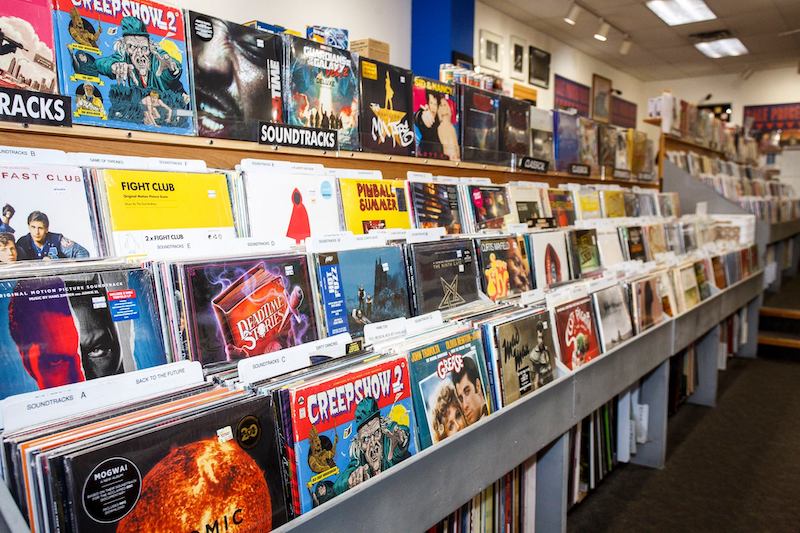 Named after Austin's first name, Waterloo Records is the Lone Star State's most legendary record shop and a testament to the art of vinyl. The store is so renowned that The Austin Chronicle has named it the best record store every year since it opened back in 1982. On the corner of North Lamar and West Sixth Street in downtown, Waterloo stocks a wide selection of new and used vinyl, CDs and cassettes and has a seriously knowledgeable staff who are happy to make recommendations and guide you through their Employee Picks and Top 10 sections. It's also a popular spot for in-store live music performances, showcasing local bands throughout the year and up to 10 bands per day during South by Southwest each March. Past performances include Animal Collective, My Bloody Valentine, Bill Callahan and hometown heroes Spoon. Plan to stop by on a Tuesday from 7-11 p.m. for Vinyl Happy Hour, where you can snag 10 percent off your favorite records.