This story is part of our first-ever music special, which includes the results of our music survey, the resulting top music cities ranking and an in-depth look at the most travel-worthy music cities across the country. See all the coverage here.
---
A decade before Asheville became the premier East Coast destination for craft beer tourists, music fans were flocking to town to catch shows at The Orange Peel. Since opening in November 2002, the venue has attracted top touring acts and provided a marquee stage for local artists, consistently punching above its class for a 1,000-person space. Bob Dylan, Lou Reed and Lauryn Hill all opted for it when they could have easily filled the much larger Thomas Wolfe Auditorium or Asheville Civic Center a few blocks away. Beastie Boys swung by for what would be their last club show; Smashing Pumpkins chose the Peel for their nine-show East Coast residency; and when a snowstorm stranded Dave Grohl in town, he and native son Warren Haynes hit the club for a pop-up performance (for a $10 admission fee). Once COVID-19 hit, Peel management was on the frontlines of nationwide efforts to help save independent venues through fundraising. When the club emerged after a 15-month pandemic darkness, it did so with a second space — the 4,000-person capacity Rabbit Rabbit outdoor venue, also just a few streets over. In this exclusive oral history, Fifty Grande looks back at the Social Aid and Pleasure Club's influential history in the words of those who've been there: local artists, frequent Orange Peel guests and management from the past and present.
THE LIVE MUSIC BLOCK
Jeff Santiago (operations manager; musician, Santiago y Los Gatos)
It was built as a roller skating rink in 1945. Then in the late '50s, it was an AMF bowling alley. I don't know how they did it [in this space]. It was actually the first African American AMF. Basically, the one in West Asheville was pretty much not welcome to all, so they built this one and it was AMF official, so it was great.
After that, it became Jade Club and they had The Dixie Cups play a New Year's Eve show. They had Ronnie Milsap, The Chi-Lites — stuff like that. Then one summer, it was a place called The Country Palace; we had Jerry Lee Lewis playing here. And then it became the original Orange Peel. And that's when we saw, like, The Commodores come in for five bucks.
Claude Coleman Jr. (musician, Ween/Amandla)
The Orange Peel used to be the place for the Black kids in the '70s. That was where you took your date. That's where you hung out. That's where the gigs were. There were all-Black bands in town that would sell out The Orange Peel on the weekends. The place would be packed, and it was all just Black folks, so there was a lot of fun, awesome, positive Black community activity there.
Jack Groetsch (The Orange Peel co-founder)
They had their own house band. They were called Bight, Chew & Spit. They were like Earth, Wind & Fire. They had their own, you know, "SuperFly" suits and they had their own tour bus. They would go on tour, but they would be The Orange Peel house band for when they didn't have big acts.
Warren Haynes (musician, Gov't Mule/Allman Brothers Band/The Dead)
I was too young, but so many amazing performers came through there. It was part of the circuit where so many wonderful soul artists came through on tour. I knew someone that saw Otis Redding there and got his autograph.
Woody Platt (musician, Steep Canyon Rangers)
Growing up [in the '80s and '90s], I remember that part of Asheville, that block from The Orange Peel up to the [Vance] Monument, really for one reason. I lived in Brevard, so I didn't get over there a ton, but I remember Be Here Now was the club. If we went anywhere, if we went to see live music when we were kids, that's where you went. I remember going to see Emmylou Harris there with my family in middle school, and then in high school going to chase bands like Leftover Salmon around there. It's interesting that that block has sort of always meant "live music" to me.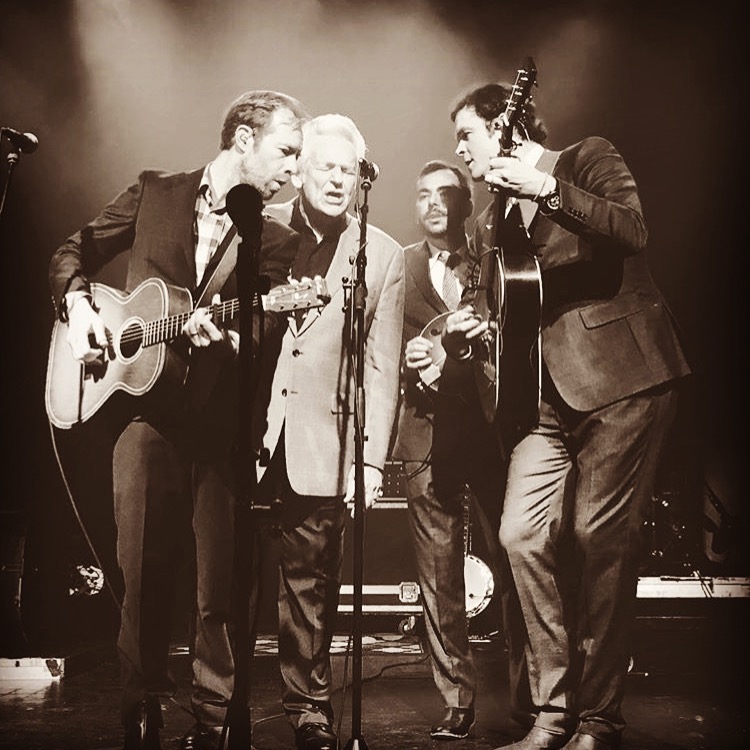 Steep Canyon Rangers + Del McCoury by Brian Adam Smith.
Claude Coleman Jr.
Ween used to have memorable gigs at Be Here Now, and they were often quite rowdy. There were fights occasionally, which was funny to us because it was like a college mountain town, which reminded us of Burlington, Vt., or Boulder, Colo., back in the '90s, and we thought it was all just love and light, peace and love. (laughs) But we would play there and almost invariably, every time, there would be some sort of weird altercation or something. It would always leave us scratching our heads, like, "What's going on down here? It's so beautiful. Where's all the violence coming from?" Because it was a little rough around the edges.
Lesley Groetsch (The Orange Peel co-founder)
Sue Millon, who is now Sue Wille, moved to Asheville and she kept telling us, "You guys have to come check it out." Kind of at the same time, we decided to sell The Howlin' Wolf — Jack's Club in New Orleans. We had little kids — very little; babies — and we thought we were going to maybe go into a more sane industry, like open a restaurant or something.
Sue connected us with [real estate development firm] Public Interest Projects, who at the time was working with [philanthropist] Julian Price. They were using his money to incubate downtown Asheville businesses, and they wanted to do a live music club. Sue had met with them about another project and said, "Well, you have to call Jack and Lesley." So we came up to check it out and fell in love with downtown Asheville.
This was early downtown — early-ish. You know, not early in the grand scheme of things, but early in its renaissance. It had so much potential. The building we looked at where The Orange Peel is was just phenomenal — the huge trusses, the wide open spaces. Long story short, they made us an offer and we came up [in early 2001] and started working on it almost immediately.
Jack Groetsch
The place was oddly done. It had a suspended ceiling that progressively got lower and lower as it got to the stage.
Lesley Groetsch
It was this weird geometric pattern, and I suppose they did that for acoustics, but it was hideous and it was dirty because people smoked indoors back in the day.
Jack Groetsch
There was a drum riser that looked like a cake. It was white on the front and orange on the top, so it looked tangerine, almost orange. And it tiered up, like, three levels. So they'd have the horn section in front and at the top was the drummer. It was bizarre. And they actually used to put up the bands [for the night]. I don't even know how — the stairs were so small and confined. It was not up to code. It was a tinderbox waiting to go off.
Lesley Groetsch
There was some old infrastructure in the building that had to be torn out. The engineers looked at it and said, "Well, we are in a seismic area," so they recommended that we basically build a steel cage within The Orange Peel. If you go in the basement, you see these huge newish footings — I guess they're 25 years old now — but big steel beams. They're the cross beams that you see inside the main floor. I mean, it was hundreds of thousands of dollars' worth of steel. At the time, it was one of the largest assembly projects, construction-wise, in Asheville. And so the inspectors in the city were super worried about every little aspect.
We had so many friends in the business. Jack's cousin's dad had started in the theater business and ultimately had this big, huge theater supply company. So they sold us the velvet curtains at cost. One of Jack's best friends, Dave Kelsey, is a set designer for films, and he came down and just moved to Asheville for a few months. He painted every surface that you see. The mural that he painted, he freehanded, and it eventually became the logo that is still used today. And he designed the big signs out front with the arrow.
Jack Groetsch
They don't use the hashtag anymore, "Social Aid and Pleasure Club." That was a New Orleans tribute. The old Mardi Gras krewes, especially in the Black community, would use that because they would do things for the community.
Lesley Groetsch
Jack had an artistic vision for the place and had been working in booking bands for many years. He's just one of those guys that everybody likes, so he had great connections with agents in what was then called "independent music," and that was one thing that he wanted to infuse in The Orange Peel. We really wanted it to be a place that bands wanted to come to — it was comfortable, it was welcoming, it was a good stop on their grueling tour. We also wanted it to be a place where fans had a great experience, and that's really hard to always deliver on both counts. And we worked at it.
And then we really wanted it to be a community center where people could have fundraisers and have dances. Something we noticed when we came to Asheville was how segregated it was. So we proactively reached out to members of the Black community, particularly people who had had a connection with the original Orange Peel. We would host events by the [South] French Broad High class of '69, because they were the last all-Black high school before integration of Asheville High [School]. But they had stayed a cohesive group of people over the years, and so they would throw these events and fundraisers at The Orange Peel. And then we started, through that group, to meet people who had been instrumental in the original Orange Peel.
Jack Groetsch
We met some of the original DJs. Moose Man was one of them. We really got to meet a lot of that community and get invited to their little private parties, fish fries and stuff like that, and got to hear some great stories.
Lesley Groetsch
You'd go to shows in Asheville and the band might be Black or it might have African connections or roots, or it might be R&B, and the whole audience would be white. It just struck us that we needed to try really hard, and this is what the members of the Black community told us: If you do events that cater to Black Asheville citizens, then they'll feel more comfortable coming to shows that they perceive as having bigger white audiences. So that became part of it.
There had been awesome clubs in Asheville before The Orange Peel opened, and there had been great shows in Asheville. It was already on the map as a music town; it just needed another step in the progression as you work your way through sizes of clubs.
I can't say enough about how supportive so many local businesses were. Mike Rangel offered up [Asheville Pizza & Brewing Co.] for us to train our staff. [Restaurateur and activist] Laurey Masterson was hugely supportive on so many levels. Just everybody was like, "What can we help you with? How can we help you advertise and market? How can we help you recruit employees?" Bob Moog; Brian and Susan Haynes — they brought Warren down to see the club when it was still under construction.
PERFECT TIMING
Warren Haynes
I started to hear about it and was excited that they wanted to bring it back and call it The Orange Peel, because there's so much history with that club that it seemed like a cool thing. But of course, what they had in mind from a vibe and a musical standpoint was perfect.
Laura Blackley (musician, Laura Blackley & the Wildflowers/The Old Chevrolette Set)
The fact that Asheville was getting something of that magnitude — I don't think people knew what to expect, and they were pretty excited about it.
Warren Haynes
Starting with the mission — which was to bring in national acts of all genres, but mostly that kind of related to each other in a roots music sort of way — it was filling a void that at that time really needed to be filled. After the drinking age [in North Carolina] changed from 18 to 21 [in 1986], the club scene in Asheville was pretty bleak for decades. Even when we started Christmas Jam in '88, there were not a lot of choices. And then it started to build some momentum over the next few years, but it wasn't until sometime in the '90s that it started making sense to have a club or several clubs in Asheville that could bring in national acts.
[The Groetsches] had the luxury of knowing what kind of club Asheville needed and establishing it at a point where the music scene in Asheville was really starting to grow. They needed to make a place that could accommodate touring bands and national acts in a way that they would feel comfortable, both with the backstage setting and with the sound and the stage itself. They were able to start from scratch and build a venue that people would want to come to — not just fans, but artists as well.
Lesley Groetsch
We started out with 40 different beers. Barley's [Taproom & Pizzeria] was doing it. There were a few places, but this was very early in the beer thing in Asheville. But we were like, "We're going to have 40 taps and 40 different beers." The problem with that is that if somebody at one end of the bar orders a beer from the other end of the taps, and you've got a thousand people in there… So we ended up having groups of beers where they repeated on the taps. We had high ambitions for some elements of the club that we had to rein in.
It was our goal to make artists remember and want to return to the Peel. We designed the stage as a curve so that if you stood perpendicular to the edge of the stage, you were facing out into the crowd. We tried to build as many creature comforts into the dressing rooms.
Laura Blackley
I mean, showers in the green room, man! We weren't used to that. It sounds kind of quaint now, but back in those days, Asheville — you know, we always had fun playing in clubs, but this was sort of a different feel.
Woody Platt
I remember being a little flabbergasted by the space when I first walked in there, about how cool it was and seeing the artists that they were attracting right out of the gate.
THE ORANGE PEEL OPENS (Oct. 25, 2002)
Jack Groetsch
We had to keep postponing. We had shows booked, but of course you never open on time, so you had to go backtrack to the agents and say, "We're not going to be open." When we finally did open [on Oct. 25, 2002], the first performers were Sonny Landreth, the slide guitarist from Lafayette [La.], who we had a good relationship with, and Tift Merritt, who's from North Carolina. So it was a really weird coincidence that that was our very first show.
Karl Denson (musician, Karl Denson's Tiny Universe/The Greyboy Allstars/The Rolling Stones)
We played the third show there? Wow, that's incredible!
Jack Groetsch
Medeski, Martin & Wood was a regular at our club in New Orleans, so we had this long history.
John Medeski (musician, Medeski Martin & Wood/Mad Skillet/Saint Disruption)
The original Howlin' Wolf and The Orange Peel — they're kind of similar warehouse-y kind of vibes. I guess I didn't really put that all together. I kind of forgot about that [ownership] connection. But yeah, there's a certain vibe in New Orleans, and I sort of remember that Orange Peel kind of had that same kind of feeling back then [in Nov. 2002]. It was very welcoming, really warm. We had great gigs there.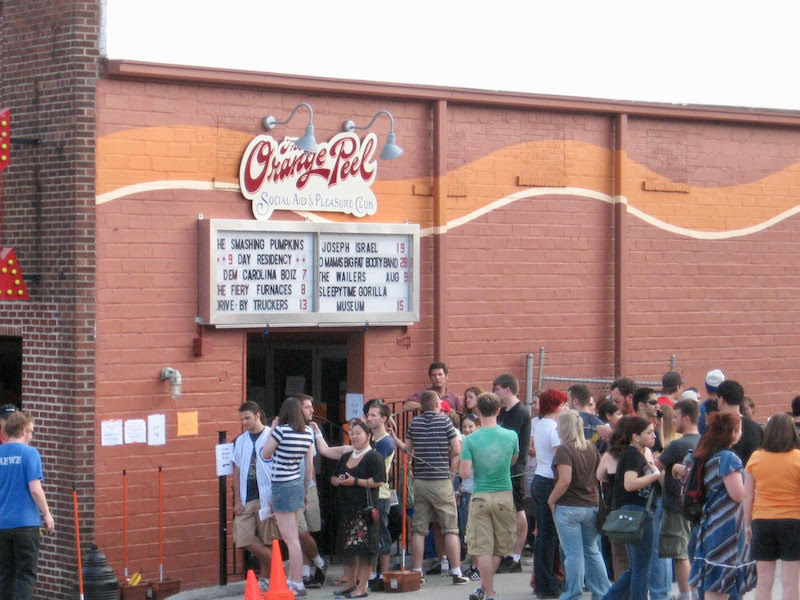 The line for a Smashing Pumpkins show in 2007. Photo by Aaron Fish.
Tyler Ramsey (musician, Band of Horses)
I still have the Leon Russell T-shirt that I got from him [in March 2003]. That was such a thrill to be opening up for him.
Claude Coleman Jr.
I recently watched a few videos from that [Sept. 2003 Ween] show, which was interesting because it wasn't The Orange Peel it is today. It was a bit more darkened stage; the production was a little bit more low-grade.
John Medeski
I'm looking at their first year [on the Peel's online archive]. That was a good year! Ozomatli. Wow, Gregg Allman played there? Chris Robinson? Dick Dale? BeauSoleil? Galactic? Shemekia Copeland back then? Amazing!
Karl Denson
We did some very important Halloween work there. There was a point back in the early 2000s where we were playing Halloween, going through Atlanta and Asheville every year. And we did anything from a scary Halloween, where we were all monsters and I had a really amazing werewolf costume, to an Amish (laughs) — we did an Amish Halloween (laughs). We did Sexual Chocolate there, and then we did Trek-ual Chocolate. The next year, we got someone to make us Star Trek uniforms (laughs), so we got all dressed just like Sexual Chocolate, but we had Star Trek uniforms and we did all space-themed tunes like "Rocket Man" and "Starman." It was super fun.
Jack Groetsch
It's always been a very eclectic lineup, and that was by design. We'd have Les Percussions de Guinée, and then we'd have King Crimson, and then we'd have Wilco, and then we'd have Black Keys, and then we'd have Ladysmith Black Mambazo. And then we'd have moe. and all the jam bands, and then we had Bob Dylan, and Steve Winwood, and Blondie, and then the next night we'd have something completely different. The goal was quality and diversity. It was a real mix, which was kind of like what we did in New Orleans.
Lesley Groetsch
We were Studio A for [area radio station] WNCW for a long time. They would do live performances and interviews from The Orange Peel stage. I remember [in February 2003] I had gone to run an errand and was driving back down Hilliard [Avenue], and I'm listening to WNCW and they're interviewing Ladysmith Black Mambazo, which to me is just an iconic band for many reasons. And they do a little live performance on the air — it's these gorgeous harmonies. And I drive down that hill and I see the big huge logo on the back of The Orange Peel while they're reaching this crescendo, and I'm like, "Wow, we are a part of this." You know, a little part of it, but I just felt this powerful sense of, "This is a good thing we're doing." That was a "wow" moment for me — and having Bob Weir come rehearse for the Christmas Jam at 1 a.m. All the staff stayed late so they could watch him.
Woody Platt
Your fans and your friends and your family know when you get a big opportunity. And there was a big opportunity when we had a chance to do our first headlining appearances at The Orange Peel [in July 2003] because of the reputation of the venue. And people that follow the group know that that's a big deal for the band. And so because of the venue's reputation and because of the opportunity that it presents to the artist, it almost drives ticket sales in a different way and everybody wants to go. So what we noticed was the minute we transitioned over to The Orange Peel, the ticket sales went up as well.
Tyler Ramsey
When it opened up, I was living downtown, back when everybody that I knew could afford to live downtown. We all had these weird apartments, stuck in different places. So we would just be able to walk down there and see bigger shows.
Lesley Groetsch
Bob Dylan [in April 2004] — the way that all worked out and having a thousand people lined up outside of The Orange Peel. Our coffee company came out and set up a booth. Krispy Kreme sent hundreds of doughnuts. The whole downtown got up early — like, all the businesses opened extra early.
Jack Groetsch
The radio show was playing Bob Dylan the whole time. It was funny because we were selling four tickets at a time and there were none online. It was all at the box office. So we had people sleeping the night before, camping out, but we had this whole thing set up so that whole night they were supported and had people there. And it sold out just like that — I mean, no time, you know? I mean, as quick as you go through the line, it was done.
Lesley Groetsch
It was like this impromptu, 24-hour festival. We had portalets out there and all that. But a lot of it was just the Asheville business community said, "We want to be a part of this big, historic moment." We didn't hire people, necessarily, to do all the things I'm talking about. We didn't ask local businesses to open early. They were just like, "Let's do this." So that was kind of a huge moment. I mean, the show was awesome, too.
Jack Groetsch
As far as his fan base is concerned, his rabid fan base that's been following him around for 30 years or whatever, they would say that that was one of his best performances. He was so animated. He was making jokes and dancing and shaking his butt. (laughs) It was unlike anything a lot of them had seen.
Tyler Ramsey
That was pretty amazing — although people were talking the whole time, and I was a little pissed about that. It was crazy! My mind was completely blown by that. I'm like, "Are you kidding me? We're seeing Bob Dylan in this tiny room." I mean, that made the room feel like a small room at that point when you see somebody like that. But yeah, lots of talking going on. And I'm the guy that will walk around telling people to shut up, but I didn't. I just gave up.
John Medeski
For us, the vibe is everything because our music is so improvised. We basically get up and play whatever we're feeling that night. Our songs change — they're just like skeletons. Whatever we're feeling, whatever we're experiencing, whatever's going on in the room, whatever's coming back from the audience, whatever's happening to us in the day, whatever dinner was like (laughs), all that stuff ends up really affecting the show for us. It's not like we have this set show where we get up and it's like classical music or rock music where we know every note we're going to play. So for us, especially, the atmosphere is so important. I mean, we delivered the best we could every night, but it's just easier sometimes when everything is feeling good. And that's what I always remember how The Orange Peel was — it just always felt great.
Lesley Groetsch
Our backstage krewe was incredible. Everybody was cross-trained in our original krewe. Everybody worked every job, so they all understood that no job was less or more. Our bartenders would step up to help backstage. Our sound and load-in krewes were phenomenal. I mean, everybody. It was just amazing. I wish I could list everyone for you because that original krewe, they were just amazing people and they were all very dedicated to the vision of The Orange Peel and made it happen.
I hope that [playing at The Orange Peel] was as memorable for [the artists] as their performances were for us. I hope that they felt welcomed and cared for and treated well, because our goal was to make it a performer's hall and not just a great place to see music, but a great place to play music and have a great experience with the audience.
John Medeski
Primary markets are where you're going to make your money. And then the second or third markets, what makes you want to go back to a place is how you're treated. You know, what the vibe of the crew is — and that all trickles down from the owners, really, is how I see it after all these years. Once we tapped into Asheville, [The Orange Peel] was just one of those places we loved going back to. It was always a great vibe; the backstage was nice, the way it's set up. It's weird. (laughs) It's the little things that really make a big difference.
THE SECOND WAVE
Lesley Groetsch
We had a different vision of The Orange Peel's future from that of the investment group at the time. [Hurricane] Katrina had also happened, and we felt very compelled to return to New Orleans to help our friends and family members get back on their feet. It worked out well for everyone involved, so there's not much else to say about it. Running a live music club and bar is a labor of love — with emphasis on labor — so I think we left the business at a good time for our family. Jack continued to book outdoor events, small clubs and festivals for several years afterward, and he very much enjoyed that aspect of the business.
Jack Groetsch
We left in June [2006], but we stayed on and were still booking and advising. We booked all through 2006.
Jeff Santiago
The booking philosophy changed around then, and I think it kind of needed to. Obviously, those guys came up from Howlin' Wolf and New Orleans; that's where they're from, they had that experience. Asheville was just not that market, so it needed a little something else. So when they went on to new ventures, [Public Interest Projects president] Pat Whalen came back in and kind of took control, started tightening things up and building a management team.
I was lucky to be around at the right time and have the right experience to join that team. Liz [Whalen Tallent, Pat's daughter] was part of that as well. And at that point, we started our relationship with AC Entertainment, helping us to talent buy on a much bigger, national level to bring in some bigger names.
Jonathan Scales (musician, Jonathan Scales Fourchestra)
During the time when I was in Asheville, The Orange Peel had this larger-than-life type of energy, even for Asheville. You go there and it's kind of like you're transported a little bit. It's like a music bubble.
Robb McAdams (assistant manager)
We started coming up from Greenville, S.C., when I was in high school. The Orange Peel was the only place we could come see alternative and up-and-coming artists. I remember coming up for Soulive, Kid Koala and The Faint [all in 2007]. Then in college at UNC Asheville, the Peel was the place to be and introduced me to the jam and electronic music worlds.
Jeff Santiago
Dylan had already been here, but that was before my time. But when we saw that real change happen, it starts with the Smashing Pumpkins [in 2007] — not just having them, but having them in a residency: an East Coast, West Coast residency with just two venues, the other one being the classic Fillmore in San Francisco. And then The Orange Peel on the East Coast. Really wild choice, and really great choice.
It was such a huge event that, when all those shows went on sale, it crashed our ticketing system at the time. So we went from TicketWeb to Ticketmaster. And not only that, but Billy [Corgan, Smashing Pumpkins frontman] — which I think was a cool idea, but created a lot more work — he didn't want scalpers getting all these tickets, so it was 100% will-call. You had to show up, and we made the whole front room a will-call room box office, and then once you got your ticket, you had to go in [down the hallway between the restrooms]. And there was no re-entry, so you couldn't sell your ticket. Every once in a while, we saw one person with someone who they were very awkward with, and I'm like, "You sold them that ticket. You're coming together because you don't have a choice!" (laughs)
Moog [Music] had a lot to do with [Smashing Pumpkins choosing Asheville], just the fact that they were here. [Billy] felt a real connection to them at the time and wanted to do something a little different. So when the discussions were going on, it's like, "Hey, we have this great venue that this can happen in. You can also have space" — given Asheville and the area that we're in. So they could have space away from the venue and it wouldn't be crazy (laughs), you know what I mean? Because he was doing a lot of writing at the time as well. Billy presented a lot of new material during that. They did two shows on, a day off; two shows on, a day off through the whole [nine-show] run, but they would rehearse every day, and every day he'd bring in something new for the band to play. It's kind of wild.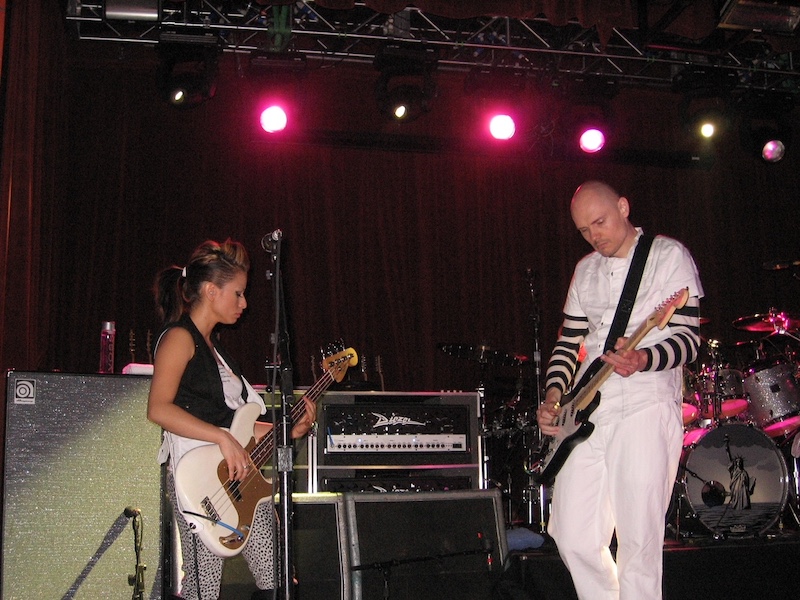 Smashing Pumpkins line. Photo by Aaron Fish.
But after a week of that and all the hubbub and press that went along with that, we could now say, "Hey, we had a residency with a major artist. We are that type of venue. We can accommodate anybody who feels that they can even do an underplay." So we began to put ourselves on the map with a major underplay for a major artist.
Laura Blackley
Then [in 2008], it got a designation [by Rolling Stone magazine] of being one of the top five [rock] clubs in the U.S. It started building notoriety and put Asheville on the map as a music scene.
Jeff Santiago
In '09, the Beastie Boys came through. That was an underplay on their way to Bonnaroo as a headliner, so that's a huge deal. We had the Mini Moogseum put in, and they did the ribbon cutting for that. It wound up being their last club show — ever. Sadly.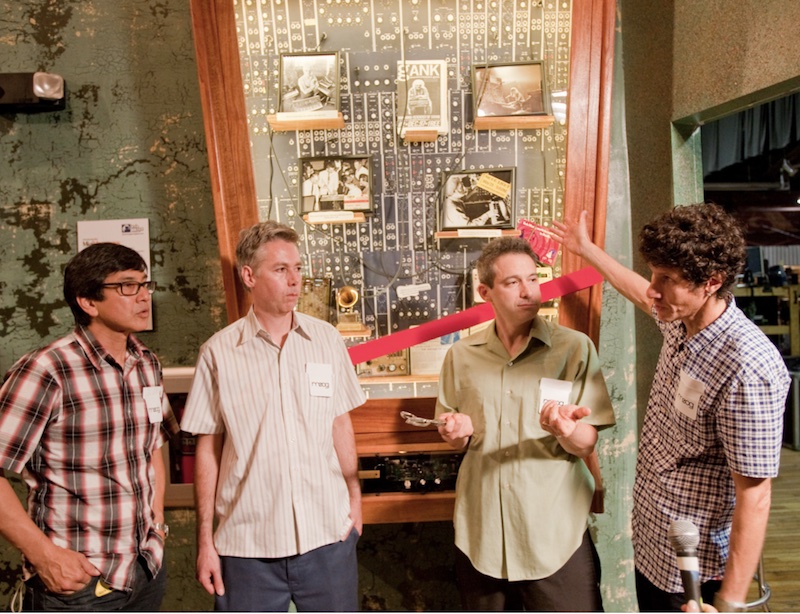 Beastie Boys at MiniMoogseum opening. Photo courtesy of the Bob Moog Foundation.
Tyler Ramsey
Beastie Boys — my wife got to see all these shows and I was probably out of town with Band of Horses at the time, so I missed a lot of them. We were managed by the same people that were managing the Beastie Boys, so I got her tickets to that.
Jeff Santiago
And then once we did our expansion in '09 where we built the [smoking] deck and built Pulp [the Peel's downstairs venue and bar], and then we built the bathrooms downstairs, we were able to slightly expand on our capacities. Our capacity prior was, like, 942 — weird number. But a lot of bands were like, "We're looking at clubs at 1,000 and above." So it allowed us to hit that next tier, just by making a little bit more room and increasing our capacity. That also put us on the map with more artists and agents.
Liz Whalen Tallent (marketing and events manager)
Lauryn Hill came twice [2011 and a two-night residency in 2017], and those were exciting shows where people lined up early to get in. Then we had Jack White in 2012, which was a big deal for us in terms of getting ready. Also, The Flaming Lips show in 2019 was just crazy. (laughs) [Wayne Coyne] came out in a huge human hamster ball. That was another exciting, fun show that was out of our ordinary.
Woody Platt
We did these things there for years where we would do "Rangers and special guests," and we had so many of our heroes join us there for performances: Sam Bush and Jerry Douglas, and Steve Martin and Larry Keel. Every year it was like, "All right, let's book The Orange Peel for two or three nights and let's get our favorite people to come join us."
Steve Martin (comedian/actor/musician)
The Orange Peel is reminiscent of the exciting music venues of my early days, when great acts exploded onto the scene.
Jeff Santiago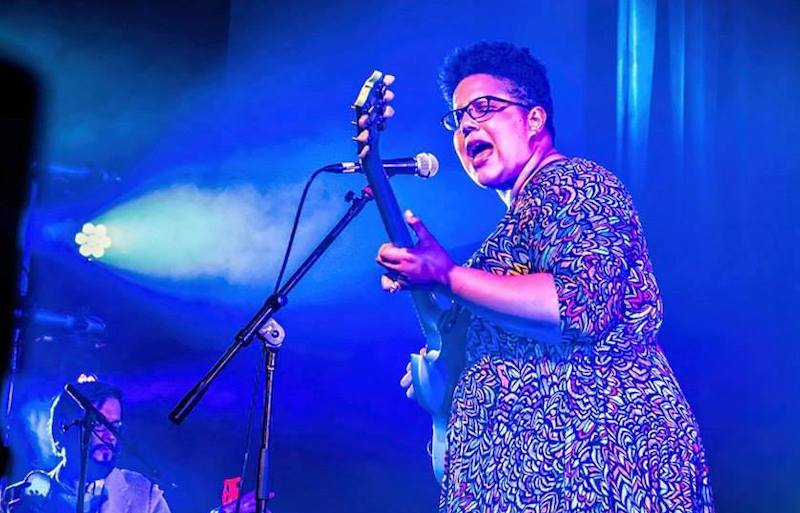 Alabama Shakes at The Orange Peel. Photo by Frank Zipperer
Another part I love to see happen here is when we're able to help develop an artist and see them grow. For example, we had Alabama Shakes as a kind of a showcase show [in 2011]. There were maybe 200 people here, and even then I was like, "Wow, they had 200 people come out!" And then next thing you know, ka-boom: They were on support with the Jack White tour and played here. And then not even a year later, they're on the bus, headlining their own show. It's really rewarding to see that happen.
Karly Hartzman (musician, Wednesday)
Big bands that I wanted to see weren't coming through Greensboro as much, so I would always have to go out of town to see a bigger show. A lot of times that meant going to Durham, but I'm trying to think of the first time I would've traveled [to The Orange Peel]. I think it was Mac DeMarco [in 2015].
I also saw Deerhunter there [in 2015] that time [Bradford Cox] sat on the edge of the stage for like 20 minutes and told this story about Billy Corgan [from when Deerhunter opened for Smashing Pumpkins one night of their Orange Peel residency], which was pretty infamous. I was like, "This is crazy!" And I remember I saw it on music sites the next day, and I was like, "Weird. I was at that show."
And anytime Drive-By Truckers would come through and tour there — that's one of my favorite bands of all time, and they love playing there, so that's always been really fun. But my partner [Wednesday guitarist Jake Lenderman] saw Lucinda Williams there and I couldn't go, so that's definitely my biggest regret of not being able to see a show. But she comes through every once in a while, and it's cool that artists that come through tend to come back through, because the shows there are usually super sick.
Jeff Santiago
Summers were hard because we were losing a lot of shows to festivals and outdoor shows in general, and it was tough for us to keep what was going on in the club going. We found ways to build on that with local booking, local showcases and stuff like that, but we felt like we really wanted to continue to be connected to major artists that were growing their audiences and doing so outside. So, that's how [we expanded to outdoor shows], and that was a big to-do as well. It was a big moment when we did our first show at Highland [Brewing Co.] with Sylvan Esso in 2015. It was pretty wild, but I think it's important for our business to expand out of what we were doing. We were a little stuck but we were pumped to do it. It was a lot of work, but it was fresh, it was new.
Liz Whalen Tallent
Now, if you look at the Asheville music scene, what we started clearly caught on and just fit in so well with the culture and the vibe here — as evidenced by the fact that, after that, suddenly there were, like, eight other outdoor venues (laughs) and new ones coming on board every day.
Lesley Groetsch
I worked with Liz when she became marketing at The Orange Peel, in the beginning. And the Whalen family's done a really good job with the legacy. And I've been in contact with Liz through my other job, so I kind of have a feel for her style of management and I think she's done a great job. I've watched from the wings a little bit — social media helps with that. I love that they've preserved a lot of the original artwork and logo and kind of the same feel of the website. That makes me really proud.
THE DAVE GROHL SHOW
Warren Haynes
After a long 30th-anniversary, two-day Christmas Jam, we were hanging out at the after party and it was three or four in the morning. We started getting the word that we were going to be snowed in. And Dave [Grohl] said, "Well, let's put together a show. Is there a venue we can commandeer?" And we thought, "Well, I guess we could probably get The Orange Peel. Let's make some calls and find out." But it was totally his idea. And it just, no pun intended, snowballed really quickly.
Jeff Santiago
We were anticipating a snowstorm and anticipating maybe he'll get stuck. We knew we had nothing going on the day of the actual Jam at the Civic Center. So we all got to go, and we went at different times. So at one point, I think Liz got to meet Dave at like five in the afternoon, and then somebody else got to meet him a little bit later on and later on and later on.
Then it comes down to me and I get to meet him at around three in the morning. And we're all hanging out, post show at the post-show party. And we're on a loading dock and I have one more friend who's like, "Hey, I know you met a bunch of these people today, but here's another one from The Orange Peel. This is Jeff — you should really [play a show there]." And then we got to talking, and I'm like, "Hey, you should really consider it, Dave." He's like, "Well, I don't even know if I'm getting snowed in." I'm looking out, and I'm like, "You have no idea where you are. I don't even know if I'm getting home tonight, never mind you flying out of here tomorrow. That's not going to happen, so let's figure that out."
And we just talked about our daughters and Twinkies and things like that, and we left it at that. I didn't think it was going to happen. We were all pretty beat up after that long, long, long event. And in the morning, we all kind of checked in, and it's like, "No, no word." Then word came and we had to mobilize quickly.
Jeff Sly (manager)
Our other manager, Justin [Ferraby], was picking up one of our co-workers who happened to live around the block from me because he was stuck. [Justin] didn't know that I lived around the block. I'm at the bottom of a hill and I tried to move my truck in four-wheel-drive low, and it [spun out] and I just left it in the road, perpendicular, because I knew if I couldn't get out, no one else could. And I just happened to see his Jeep drive up the hill. I ran up there and go, "Take me to work! Take me to work!" That's one of those things you don't say "no" to when you get the call.
Robb McAdams
Liz lived on the same street as us, and after making snowmen with her kids that afternoon I got the call that we needed to announce a surprise Dave Grohl show for $10. It was hard to believe, but we were soon digging cars out of snow drifts and heading to the Peel for a night we'll never forget.
Warren Haynes
We were in the dressing room trying to figure out what to play, because there was no time for rehearsal or even organization. We're tossing out cover songs, and I thought, well, maybe there's a few original songs we could do. And I said, "What about doing 'All Apologies'?" Because Gov't Mule had performed it two or three times on our New Year's shows. And [Dave] was like, "Well, I'll play drums on it, but I don't want to sing it." I said, "I'll sing it." And he was like, "Really? OK, let's do it." I think it was because it was such a special occasion and everybody was just kind of rolling with the vibe. I believe that prior to that, he had not even played it [since Kurt Cobain died]. But the few people that were there were in for a real treat. The whole thing was fun — and music for the right reasons.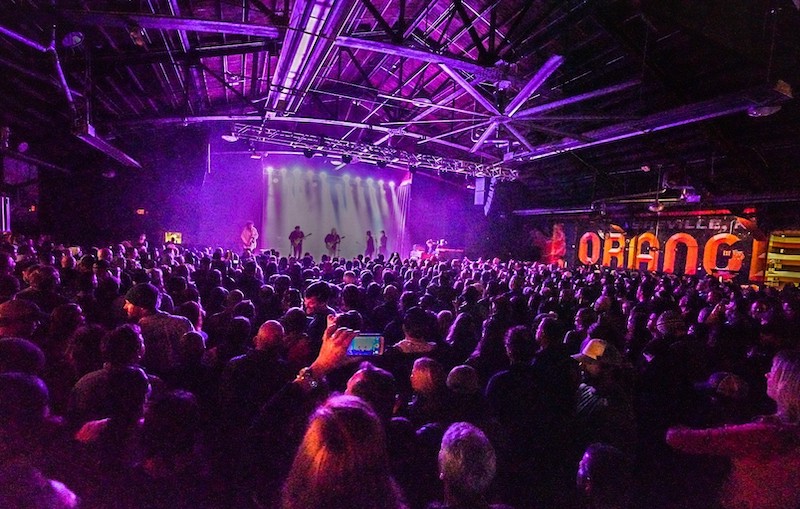 Grohl and Haynes crowd by Tom Farr.
Seeing Dave and Artimus Pyle play together was really cool, too. Dave grew up in Virginia — Springfield, I believe — and at that time period, Lynyrd Skynyrd dominated the airwaves. And so everybody was exposed to that music and musicians all had played it in cover bands and stuff like that. Even someone who would choose a different path was incredibly familiar with that stuff, and I remember Dave saying that he loved Artemis' drumming. He was psyched when he showed up.
Tyler Ramsey
I played that Christmas Jam at the Civic Center, and then it snowed that night like crazy. I managed to get an extra hotel room, so I was like, "I'm going to stay downtown tonight so I can play the Christmas Jam and I don't have to worry about driving in the dark." Meanwhile, my family's getting snowed in out in Candler, where we live — my wife and my daughter and my wife's mom and brother, all getting massively snowed in out there and losing power, too. They were all together, so they were OK. I was like, "All right, I'm going to stay the night and I'll get up in the morning and see if I can get home."
I played the show. It was awesome. I got to talk to Dave. The Foo Fighters were managed by Band of Horses' old manager as well and we did a run of shows where we opened for the Foo Fighters in South America, so we had this crazy adventure with those guys. I kind of met him before and talked to him a little bit that night, and he's just an incredible, grounded rock god. He's one of those rare ones that people say, "Oh, he's such a great dude," and then you meet him and he is such a great dude.
Anyway, I got out the next morning, tons of snow on the ground. I drove back out to Candler, slowly, and had to park about a mile from my house and came walking in, all covered in snow. I'm with my family and my wife's brother makes a joke. He's like, "Yeah, Dave Grohl's trying to get in touch with you right now to see if you want to join the Foo Fighters," or something silly like that. He was like, "He's trying to call you, but our phones don't work out here." Which was true when the power's out. So we're just sitting in the dark, hanging out.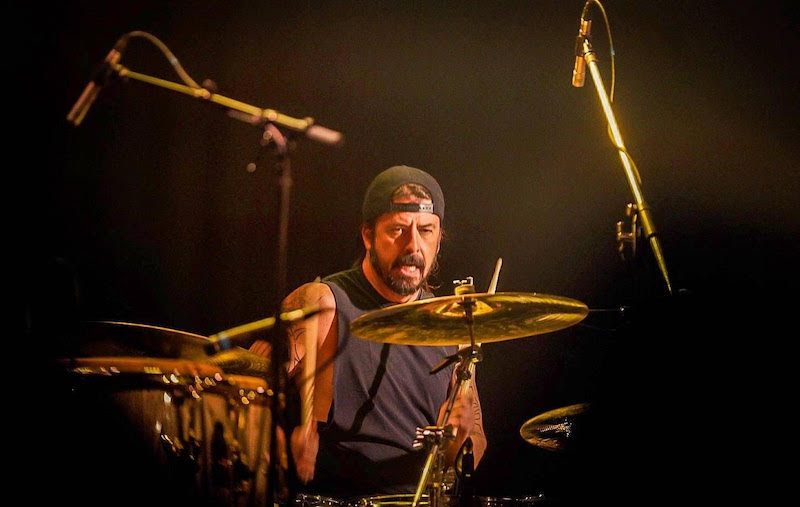 The next day, I found out that they were actually trying to get in touch with me to come play that surprise Orange Peel show, and Dave Grohl asked specifically for me! He's like, "I want to get Tyler out here." So, I'm sitting at home with no power and no phone, stranded in the snow, and I missed out on probably one of the bigger shows that would've happened at The Orange Peel. It actually made me laugh more than it made me sad. I think it's a better story that I missed it than if I would've just gotten there and played some songs.
I even had a friend that heard they were trying to get in touch with me, and he tried to drive out to my house, but he couldn't get there in his truck. I had people trying to contact me and I didn't find out until like a day later when the show was over and I started getting all these messages on my phone when I drove back to town.
PANDEMIC BLUES
Jeff Santiago
I remember having a panic attack in my kitchen, I think the following Monday after we closed [in late March 2020], when we're like, "We're going to be closed for at least eight weeks." And I was like, "How are we going to do this?!"
Liz Whalen Tallent
I remember arguing on a phone call with somebody who was like, "I don't think we're going to be having shows until fall." I hadn't even considered that. I was like, "What are you saying?" And then the joke was on me because we were closed for 15 months. We had no idea what was coming for us at the time.
Jeff Santiago
It was rough. We had to shut everything down, but while that was going on, things like [National Independent Venue Association] were happening and Liz was our captain in there, handling really difficult conversations. Just to have someone in there, collaborating with venues around the country, going, "How are we going to get through this and how can we lobby for assistance and what are ideas to get through?" [was huge].
We considered all the outdoor, drive-up stuff. We looked at fields and places, and we're just like, "Well, how are we really going to make any money off of this? We're not sure." Then, little by little, we tried to find ways to make it happen. As things lightened, we were able to have local bands stream from our stage and try to earn some tip money online. But on the back end, the real work was what Liz was doing in NIVA and what they all created as a result.
Liz Whalen Tallent
We didn't have an industry collective organization before the pandemic. Everybody's kind of just operating on their own, so it was really cool to organically have these independent venues across the country be like, "You guys want to just hop on a Zoom and talk about what's happening?" Then it was, "Who wants to be on the marketing committee? Who wants to be on the legislation and advocacy committee?" I was so impressed by these venue owners and employees coming together to create a successful and effective organization in terms of lobbying support — really galvanizing people to reach out to their elected officials and then figuring out the ins and outs of Washington, D.C., and getting actual legislation written and then getting it passed.
It was a lot of work and I haven't really processed it all. I mean, we were having those tough conversations of, like, "OK, how much more runway do we have before we're just going to close The Orange Peel?" But after a very difficult and convoluted rollout and a lot of false starts, we eventually did get something passed, which was the Shuttered Venue Operators Grant program. It truly rescued our industry, because The Orange Peel was not back to normal operation until really the late summer or fall of 2021. We were doing little pod shows in late spring of 2021, but they didn't make any money and they certainly lost money.
Robb McAdams
I was part of The Orange Peel merch machine throughout COVID. The community outreach was very powerful, with folks selling out limited-edition shirts and purchasing loyalty memberships for our hopeful reopening. Our future was definitely in question before the SVOG program was confirmed.
Liz Whalen Tallent
Even up until a couple of months ago, we were spending thousands of dollars on rapid tests every week, testing all our employees. The impact financially to our industry was really crazy, and I think without that funding, I 100% think you would see half of the independent music venues that people know and love be gone or be purchased by the Live Nations or AEGs of the world — or maybe more. I'm not sure if any independent venues would have survived. It was really transformational to know that we're going to be able to pay off some of these debts and we can make it through.
Woody Platt
After COVID [restrictions were lifted], Graham [Sharp], our banjo player in the Rangers, and myself, we were the first show back [at the Peel]. We did a seated duo show there and it was so cool to see it come to life. We were walking up the load-in stairs on the side there, and people were honking at us, cheering, just because they were excited to see artists loading back in. That was a pretty special feeling, and I didn't realize at the time that we were going to be the first show back. But looking back on it now, it was a pretty awesome evening and sort of a monumental shift in the tides.
PAVED PARADISE AND BEYOND
Robb McAdams
Opening Rabbit Rabbit has been the largest leap we've made. It's a huge undertaking.
Claude Coleman Jr.
Starting at Be Here Now in the '90s, then The Orange Peel when it just opened, and then years later doing Thomas Wolfe [Auditorium] regularly, up until 2018 when we played the Civic Center, and then we just played Rabbit Rabbit over the summer — I'm always sort of walking hand in hand with that awareness, that mindfulness of everything that's come to get to this moment and where this moment is taking me. That's just sort of how I am. It's sort of my nature. So, definitely, when you're on that stage and you're looking over a sea of 4,000 people, in a town you've been coming to for 20-plus years, you can't avoid that acknowledgement. You're kind of swimming and basking in it.
Karl Denson
I've played so many shows, so I'm not that nostalgic about any one place. But The Orange Peel, it's just home. It's coming home. It's a comfortable, beautiful place for me, and when I see it on the schedule, I'm happy.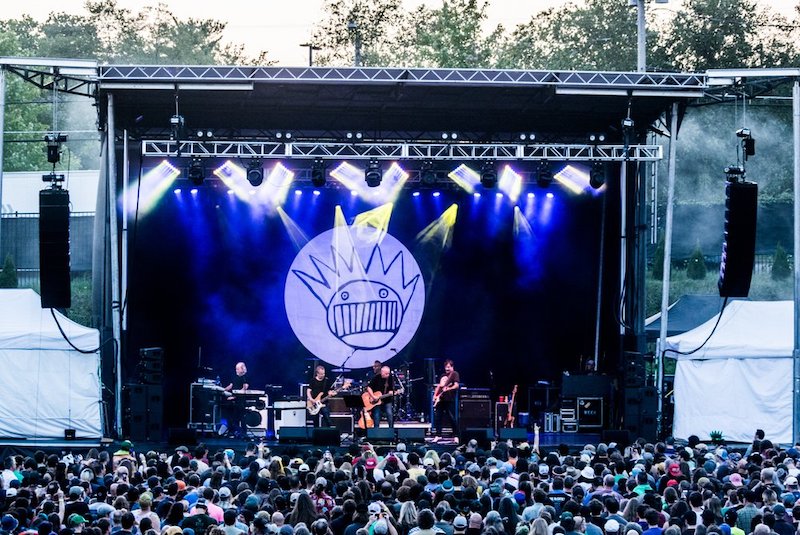 Ween at Rabbit Rabbit by Jonny Leather
Jeff Santiago
It's this family atmosphere that we have, and the passion that so many people on our krewe have for music in general, but also for putting on a good show. The effort our production team puts in, our door staff, our box office staff — everybody really, really cares and that really shows, and it's an honor to be part of. It's different from any venue I've worked at throughout my career, and it's most certainly the most special — which is why I'm still here after all these years. What is it, 16 years now?
Jeff Sly
Not only is there a sense of family with it, but coming to work, being yourself — that's a thing. If you can express yourself and be who you are, the sense of family is naturally there, but the community is as well. Everyone cares about everybody else. We all have each other's backs in any situation, whether it's on the clock, off the clock.
And being an independent venue, one of the best parts about working here is everybody's voice is heard. Especially with our expansion into Rabbit Rabbit, constantly as we're growing, an idea over here from an employee can spin into something great. It's something that you don't get at other venues.
Jeff Santiago
That's important for booking as well. I'm getting old. We've had younger staff come in and they have their fingers on the pulse, and it's really important to understand the diversity of music, not just in genre and style, but age and generationally speaking, so that we're in tune with everything that's going on, besides the obvious — especially things that are growing and artists that are picking up.
Karly Hartzman
It was surreal [playing the Peel for the first time in May 2022], looking out from the stage. Everything looks a lot smaller from that vantage point. I think just to navigate stage fright, your brain makes it not a mass of people — you only see the front row. But it looks a lot smaller — and, obviously, the big [ceiling] fan looks different from the stage, too. The fan is so iconic. Have you gotten a lot of people saying that?
Laura Blackley
[The Orange Peel has] brought a lot of bigger names here, and I think it's brought a lot more musicians here — just having that [reputation] of Asheville being a music destination. Now, what Asheville decides to do with that, I hope ends up being something really cool. Having that amount of musicians and that amount of a creative consciousness in one city, I think if we harness that right, it could be really powerful for everybody.
Claude Coleman Jr.
Right now, there's a lot of work trying to be done in diversity and in equity around the city. And I would like to see The Orange Peel be part of this evolution of a city where there's a greater range of representation in music and in the arts. I would like to see them follow along with everyone else — and I think they are, naturally, but I just hope there's more of that process. There's a lot of music in the world, so I would just really hope that The Orange Peel continues their great, great legacy by expanding their legacy and bringing in different acts and rounding out the program. They do a fair job of that now, but I think everyone can stand to do a little bit more in that regard.