This story appears in Fifty Grande Magazine #3, the Road Trip issue.
Route 66 has its share of iconic motels, but none has entered the realm of lore quite like the Blue Swallow Motel in Tucumcari, N.M. The place began rather inauspiciously, as an ordinary motor court along a famous highway — that indelible 2,448-mile long "linear village" that was once home to hundreds of similar properties. But over time, it became an unlikely survivor, thanks mostly to one legendary owner and the string of preservation-minded owner-operators that followed, each of whom worked tirelessly in their own ways to keep the spirit of the place alive. Today, the Blue Swallow is an icon that transcends itself: it is an avatar, the platonic ideal of the classic motel, and a spiritual vessel for a fondly remembered way of moving along the highway.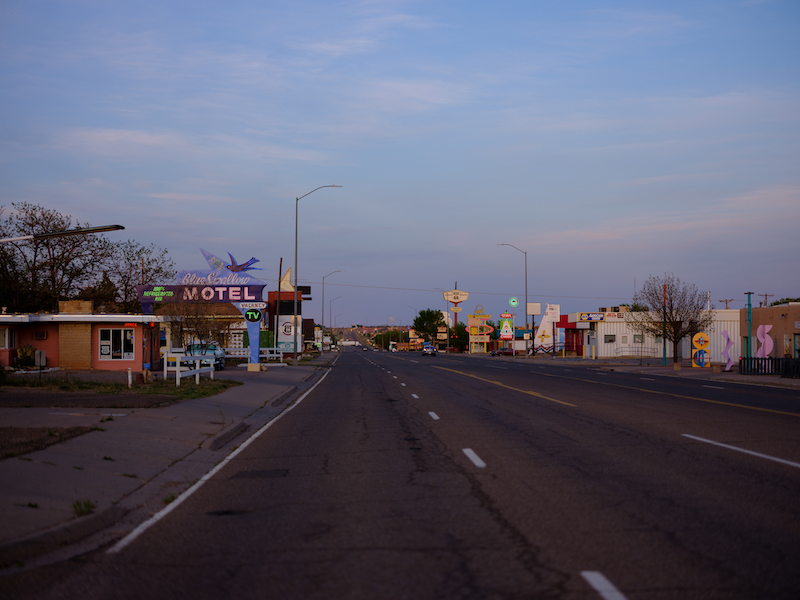 A Tucumcari carpenter named W.A. Huggins began construction on the motel in 1939, and it opened soon after as Blue Swallow Court. From its opening on through the early postwar years, the place was owned by a couple named Ted and Marjorie Jones. The two were tragically killed in a plane crash in the late 1950s, but as luck would have it, a newlywed named Floyd Redman purchased the property in 1958 as a wedding gift for his bride, Lillian. She had once been a Harvey Girl, those iconic waitresses that worked in the Harvey hotels and restaurants in the 1890s and early 1900s, and so had a natural flair for stylish hospitality. Floyd passed away in 1973, but Lillian would go on to run the Blue Swallow until 1998. Though she wasn't the original owner, Lillian spent more time running the motel than anyone before or since, and surely left an indelible mark on the place — there's a real sense that it remains her place. Mrs. Redman's portrait still hangs in the lobby, and if you're inclined to believe in friendly spirits, ghosts or other supernatural presences, she's surely still around here somewhere.
Among the stories oldtimers tell about the place is a gem about one of Lillian's particularly quaint morning routines: before the days of in-room alarm clocks, before the motel even had an in-room phone system (to this day, room phones are on a party line), she was known to give personalized wake-up calls to guests. These usually included a soft, punctual knock, a gentle "good morning" and a mug of hot coffee. And so, if while staying at the Blue Swallow, you happen to hear a morning knock and answer your door only to find nobody there, it just might have been Mrs. Redman…
The motel has been listed on the National Register of Historic Places since 1993, with its official statement of significance calling it "one of the best examples of largely unaltered pre-war tourist court remaining along Route 66 in New Mexico." With the demolition of dozens of similar motels along the old highway in the intervening years, it is now almost without question the very best remaining example anywhere. In addition to its cool sign, details like metal awnings, fan-pattern stucco and many original furnishings, its intact garages are of particular historical significance. It may be the last operating motor court of its kind in the entire country, a final holdout of a typology that once numbered in the thousands.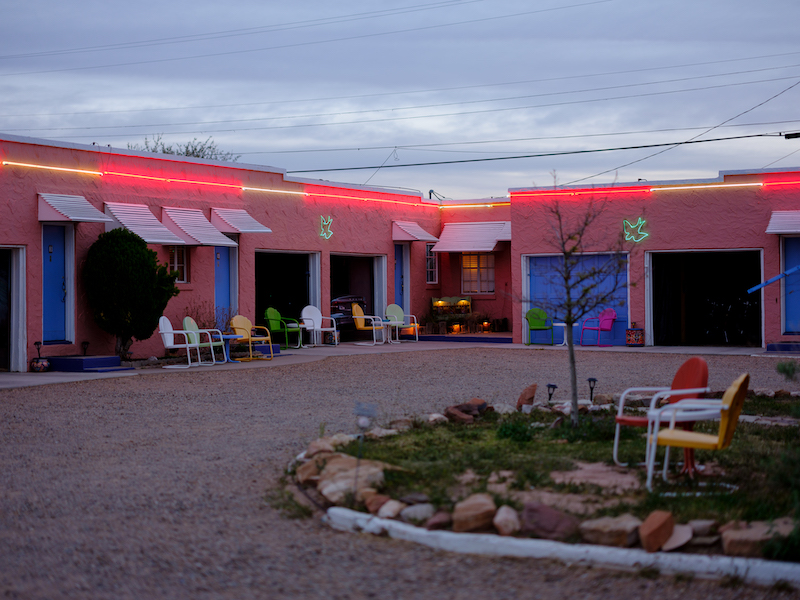 Since 2020, the motel has been owned by Dawn and Rob Federico — plus their dog Marshall, who stands sentry in the lobby — worthy new stewards who left the corporate rat race in Chicagoland to run the historical treasure. Dawn is measured and patient, with bright eyes and a welcoming presence. Rob is the quintessential host and a willing conversationalist, perhaps channeling a bit of Lillian with his well-rehearsed spiel about the property and its status as a Route 66 icon. Their philosophy on the place is a rather more authentic take on that iconic old Patek Philippe ad: one never owns the Blue Swallow, they merely look after it for the future.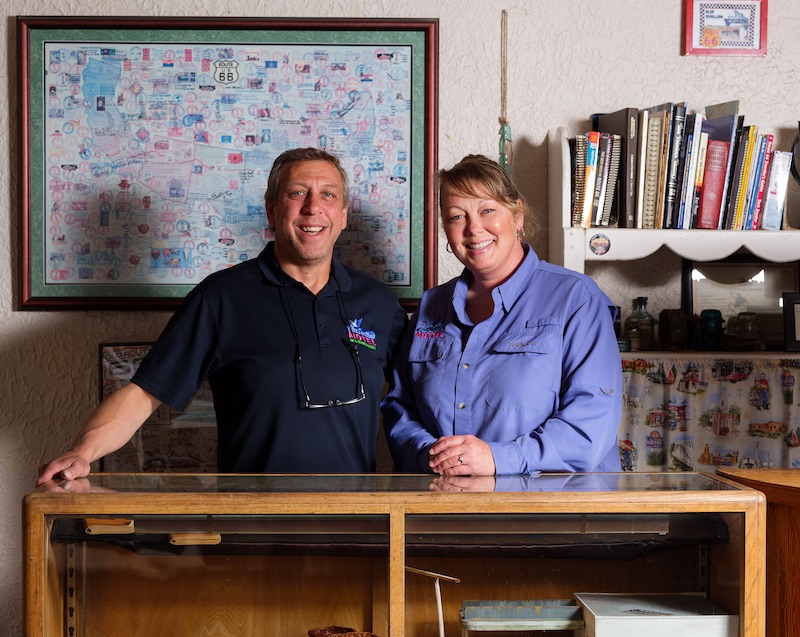 From check-in time on through the twilight hours, as the old neon tubes fire up against the pink desert sky, the Federicos fill the court with a soundtrack of 1950s classics. Passersby along Route 66 stop to take pictures and gawk at the sign. In recent pop history, the "100% Air Conditioned" detail was the direct inspiration for a similar sign at the fictional Cone Motel in the 2006 Pixar film Cars. Guests with vehicles small enough to fit into the garages adjacent to their rooms gingerly pull them in for the night, and everyone says casual hellos. Cars become conversation pieces, people exchange travel stories, and there's a lot of waxing nostalgic about the old highway. In my short time at the Blue Swallow, I met a couple from Indiana driving through on a circuit to the end of old 66 in a pristine, fire engine red '73 Firebird, a handsome fiftysomething biker who strutted around the property as if it were an old friend and a group of rather stylish retired women on a whirlwind trip. There was a gregarious outdoorsman fresh off a day of bowhunting for turkey and a well-traveled tour guide from Albuquerque on her first night away from home since COVID restrictions began. I made fast friends with a woman who works for CBS in New York, out on the quintessential Western road trip, en route to check Arizona off her list as the 49th state. We talked for hours about everything from the appeal of neon to the magical vulnerability of traveling solo, and then met up the next morning at sunrise for an excellent pancake breakfast just down the street at Kix on 66 diner.
My next-door neighbor for one night was a man who had just quit his job in the Dallas suburbs, en route to California to care for his ailing father. He found the Blue Swallow serendipitously after pulling off the interstate early in the evening and took a chance on a room, knowing nothing beforehand of its history or its notoriety. Until the wee hours of the morning, he lounged in the reproduction metal shell chair in front of his room, entranced by the neon glow, saying to every other guest he talked to, "I can't believe this place. It's the only motel I've ever stayed in where I haven't even thought of turning on the TV."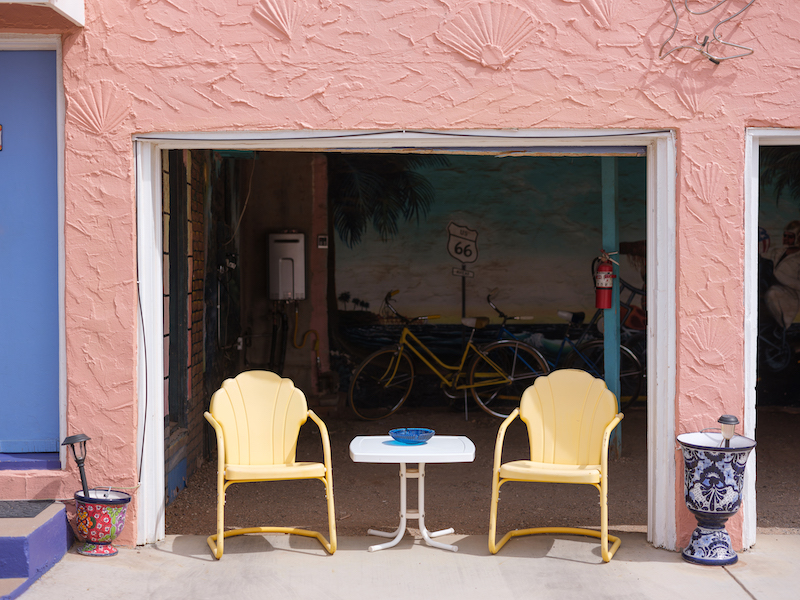 The motel as a typology is one of the few architectural inventions that is well and truly American. It is a byproduct of a society mobilized by the car, connected by mass media and motivated by the romance of forward motion. Alongside the growth of automobiles and the ribbons of highways to move them, improvised car camps evolved into groves of tourist cabins, and later, into full-on motor courts like the Blue Swallow that included covered parking, climate-controlled rooms and reliable, private hot showers. Over time, owners of these old motor courts converted their garages into additional rooms (more rooms meant more rent) and added ever more modern amenities. From there, it was a steady progression to less and less convivial typologies over time, especially as corporate chains increasingly cornered the market away from the mom and pops. Following the early, mostly L-shaped motor courts like the Blue Swallow, progress moved on to motor inns — the archetype of early chains like Holiday Inn and Howard Johnson's. These places often had grand lobbies and common areas, but their larger sizes, rooms and windows facing multiple directions, off-the-shelf architecture, as well as the need for constant turnover made them far more impersonal and transitory. From there, the impetus was for more modularity, more homogenization, more profit.
The logical conclusion of this so-called progress has been the prefab, interior corridor, ticky-tacky, undifferentiated widget that is the comtemporary roadside hotel. These are non-places of liminal function, in which, at most, you might steal a surreptitious glance at another guest en route to the ice machine or while reaching for the same muffin in the morning. Will Wiles' 2014 novel "The Way Inn" parodies these places perfectly: its protagonist works as a professional "conference surrogate" who, while staying in one such hotel, stumbles through an emergency exit only to find himself in another identical hotel in a faraway city, and through another door to another and on and on and on. Twenty-first-century modernity can sometimes feel like exactly this sort of inescapable Möbius strip, a neverending corporate brandscape devoid of all history, context and meaningful connection.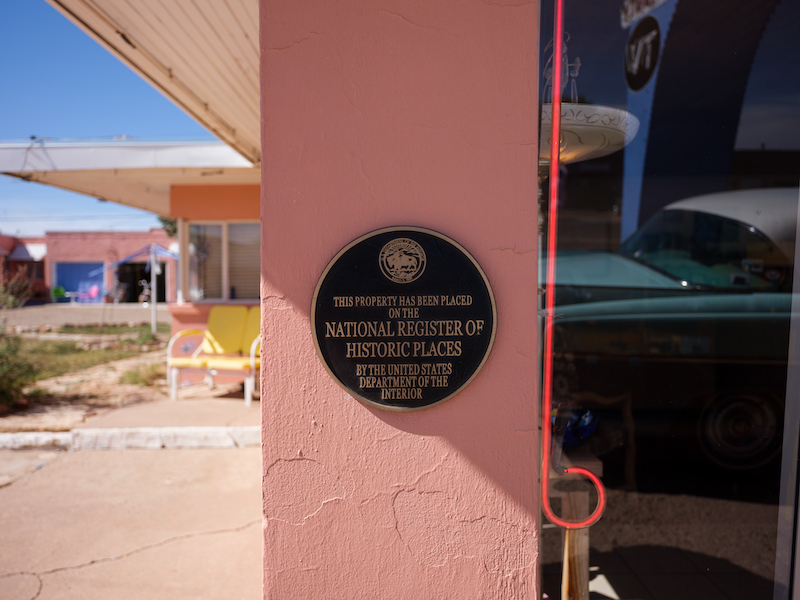 And so, is it any wonder people are enamored of the Blue Swallow, and all of the places that manage to evoke its more human way of accommodating wayward travelers? Its small, charming rooms, punctuated with atomic chalkware lamps and other period furniture, chenille bedspreads, rotary phones and friendly presences — both terrestrial and ghostly — are proof positive that even in our hyperconnected present, it is possible to travel along the American road in a friendlier, more deliberate way. Rather than preserving the Blue Swallow in amber, its more recent generations of owners are doing a wonderful job of keeping the place open and aglow, to show us exactly how it should be done.