"I wanted to attend the yearly shiatsu convention and couldn't find a travel partner." That's a comment left by a Fifty Grande reader in our first-ever solo travel survey and, believe it or not, a variation of that reasoning was common when we asked why people most often travel alone. The results show that not having a travel partner with the same interests is by far (44% of respondents) the prime motivation. We also found that solo travelers are intent on living life, not letting others hold them back, and are very comfortable doing it on their terms.
The majority of the solo survey's 689 respondents were female (64.8%), said exploring a new place or immersing in a local culture was the primary purpose of their solo trips (54.8%), and seeing "any place as long as it's new" was the type of vacation they were most interested in.
The good news for the travel and hospitality industries — a majority of respondents showed a high comfort level with traveling alone and they are active excursionists. More than half of the respondents said they planned to go on a solo trip before the end of the year and 65% of them said they'd take that trip in America. Where exactly? The top five destinations were California, Florida, Colorado, New York and Tennessee, but readers showed interest in every state and the U.S. territories. See the full results below.
Respondents:
Female – 64.8%
Male – 35.1%
Non-binary: .2%
When asked to rate their comfort with traveling alone on a scale of one to 10, with 10 being the most comfortable, the responses were: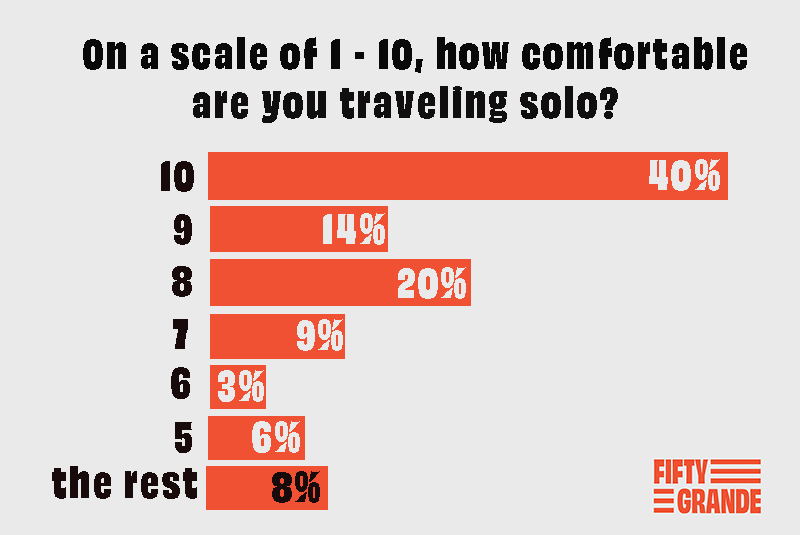 10 – 40% of respondents
9 – 14%
8 – 20%
7 – 9%
6 – 3%
5 – 6%
4 – 2%
3 – 2%
2 – 1%
1 – 1%
0 – 2%
Have you even take a vacation or trip for pleasure by yourself?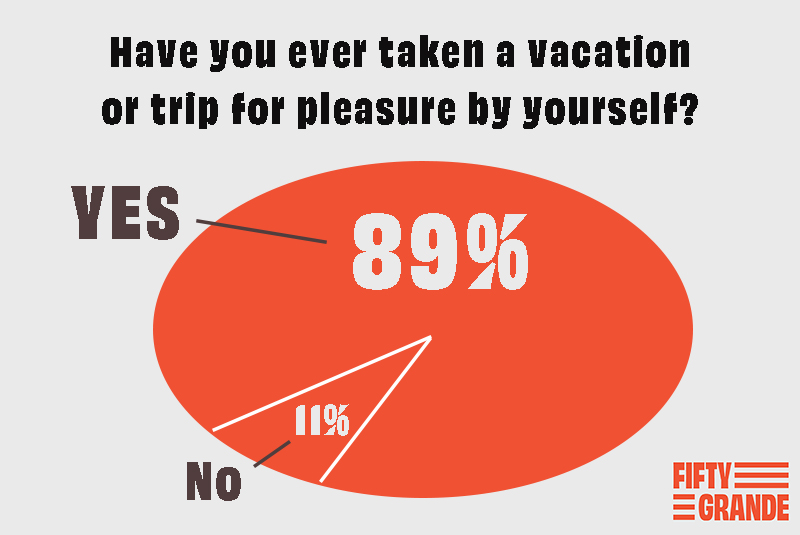 When you've gone on a solo trip, what was the primary purpose?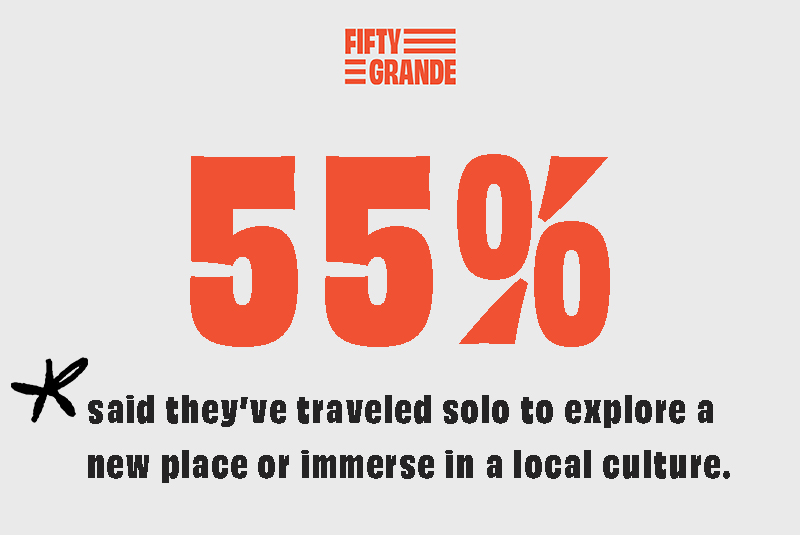 55% – Explore a new place and/or immerse in a local culture
17% – Relax
13% – Attend an event
8% – Focus on me; self discovery
6% – Other
1% – Encounter romance
A selection of "other" comments:
"Go fishing or golfing." (Others said "hunting" and "skiing")
"Celebrate my birthday in a fun place."
"To prove to an idiot teacher that Australia made world class wine. I went, I tasted and brought to the next wine tasting class so world famous wines and had fantastic food too."
What's the main reason you travel alone?
43.6% – I don't have a travel partner with the same interests
22.9% – More fun when I'm 100% in control
15% – The chance for a transformative trip (learn about yourself)
13.5% – Other
4.9% – Meet other people (new friends)
.2% – Romance
A selection of "other" comments:
"I have friends with similar interests, but not the freedom to travel the way I do."
"I am a photographer and I can concentrate on my photography."
"Traveling alone is more interesting, due to flexibility and spontaneity."
"To get away for some peace and quiet."
When you travel alone for pleasure, how would you best describe the type of vacation that you most often take?
32% – Any place as long as it's new
30% – Sightseeing
13% – Return to a fave destination
10% – Beach
8% – Other
4% – Camping
3% – Cruise
Some of the "other" reasons:
"Go to dance festivals."
"Cycling."
"Diving, marine conservation, history, archeology."
Do you plan to travel solo before the end of 2023?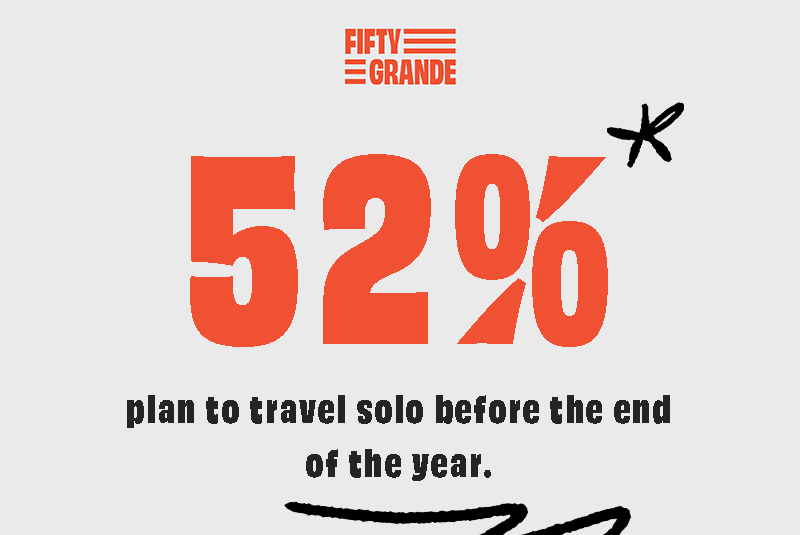 52% – Yes
15% – No
33% – Maybe
If you are planning to travel solo before the end of the year, will you travel outside of America or in America?
64% – America
36% – Outside
If you plan to stay in America, which state(s) do you plan to visit? (Choose all that apply)
16% – California
13% – Florida
10% – Colorado
10% – New York
9% – Tennessee
8% – Arizona
8% – Texas
7% – New Mexico
7% – North Carolina
6% – Georgia
6% – Hawaii
6% – Maine
6% – Massachusetts
6% – Nevada
6% – South Carolina
6% – Virginia
5% – Alaska
5% – Illinois
5% – Montana
5% – Oregon
5% – Pennsylvania
5% – Wyoming
4% – Connecticut
4% – Idaho
4% – Kentucky
4% – Louisiana
4% – Maryland
4% – Michigan
4% – New Hampshire
4% – Utah
4% – Vermont
4% – Washington
4% – U.S. territories
3% – Alabama
3% – Arkansas
3% – New Jersey
3% – Delaware
3% – Ohio
3% – Wisconsin
2% – West Virginia
2% – Indiana
2% – Iowa
2% – South Dakota
2% – Rhode Island
2% – Minnesota
2% – Missouri
2% – Mississippi
2% – Oklahoma
1% – North Dakota
1% – Nebraska
1% – Kansas