In Orlando, the new Tomorrowland sits a long way from Disney World. There's no Buzz Lightyear or Space Mountain. You'd be hard-pressed to find Dippin' Dots anywhere. But what you will find is a look at what hotels will be in the tech-driven age of short attention spans and Instagrammable modern art.
The Wave Hotel is a 16-story, tinted-glass tower protruding from the landscape of Lake Nona, Fla., just southeast of Orlando. Its sleek, space-age design and LED lights draw you in. The art makes you stay. And the technology makes it easy for you to sit back and appreciate it all.
Short-attention-span theater at its finest
Lake Nona is a Central Florida development with the same grand designs as Disney World. Where Walt Disney famously saw the future of family vacations while flying over the intersection of Interstate 4 and Florida's Turnpike, so did Joe Lewis and his Tavistock Development see the future of American communities in the region's vast flatlands. The mega-development is already home to a University of Central Florida medical campus, the United States Tennis Association National Training Center and acres of master-planned homes.
The Wave is its central icon, a skyscraper that looks ripped from futuristic skylines of Dubai or Las Vegas, stuck near the Orlando airport.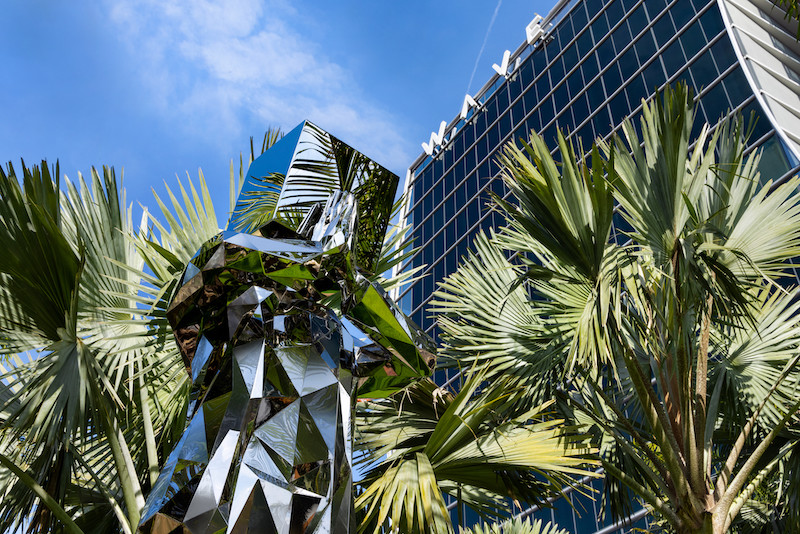 "We wanted something that was able to communicate the spirit of Lake Nona," says Tavistock's Senior Vice President of Innovation and Brand Experience Juan Santos. "We wanted something bespoke, so when people visited they could get the full Lake Nona experience. Everything from the food to the rooms is part of that story."
The story begins with a violet-hued kinetic light sculpture above the front desk, a series of orbs that moves in unison like a midair marching band, creating different shapes and designs while you wait to check in.
Just off the front desk is the Wave's game room, a communal space with oversized, cartoonish furniture that could be on loan from Nickelodeon Studios. You can relax in an overstuffed chair boasting a ball-and-chain ottoman. Or play chess with pieces that, instead of black and white, are transparent and onyx, frequently changing color depending on the light of the room.
Throughout the lobby and into the Living Room — the Wave's communal cocktail bar — pods of unusual furniture and thought-provoking art make mini areas to explore within the space. At the Wave, your brain is always stimulated. And in the even shorter attention span world of the future, that's exactly what a hotel needs to be.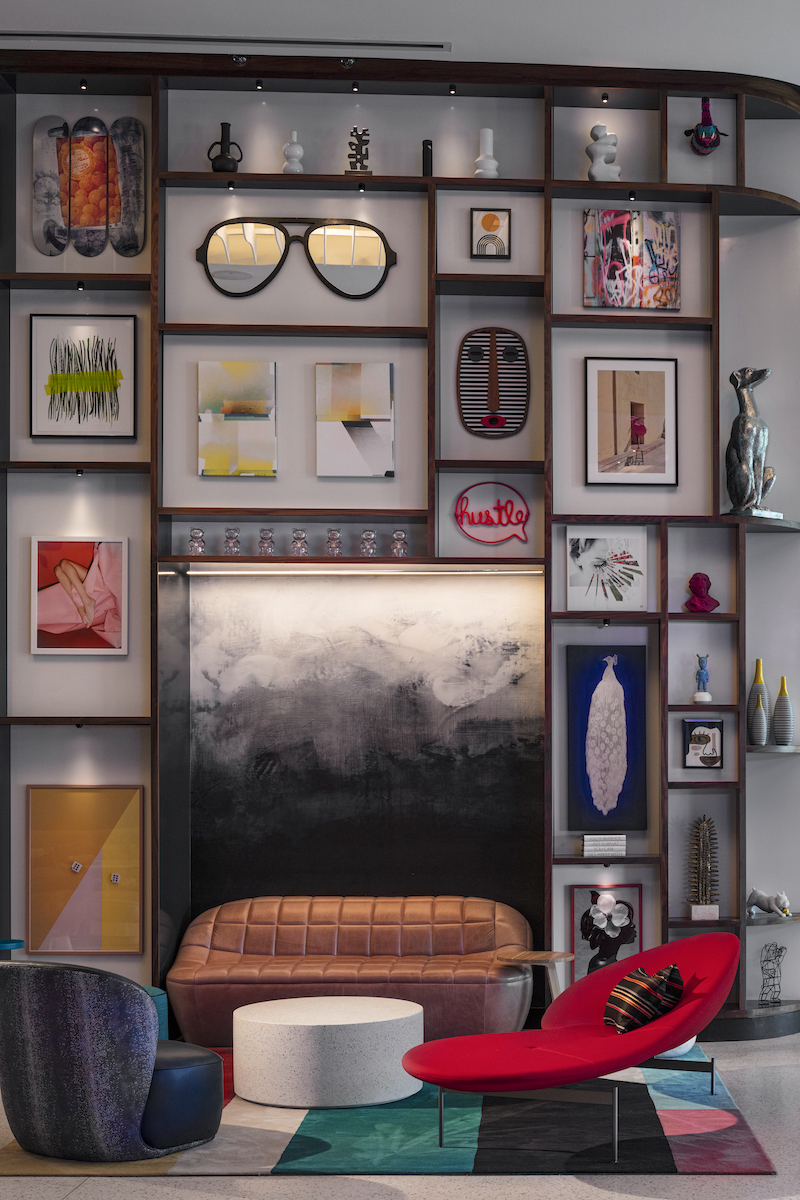 "I thought of the niches as stamping a passport," says Amy Parry, the curator charged with gathering art for the Wave, of the mini-motifs that cover the common areas. "I immediately want people to get the sense these vignettes are a different city or a different country."
So one enclave might be awash in ocean blues and steel-sky grays, invoking the feel of an ocean voyage, while another is filled with curved furniture done up in citrusy pastels. A sculpture of a bear holding balloons separates them, while a bicycle sticking out of a wall acts as a backdrop. Every turn of the head brings another piece to ponder, and while there's not an obvious theme to it all, somehow it's seamless.
"As designers, we wanted to have this continuous thread," says Santos. "We did it through the use of textures and colors, but it should still feel like a series of disconnected islands."
That ethos carries over to the elevators, each one offering a different theme and accompanying music. One has a back wall inspired by Magritte's "Son of Man," with a floor pattern reminiscent of M.C. Escher. Another is a colorful mural of a mid-'80s party girl, with a soundtrack to match.
Creativity coming from the top
Much of the credit for the Wave's design goes to developer Joe Lewis, an avid art collector who knew this hotel needed to bring a creative spirit. So he stepped back and let his experts do the creating.
"The designers of the hotel wanted everything to have art, even little details you might not notice," says Parry. "Look at the pool mural; it was custom designed and really gave us a chance to push the limits. And that's what ownership wanted us to do. We had the invitation to do that."
While nothing at the Wave is going to send families running with their hands over their eyes, the art is far from traditional. Hallways are a tunnel of flying birds above and Cubism on the ground — not a place to play around with hallucinogens.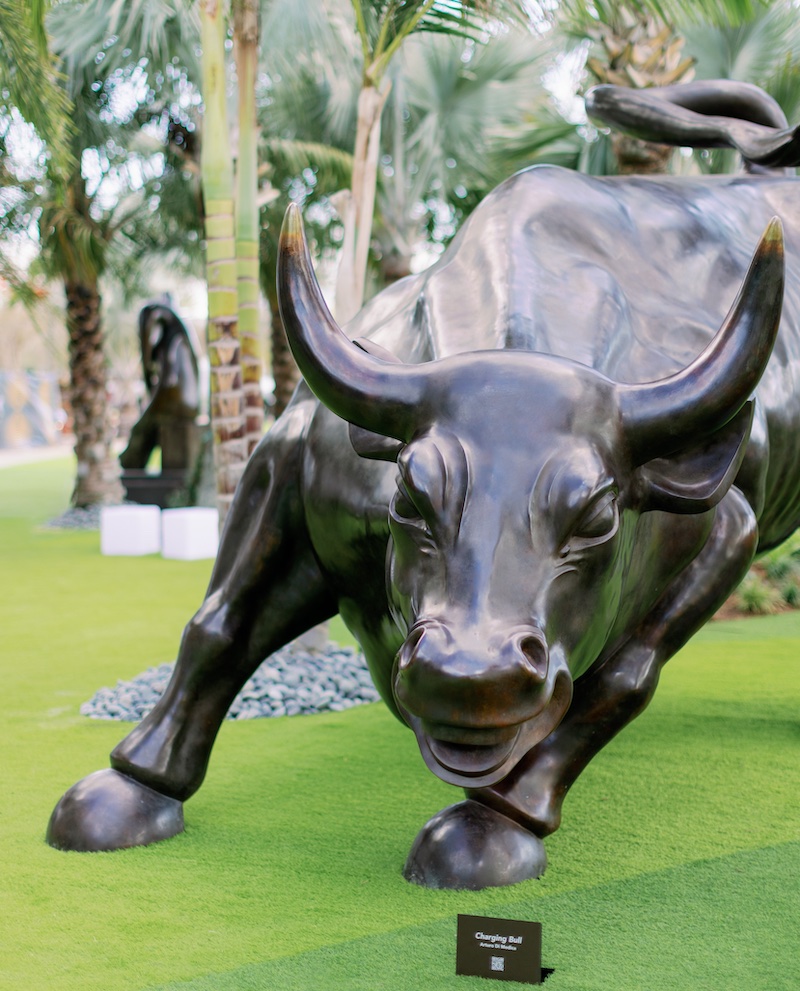 The 12-piece sculpture garden in the back — which Santos insists is equal parts public museum and event space for guests — also has some cutting-edge stuff. The most obvious is one of Arturo Di Modica's "Charging Bull" statues, the same as the famous bull from Wall Street. But it also has the "Handmaid's Tale"-evoking "Cloister Conspiracy," as well as a head-craning depiction of "Leda and the Swan."
Self-driving cars and self-greeting toilets to complement the art
The technology at the Wave isn't just a way to grab headlines or draw early adopters. Like the art, it's used to tell the Lake Nona story, and give a sense of place in an area that could easily be dismissed as generic.
"The idea is to bring the outside, inside," says Marketing Manager Zaidy Paiewonsky as she explains the View Smart windows that cover the building. They change tint depending on outside brightness, so guests can see all of Lake Nona without the Florida sun making them sweat. It saves on cooling costs as well, notching the Wave some sustainability points.
Though you won't find flying cars, you will find access to the world's largest autonomous shuttle fleet, taking you around the sights of Lake Nona. The TOTO Smart Toilets are the commodes of tomorrow you may have heard about in Japan, whose seats raise up as soon as you walk in the bathroom. A control panel to the toilet's left offers everything from bidet services to automatic drying.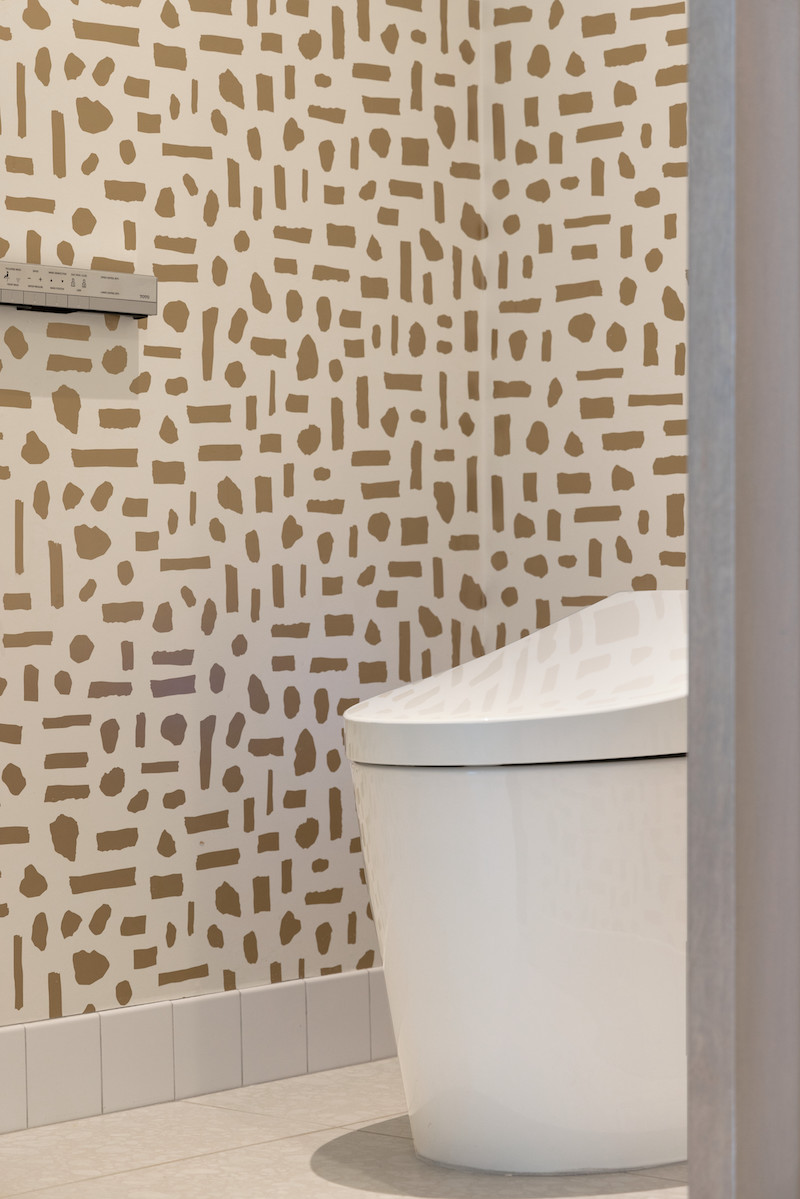 The Wave's app also allows you to pair your phone to your room's features, controlling everything from the curtains to the temperature remotely. This is especially fun for early risers who like to mess with their roommates and open the blackout shades from the lobby.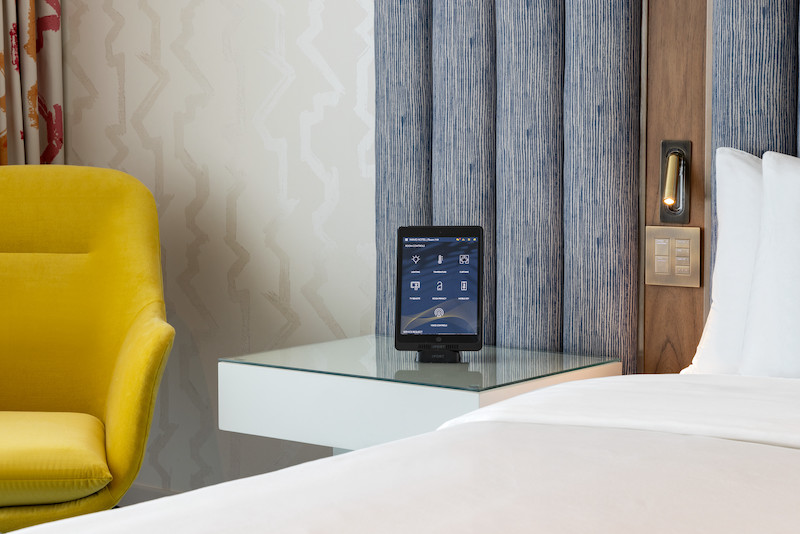 But the technology's purpose, Parry says, isn't to wow the guests into a hole of high-tech doodads. It's quite the opposite. It's intended to take some stress out of the stay, so they can spend more time appreciating the aesthetics.
"You gotta sit in that lobby and put your phone down," she insists. "We've got plenty to occupy your brain. And everywhere you look, it's a different experience."
It makes perfect sense for a future where curiosity remains, but attention spans do not. And if the future will be made up of brief experiences that always keep you questioning, it will look a lot like the Wave.