America's fascination with novelty objects runs deep. We love the tchotchke, the knickknack and the whatnot. We're always searching for something out of the ordinary to pique our interest, no matter how kitschy, especially when we hit the open road. Some of America's most outlandish novelty architecture is in small communities of what the misguided would call "flyover states," but what we like to call the heart and soul of the country. Below, we've lassoed contenders of the most fantastic, and often downright weird, roadside attractions for your summer itinerary. Whether you're yearning to see a giant pair of shoes that could squash you in one fateful stomp or a massive fire hydrant that could douse an entire community in water, we see really big things in your future.
World's Largest Basket – Newark, Ohio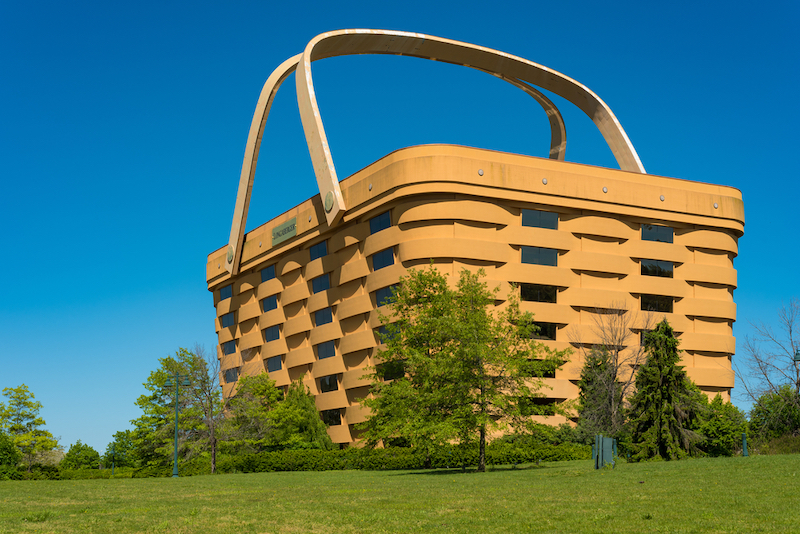 If I had to go to hell in a handbasket, Newark, Ohio's Longaberger basket would be my preferred vehicle. Stationed 40 miles east of Ohio's state capital, Columbus, the seven-story, 180,000-square-foot behemoth was built in 1997 and served as the corporate headquarters of The Longaberger Co. until 2016 when the business moved. The company put so much thought and care into the grandiose replica of their popular maple wood basket that the nearly 150-ton handles can be heated during colder months to stave off damage. The building was slated to Cinderella into a luxury hotel, but plans stalled due to the pandemic. Today, the world's largest basket is on the market for a cool $6.5 million, eagerly awaiting the arrival of a buyer with a deep imagination and deeper pockets, or maybe the world's largest box of crackers, wedge of cheese and bottle of wine.
The Big Bat – Louisville, Ky.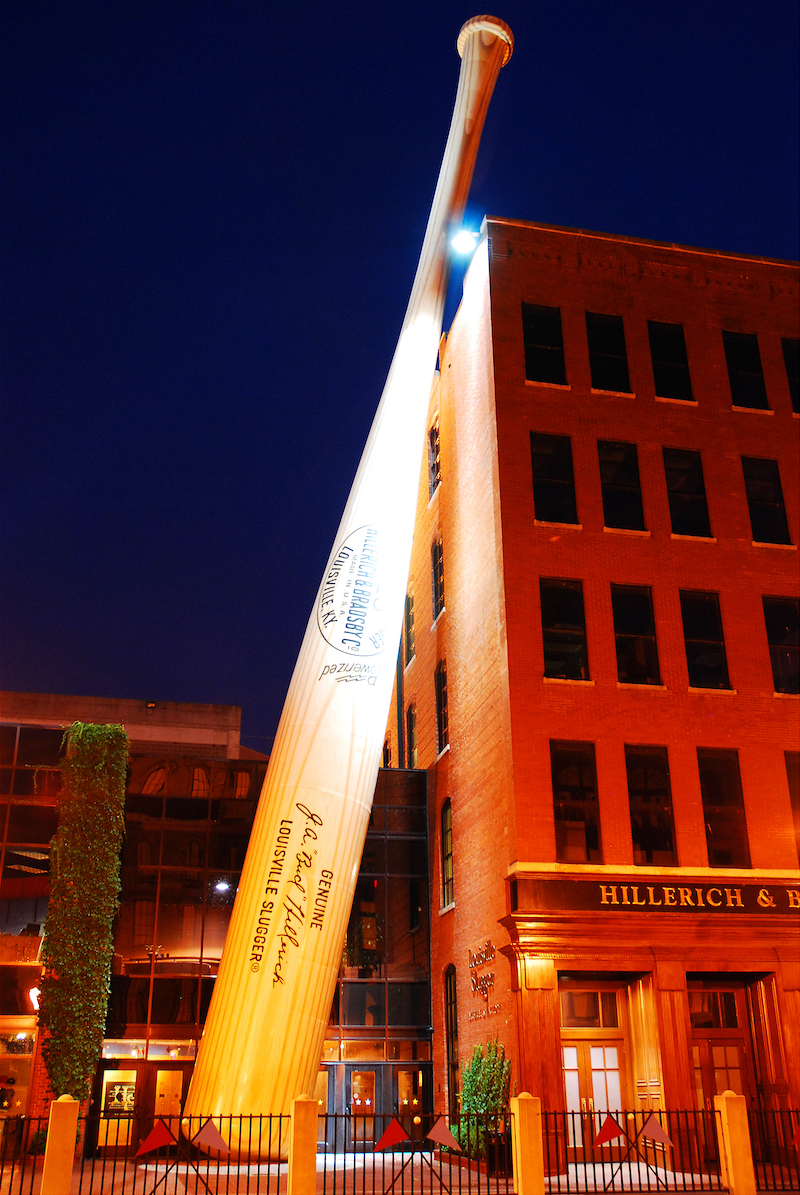 Louisville may be known for the Kentucky Derby and mint juleps, but if you're in the mood to take in oversized replica sports equipment that doubles as a plumbing vent, Louisville's your place. Standing 120 feet high, the world's largest baseball bat is a replica of the bat that Babe Ruth used in the early 1920s, though the famed athlete's bat was 34 inches instead of 34 tons. Visitors can find the bat leaning against one of the Louisville Slugger Museum & Factory buildings, a destination where they can learn about the history of baseball and the craft of hitting and embark on a factory tour to watch baseball bat production. The giant bat is fully functional and serves as a plumbing vent for various bathrooms located in the museum's basement. The museum also boasts a big glove named "Play Ball," a 17-ton baseball mitt made out of genuine Kentucky limestone.
Blue Whale of Catoosa – Catoosa, Okla.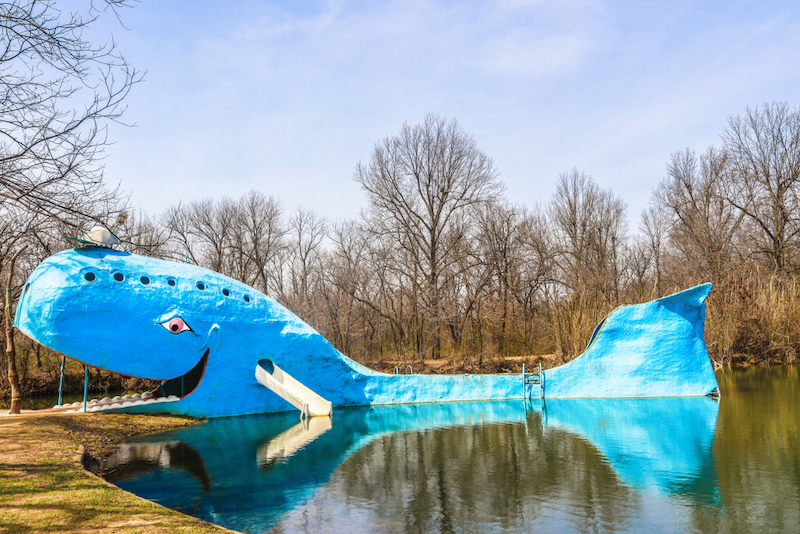 Nestled on the outskirts of town near Route 66, the Blue Whale of Catoosa is an iconic and very blue statue that's been captivating locals and travelers since 1972. The jolly and peculiar whale sits next to a pond and was created by Hugh Davis as a gift for his wife Zelta, a collector of whale figurines, in honor of their 34th wedding anniversary. Hugh wanted to create a one-of-a-kind place for his entire family to enjoy and even went so far as to build a slide protruding from the whale's side for swimming. The Blue Whale of Catoosa quickly became a popular recreation spot through the '70s and much of the '80s before falling into disrepair and closing in 1988. That said, the whale never entirely dropped out of fashion with road-trippers, and in 2020, the town of Catoosa raised enough funds to purchase the whale and return it to its former glory. Though swimming is no longer allowed, explorers can still access the head of the cerulean giant through a small ladder, and an iconic monument of Hugh's love for Zelta lives on.
World's Largest Buffalo Monument – Jamestown, N.D.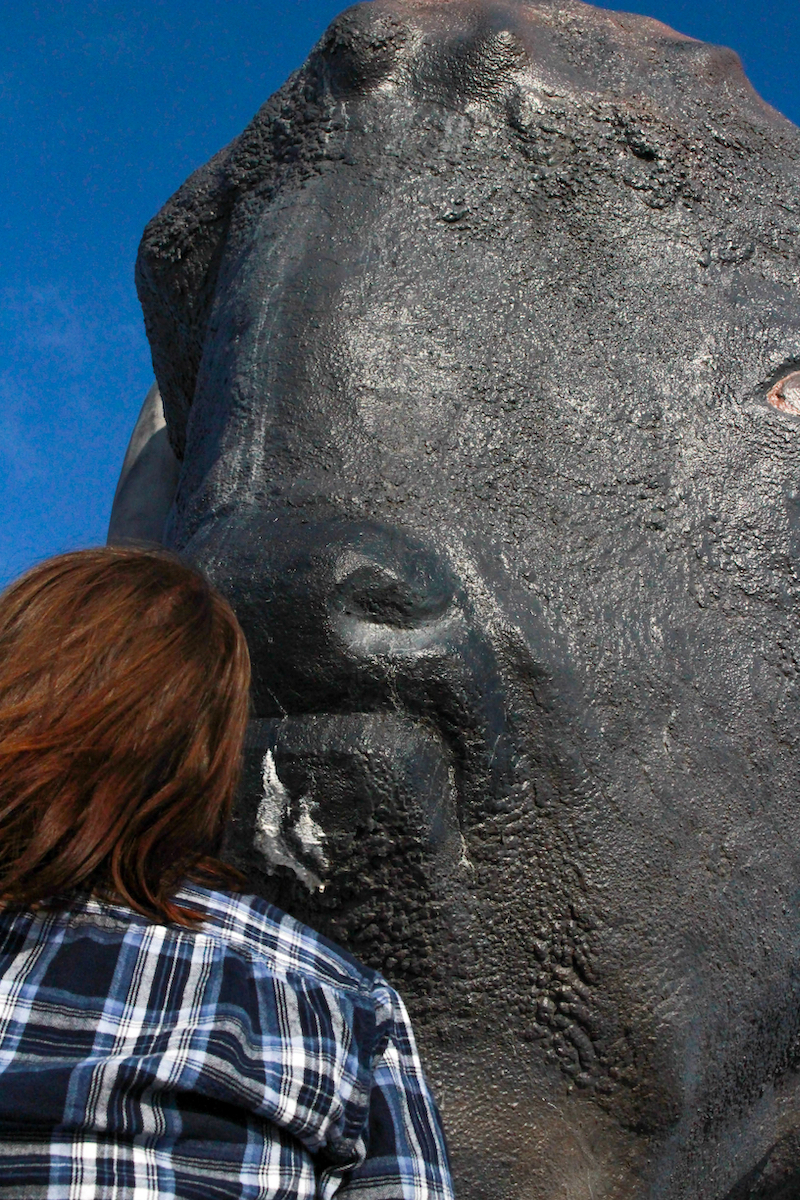 A trip to Jamestown, North Dakota's Frontier Village must include a look at the humongous, 54-ton statue of an American bison. The black, brown and bulbous buffalo was sculpted in 1959 and is an anatomically correct replica of a male bison. Situated next to the National Buffalo Museum, the 26-foot-high buffalo is so big that the city of Jamestown gained the nickname "The Buffalo City" on behalf of its size. Back in 2010, a naming contest was held, and the buffalo received the nickname of "Dakota Thunder." Elsewhere in Frontier Village, visitors can tour the collection of prairie villages, see bespoke artifacts and learn about Western novelist Louis L'Amour at the writer's shack.
Golden Driller – Tulsa, Okla.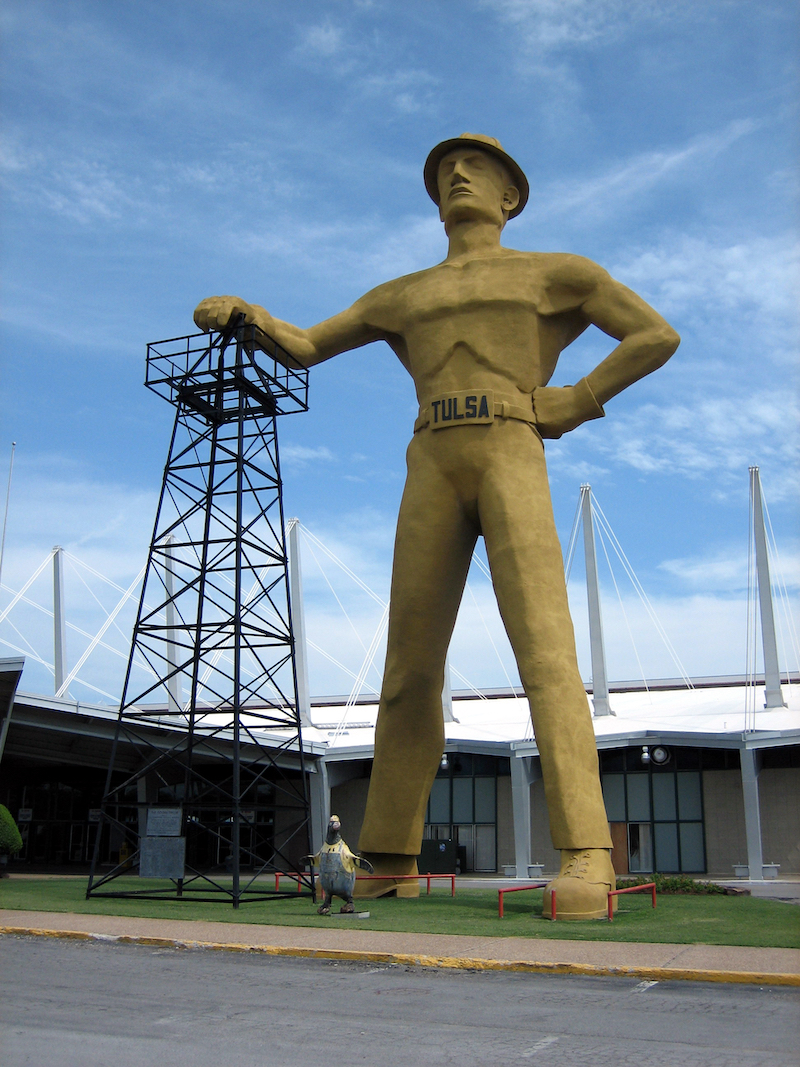 Golden Driller is the sixth tallest statue in the country, measuring a stately 76 feet high and weighing roughly 43,500 lbs. The third of its kind, the aureate concrete-steel sculpture permanently relocated to the front of the Tulsa Expo Center (now known as Expo Square) in 1966 and serves as a reminder of Tulsa's storied love affair with oil. The sculpture depicts a shirtless oil worker donning a broad belt buckle with the word "Tulsa" scribed across it in oil-slick paint. Golden Driller is painted a mustard yellow hue and rests his right hand on a giant derrick from an actual depleted Seminole, Okla., oil field. A hop, skip and jump away from Route 66, Golden Driller is now an official state monument of Oklahoma and worth a pit stop for any cross-country traveler hoping to add a dash of novelty to their trip. As a comical twist of irony, in 2020, the statue's face was altered to look like Elon Musk to bid for the city to be chosen as the newest location for the Tesla electric car factory.
Cabazon Dinosaurs – Cabazon, Calif.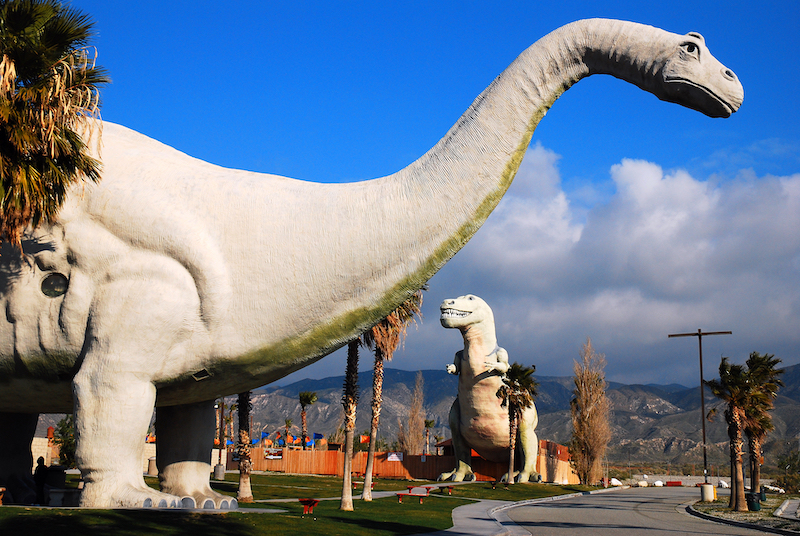 At just 25 minutes from Palm Springs, the Cabazon Dinosaurs are a must-see for lovers of the enormous and bizarre. Both Dinny the Dinosaur and Mr. Rex were the brainchild of sculpture artist Claude Bell and were completed between 1975 and 1986. Mr. Rex looms at 65 feet while Dinny, the Brontosaurus, measures nearly 150 feet in length. Today, travelers can view the dinosaurs from the road, but entry into the museum and gift shop inside Dinny comes with a small fee. What's more, the colors of the dinosaurs change from season to season, as the park makes it a point to update the dino hues every now and then. The lionized dinosaurs also have been featured in cult films like "Pee-Wee's Big Adventure," "Paris, Texas," and even had a cameo in the 1985 Tears for Fears music video for "Everybody Wants to Rule the World."
Peachoid – Gaffney, S.C.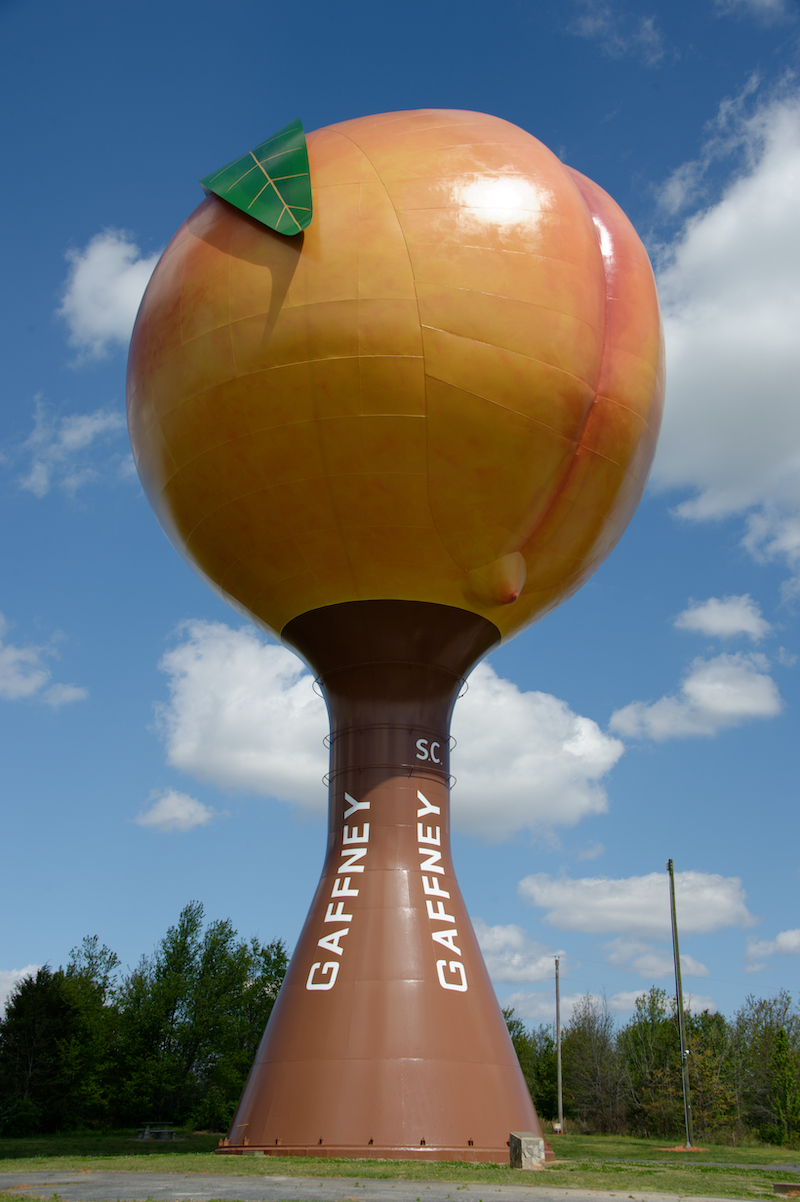 Nicknamed the "Peach Capital of South Carolina," Gaffney is a small town that's home to Peachoid, the state's biggest and juiciest roadside attraction. Standing at an impressive 135 feet, Peachoid is a water tower that looks like a peach and holds roughly one million gallons of water inside its brightly painted reservoir. The beloved water tower was built in 1981 and is painted a potpourri of shades that reflect the different varieties of Gaffney peaches. Oft referred to by locals as "Mr. Peach" and "the Moon over Gaffney," Peachoid's pièce de résistance is a giant green leaf atop the tower. Years of jokes about the stone fruit resembling a derriere (and more) inspired Peachoid's starring role in season three of Netflix's once-popular series "House of Cards." Make sure to visit mid-July to attend the annual South Carolina Peach Festival.
Queen Connie: Gorilla and Beetle – Salisbury, Vt.
Situated between Leicester and Salisbury (not the steak), Queen Connie: Gorilla and Beetle may be one of America's most bizarre and whimsical ape sculptures. The ash gray gorilla was built in 1987 using steel-reinforced concrete and holds a rusty Volkswagen Beetle in her vertically- stretched left arm while her right arm swings low and invites visitors to hop in her maw for a photo. Ironically, Connie was constructed to attract buyers to the now-defunct used-car dealership that sits behind her. However, road-trippers still travel from all over the country to stare at the gorilla and her Beetle. Explorers looking for more oddities and novelty should consider the 40-mile trip to Burlington to check out "File Under So. Co., Waiting for…," the world's tallest file cabinet.
Randy's Donuts – Inglewood, Calif.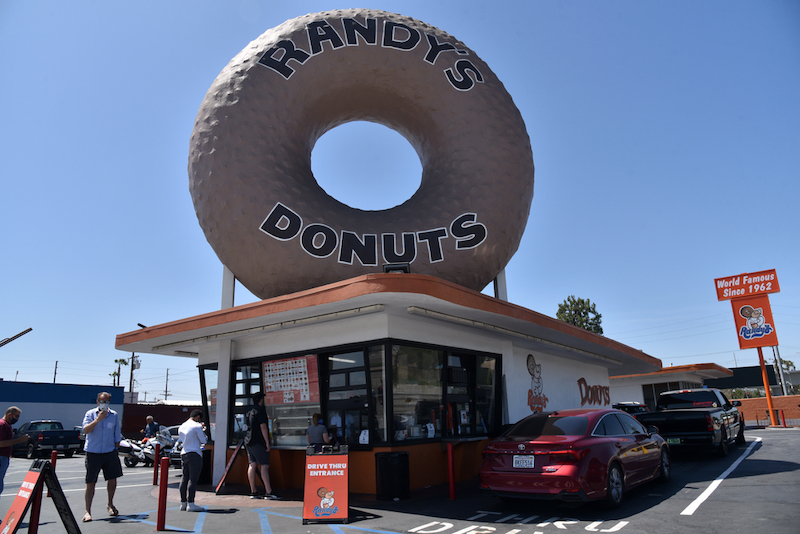 You don't need to visit Los Angeles to understand the magic that is Randy's Donuts; you just need a television. Doubtlessly the most iconic doughnut sculpture that's ever existed, the original mocha brown doughnut measures an impressive 22 feet wide and sits atop the 24-hour Inglewood drive-in. The shop is nearly 70 years old and has 10 outposts, including one in Saudi Arabia and another in South Korea. Yet what makes the original location near LAX so famous is its screen credibility, boasting a hefty résumé with appearances in shows like "Arrested Development," films like "Get Shorty" and music videos for artists ranging from Red Hot Chili Peppers to Randy Newman. Still, even if you've seen the famous dunker rolling down the street in a film, we recommend stopping by the drive-in for one of their chocolate-iced crullers.
World's Largest Rocking Chair – Casey, Ill.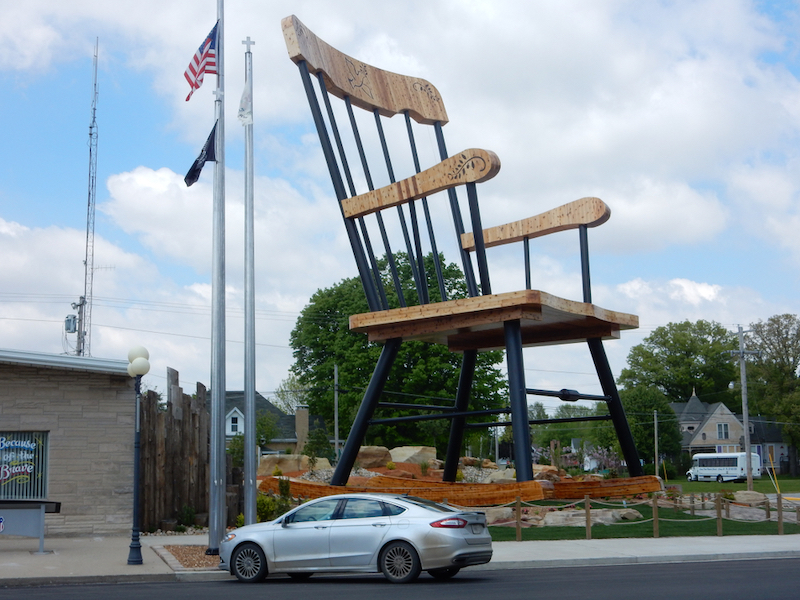 Casey, Ill., is home to 12 of the world's largest objects, including a swizzle spoon, wind chime and most impressively, the world's largest rocking chair. The 23-ton rocker took two onerous years to meticulously construct and included fastidious wood carving and diligent staining. The seat was certified as the world's largest rocking chair back in 2015 after 10 sturdy individuals proved that the chair could actually rock back and forth. Looming at a monumental 56 feet high, Grandma would have to climb the world's tallest ladder if she wanted to knit in this chair, proving that the town's motto "Big Things Small Town" is an apropos sentiment.
The Spud Drive-In – Driggs, Idaho
Mashed between Victor and Driggs in the breathtaking Teton Valley, The Spud Drive-In is a southeastern Idaho institution listed on the U.S. National Register of Historic Places. Known locally as "The Spud," the drive-in has showcased films every Friday and Saturday night for nearly 70 years and features a two-ton potato marquee atop the cherry red 1946 Chevy flatbed truck named "Old Murphy." The massive tater was constructed in 1989 from wood, chicken wire and stucco and draws novelty architecture devotees from all parts of America. Travelers can stay overnight at one of The Spud's cozy cabins beginning in June, and enjoy a film from their porch or the outdoor hot tub while canopied under a blanket of stars. Elsewhere, the drive-in grounds are peppered with spudling model caricatures for potato-lovers to revel in during their stay.
World's Largest Strawberry – Strawberry Point, Iowa
Succulent, scarlet and sweet, sinking your teeth into a plump and ripe strawberry during the peak summer season is a simple pleasure everyone enjoys. Unless you're allergic. In which case, you'll want to stay far away from the quaint town of Strawberry Point, Iowa. While the Midwest may not be the first place you think of as the queen of berries, the pastoral community would like you to reconsider. The mouthwateringly red strawberry stands 15 feet high atop a forest green post at the Strawberry Point City Hall entrance, and was designed by an advertising agency to promote the charming village way back in the 1960s. The strawberry is hewn out of fiberglass and looks juicy enough to take a bite out of, affirming the notion that Strawberry Point is "the Sweetest Place to Grow." Make sure to plan a trip during June when you can visit Heartland Farms in nearby Waterloo to pick some strawberries.
World's Tallest Thermometer – Baker, Calif.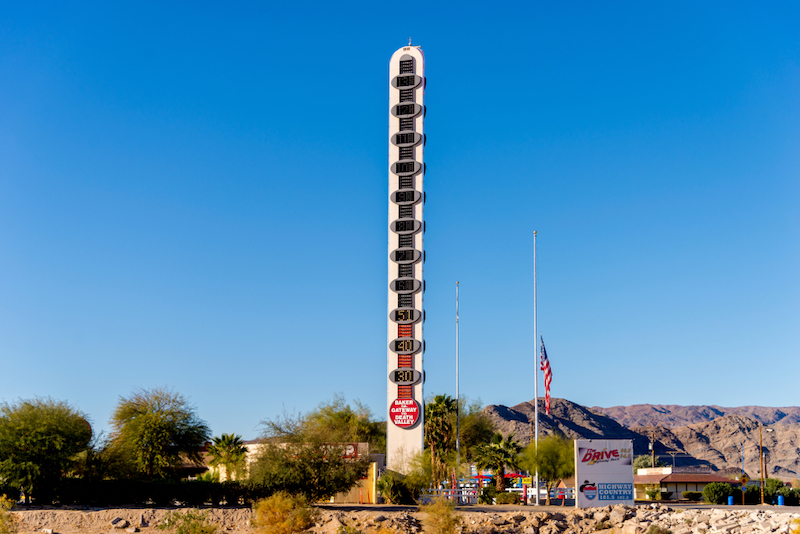 The world's tallest thermometer has everything you want from a top-billing roadside attraction: size, folly and just enough functionality to let you know when it's hot enough to fry an egg on the pavement. The temperature gauge was built in 1991 to memorialize the July 10, 1913 record-breaking temperature of 134 degrees Fahrenheit in nearby Death Valley. The soaring white probe sits at the edge of the Mojave Desert and honors that immortal date by standing at 134 feet tall with a digital temperature display that can read a maximum Fahrenheit of — you guessed it — 134 degrees. At the base of the sculpture, a message atop a cherry red nodule reads "Baker, CA. Gateway to Death Valley," beckoning visitors to marvel at the nearly 39-ton instrument — a beacon in the blue sky in the vast and arid California desert.
Tommy the Turtle – Bottineau, N.D.
Situated just 10 miles south of the U.S.-Canada border, Tommy the Turtle is the world's largest snowmobile-riding turtle and one of the country's most bizarre roadside attractions. Google the tiny town of Bottineau, and the first thing you'll see is a photo of Tommy, the offbeat but poignant crown jewel crafted by Boots Reynolds in Idaho back in 1978. The brightly colored and totally tubular turtle was eventually relocated to North Dakota, and currently sits at the entrance of Bottineau's municipal tennis courts atop his 34-foot-long, electric yellow snowmobile. Aside from his neon-colored vehicle, the fiberglass sculpture dons a matching yellow helmet atop his smiling face, complete with inverted quotation marks for eyes and nostrils. The sage green reptile is said to mark "the gateway to the Turtle Mountains," a long-extinct range of peaks wiped out during the last Ice Age.