As the crystal clear blue pool sparkles in front of me and I cozily settle into a plush, sunshine yellow towel, a bikini-clad attendant walks over and asks if I need anything. I'm in Las Vegas for a few days, much of it to drink, so the question is timely, and the passed-out, sunburnt guy next to me — horizontally sprawled across two lounge chairs, of course — feels like a signal that I'm in the right spot to have a drink or two (or infinity).
At one o'clock on this quiet April afternoon, the ARIA Resort and Casino is betraying the built-in promise of Vegas debauchery. It's chill here. Chill isn't a word I'd normally use to describe the ARIA. Sleek, yes. Vegas Strip behemoth, sure. It's a sparkling, curved glass-and-steel house of gambling, eating and drinking. Much like stretching yourself across two lounge chairs, the low-key vibe is a curveball. I just worked out in their nearby gym and wasn't planning on drinking just yet, but, when the sun is beaming and the pool's vibe is daring you to liven things up, there's an obligation to act like Vin Diesel deciding to do the 38th "Fast & Furious" movie — and just say, "Fuck it."
"I'll have a frozen strawberry thing," I say to the pool attendant. As she works in the blazing sun, I wonder if she has the best or worst job in the world. I've chosen the strawberry thingie after seeing the group of guys a few chairs down from Passed-Out Guy having a great time with theirs, but also, fruity frozen alcoholic drinks and pools go together like listening to Adele and crying.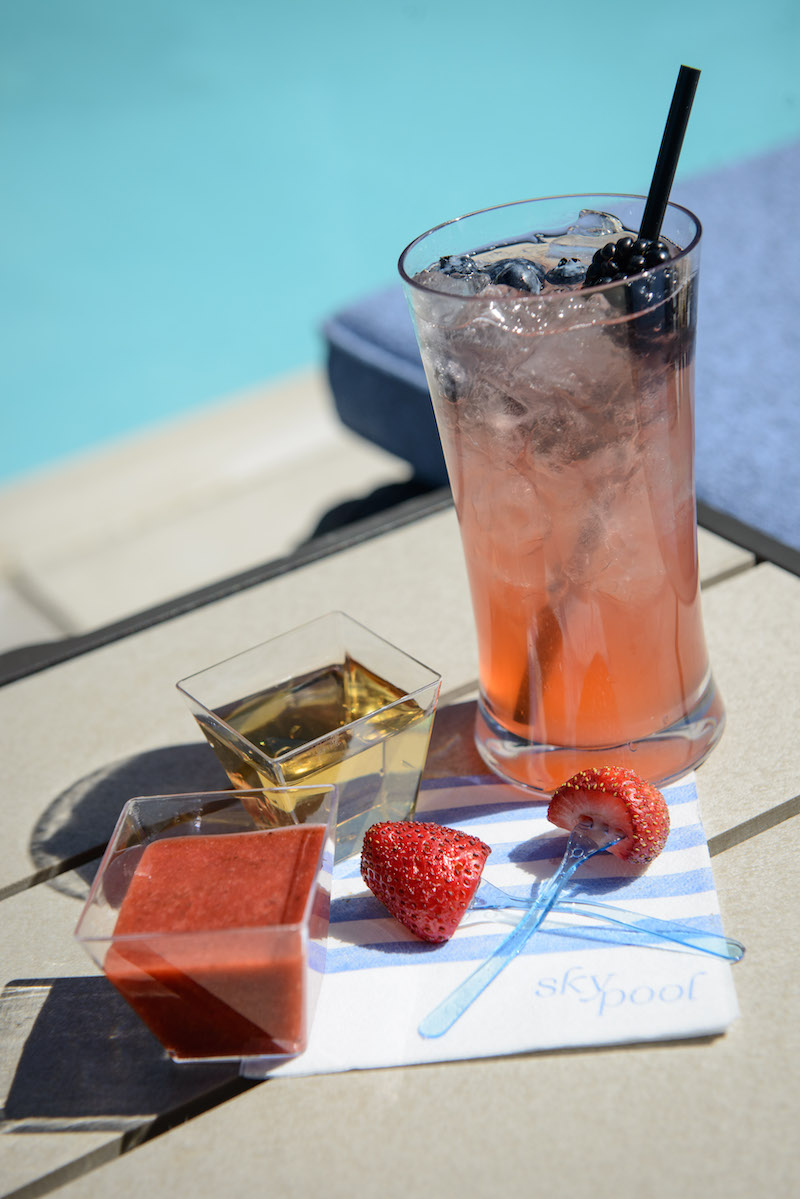 "Would you like a large or a small?"
I was not expecting that question, and in an instant I'm at a McDonald's drive-thru of yesteryear, as my dad weighed the pros and cons of supersizing our soda and fries. Back then, when I was a spritely 7 years old, I didn't have to worry about money, calories or hangovers, so bucket-sized drinks, ones that basically needed forklifts, didn't just make total sense, they were a way of life. Now, not so much. Plus, Passed-Out Guy's red-as-a-lobster back blares "proceed with caution," and I opt to ramp up slowly.
"Small, please." She smiles, and 10 minutes later I'm raising a chalice of deliciousness, or, rather, a plastic cup with my frosty red drink.
**
Five hours later. I'm getting ready for dinner and drinks at Carbone, the outpost of the hotspot New York eatery here inside the ARIA. In case you don't read Deux Moi or Page Six, the original Carbone in Manhattan is a place where you'll see celebs. Rihanna, Justin Bieber and even Kanye West have all hung there, likely for the staked-out paparazzi as much as the spicy rigatoni pasta.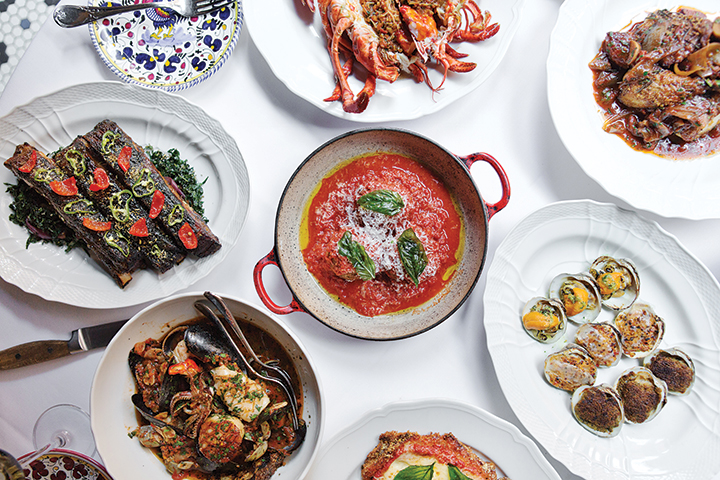 The Vegas version is masquerading as old school, and they're taking the art of imitation seriously. They've mimicked the facade of the NYC restaurant right inside the ARIA hallway. It's pretty spot-on. As I step through the front door, I'm greeted by the sounds of crooners and doo-wop, along with portraits of Christopher Walken (your guess is as good as mine).
Our waiter is a U.S. veteran who's worked here since it opened in 2015. Being a big fan of the oldies, I ask him if he ever gets sick of all the crooning. "No, and they switch over to hip-hop every night around 10 p.m.," he says as he hands over the wine list. He also offers the in-house sommelier's services.
"Bring him over!" I reply, as if I speak to sommeliers on a regular basis. After my poolside strawberry moment, a sommelier seemed like a good way to course correct and class up the trip. But in reality, this was my first time conferring with a sommelier in my life. As he approached the table I practiced saying "viscosity" under my breath. Fortunately, I have been reading up on Sicilian wines, which are pretty dope, their quality largely thanks to the weather there and the fertile volcanic soil due to the island's mighty Mount Etna.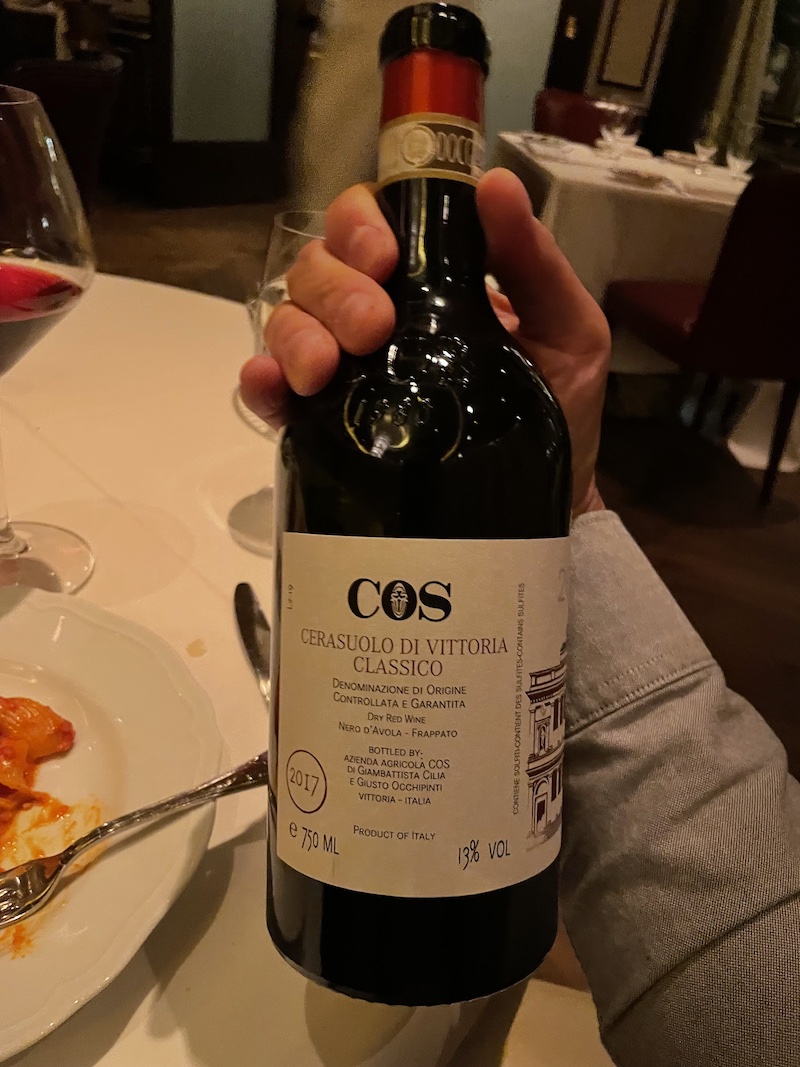 "What are we in the mood for?" he asks as I hold the massive wine list in my hands. He points me toward three bottles and I zero in on COS Cerasuolo di Vittoria Classico, a nice dry red made with grapes known by the fancy name of Nero d'Avola. With the cork popped, my glass is poured and the bottle sits in front of me as plates of meat, cheese and bread are brought to the table. Yes, this can be Las Vegas too: no sideburned Elvis impersonators, no thumping DJs and zonked-out college students, no slot machines in sight (at least here in the restaurant). Just the peaceful tasting of wine poured by a waiter who was an expert at masking the amount being consumed with a set of quick-refill skills.
***
It's around 11 a.m. the next day. I'm contemplating the art of the bloody Mary at Sadelle's, located inside the nearby Bellagio hotel. Sadelle's is another New York-born outpost that has sprouted roots here. It's designed to be (yet again) another old-school spot, this one an all-day cafe. On the menu are things like fancy omelets, thick-cut French toast, triple-decker sandwiches and cheeseburgers. Sadelle's is absolutely massive. MASSIVE. The tables go on forever. And the place is packed. The waitstaff is slammed. Anthony Bourdain, who famously worked in the brunch trenches for years, once said, "It's the least popular shift for cooks. I personally hate it. I've all sorts of deep, highly traumatic memories of my years cooking brunch. … Hideous." It's like he worked the brunch shift at Sadelle's.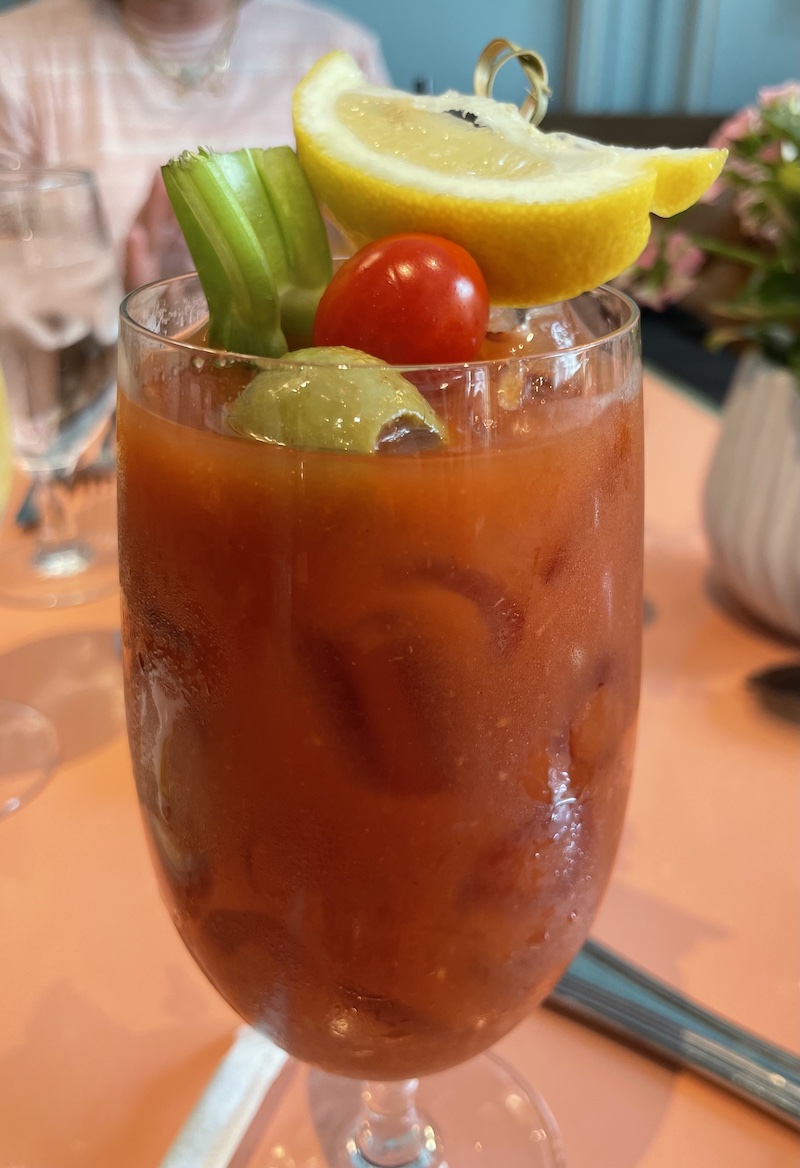 Fast forward. I miraculously get a table and, even more miraculously, get the waitress's attention. A bloody Mary — a reasonable and socially acceptable alcoholic drink for the morning — is my order, but we all know they can run the gamut. There's an elevated, fresh bloody Mary approach as well as the premixed crap. The accouterments can range from a lone green olive to an entire burger sticking out along with slices of lemon, lime, celery and maybe even a short stack of pancakes thrown on there for good measure. Sadelle's keeps it classy: You have a stalk of celery, along with a plump green olive, a thick wedge of lemon and, in a surprise stunner, a baby tomato, served in a massive glass goblet. This Mary is beautiful, and obviously is made fresh, with just the correct amount of horseradish. I sip as the staff runs around as if Gordon Ramsay himself is barking in full force. God bless them.
***
It's nine at night; early by Vegas standards. I'm sitting lakeside. It's not a real lake, of course, since nothing here in this desert oasis is real, but an entirely manmade one equipped with animatronic globes and a massive screen. Every 15 minutes or so, that screen lights up to perform bizarre, yet strangely enchanting, musical numbers. It takes place at the Wynn's SW Steakhouse, a place where the waiters must scramble to take orders in between the glaring automatic shows. Because why hire performers when robots never ask for a raise?
Our kind waiter, a decades-long veteran of the profession, tells us the specials before stopping halfway through. "I'll tell you the rest after this performance," he says, scurrying away as two animatronic globes designed to look like emojis belt out "I Got You Babe." It's kitsch, sure, but it's fun, much like the espresso martini I later get. "Do you want it like I like it, or do you like it their way?" the waiter asks me, as I ponder the question and wonder what the difference is. Figuring the man must know his martinis, I say to give me it his way. I'm brought a creamy, classic spin with some floating espresso beans thrown in for good measure. I sip it down, and somehow it pairs well with a cold seafood plate I decide to nosh on.
I'm not sure whether to focus on the espresso and vodka or the fake lake and robots. Neither seem to make much sense at first, and nothing here is quite real. Yet it makes all the sense in the world somehow and is very real. That's as perfect of a definition for the Las Vegas Strip as I can muster.