Introducing our Fifty Grande community spotlight in which an in-the-know resident of a very cool and notable U.S. city shares her/his favorite places to eat, things to do and things to see. Meet food stylist and photographer Jillian Knox with what to do in San Francisco.
I want to be friends with Jillian Knox. She's got a cool job, lives in a cool city (San Francisco) and has all kinds of personal flair (check out her IG). She started wardrobe styling in 2009 when, after graduating from Savannah College of Art and Design with a degree in photography, the job market crashed and she opened an online vintage shop, Joules Jewels Vintage. The move to food styling happened naturally when she and a friend started vegan blog Bonjournal Co. in 2015 and she's been freelance since. Her love of photography goes back further, to ninth grade, when her father gave her a Nikon 35 millimeter film camera. "It's still my baby," she says. "I have many others, but that's my go-to, especially when I travel." She's also a member of our Fifty Grande community (yes!) and we're excited to have her in our very first community member spotlight.
Here are her tips: places to see, restaurants to try, and what to see in San Francisco right now.
Restaurants to try in San Francisco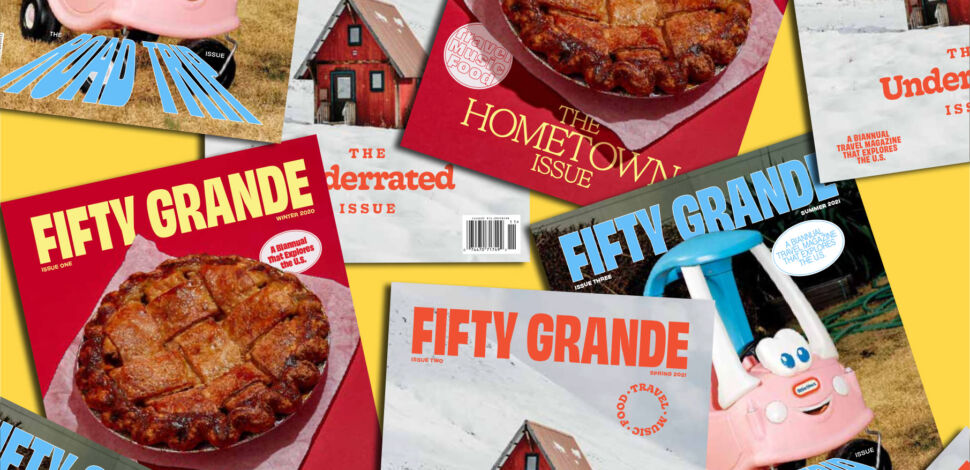 Verjus
"Part of me didn't want to tell you this, because I go here A LOT and I like to keep it to myself. But they were just in Food & Wine so the secret's out. The wine list here is unmatched for any place I have ever been in this city. The food is insanely good and they will help you out if you're vegan too like me. You feel like you're stepping away from SF completely, into Europe."
Lolo
"You can't go wrong if you try the cricket tacos and saddle up to the bar for any of the cocktails from their forever-changing menu. If you want a table, make that reservation at least two to three days in advance or be prepared to wait."
Fiore Caffe
"North Beach has so many places, but this one is a hidden gem. This family-owned Italian spot is small but oh-so-delightful. It sits right on the edge of Noe Valley and the Mission. With pasta made in-house, and sunny Aperol Spritz in hand, you will be sure to enjoy yourself. They also have an amazing Italian wine selection. Try the Montepulciano or Tempranillo on for size. I love this place because the owner lives in our neighborhood and he always says hello when we pass him on the street."
Things to do in San Francisco
Go hiking
"Go up to Diamond Heights to see the view at night (it's amazing), Coit Tower, Bernal Hill, or venture into Oakland, to Big Sur, Pacifica or even up north to Marin."
Wine tasting
"Everyone will tell you to go to the wineries in Sonoma, but I like taking the shortcut and visiting the tasting rooms and wine bars in SF and Oakland. I've already mentioned Verjus, which is my top pick. But Birba in Hayes Valley is lovely and intimate (they even have heated patio furniture). Ordinaire in Oakland is one of my faves because they serve natural wines (and my favorite bubbly water from Mexico- and it's not Topo Chico). Prima Materia in Temescal Alley in Oakland, they have a great selection."
Have a picnic in Dolores Park
"Grab a spot on a sunny day around noon or 1pm, bring wine, buy a rum coconut from The Coconut Guy, or if you're feeling adventurous, buy a "magic" truffle from The Truffle Man (it is California after all). Stay and watch the sun set behind the skyline because you can see all of downtown SF and the bay from this park. Bring a jacket or a blanket though, those pesky microclimates will get you when Karl the Fog (yes, that is his name) rolls down over the hill into the Mission bringing quite the surprising chill."
Things to see in San Francisco
Japanese Tea Garden
"This garden is literally an oasis in the middle of the city. It's huge and you can spend hours walking around and smelling the roses. If you're lucky, you're there when there is a traditional tea service being performed. After, enjoy delicious food and tea in the cafe which is outdoors in a segment of the garden."
Sutro Baths and the Camera Obscura + Holograph
"If you're a camera or space nerd you'll love this. This landmark is exactly what it sounds like; a giant room that is a camera. It's amazing. In the same area—Land's End in outer Richmond—as the ruined remains of Sutro Baths, which was known for being the largest swimming pool in the world. There's lots of wildlife around there, and to see the footprint of where the building once stood is pretty cool."
What is overrated about SF?
"Tech [culture] is everywhere. That lifestyle—motorized skateboards, electric bikes, private transport buses, and on and on—completely permeates the city, but it's overrated. That, and the burritos at La Taqueria. The ones at Mateo's are far superior."
What's the most underrated part?
"The most underrated thing about SF is the amount of artists, makers, and creatives that are here. There is always something amazing happening with this scene, whether it is film festivals, First Fridays, new art exhibits at the DeYoung, SF MoMA, Asian Art Museum, Museum of African Diaspora, Jewish Contemporary Museum, or Legion of Honor. The craft and art shows here are also stunning; West Coast Craft, Renegade, SF Etsy Holiday Fair, American Craft Show, FOG Design+Art, and artMRKT."
What's your next trip in the U.S.?
"Chicago, where I have family and friends events this year. But I would also like to go back to NOLA. There is so much history there, I feel like I barely scratched the surface when I was there last."