A brightly decorated tree is a captivating symbol of the Christmas and holiday season. Come on, who's with us? They're also great at bringing people out to gaze upon them — not to mention, a fine reason for a selfie or group photo. It's already the season, folks, so let's embrace the spirit. For your travel consideration or admiration from afar, here are some Christmas or holiday trees on view across the United States that have some traditional ties or unique stories behind their public displays. 
Rockefeller Center Christmas Tree, New York City
It's synonymous with Christmastime in the city, and a must-see stop on every visitor's list. This eight-decade-long tradition started in 1931, when workers building Rockefeller Center put up a Christmas tree on-site. Over time, the Rockefeller Center Christmas Tree has undergone changes — its Swarovski-designed star was introduced in 2004 and LED lighting was added in 2005 — but each year this tree is sourced from other parts of New York or the country. This year marks the first time that the tree is from Maryland.
U.S. Capitol Christmas Tree, Washington, D.C.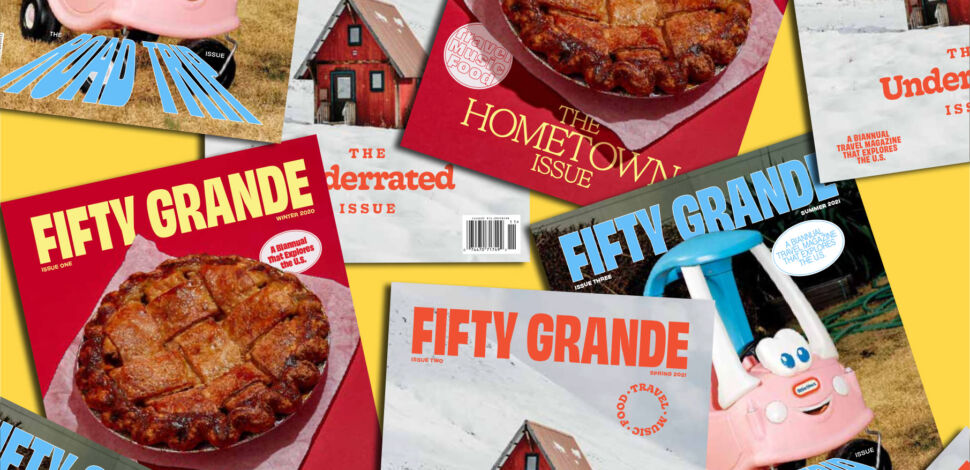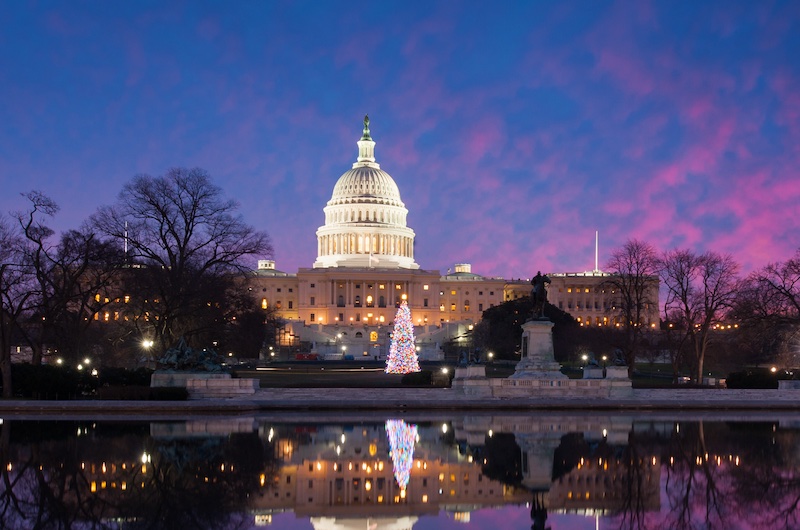 While the White House's Christmas tree gets most of the attention, the Capitol building also has impressive holiday decor on the West Front Lawn. The Congressional tradition dates back to 1964 with a lighting ceremony. That first tree was planted on the lawn but was damaged by a windstorm and later removed in 1967. Since then, the Christmas tree comes to D.C. via one of the U.S. Forest Service's nine national regions. It's decorated with ornaments made by people within the tree's state of origin.
Mayor's Christmas Tree, Kansas City, Mo.
Located in the city's Crown Center, this public Christmas tree is more than a holiday beacon. It represents the Mayor's Christmas Tree Fund, which helps those less fortunate. According to local legend, back in the 1870s, then Mayor George Shelley bought the city's first Christmas tree and also provisions for those in need within the city. True or not, this fund has continued on for over 135 years. A Christmas tree ornament is made specifically each year, made from wood of the previous year's tree and by artists from the Kansas City headquarters of Hallmark.
Tumbleweed Tree, Chandler, Ariz.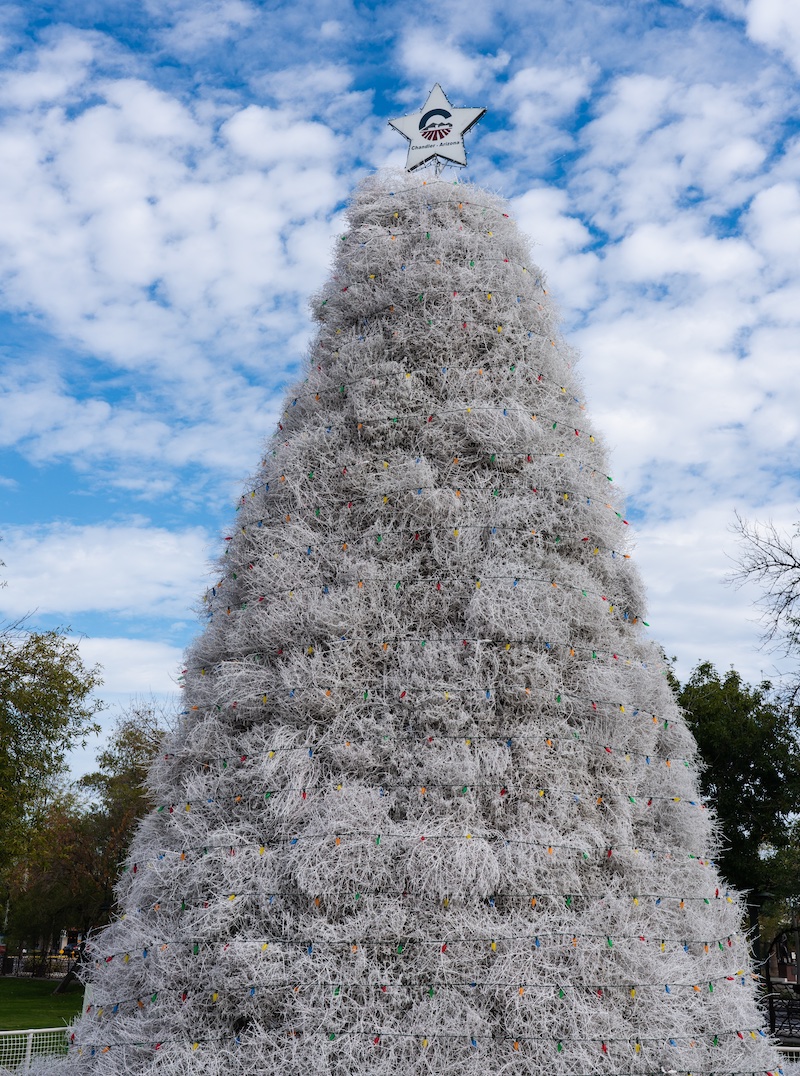 It's a tree of a different kind, with roots as a Chandler tradition planted by resident Earle Barnum in 1957. Barnum suggested the idea of a tumbleweed tree after seeing a similar one in Indiana built out of cone-shaped chicken wire and stuck with pine boughs. Today, locals make this tree come to fruition by gathering close to 2,000 tumbleweeds before the holiday season. About half of them go toward constructing this tree (the other half break apart into unusable pieces) against a 25-foot-tall wire frame, the other ha. It then gets covered with white paint and flame retardant and then adorned in glitter and approximately 1,200 multicolor holiday lights.
Galleria Dallas Christmas Tree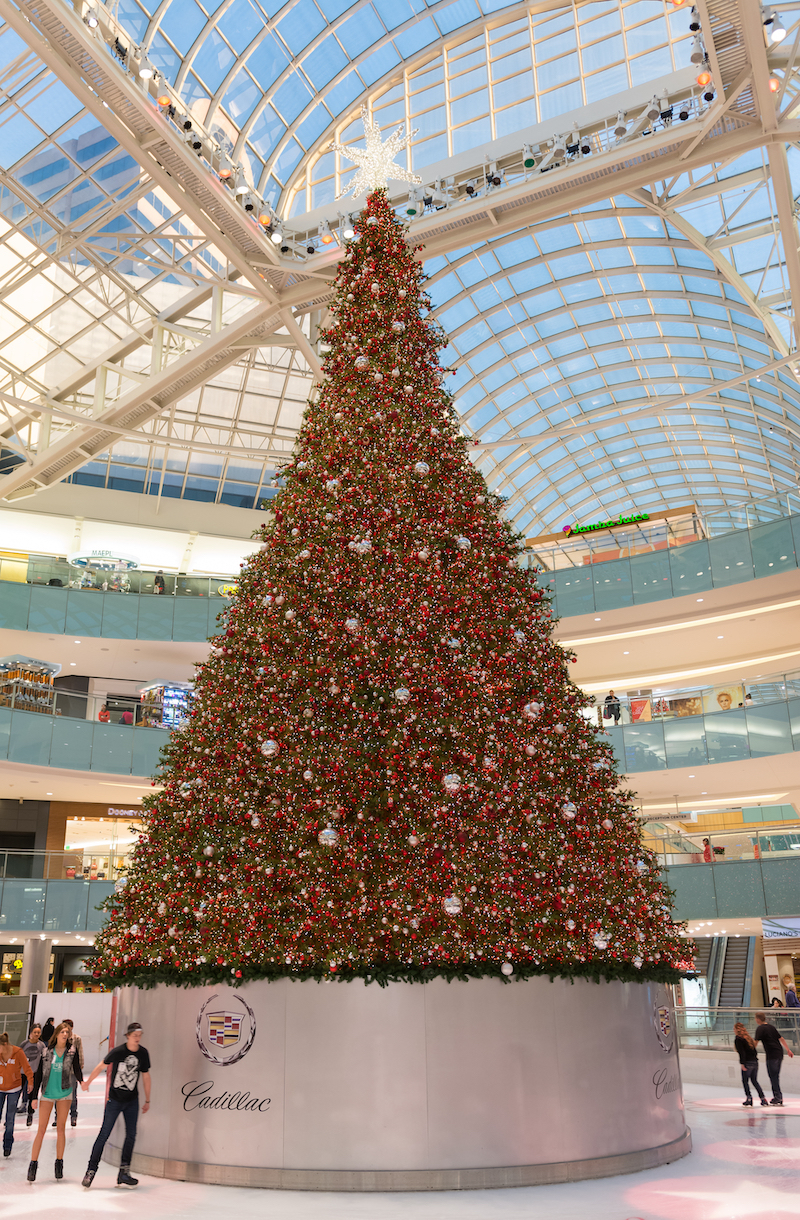 This major shopping and entertainment center makes going to the mall during the holidays brighter with what's promoted as the tallest indoor holiday tree in the U.S. At four stories tall, the Galleria Dallas Christmas Tree towers 95 feet above a skating rink. Topped with a 100-pound, 10-foot-tall LED star, this tree involves nearly 50 of "Santa's helpers" and almost 48 hours to set up. Their hard work pays off, as the tree displays 450,000 twinkling LED lights and 10,000 colored ball ornaments. And during the Grand Tree Lighting Celebration, a back-flipping Santa Claus, known as "Missile Toes," releases fireworks off his skates thanks to a custom-built Santa suit.
The Circle of Lights, Indianapolis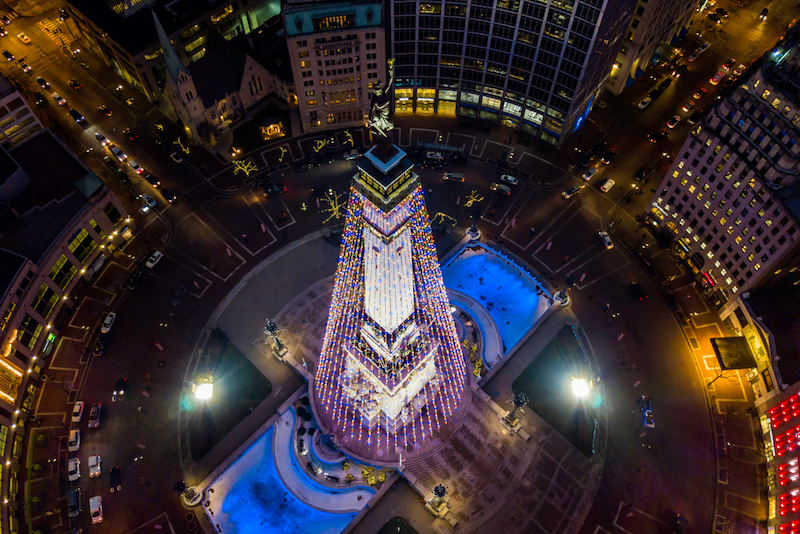 A holiday tradition since 1962, the Circle of Lights is not a tree but more a monument. In downtown Indianapolis, the city's 242-foot-tall Soldiers and Sailors Monument is spruced up for the season with nearly 5,000 lights and 52 garland strands. Usually lit on the Friday following Thanksgiving, each year's Circle of Lights ceremony welcomes a lucky child selected as the winner of a corresponding coloring contest to help flip the switch. The lights then stay on through the new year.
Chicago Christmas Tree
Chicago's Millennium Park not only is known for the beloved sculpture "The Bean," but it also is home to the Windy City's annual Christmas tree. Part of the city's celebration for more than a century, this tree made its debut in 1913 in Grant Park. Its location was moved to Daley Park in the sixties and has been at Millennium Park since 2015. Its lighting ceremony draws in special guests and performers who are often linked to Chicago.
Sandi, West Palm Beach, Florida
Forget spruce or Douglas fir; this tree within downtown West Palm Beach is completely made from sand. Revealed in 2012, this tree is known as "Sandi" and is now constructed from 700 tons of Florida fine-grain sand. Sandi takes about a month to complete, from the delivery of sand to its official tree lighting; 10 days are typically needed for its sculpting. She is also the star of "Sandi Land," which turns the waterfront-based West Palm Beach Great Lawn into a celebration location. Its accompanying lighting and music shows happen nightly.
Wisconsin State Capitol Holiday Tree, Madison, Wis.
Within the rotunda of the Wisconsin State Capitol, this state's seasonal tree is making its return in 2021 after a one-year hiatus due COVID. This tree is harvested from a location in Wisconsin and decorated each year with a different theme. Wisconsinites also add their touches by making or donating ornaments. For 2021's "Hometown for the Holidays," schoolchildren are being asked to contribute decorations reflecting this topic.
The Grove, Los Angeles
LA's retail hot spots get fully decorated for the holidays with a myriad of grand holiday trees all over the southland. Among them, The Grove, a multi-merchant destination, will welcome a 100-foot-tall white fir from Mt. Shasta that will be embellished with more than 10,000 ornaments and 15,000 twinkling lights. This white fir is said to be close to 80 years old (or more), so 10 new trees of this kind will be planted in its place.
Christmas at Union Station, Durham Museum, Omaha, Neb.
As the centerpiece of this holiday exhibit, this tree is part of a local tradition that goes back to the 1930s. Union Pacific would harvest a tree from the Pacific Northwest and bring it on a train to Union Station, which is now the Durham Museum. It's a practice that continues today, and this Christmas tree is considered to be the largest tree in the region.
Lobster Trap Tree, Rockland, Maine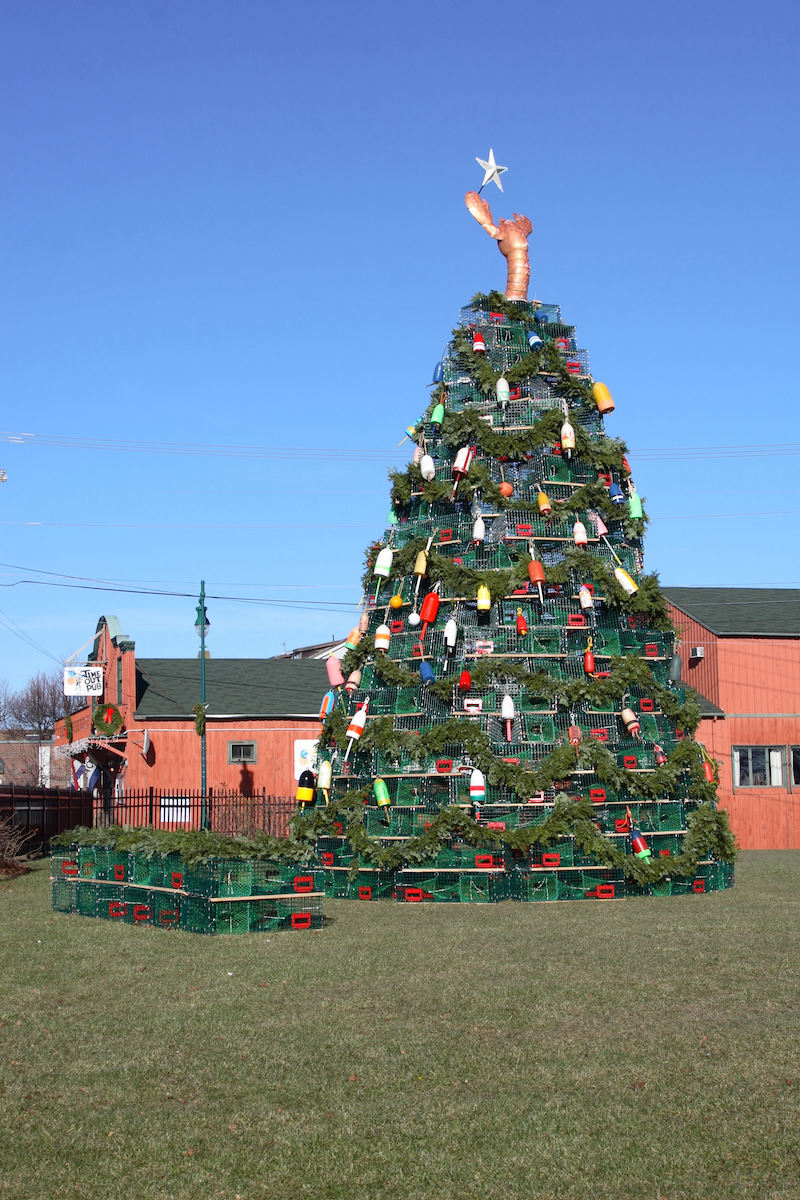 Maine is well-known for its lobsters, but Rockland has a holiday tree that turns the devices that these crustaceans are caught in into decorations. Known as a lobster trap tree, this structure is made from lobster traps stacked and fastened together in the shape of a tree. Then it's graced with many holiday lights, buoys and garland, and a giant red lobster figurine goes right on top. Placed in Mildred Merrill Park, the tree is part of Rockland's annual Festival in Lights that is overseen by the Rockland Main Street, a community organization.