Some good news for the travel industry: The majority of avid travelers will travel in 2021 if they haven't already done so, even though Covid-19 will continue to influence their decisions in 2022 and beyond. That's the main takeaway from our travel survey which was conducted online between February 23 and February 25. Here are the 2021 travel stats and results from our survey.
2021 Travel survey results summary
88% of the Americans we surveyed consider travel "extremely" or "very" important to their lives
36% had taken five or more trips the year prior to the pandemic
73% of people surveyed said Covid-19 "definitely" affects their travel planning
11% said Covid-19 does not affect their planning "at all"
26% are "100% confident" traveling right now
39% will be only be 100% confident after they and a majority of the US population are vaccinated
77% are planning to travel this year or would travel right now
14% plan to travel in 2022 or beyond
Of 10 activities listed, those surveyed were most comfortable taking a road trip (77%) right now
60% plan to travel by car this year
34% plan to travel by plane this year
50% of those surveyed planned to stay in a hotel or motel
88% were more likely to book plans with providers who offered enhanced Covid safety measures
The most popular types of trips to be taken this year are to see family (25%), for relaxation (24%) or a road trip (22%).
The most popular destinations are national parks, mountains (30%), beaches (24%) and big cities (22%).
47% said Covid-19 will affect how they travel in the future and another 35% said it would somewhat affect how they travel
81% planned to wear a mask/protective gear the next time they traveled
6% planned to take no safety precautions
Who took the survey?
We surveyed 452 avid travelers ages 18-65 who live in America. The majority were women, 65% to 45%. The survey has a +/- 5 margin or error. Of this group:
48% said travel is extremely important to them
40% said travel is very important
12% said travel is somewhat important
How often to they travel?
In the year prior to the pandemic, the majority of these travelers took three or more trips.
22% had taken 1-2 trips
44% had taken 3-4
22% had taken 5-6
14% had taken 7 or more
Is Covid-19 affecting travel plans now?
Question: Does Covid affect your travel planning now?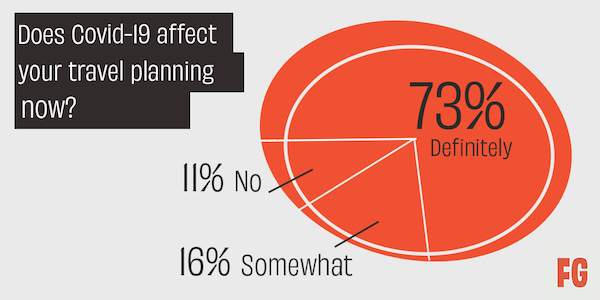 73% – Definitely
16% – Somewhat
11% – Not at all
Question: Are you more likely to book travel with providers who offer Covid-19 safety measures?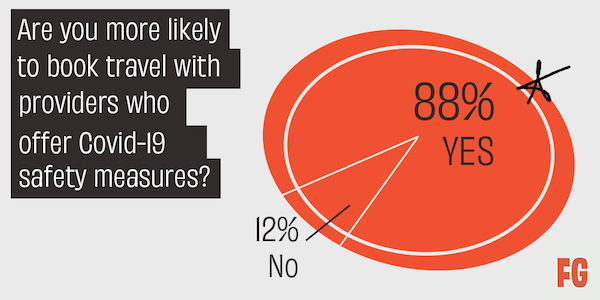 When will people travel again?
The short answer is most avid travelers who responded are planning to travel this year, though, not surprising, the types of trips and destinations are being chosen through the pandemic's lens.
Question: When do you plan to travel for leisure again?
32% – In the second half of 2021
25% – I would travel right now
21% – In the first half of 2021
14% – In 2022 or beyond
8% – Depends on when I get vaccinated
Question: What will make you feel 100% confident in traveling again?
39% – Once a majority of the population and I get vaccinated
26% – I'm 100% confident right now
22% – Once I get vaccinated
8% – Something not listed
5% – Once a majority get vaccinated but not me
Traveling in 2021
A majority of avid travelers responded that they planned to travel this year if they haven't already. Road trips and outdoor activities like visiting national parks remain the most popular trip choices for people to do right now.
Question: Which of these do you feel comfortable doing right now? (Respondents could choose as many as they liked)
77% – Taking a road trip
69% – Going to a grocery store
66% – Going to a national park
56% – Staying in a hotel
49% – Going to a beach/pool
47% – Going in a clothing store
45% – Renting a car
43% – Staying in an AirBnB
39% – Eating in a restaurant
25% – Drinking in a bar
Question: When traveling for leisure this year, what mode of transportation do you mostly plan to take?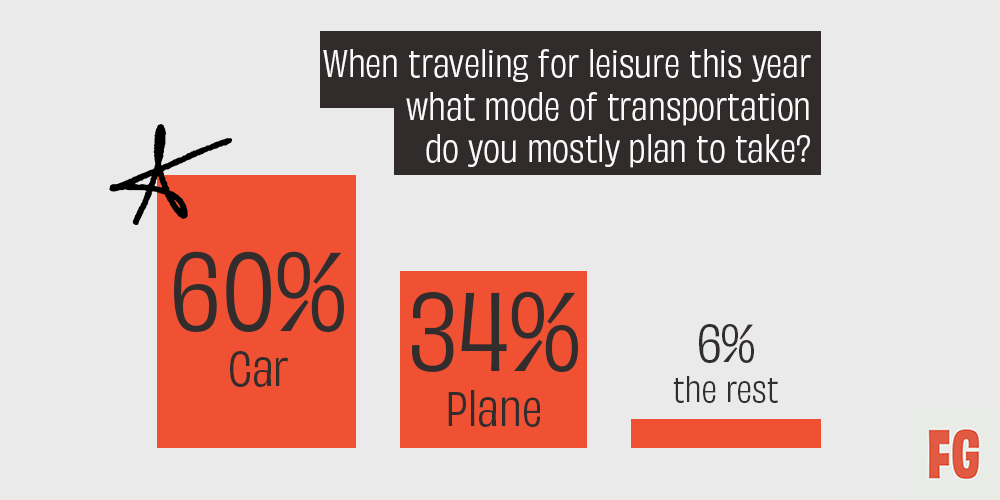 60% – Car
34% – Plane
2% – Train
2% – Bus
1% – None of these options
1% – Boat
Question: Where do you plan to stay when traveling this year?
50% – Hotel or motel
22% – AirBnB
20% – Friends or family
8% – Something else
Question: Which best describes the type of leisure trip(s) you'll take this year?
25% – To see family
24% – Relaxation (beach, spa)
22% – Road trip
17% – Adventure travel
8% – Bucket list travel
5% – Cruise
Question: Which best describes your most preferred destinations?
30% – National parks, mountains
24% – Beaches
22% – Big cities
8% – Suburban areas
8% – Something else
6% – Events
2% – Ski resorts
Question: Will you adopt any of these protective measures next time you travel? (Respondents could choose all that apply)
80% – Wear a face mask/protective gear
76% – Wash hands more
68% – Avoid crowds
49% – Get vaccinated before
29% – Avoid public areas
23% – Quarantine before, after
6% – Nothing
Question: Has Covid affected how you will travel in the future?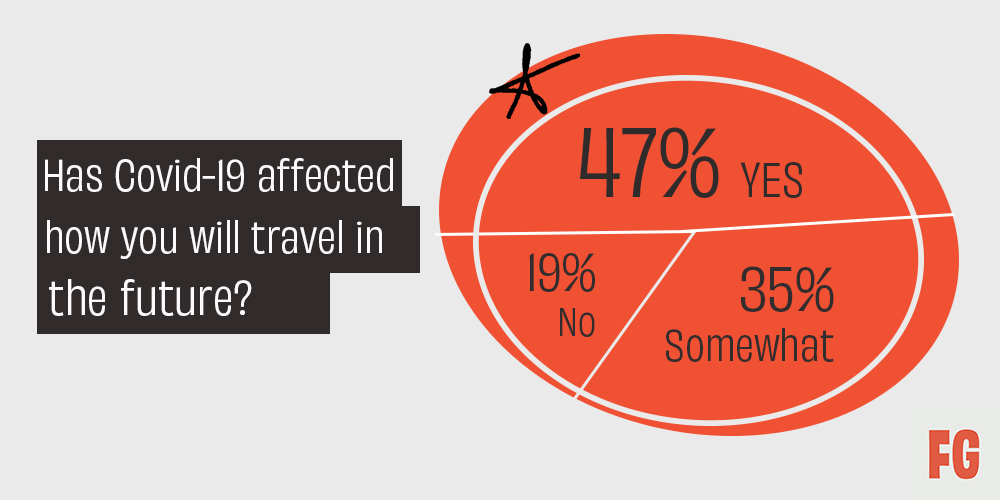 80% – Yes
76% – Somewhat
68% – No