This story is part of the Underrated issue (Fifty Grande #2), which is available for purchase here.
UPDATE: Maine USED to have rules for "permissive trespassing" but in 2017 the state legislature passed a law forbidding foraging on private land without explicit permission.
Midcoast Maine is a popular tourist destination for a reason. Come here in summer and the lobster shacks might lure you into eating a butter-basted lobster roll twice in one day. Stick around for fall foliage — when the oaks and birches and maples turn electric red, hot pink and golden yellow against the deep green of balsam firs — and you'll witness a symphony so beautiful it might make you weep.
Pay closer attention to the changing trees, though, and you'll find more than beauty: you'll find food. The Maine isles are known among some locals for their prolific wild edibles — from the more well-known wild blueberries to fiddlehead ferns to highly coveted mushrooms to a slew of edible berries, greens, seaweed, seafood, bushes and trees that form the natural beauty of this landscape — but that only a few of us know that we can eat.
When traveling to Maine, foraging implores us to look a little deeper, beyond a checklist of destinations to the intimacies and complexities of what's going on beneath our feet. Spend a day foraging for food through the Maine isles and you'll get to know the state in a new and visceral way. What does Maine taste like, smell like, feel like? What are all those trees that frame our Instagram shots? What stories do they tell about this place?
Start with Trees
"I like to bring awareness to the plants that people spend time with but are not fully aware of," says Jenna Rozelle, a local forager, hunter and wild-foods educator. "I like to start with trees because they're the biggest plant on the land, but they're often overlooked and people usually don't view them as food."
Wild sumac, which you're likely to find along roadsides, is one of the very first trees to turn red in autumn. It bears a deep red, fuzzy fruit: sumac berries, used to make a lemonade-flavored tea or dried and ground into an acidic, slightly smoky spice. Rozelle likes black birch bark too, steeped into tea and wild-fermented sodas. She picks balsam and spruce tips to infuse ice cream or grind into flavorful sugars for baking and salts for seasoning meat.
Rozelle can name nearly every wild edible in Maine, how and where to find it, plus a recipe or two. She estimates that 40% of her diet comes from wild foods, including what she hunts.
(UPDATE: Maine USED to have rules for "permissive trespassing" but in 2017 the state legislature passed a law forbidding foraging on private land without explicit permission.)
But foraging can still get competitive. There are stories of people being blindfolded and driven in circles before reaching particularly coveted fields of fiddlehead ferns — the young, curled-up shoots of the ostrich fern that taste like asparagus. Mushrooms — black trumpets, morels, chanterelles, chicken of the woods — are similarly sought after.
A Chef's Guide to Foraging in Maine: Sweet Fern, Rose Hip, Kelp and More
But here's the thing: wild edibles are everywhere in Maine. You don't even have to look very far. Look behind the lobster shack and you'll probably find sea beans, goose tongue, brambles and sweet fern. "You're probably standing within 100 yards of a sweet fern and you don't even know it," says Rozelle. "I'm sure you've smelled it but maybe didn't recognize where it was coming from." The woody, aromatic shrub can be used like oregano or thyme. And it goes particularly well with blueberries, which are often growing nearby. Infuse a few sweet fern sprigs into a jug of good local cream, she says, and pour it over berries for breakfast.
Rose hips — the delicate orange fruits of beach rose bushes that grow along the coast — hit peak ripeness in autumn, when they're as ubiquitous as blueberries. You can steep them into tea or use a food mill to blend them into jam, hot sauce or barbecue sauce. Even cat tails, which grow wild in ponds and marshes around the state, have an edible yellow pollen that tastes subtly nutty and floral and dyes foods a golden yellow like saffron.
Hike one of Maine's forested paths — usually unmarked along rural roads on the Blue Hill Peninsula — and you'll find wild berries growing along the forest floor, different depending on the season. In spring, wild strawberries. With summer, blackberries and other wild brambles. In winter, wild cranberries lie beneath blankets of snow. Even some mosses are edible: reindeer moss, seafoam green and bushy, serves as pasture for reindeer and moose, but it's edible to humans too. It can be blanched in salted water, infused in cream or candied and tastes, aptly, like the forest.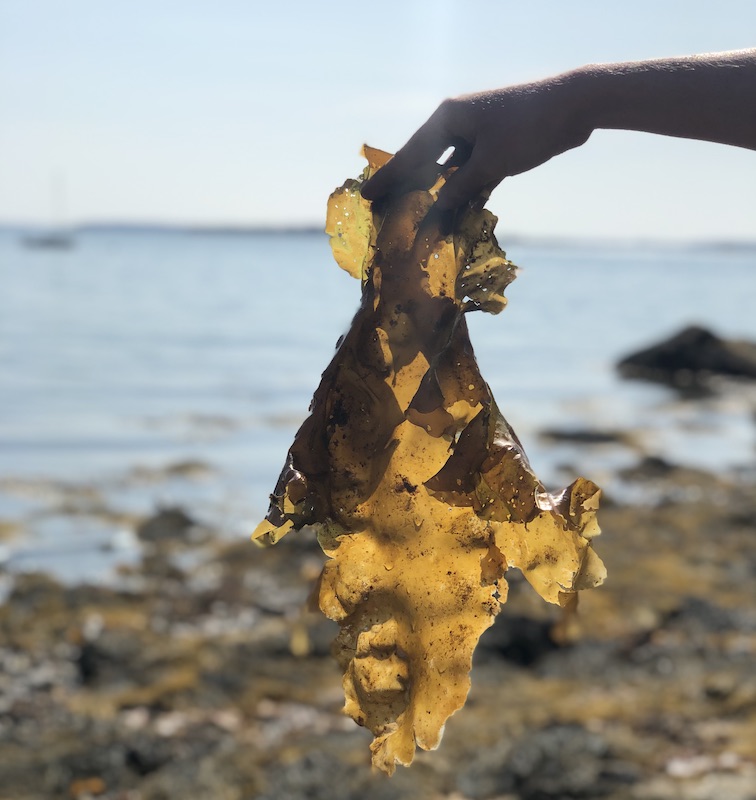 Wander the rocky beaches at low tide and you'll step on three or four different varieties of edible kelp. Irish moss, a brown, fuzzy variety of seaweed, is traditionally made into a pudding called blancmange. Sugar kelp, dulse and wakame can be sauteed, used to flavor broths or dried and milled into a powder. Lift the blankets of seaweed from the rocks and you'll find wild mussels, periwinkles (a type of edible snail) and green crabs crawling through the crevices. On muddy banks, you can dig for quahog clams — once made into a soup by Native American tribes with foraged sunchokes and seawater before French Acadian settlers adopted it into New England clam chowder.
And then, of course, there's blueberries. Now a multi-million-dollar industry, wild blueberries are a result of the loamy soil left by the last Ice Age. For many Indigenous people of this region, blueberries were considered a sacred fruit — used for food, medicine and preserving meat — and the fields were burned to manage production, a technique still used today. You'll find vast fields of low-bush blueberries along rural roads, bright green in summer when the berries are ripe and fading into maroon in fall. Berry picking is allowed unless there's a sign prohibiting it. But keep in mind that many of the managed fields are sprayed with herbicides and fertilizers. Rozelle suggests looking along trails, mountains and timber company land, where berries particularly thrive.
A Chef's Guide to Foraging in Maine: Foraging Tips and Tricks
Use an app, like PictureThis or PlantSnap, to help identify wild plants. Be careful though — while apps can help you identify plants, the identification isn't guaranteed, so it's not a good idea to use it for mushrooms, which can often have toxic lookalikes. Guidebooks are helpful too. Tom Seymour, a famous Maine forager, has several. And the best thing to do is go with someone you know. Rozelle and many other foragers host foraging walks and classes in the area.
Don't take too much. It's important to avoid disturbing natural ecosystems as much as possible and to leave wild food for wild animals. To quote Robin Wall Kimmerer, author of Braiding Sweetgrass and a member of the Potawatomi Nation: "Take only what you need. Take only that which is given. Never take more than half. Leave some for others. Harvest in a way that minimizes harm. Use it respectfully. Never waste what you have taken. Share."