This story appears in The Food Issue, which is on sale here and is in stores now.
Last December, as I logged in to my Alaska Airlines account and canceled my holiday vacation to San Antonio, I silently mourned as another trip got steamrolled by COVID. For the first time in three years, I had planned to go home to see family and friends and was looking forward to the sojourn more than any previous visit. That said, and without betraying the love and affection of my nearest and dearest, what I most looked forward to were the breakfast tacos.
I know it may seem hyperbolic to the uninitiated, but the breakfast taco is perfect. The savory conduits for lightly scrambled eggs and thick-cut bacon, lacquered in smoky hot sauce and enveloped in a buttery tortilla, are sublime. Simply put, and in a way that the late, great John Denver would appreciate, a single bite of a bacon-egg-and-cheese taco is almost heaven, making San Antonio the country road, and the breakfast taco itself my mountain mama.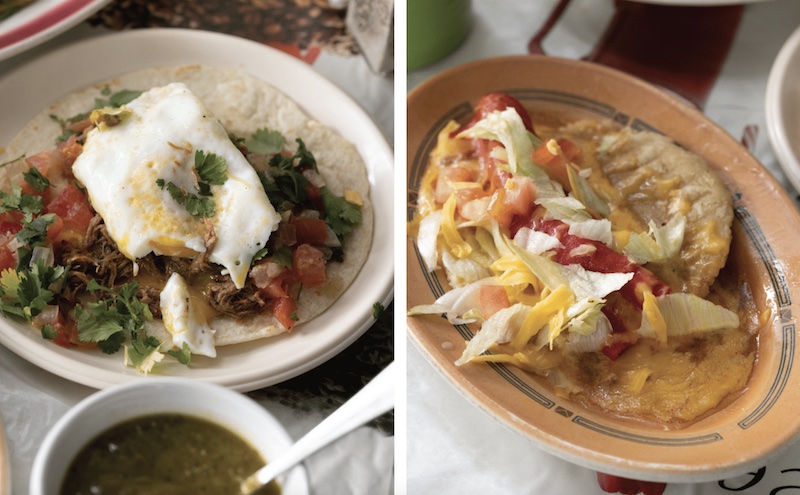 A city is only as good as its most acclaimed foods, and these prized dishes cultivate a sacred relationship between residents and a place. An easily distinguishable symbol of pride and a beacon of familiarity, iconic dishes are profoundly woven into the fabric of a city's cultural identity. This is what the breakfast taco is to San Antonio, yet locals don't often wax poetic about their love of the breakfast taco because it's as much a part of their lives as tying their shoes or speaking a language. In fact, breakfast tacos are a love language. Devotees are fluent in beans, cheese, eggs and homemade tortillas.
"The breakfast taco is part of the Mexican American experience, and San Antonio is the epicenter of the Mexican American experience," is how a former food writer for the San Antonio Express-News, Edmund Tijerina, expertly summed it up in a YouTube video. Yet ask any local about the history of the breakfast taco, and they'll likely chuckle and shrug before tucking into a potato-and-egg taco. While the origins of the aluminum-foil-wrapped wonder are unclear, people have been filling tortillas with beef, chicken and beans for hundreds of years, and it's hard to imagine a scenario where people wouldn't naturally begin eating tacos with eggs in the morning.
Regardless, and this cannot be stressed enough, aside from the inclusion of a corn or flour tortilla, there is no right way to build a breakfast taco. Freshly made tortillas are preferred and can be found filling the air with their charred and griddled scent at any one of San Antonio's taquerias. The taco base is typically filled with proteins like pillowy scrambled eggs or aromatic refried beans, but beyond that, diners have carte blanche and are encouraged to paint their tortilla canvas with broad strokes a la Jackson Pollock.
Beloved variations include chilaquiles studded with crisp tortilla chips, tenderly spiced carne guisada and-piping hot vessels for potatoes and eggs, to name a few. The pièce de résistance? They're accessible to all, making the breakfast taco a staple of every San Antonian's diet and a symbol of the working individual — seriously, if you're spending more than $4 on a breakfast taco in San Antonio, you're doing it wrong.
My go-to order is bacon, egg and cheese on a flour tortilla, topped with creamy avocado slices, punchy cilantro and dotted with whichever smoky and sapid house-made hot sauce is nestled beside the salt and pepper shakers. When pressed for their standard orders, my San Antonio pals had respectable ones — a tortilla stuffed with potatoes, rice, beans and avocado; a bacon-egg-and-bean taco; and a barbacoa taco. Ultimately, it doesn't really matter what kind of breakfast taco you like; it only matters that it tastes like home.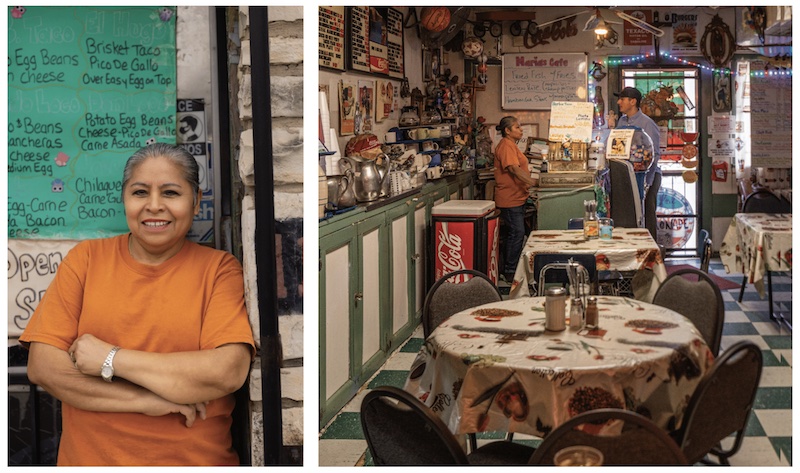 This may be my rose-tinted memory playing tricks on me, but looking back on my 20-plus years spent in San Antonio, I can't remember ever having a bad breakfast taco. Luckily for tourists and locals alike, there are taquerias everywhere (and I mean EVERYWHERE) in San Antonio.
Some are cash-only establishments worth a trip to the ATM, while others are drive-thru chains that will do in a pinch, like the Pepto-pink Taco Cabana. Each San Antonian has a handful of favorite eateries, loyally standing by their spots with the same volition they stand by the Spurs. 
Many swear by The Original Donut Shop, a Deco District institution since 1954 where you can get a legendary toasted bean-and-cheese taco. They start with the standard building blocks of any great bean-and-cheese taco: a piping-hot and sturdy flour tortilla generously covered with schmaltzy refried beans and shredded cheddar. What sets The Original Donut Shop's apart is what comes next — the taco is folded up and added to the griddle, where it cooks until it gets its signature charred exterior. It's crispy, it's craggy, the beans are fatty, you know the cheddar's sharp, and it's everything you didn't know you needed until now.  
When I finally get back to the 210, you'll find me sitting in a corner at Maria's Cafe, ordering a chorizo-egg-and-cheese and watching the steam rise from a cauldron of refried beans as Maria passes orders to the kitchen. As I pull the foil veil back to reveal a hot tortilla, I'll remind myself to savor each celestial bite and reminisce about the time I wrote a love letter to the breakfast taco.