After a historically low year for the travel industry, a surge of people returned to the road and took to the skies over Memorial Day weekend. According to the TSA stats, the agency screened more than 7.1 million people at airports from Thursday to Monday (May 27-31), which was the highest traffic numbers since March 2020. And thanks to increasing vaccination rates and low COVID-19 numbers, Americans will most likely keep riding this travel confidence through the upcoming months, as we all ease out of our pandemic-induced shells. Plus, summer Fridays, the July Fourth and Labor Day holidays and flexible WFH situations (don't worry, we won't tell your boss where you are) now allow travelers to take more frequent three-day getaways that don't require the planning (and potential risk) that comes with, say, a longer European vacation.
Here, we've rounded up some small- to mid-size U.S. destinations — from sea to shining sea — to consider for your next long-weekend jaunt.
The scenic Blue Ridge Mountains serve as the stage for the city of Greenville, which has become one of America's fast-growing cities in recent years. Situated close to Clemson University and about halfway between Charlotte and Atlanta, this town attracts travelers year-round, thanks to its mix of retail, cultural and outdoor activities, including a top-rated bike path and Falls Park on the Reedy, a 32-acre park in downtown. Plus, its thriving restaurant scene has made it a must-visit destination for foodies, with joints that offer up more than just Southern staples. But you will find an outpost of Nashville's Prince's Hot Chicken and Husk Barbeque, located in the West End neighborhood, to satisfy any down-home cravings.
Pigeon Forge, Tenn.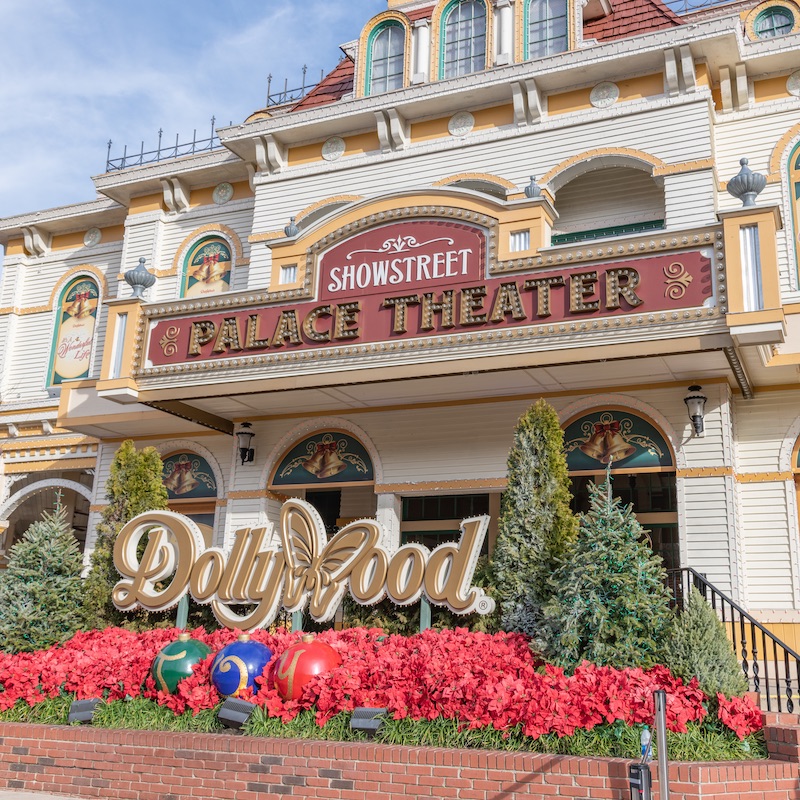 Perhaps best known as the home of Dollywood, Dolly Parton's Appalachian-themed park that boasts rides, an adjoining water park and a museum of her costumes and memorabilia, Pigeon Forge is located in eastern Tennessee in the foothills of the Smoky Mountains. Less than an hour by car from Knoxville, the family-friendly destination caters to road-tripping travelers with the recently opened Camp Margaritaville RV Resort, and works as a convenient jumping-off point for exploring the Great Smoky Mountains National Park. It's America's most visited national park and a UNESCO World Heritage Site that's known for its diversity of plant and animal life, as well as hiking trails.
St. Simons Island, Ga.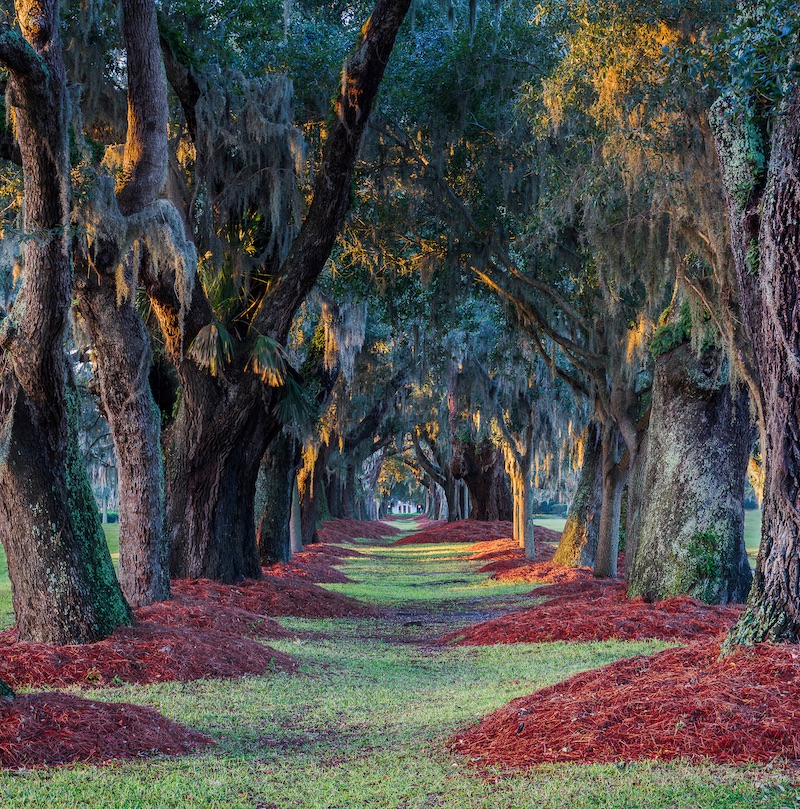 Located along Georgia's coast, between Savannah and Jacksonville, St. Simons Island is the largest of the four Golden Isles barrier islands. Home to beaches, golfing and charter fishing, the seaside destination boasts a quintessential Southern aesthetic, with oak trees dripping in Spanish moss among the marshlands. Guided tours through the inlets and estuaries offer the opportunity to learn about the ecosystem and see some critters. If you're looking to continue maintaining your social distance, head to Little St. Simons Island, which is situated off the northern end of St. Simons Island and only accessible via boat. Here, you'll find charming cottages and activities such as canoeing, kayaking, fishing, shell collecting and birding.
Alexandria, Va.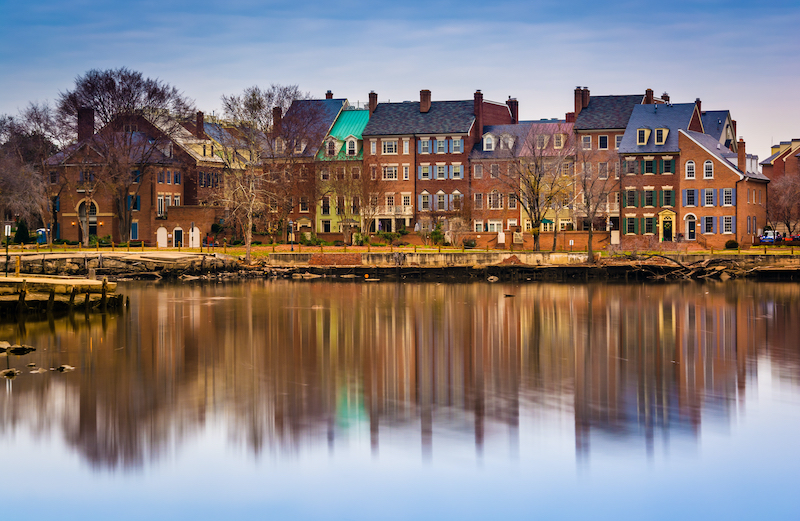 Just across the Potomac River from Washington, D.C., Alexandria boasts a rich heritage, scenic streets with brick sidewalks and a bustling food scene filled with restaurants that serve multinational cuisines. This walkable town features buildings that span several centuries and styles — from Georgian to Victorian to midcentury modern — including the skinniest historic house in the U.S., called the Spite House. Picturesque King Street is lined with independent shops and restaurants, making it an ideal location for a relaxing stroll. Keep in mind that some businesses continue to impose capacity restrictions and/or require masks for all guests, regardless of vaccination status.
Cape Ann, Mass.
Less than an hour's drive northeast of Boston, Cape Ann, which encompasses the city of Gloucester and the towns of Essex, Manchester-by-the-Sea and Rockport, offers a charming alternative to Cape Cod. With rugged cliffs and quaint fishing villages, the coastal area offers uncrowded beaches, art galleries, seafood eateries (it's the birthplace of fried clams) and antique shops. In addition to its marine and historical attractions, Gloucester is also home to one of America's oldest continuously working art colonies, which inspires visitors to get their creative juices flowing by enrolling in glass-blowing workshops at The Bubble Factory, which is located in Essex, as well as the classes at Cape Ann Art Haven in Gloucester.
Lake Tahoe, Calif./Nev.
While many travelers come here to ski in the winter months, Lake Tahoe is a year-round destination, with the deep blue lake serving as the center of the action. In the summer, it's recommended that visitors stick with the southwestern coastline, especially around Emerald Bay. This is where you'll find paddleboards (instead of snowboards), as well as boat rentals, hiking and biking trails and fishing. Plus, there are plenty of stretches of sandy beaches including some, like Kiva Beach and Nevada Beach, that are dog friendly. Since Lake Tahoe spans both California and Nevada, you should be mindful of the different COVID-related restrictions and requirements between the two states.
Door County, Wis.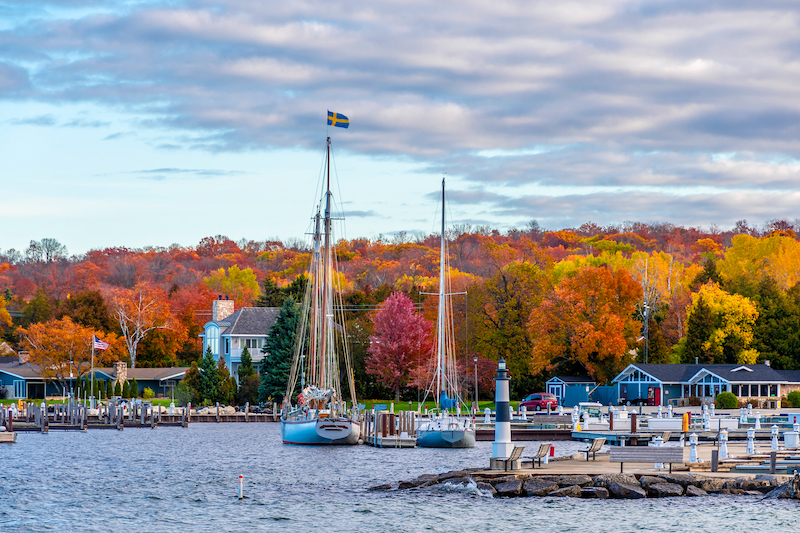 Much like the towns that dot the jagged New England coastline, this 75-mile peninsula pokes out into Lake Michigan and boasts miles of shoreline with an abundance of beaches, bays, coves and inlets. Located a little over two hours from Milwaukee and almost four hours by car from Chicago, this Midwestern getaway offers boating, fishing, kite surfing and scuba diving, as well as landlubber activities including historic lighthouses, art galleries and hiking trails on the eastern tip in Whitefish Dunes State Park. Plus, take a tour of the area's wineries and try the county's famous fruit wines, including sweet cherry, then visit the goats that graze on the sod roof of Swedish restaurant Al Johnson's. We're not kidding.
Cannon Beach, Ore.
Located along the coast of northwest Oregon, with direct access from Portland about 90 minutes away, Cannon Beach has become a popular local getaway, offering a dramatic seascape with views of Haystack Rock, one of the state's most recognizable landmarks. It serves as a seasonal haven for tufted puffins, which are most visible and active from April through early July, as well as a home for colorful tidepools and diverse wildlife. In addition to its scenic sights, Cannon Beach also offers a taste of the nearby land and sea, including oyster stew, clam chowder, crab melts and more available at charming restaurants and eateries, plus pubs and breweries.