I've been fascinated with water towers since I was a kid. I can vividly remember sitting in the backseat of my mom's Suburban on family road trips with the window down, letting the wind hit my face at 70 mph while Elton John blasted in the background. I was first captivated by water towers during those endless summer drives, entranced by their monolithic shapes and sizes, usually in the middle of a field surrounded by miles of farmland. I wondered how they came to be and who elected to build these structures. The reason why specific colors were used sometimes and others weren't is something I wanted to know. I had so many questions about water towers back then.
Today, I still seek out water towers whenever I'm on a trip, particularly regional landmarks and roadside towers displaying the best of 20th-century novelty art, whether they be painted like a can of fruit cocktail or shaped like a massive condiment bottle. If you find yourself with extra time, zhuzh up your next road trip by checking out some of America's most remarkable water towers. (Seriously, they're fun.) You and your brood won't need much time to snap a photo in front of the behemoths on our list, as they are typically within an hour's drive of major cities and make for unforgettable and fun detours on the way to your destination. 
Brooks Catsup Bottle – Collinsville, Ill.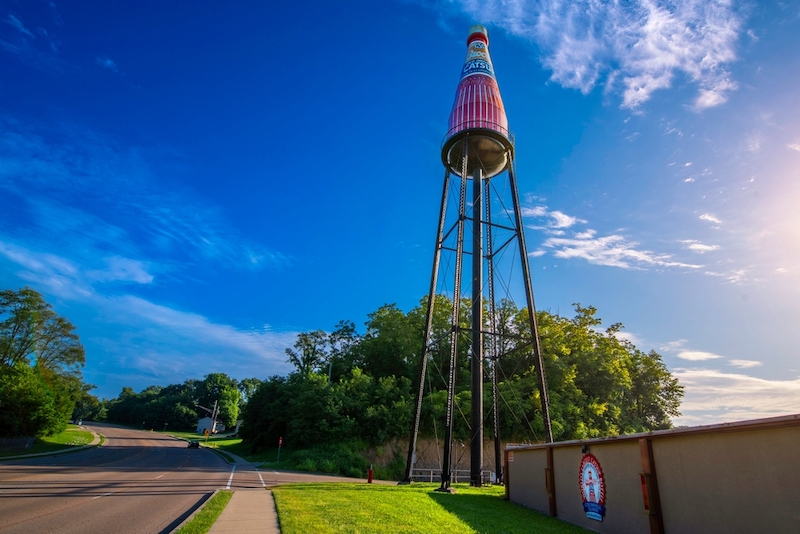 Many believe that the Brooks Catsup Bottle water tower is the largest catsup bottle in the world. Constructed in 1949 with the express purpose of supplying water to the Brooks catsup plant, the tomato red bottle stands 70 feet tall atop a 100-foot steel tower and can hold up to 100,000 gallons of water. The water tower is modeled after an original Brooks catsup bottle and is listed on the National Register of Historic Places as of August 2002. In the early 1990s, a group of volunteers named the Catsup Bottle Preservation Group raised $80,000 to repair and paint the bottle, saving it from demolition. Voyagers hoping to catch a glimpse of the Brooks Catsup Bottle today can find it 21 minutes east of St. Louis by car.
Brooks Catsup Bottle Water Tower, 800 S. Morrison Ave., Collinsville, Ill.
Cathance Water Tower – Topsham, Maine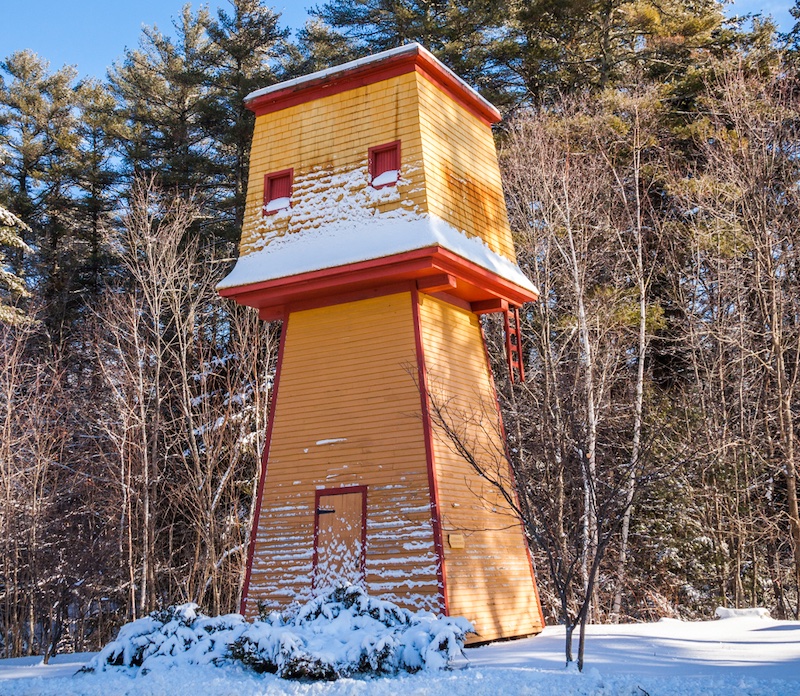 Located in Topsham, just 35 minutes outside of Portland, the Cathance Water Tower is an exceptionally rare example of a wooden water tower built for a single residence. There's no official record of the exact date, but some believe the tower was built in the late 19th century to supply water to the farmland and household of the Rogers family, who had inhabited the property since the late 1700s. The Cathance tower stands just 30 feet high and is a unique square structure. There's a modest curve-sloped base, a broader shingled top section, a hipped metal roof and is bright yellow with red trim finishings. After being listed on the National Register of Historic Places in 2001, the tower underwent restoration in the early aughts.
Cathance Water Tower, 69 Cathance Road, Topsham, Maine
Ear of Corn – Rochester, Minn.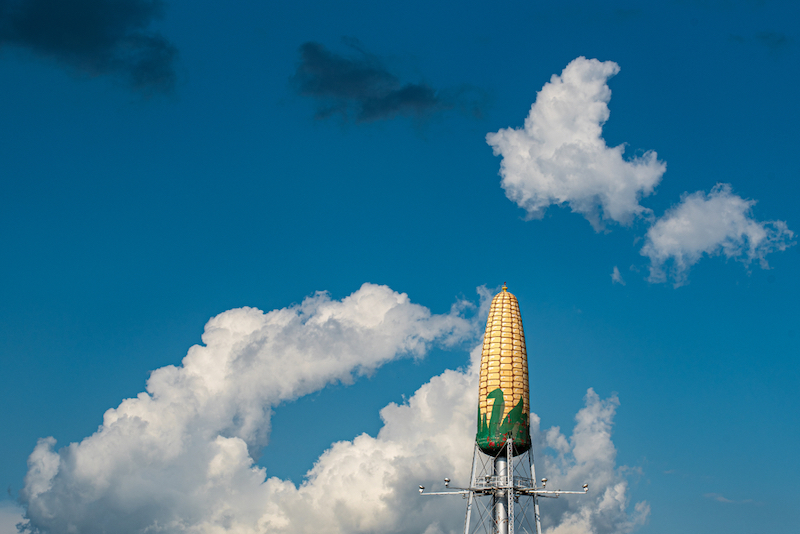 Constructed in 1931 to supply water to the Reid, Murdoch, and Co. food cannery, the husked Ear of Corn water tower's design resembles our favorite summery side dish. While you won't find any butter or Old Bay nearby to season the tower, the Ear of Corn is one of the largest we've seen at 25 feet high, sitting atop four massive steel legs that tower above the city of Rochester. The water tower changed hands several times and once stood above the Libby Foods plant, and was eventually bought by Seneca Foods until it closed in 2018. In 2019, Olmsted County purchased the Ear of Corn and vowed to preserve the relic, giving it a fresh coat of yellow and green paint back in 2021. The tank no longer provides water but remains a captivating roadside attraction and a reminder of the early industrial roots of Rochester. At the risk of sounding corny (sorry), we think the one-and-a-half-hour drive from Minneapolis is warranted to marvel at this delicious piece of history.
Ear of Corn Water Tower, 1300 Fairgrounds Ave. SE, Rochester, Minn.
Earthoid Water Tank – Germantown, Md.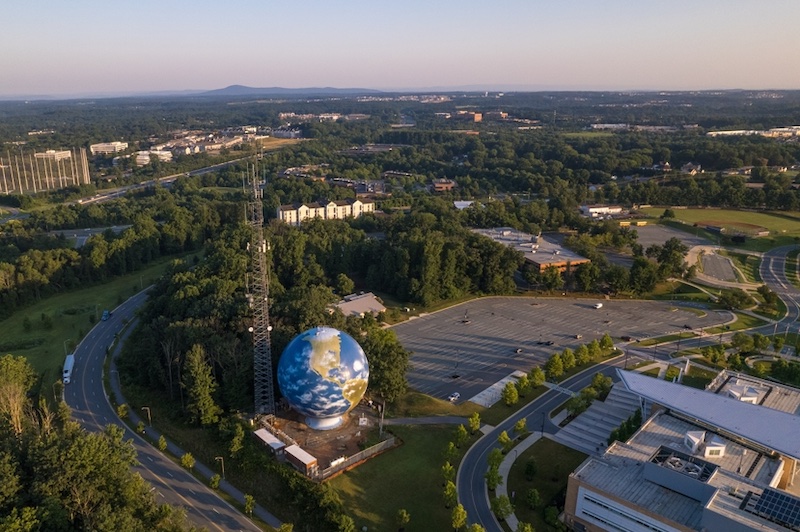 When the students of Montgomery College were asked to design the campus's spherical water tank in 1980, they voted that it be painted like the globe and commissioned artist Peter Freudenberg to take on the task. Freudenberg completed Earthoid two months later and used a National Geographic globe image and satellite photos from the National Oceanic and Atmospheric Administration as a point of reference for the water tank. The resulting mural looked like a miniature earth, resembling what the planet looks like from outer space, complete with green continents, blue seawater and a hyper-detailed cirrus cloud overlay. While a bid was considered to change the design of Earthoid to a baseball in 2011, former Montgomery College Provost Dr. Sanjay Rai pushed to keep the water tank painted as a globe to honor the original vision. Forty-two years later, Earthoid is still turning heads and is visible from Interstate 270, just a 36-minute drive from metropolitan Washington, D.C.
Earthoid: Earth Globe Water Storage Tank, 20200 Observation Drive, Germantown, Md.
Leaning Tower of Niles – Niles, Ill.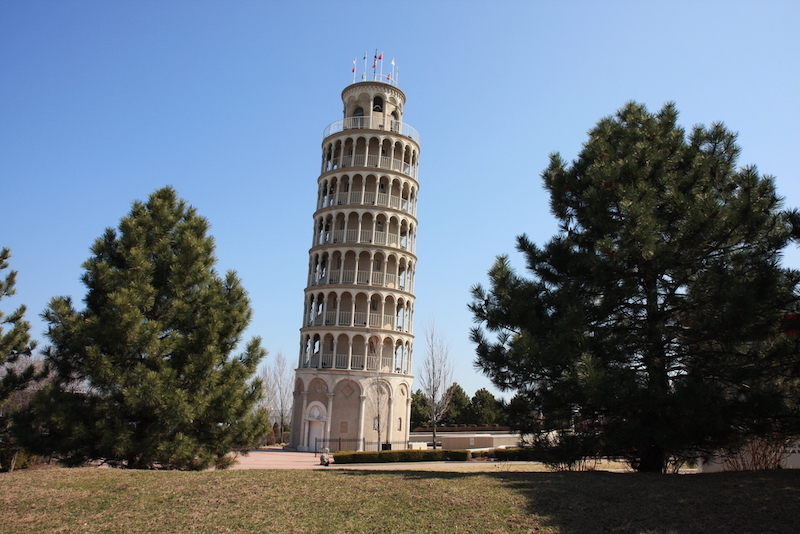 The Leaning Tower of Niles is one of America's most unique water towers. The 94-foot tower leans at 7.4 feet and is a half-size replica of the Leaning Tower of Pisa, located in Niles's Italian sister city of Pisa. Four fountains surround the tower, and it was built to honor Italian physicist Galileo Galilei — you may have heard of him — who dropped objects from the top of the Leaning Tower of Pisa to prove the theory of gravity. Completed in 1934 as part of a recreation park, the Leaning Tower of Niles now provides water to swimming pools in and around the city of Niles. A total of seven bells ring every three hours, beginning at 9 a.m. until 6 p.m., with tunes like "My Favorite Things," and three of the tower's seven bells were initially cast in Italy several hundred years ago. At just 19 minutes from Chicago by car, the Leaning Tower of Niles is the closest you can get to Italy without taking the 11-hour flight.
Leaning Tower of Niles, 6300 W. Touhy Ave., Niles, Ill.
Libby's Water Tower – Sunnyvale, Calif.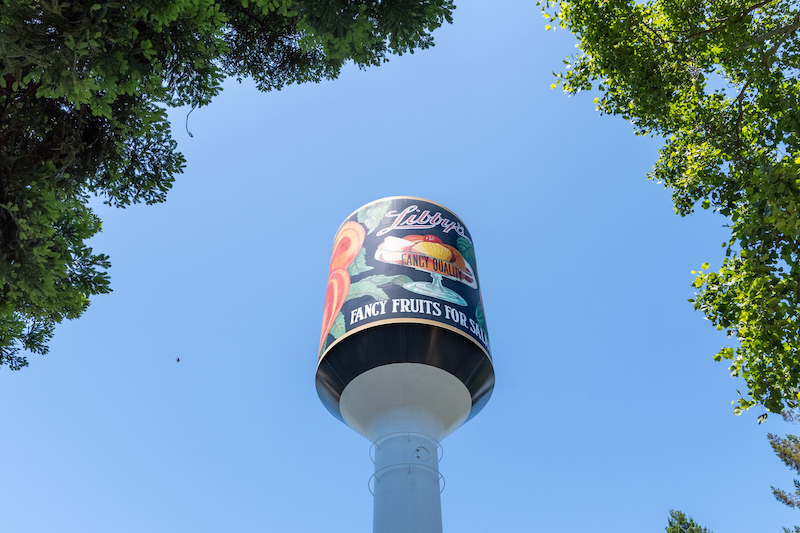 Situated in the cradle of Silicon Valley, Libby's water tank towers 150 feet high and was designed to hold 150,000 gallons of water. It's 50 minutes from San Francisco by car. The site was the location of the first Libby's Foods fruit-packing factory and opened in 1906, just after Sunnyvale was incorporated. The fruity tank was initially painted to resemble a can of Libby's original fruit cocktail and was occasionally repainted to showcase the newest labeling for the company. After the factory closed in 1985, the water tank was painted over to remove Libby's label, prompting residents to protest until it was painted to look like the Libby's fruit cocktail can from the early 1900s. The water tower area has been converted into a massive office park; however, travelers can still visit the historic Sunnyvale landmark touted as a valuable navigational landmark by the Federal Aviation Administration.
Libby's Water Tower, 490 W. California Ave., Sunnyvale, Calif.
Luling Watermelon – Luling, Texas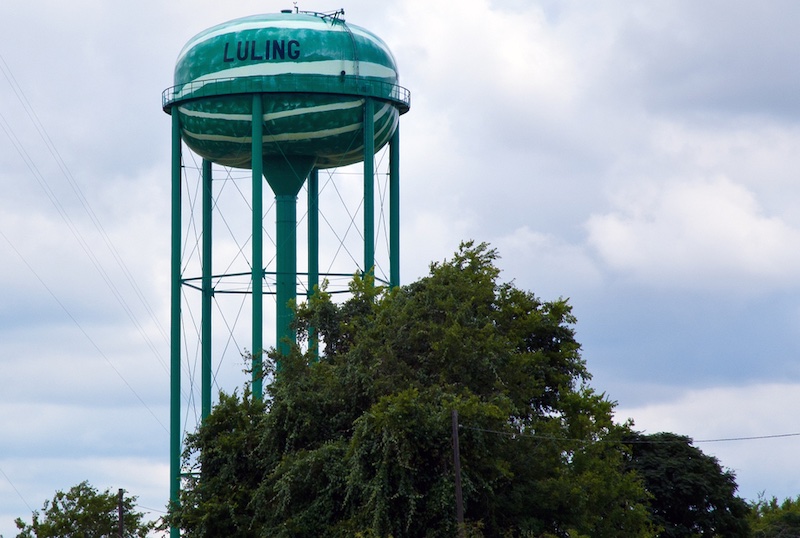 We may be biased, but Watermelon Thump may be the sweetest thing you could name a town festival — almost as sweet as painting your water tower to resemble the massive melon. The story goes that the Luling Watermelon Thump festival got its name from checking the ripeness of a watermelon; when you flick or thump the rind with your finger, if it sounds hollow, then it's ripe. The city of Luling painted its water tower like a massive watermelon as a tribute to its local festival and to commemorate the state's most lucrative crop. Pop-up fruit stands and murals dedicated to the juicy melon pepper the streets of Luling in the shadow of the lofty, 154-foot-high green Luling Watermelon tower. On the last full weekend of June at the beginning of harvest season, travelers flock to Luling to marvel at the water tower, participate in seed spitting competitions, watch giant melon shows and devour juicy slices of watermelon.
Luling Watermelon Water Tower, 1798 E. Pierce St., Luling, Texas
Peachoid – Gaffney, S.C.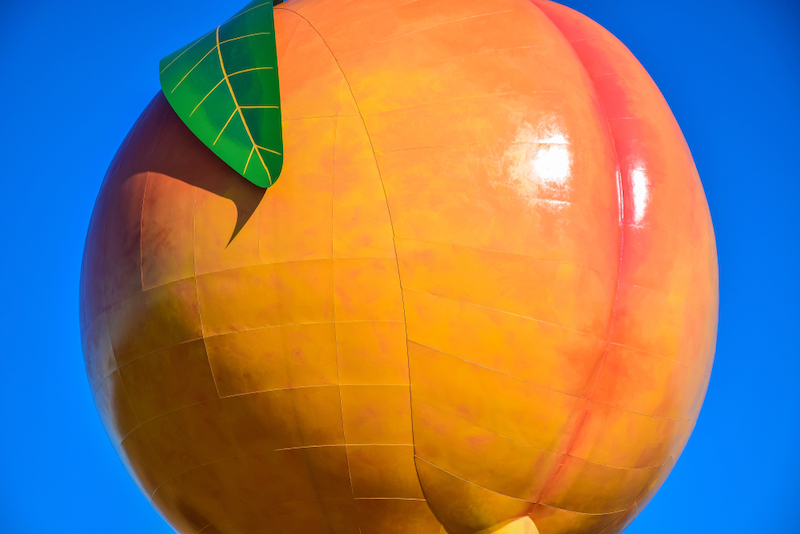 Peachoid is quite possibly the most famous water tower in the country, if not the world, thanks to the villainous "House of Cards" character Frank Underwood. The peachy roadside attraction was featured heavily in the third season, but Peachoid was craning motorists' necks off of Interstate 85 long before the show aired. Completed in 1981 by the Chicago Bridge and Iron Co., the tower stands 135 feet tall and holds roughly one million gallons of water. Since Gaffney is referred to as the Peach Capital of South Carolina, the Gaffney Board of Public Works commissioned artist Peter Freudenberg — who also painted Earthoid — to bring their juicy vision to life. Freudenberg painted the reservoir a potpourri of shades to reflect the different kinds of Gaffney peaches, and locals often refer to the tower as "the Moon over Gaffney" or "Mr. Peach." The pèach de résistance (fun peach pun) is the brightly painted green leaf atop the tower. Gaffney holds its annual South Carolina Peach Festival each July, making it the ideal time to drive an hour from Charlotte and marvel at the water tower in all its peachy splendor.
Peachoid, Peachoid Road, Gaffney, S.C.
Pumpkin Water Tower – Circleville, Ohio
It's nearly impossible to miss the whopping pumpkin water tower when passing through the city of Circleville. At just a half an hour by car from Columbus, the massive pumpkin holds a million gallons of water and was initially painted like a gourd in 1997 to honor the town's annual Circleville Pumpkin Show festival. It took 1,300 gallons of paint to cover the orange icon on the inside and out, and while many believe the green stem atop the tank to be functional, it was simply added to complete the perfect pumpkin picture. Head to Circleville from October 19–22 this year to gaze at the colossal water tower during the annual festival and celebrate the local pumpkin agriculture. Known as the "greatest free show on earth," the four-day event has occurred nearly every year since 1903 and features gigantic pumpkin weigh-ins, the world's largest pumpkin pie, parades and pumpkin food.
Pumpkin Water Tower, Route 23, Circleville, Ohio
Ypsilanti Water Tower – Ypsilanti, Mich.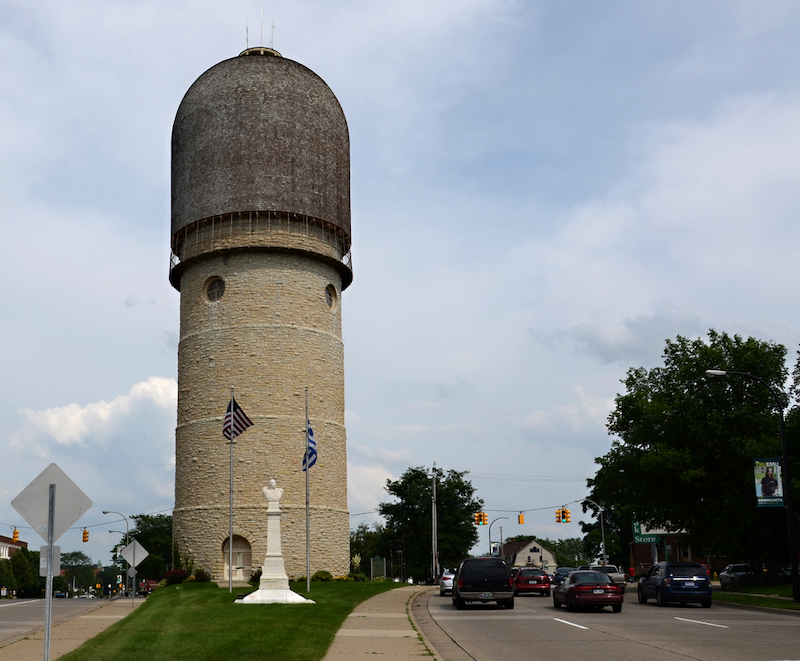 The Ypsilanti water tower is frequently made fun of for its phallic shape, garnering the nickname "Brick Dick" and being named the "World's Most Phallic Building" in 2013 by Cabinet Magazine. Apellous comparisons aside, the Ypsilanti water tower is a fascinating piece of Michigan history and was registered as a historical site in the Great Lakes State in 1988. The water tower was constructed in February 1890 and has been in continuous service ever since. It sits 147 feet tall and was built out of Joliet limestone in the famous 19th-century Queen Anne architectural style. Today, the tower is maintained by the Ypsilanti Community Utilities Authority, and in 1974, it was designated an American Water Landmark by the American Water Works Association and designated a Historic Civil Engineering Landmark by the Michigan Section of the American Society of Civil Engineers. Next time you visit Ann Arbor, take the 15-minute drive to Ypsilanti to explore this living piece of history or, at the very least, make jokes about how it looks.
Ypsilanti Water Tower, 303 N. Summit St., Ypsilanti, Mich.