(Above: Billionaire Diesel founder Renzo Rosso plucks a cornetto from a moving breakfast table on the balcony of his Pelican Hotel penthouse. Photo by Adam Robb.)
Art Basel Miami Beach, the December edition of the Swiss art fair, now in its twentieth year, is a lot like the flu. Every winter it hits differently, some people say it's worse than ever, and others are unfazed, but there's no question that Art Basel is the virus, and Miami Beach is the host, and once you're there, you'll only exhaust yourself if you try to fight it. The best you can do is find a comfortable bed, stay hydrated, and ride it out.
If you want to explore the latest in local flavor, (like the Japanese monster-themed Bar Kaiju, or Saturdays-only Oori Bakeshop,) it's best to skip Art Basel. And Ultra. And the South Beach Wine & Food Festival. And the Miami Grand Prix. People come to Art Basel to explore the temporary infrastructure of velvet ropes and open bars planted in the sands of a vanishing coastline, and sip free champagne while art galleries, tech bros, and brand immersions, promote themselves up to a fever pitch–think Prada nightclubs, Cheetos yachts, and Lindsay Lohan zine drops–then burn out without a trace, sending everyone home with a hangover and a tote bag.
NOVEMBER 28
But just because everyone is spending, doesn't mean everything is expensive. When I visited Miami last spring, I met a famous billionaire in the mens room of Dirty French Steakhouse who invited my girlfriend and I to sleep over at his South Beach apartment. We declined, and didn't think lightning would strike twice, but when I went searching for a hotel to ride out the week, I found another famous billionaire with appealing accommodations, and you can stay with him too. Diesel founder Renzo Rosso first discovered Miami in the early 90s by happy accident, on a layover to Bermuda, and instantly took to Ocean Drive, buying the Pelican Hotel down the block from his friend Gianni Versace's villa Casa Casuarina. He's made the penthouse his Miami residence ever since, but he recently refurbished the downstairs rooms which sell for $200 a night, no strings attached.
Even better, I was close to everything everywhere–except dinner, a virtual reality experience called Aerobanquets RMX, which was a five-mile, hour long, Uber ride away at Superblue, a cavernous experiential digital art space in an Allapattah warehouse.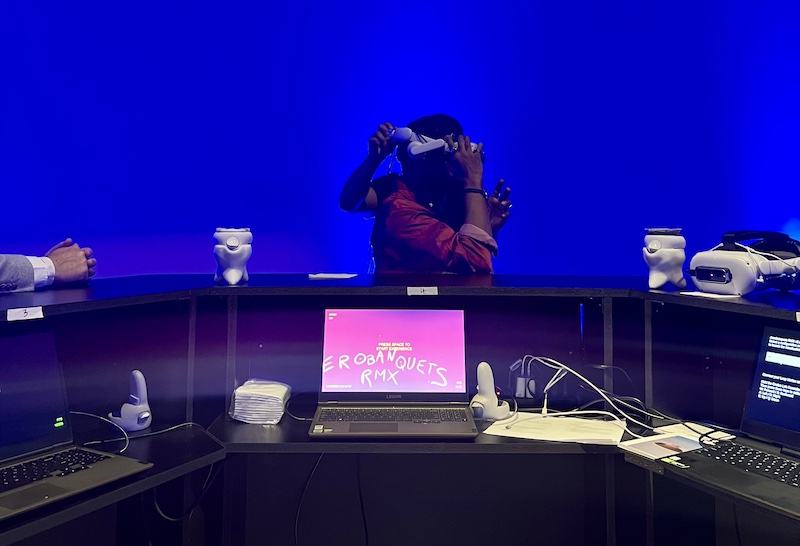 As my driver pulled up, I was already in proximity to some substantial contemporary art. The party at the Rubell Museum, celebrating the opening of a new exhibit featuring the work of superstar Ethiopian paintier Tesfaye Urgessa, had spilled into the street outside Superblue. Urgeesa's larger than life canvases immerse viewers in a tableau of subconscious and ethnographic hardships, and serve as a reminder we needn't conceive and explore new horrors when we can just look into the mirror. But I hadn't eaten all day, so I opted for Superblue instead, where I turned over my palate to the Neapolitan artist Mattia Casalengno, who filtered the culinary fantasia of FT Marinetti's 1922 Futurist Cookbook through the technological dystopia of 2022 Facebook.
Once inside, I dined alone alongside a table of strangers all of whom paid between $58-$200 to eat food we couldn't see while wearing the latest Meta VR technology. I was soon immersed in a series of 1990s screensavers waiting for my disembodied hands to appear before me, and the disembodied voice of Top Chef's Gail Simmons to guide me toward bite-sized dishes with descriptors like "the first time you bite your lip" then open my mouth and blindly swallow whatever iron-rich flavor ball rolled off a next generation… dish. As a metaphor for the obedience tech moguls demand from consumers, the dish worked as conceptual art, but Mark Zuckerberg still hasn't figured out beverage service, so I slipped into a party next door celebrating the Mexican artist Rafael Lozano-Hemmer, and maybe BMW, but definitely sponsored by Casamigos.
It was late, and there was a crush at the bar, so by the time I ordered a strawberry yuzu margarita, the bartender apologized for improvising and handed me a tall glass of something green which only made me wonder what people got away with when I wasn't looking at my "wireless" dinner plate.
NOVEMBER 29
I woke up the next morning eager for breakfast, but instead I faced another food tech nightmare: Zak the Baker, the best bagel in Miami, was so overrun they could no longer deliver to Miami Beach. I briefly considered that the 150-minute wait time to pick up my order in Wynwood might be worth it, but ultimately took an Uber only halfway there, pulling off at a secret pop-up Moet Hennessy Mansion on San Marino Island, a waterfront hideaway cum showroom for A-list clients to experience a level of bottle service turned up past eleven.
Inside, the Parisian jeweler Lorenz Baumer displayed his latest creation, a $175,000 gold-edged Baccarat crystal decanter of Hennessy Paradis in the shape of a 75-sided basketball contained in a larger, locking, square leather basketball that resembled a Japanese watermelon and unfolded into a hardwood court made of cognac barrel staves. The crystal ball, an official collaboration between Baumer, Hennessy Paradis, Baccarat, and the NBA, was so absurd I wondered if I was still in the Metaverse, but I had a glass of Dom Pérignon in my hand and legs below my waist, so it had to be for real.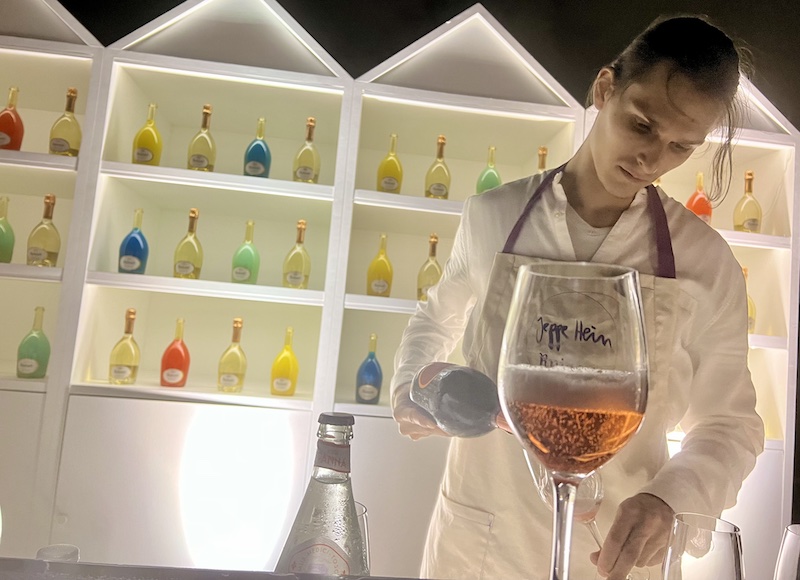 By the time I left, the sun had set on the VIP day of the fair, so my only chance to see more art involved more champagne. Another car, another hour, and I was back on the beach in time for the opening of the German conceptual artist Jeppe Hein's collaboration with Ruinart. To celebrate, a model in white coveralls placed a droplet of perfumed oil on the back of my hand, passed me a hunk of chalk, and asked me to draw my feelings on a dry-erase wall of blank faces. As I contemplated my masterpiece, I couldn't help wondering if Ruinart had lowkey commissioned Hein to create a new experiential way to slow the crush at open bars, and if so, whether Casamigos will snatch him up next year.
I headed south along dark sands beckoned by the light of each new pop-up in the distance, eventually reaching a temporary Saint Laurent art gallery built to celebrate the 30th anniversary of Madonna's Sex book. Photography wasn't permitted inside, not because the images are egregiously pornographic by today's standards, but to maintain an illusion of scarcity that justifies Saint Laurent's $2200 reedition. They needn't have worried; people love paying for free things. The free tote bag I received on my way out is already selling for $1500 on eBay.
Now you're probably thinking, sure, drinking free champagne and flipping sexy tote bags is all very glamorous, but where are the tech bros this year? Further downbeach, the Scope art fair outside the Pelican Hotel sold NFT tickets, and hosted "V by Scope," a conference led by the wine critic turned web3 guru Gary Vaynerchuk. Inside, $300 Johnnie Walker Blue NFTs offered access to a Johnnie Walker Blue tasting, but the week was too short to spend time with people who couldn't figure out how to drink for free.
NOVEMBER 30
Hennessy was free flowing at the opening of Vintage Frames, a new designer eyewear boutique on the ground floor of Pharrell's Goodtime Hotel which boasted exclusive collaborations with the artist Alec Monopoly and… Gary Vaynerchuk. One pair had 24k gold dollar signs on the bridge, the other had 24k gold NFT avatars on the temple–the two genders at Art Basel–you can guess who designed which.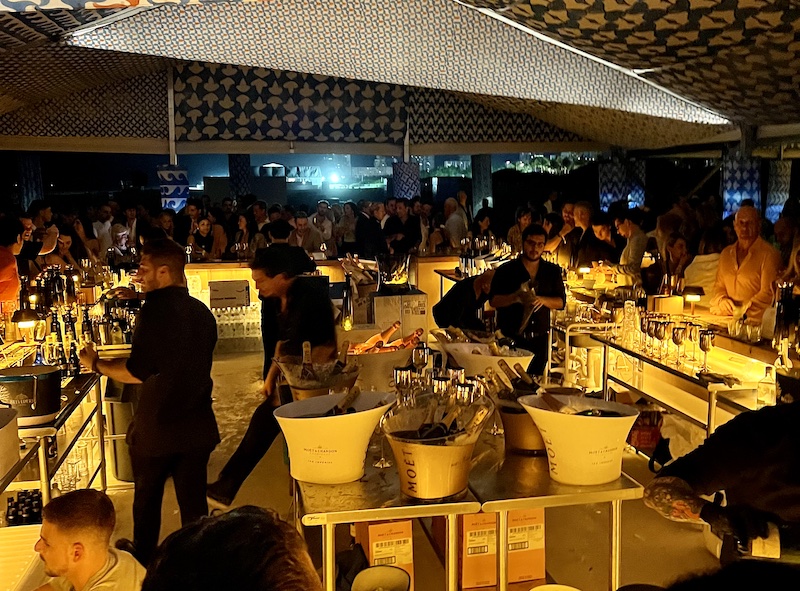 I wore my sunglasses at night to an intimate dinner for 300 at Maćakizi's pop-up beach club sponsored by Dom Pérignon where I was seated beside fellow open bar aficionado and Happy Hour author Marlowe Granados, who complained how all the steak in Miami is overcooked. Granados preferred hers rare, and while she never once bit her tongue between the caviar mango tartlet and white truffle risotto, I finally found someone who might have preferred the taste of biting their own lip.
DECEMBER 1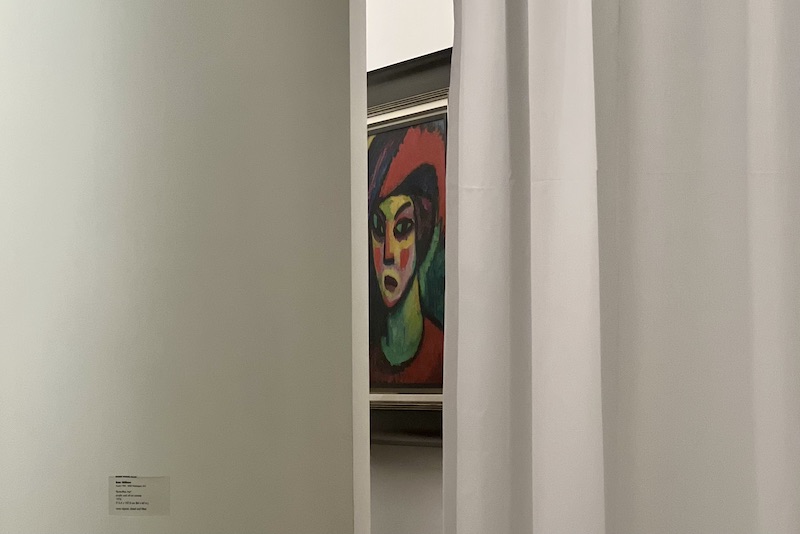 I finally made it inside Art Basel.
DECEMBER 2
On my way to the airport, I stopped off in the Design District to see one last art show, an annual collaborative exhibition hosted by megadealers Jeffrey Deitch and Larry Gagosian. This year's show, "100 Years," explored how fast time passes us by and how we measure its passage. Paintings were dedicated to libraries, obituaries, and napkin folding, and ready-made sculptures included a decommissioned, motorized roulette wheel, and a toilet clogged with fruit.
There was also a gift shop, a pop-up shop in a pop-up gallery spanning the length of a pop-up art fair, conceived by the Swiss artist Urs Fisher. The store was furnished with racks of recycled vintage tee shirts featuring one-off designs of disparate objects like ties woven with chains, and playing cards bisecting lemons. The shop made sense right away, but the images didn't, not until I googled them. They all depicted NFTs Fisher released last year. No wonder it felt like a fire sale.
The fever of the fair was still in the air when I touched down in Denver, Colorado on Friday night. While Art Basel may be local to Miami (and Basel, and Hong Kong, and now Paris) the art community isn't the only one that gathers in the name of conspicuous consumption on the first week of December each year. Once you know the signs of the virus, it's easy enough to spot it taking hold in your own backyard.
For the past fifteen years, Stranahan's distillery has released Snowflake, its most coveted experimental whiskey, to an audience of die hard fans who sleep outside overnight in below freezing temperatures to buy up to two bottles at $120 each, (one to drink, and another to resell,) tote bags included.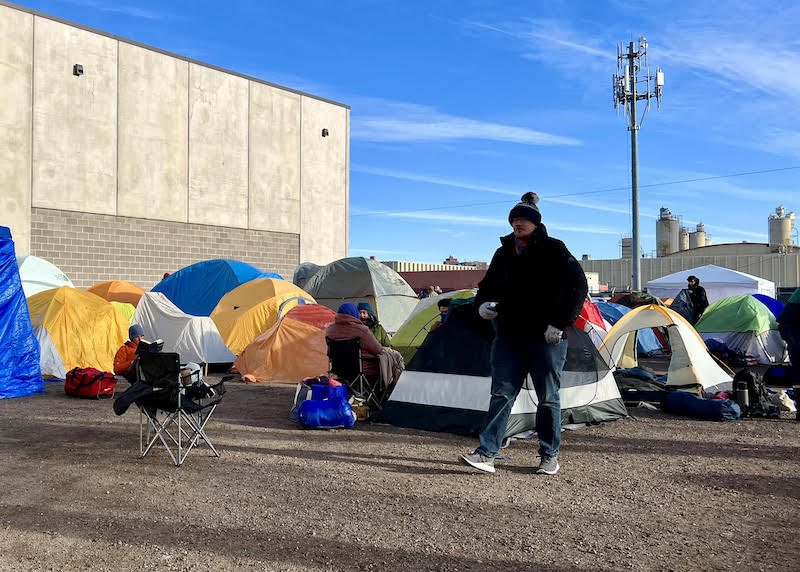 Over the years, the Snowflake campsite has only grown from the distillery's parking lot. There's no chalk art, no crystal decanters, no Sadelle's x Harry Winston pop-up serving up diamonds and lox, no NFTs–but only because their NFTs, in collaboration with the artist Ralph Steadman and Flying Dog Brewery, sold out last month. (That they came with signed prints, beer, and some very old whiskey in a tote bag may have helped.)
There was no Zak the Baker, and no Cardi B, but the Basted Egg served breakfast sandwiches all night long, heated tents poured spiked coffee and punch, and a line-up of local country bands played through breakfast, while wristbands kept track of the campers and the VIPs, who attracted as many eyeballs and whispers as the real reason everyone was in Denver and Miami: To feel part of the culture and maybe take home a piece of it too. Because if no one's buying and selling, then there's no spectacle to gather around, and we may as well be eating alone together beneath our Facebook headsets unsure what we're thirsting for, but knowing we're never going to get it from Mark Zuckerberg.
The Snowflake release party lasted a little over 24 hours. By the time the last person had stepped inside to scrape the bottom of the barrel–the bottles sold out in under three hours–the food trucks had already pulled away, the security guards had been discharged, the tents and grills were packed up and vanished from the pavement without a trace.