It's 4:30 p.m., and I've just spent the past four hours meandering about the Seattle Art Museum, quietly taking in the substantial collection of art. After doom-scrolling Twitter all morning, I decided to visit the museum on a whim. Even though I don't often visit museums, I needed to look at something that wasn't a screen and spent the afternoon acting like I'm the intellectual lead in a Sofia Coppola film.
Somewhere between the impressive collections of Native American and ancient Mediterranean art, I started musing about all the fantastic art museums in the U.S. I'd yet to visit. Nearly every major city in the country has an art museum — though some shine undeniably brighter than others. The best art museums in the country have permanent collections with art as old as ancient Egypt and as new as the present day and aren't afraid to open their doors to an ever-changing kaleidoscope of exhibits. From prominent institutions overlooking Central Park to the largest art museum on the West Coast, here are America's best art museums.
Art Institute of Chicago – Chicago, Ill.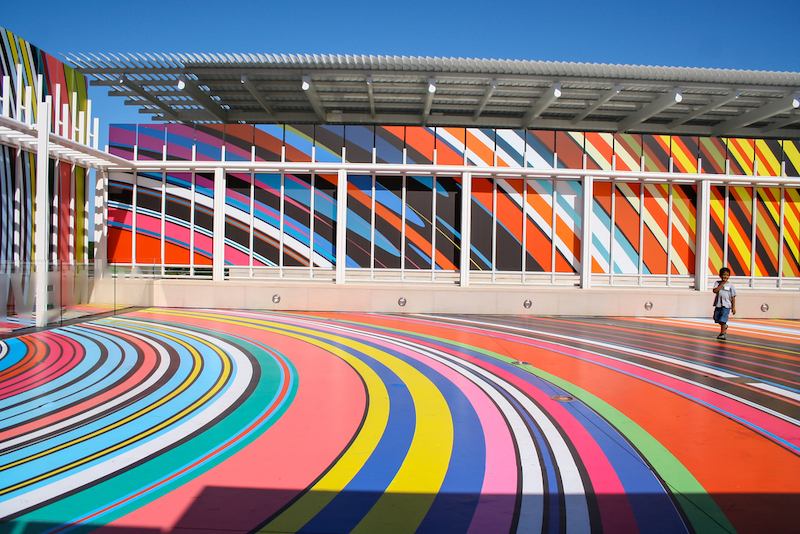 If you're a fan of John Hughes, you've probably seen the Art Institute of Chicago in his 1986 film "Ferris Bueller's Day Off." In one of the film's most famous scenes, Cameron (played by Alan Ruck) stares intensely at "A Sunday Afternoon on the Island of La Grande Jatte" by George Seurat as the camera zooms in closer on his face, then the painting, and then his befuddled face again. The infamous canvas is still part of the Art Institute of Chicago's permanent collection, along with over 300,000 other objects from across the planet. The Beaux Arts-style building overlooks Millennium Park in downtown Chicago — flanked by two bronze lions at the entrance — and remains one of the world's largest and most historic art collections. The building was constructed in 1893 for the World's Columbian Exposition and permanently exhibits well-known works like "Nighthawks" by Edward Hopper and Grant Wood's "American Gothic" (the picture of an old lady and old man with a pitchfork), among countless others.
The Broad – Los Angeles, Calif.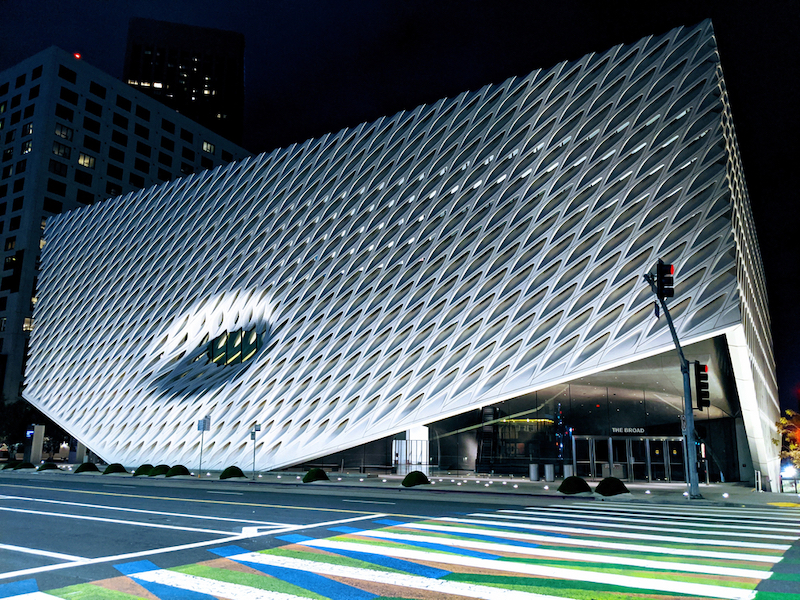 It's called The Broad, rhymes with "road" or "toad," and has one of America's finest art collections. As the newest contemporary art museum in Los Angeles, The Broad displays more than 2,000 pieces of art by over 200 artists dating from the 1950s until the present day. The assemblage was formerly the private collection of philanthropists Eli and Edythe Broad and is housed in a stunning "veil and vault" building designed by Diller Scofidio + Renfro in collaboration with Gensler. The honeycomb-esque design of the veil allows daylight to shine through into the three-story building. The Broad hang works by Jean-Michel Basquiat, Andy Warhol, Roy Lichtenstein and Kara Walker, among others. General admission is free, so save money for dinner at Otium — the fine-dining restaurant next door serving snacks like naan topped with Ōra King salmon rillette.
Cleveland Museum of Art – Cleveland, Ohio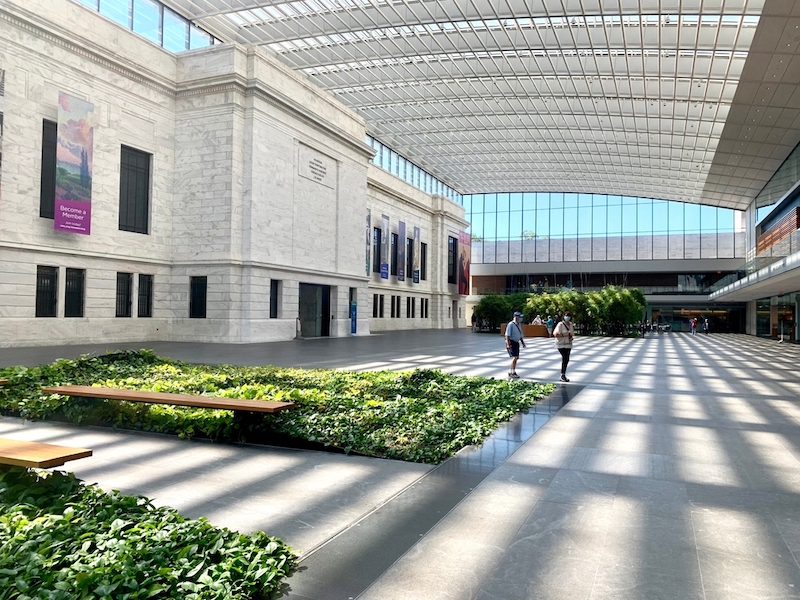 Situated in the historic Wade Park District, the Cleveland Museum of Art was established in 1913 and has become one of America's most visited art museums. There's no admission fee here, so you can explore the massive 592,000-square-foot complex without any pressure to get through it all in a day — which is good, because there is a lot to see. The museum currently has over 61,000 pieces of art spread across 16 chronically organized departments, beginning in ancient Greece. Presently, "Tales of the City: Drawing in the Netherlands from Bosch to Bruegel" is on display through January 8, 2023, and is exhibiting rarely viewed drawings from the famed Albertina Museum in Vienna. Contemporary artists like Salvador Dalí and Max Ernst have art here, but the Cleveland Museum of Art is most known for its renowned collection of Asian and Egyptian artifacts, along with an array of medieval art.
Detroit Institute of Arts – Detroit, Mich.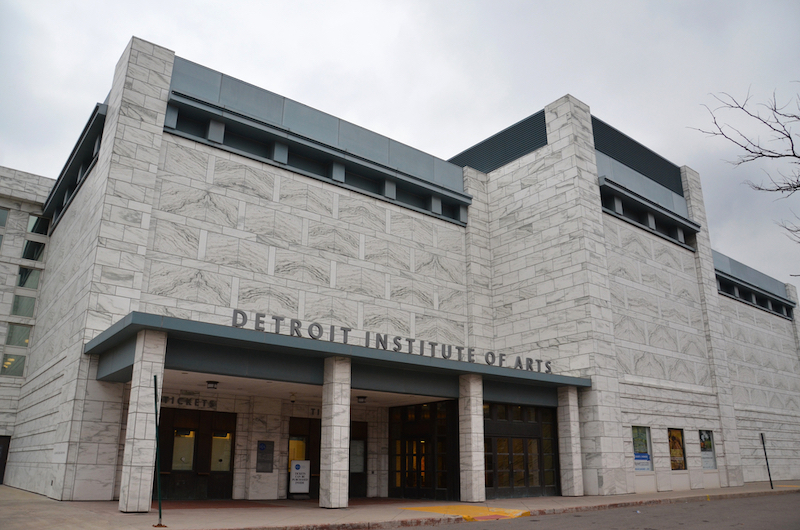 Housed in a Beaux Arts building designed by Paul Philippe Cret, the Detroit Institute of Arts is spread across 658,000 square feet and has over 100 galleries, making it one of the largest art museums in America. The Motor City mecca has earned the nickname "Temple of Art," because of its staggering number of works, which include Islamic art, performing arts, European sculpture and decorative arts. You can see "Self Portrait" by Vincent Van Gogh and Diego Rivera's Detroit Industry frescoes. The Detroit Institute of Arts also has a sizable amount of African American and Native American art as part of the museum's permanent collection.
Kimbell Art Museum – Fort Worth, Texas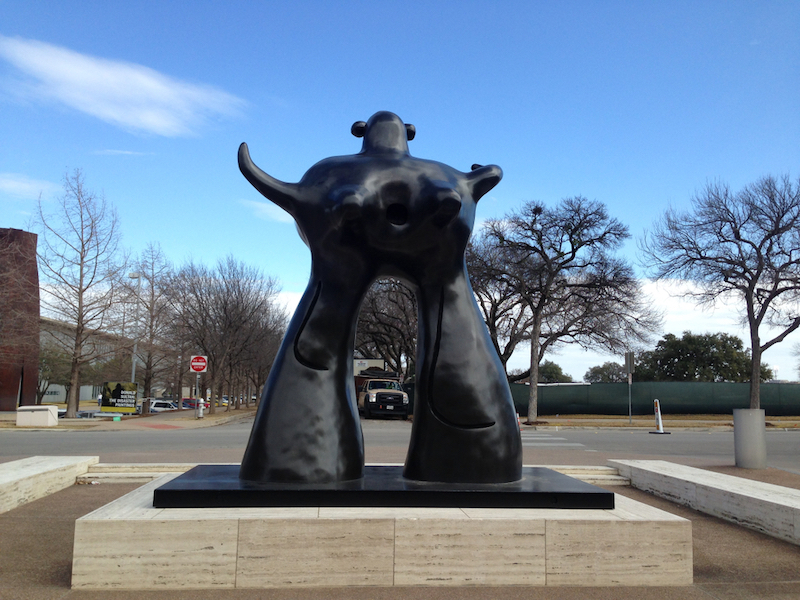 The exhibits at the Kimbell Art Museum are spectacular, but you're here to marvel at the masterpiece of the building itself. Built primarily with white oak, travertine and concrete, the museum, designed by Louis I. Kahn, is all about subtly utilizing natural light to illuminate the more than 350 pieces of art at the museum. The artworks initially came from the private collection of Kay and Velma Kimbell, but the collection has consistently expanded. Most recently the Fort Worth museum acquired Aristide Maillol's "The Mountain (La Montagne)," a bronze vessel from China's Shang Dynasty (1600-1050 B.C.) and a 16th-century statue made of alabaster named "Virgin and Child" from Atelier of Saint-Léger in Troyes, France.
Los Angeles County Museum of Art – Los Angeles, Calif.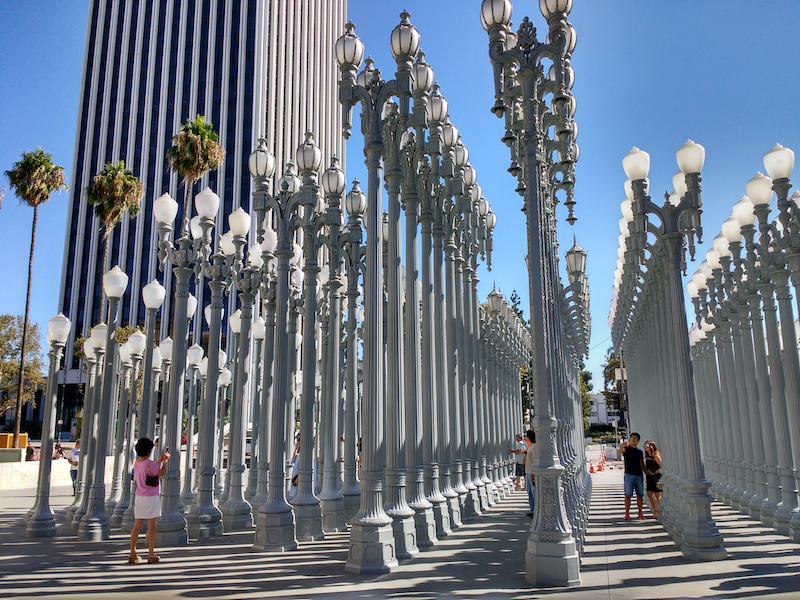 Oft referred to as the LACMA, the Los Angeles County Museum of Art is the largest art museum on the West Coast and arguably one of the most famous in the country. Located on Museum Row adjacent to the La Brea Tar Pits, the museum opened in 1965 and is spread across several buildings on 20 acres of land. You'll need more than a day to tackle the more than 150,000 works of art from nearly every era of history. Each of the buildings holds a different collection, though if you're pressed for time, we recommend at least checking out the modern, Korean, Japanese and Mexican art exhibitions. If you're as fascinated with the love story of Diego Rivera and Frida Kahlo as we are, take in Diego Rivera's "Portrait of Frida Kahlo" while you're there. Other classic artists like Henri Matisse and René Magritte have notable works here, as well as Ai Weiwei's contemporary work "Circle of Animals/Zodiac Heads."
The Metropolitan Museum of Art – New York, N.Y.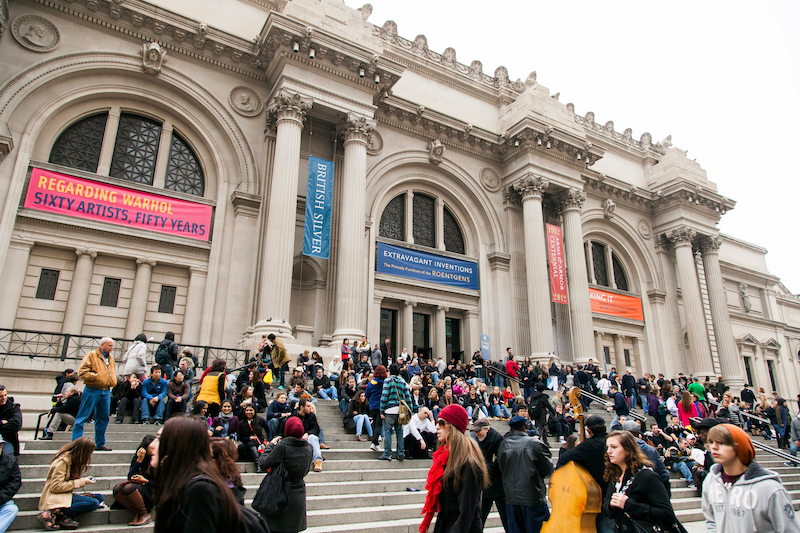 With over two million artifacts spread across 17 curatorial departments, The Metropolitan Museum of Art is the largest art museum in America and one of the largest on the planet. Located in a Beaux Arts building on Manhattan's Upper East Side, the Met — as it's often called — first opened in 1870 and sees more than seven million visitors annually. If you're an art enthusiast, we recommend splitting your visit across two days, so you have ample time to absorb the ether and extensive amount of American, Byzantine, medieval, Islamic and ancient Egyptian art. Don't forget to head to The Cloisters –—a smaller collection of the Met's medieval European artifacts in Washington Heights.
The Menil Collection – Houston, Texas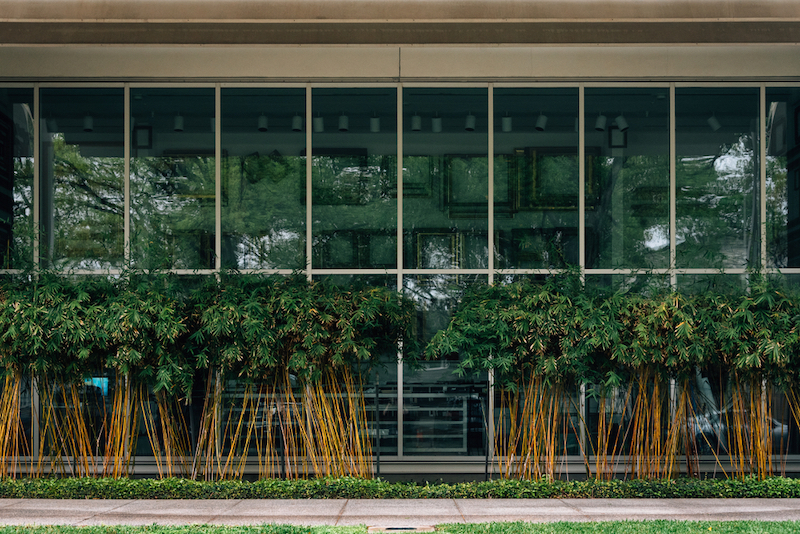 The Menil Collection is small compared to some of the museums on this list, but punches above its square footage. The 30-acre campus in Houston was designed by Renzo Piano and opened in 1987 as the private collection of philanthropists John and Dominique de Menil. Visitors can view over 17,000 pieces, including antiquities like tribal, medieval and Byzantine-era works. The Menil Collection also includes an impressive number of Surrealist paintings from artists like René Magritte and Man Ray, along with abstract pieces from Jackson Pollock and the 1959 "Untitled Blue Monochrome" by Yves Klein, painted in his famed International Klein Blue. Aside from the main building, four satellite galleries house the artwork, including a Cy Twombly gallery and the Rothko Chapel, the latter of which serves as a non-denominational chapel and gallery of 14 black Mark Rothko paintings.
Smithsonian American Art Museum – Washington, D.C.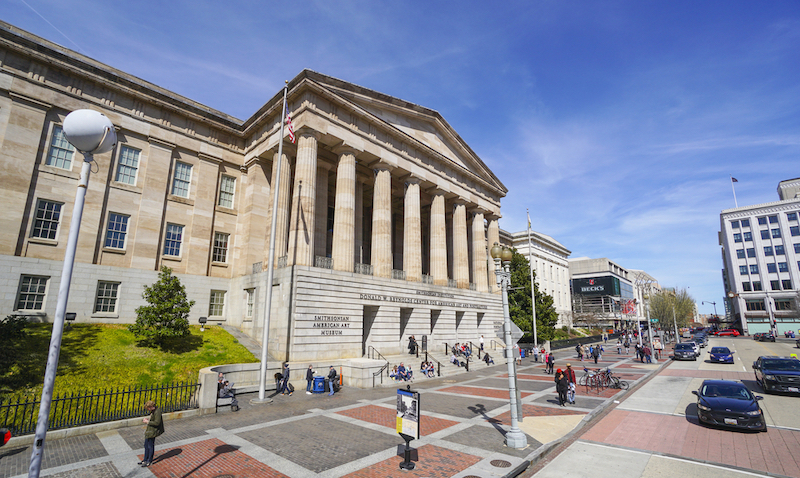 Formerly known as the National Museum of American Art, the Smithsonian American Art Museum holds the most extensive and inclusive collection of American art on the planet spanning from the colonial era until today. As with most museums in Washington, D.C., there is no admission fee to visit, so you can take a couple days (at least) to luxuriate in the art. The complex includes the Lunder Conservation Center, the Old Patent Model Museum, the Luce Foundation Center for American Art and the Renwick Gallery, which exhibits craft-focused collections. Some of the museum's highlights include one of the country's most significant collections of African American art, Gilded Age pieces, a massive collection of New Deal art and American Impressionist paintings and an ever-expanding collection of Latinx art.
Whitney Museum of American Art – New York, N.Y.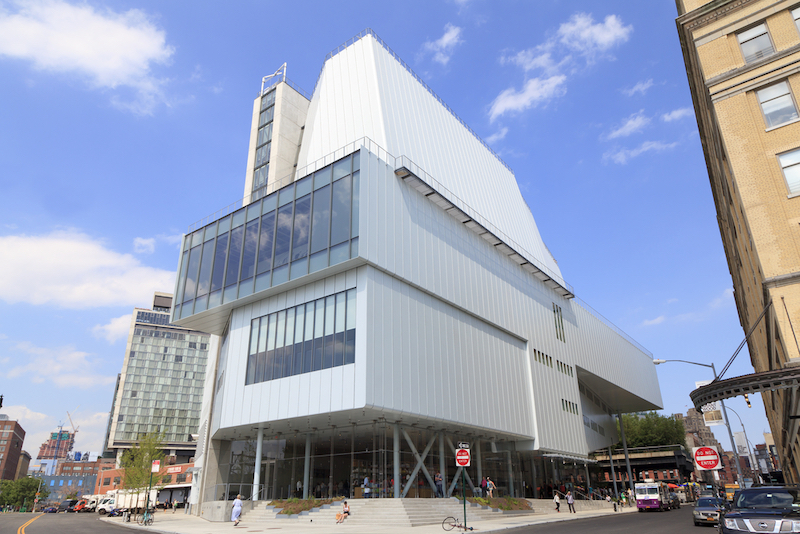 Founded in 1930 by Gertrude Vanderbilt Whitney, the Whitney Museum of Art is one of our favorite museums to check out in New York City. What started as a studio in Greenwich Village eventually moved and has since settled into a futuristic building designed by Renzo Piano in the Meatpacking District. The American art museum is home to 50,000 square feet of galleries holding over 25,000 works, primarily from the 20th and 21st centuries. Contemporary works by artists like Jasper Johns, Richard Avedon, Jean-Michel Basquiat, Chuck Close and Willem de Kooning are just the tip of the iceberg here. A steady stream of exhibitions like "At the Dawn of a New Age: Early Twentieth-Century American Modernism," on display through February 26, 2023, and "Edward Hopper's New York," currently on display through March 5, 2023, make the Whitney an American museum to beat.