If the American eating experience were a solar system, then diners would be the sun, a central star that we are bound to via gravity and the promise of cheesy omelettes and root beer floats. Cropping up in the late 1800s and proliferating throughout the industrialization of the 20th century, diners are as American as a slice of cheese on apple pie and inseparable from its culinary landscape. Today, they remain a vestige of what eating was like for blue-collar workers and American families before ye olde fast-food restaurants rocked our world with buckets of fried chicken and celebrity-endorsed meal deals.
If you grew up in America or have lived here long enough, you likely have memories of time spent at diners that overshadow the food itself. I remember late nights at diners with my friends, unabashedly laughing and eating pancakes, trying to make the night last forever. Thankfully, America is still chock-full of these stalwart establishments whose histories run deeper than the many early mornings and late nights we have spent in them. Below, we survey that history as well as some of the very best of these short-order heavens, with their sizzling griddles, steaming carafes of black coffee and heaping slices of pie. If you find yourself near one, stop by and order some hash browns, bacon and eggs. It may seem simple, but you'll be participating in a great American tradition.
Al's Breakfast – Minneapolis, Minn.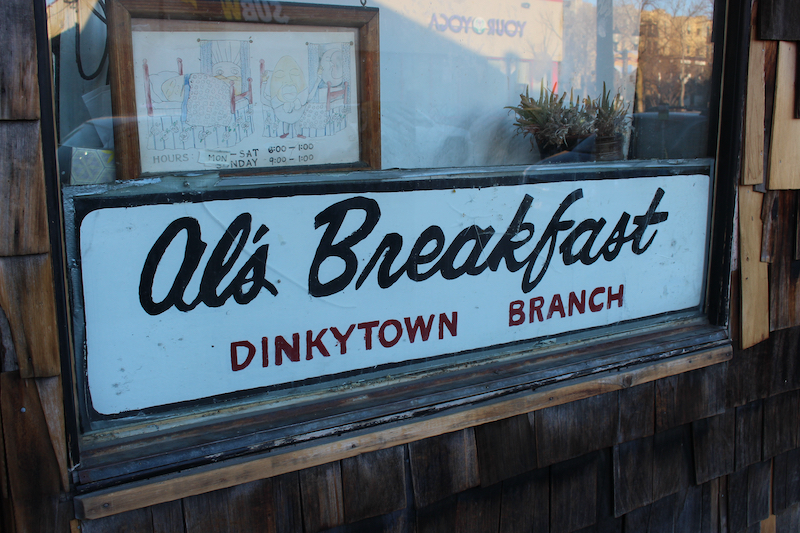 While old-school diners tend to have smaller spaces, Al's Breakfast takes tight dining quarters to a new level. Founded in 1950 by namesake Al Bergstrom, the restaurant is the narrowest in Minneapolis, reaching just 10 feet wide. There are no tables or booths to be found at the Dinkytown eatery; instead, just 14 stools sit at the counter with coat hooks on the wall behind each seat. That said, the staff has the seating down to a science: as soon as one diner finishes their food, the rest are moved down the counter to make room for new guests, and eaters must move several times throughout a meal. It's a most delicious game of musical chairs. You're here to eat a stack of massively delicious pancakes filled with ingredients like fresh blackberries and walnuts, chocolate chips or even sweet corn kernels in buttermilk and whole wheat batters. The time-honored traditions, substantial whole wheat pancakes, enthusiastic team and paraphernalia, like signs that read "A Stool For Every Ass Since 1950," are part of the charm that led the eatery to win a James Beard "America's Classic Restaurants" award back in 2004.
Blue Benn – Bennington, Vt.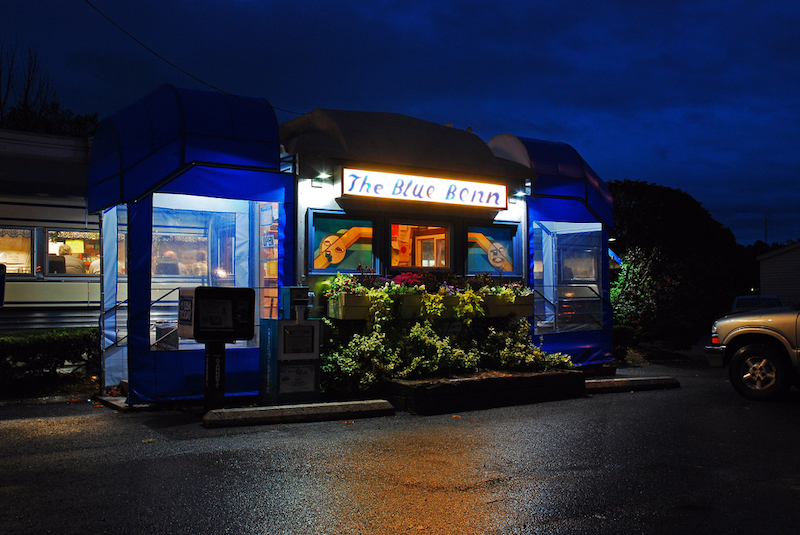 The Blue Benn is a dreamy sapphire relic that first opened in Southeast Vermont back in 1948. Back then, most diners were made in a factory and shipped around the country like mobile homes are today. This barrel-roofed dining car was one such diner, and rating a meal within the stainless steel walls feels like a time warp. The lazuline-blue-tiled counter with matching stools and the vintage sky blue booths with wall-mounted jukeboxes will make you feel as if The Beatles might release a new single any day now. While you're bopping to the music, make sure to try Matheson's Creation — pancakes packed with chocolate chips and raspberries covered with real Vermont maple syrup. If you're more of a savory breakfast lover, try one of their signature omelettes — there are 20 — filled with ingredients like corned beef, Swiss cheese and sauerkraut or apple and cheddar.
Brent's Drugs – Jackson, Miss.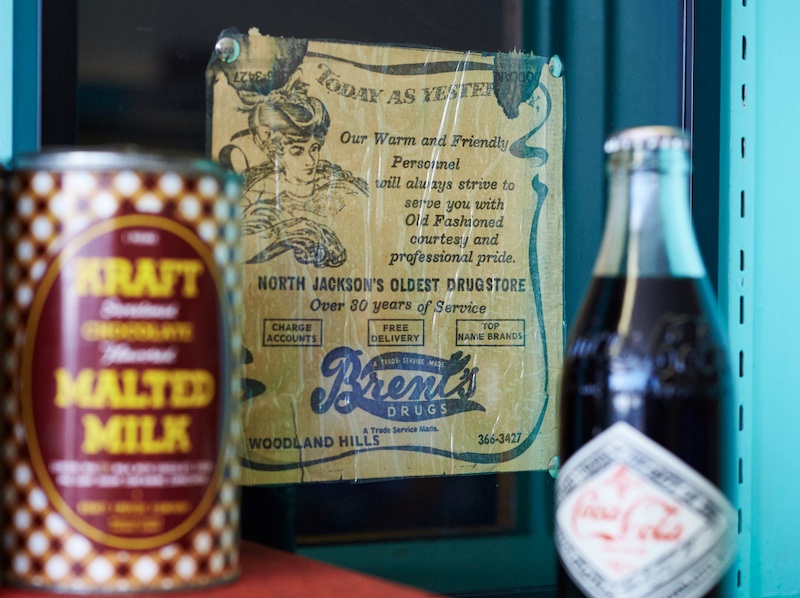 Situated in Mississippi's capital city Jackson, Brent's Drugs harkens back to a time when soda fountains and drug stores went hand in hand. Pharmacist Alvin Brent opened Brent's Drugs in October 1946 as a pharmacy and soda fountain before it became a great place to grab a tuna melt. While you can no longer pick up your prescription at Brent's Drugs, the cursive-lettered neon sign still lights up the streets of the Fondren neighborhood, beckoning locals and tourists to slide into a teal-hued booth for a fresh-squeezed limeade. Inside, the diner has its original soda fountain counter dotted with pastel stools as well as warm wood furnishings throughout. Hungry tourists hoping to take a bite of a piece of Jackson history should order favorites like Brent's Biscuit Sandwich with a Ginger Finger, made with Butterfinger, ginger syrup and vanilla ice cream. When you're in the mood for something boozy, stop by The Apothecary at Brent's Drugs, the diner's speakeasy-esque cocktail bar that comes alive in the evening.
Franks Diner – Kenosha, Wis.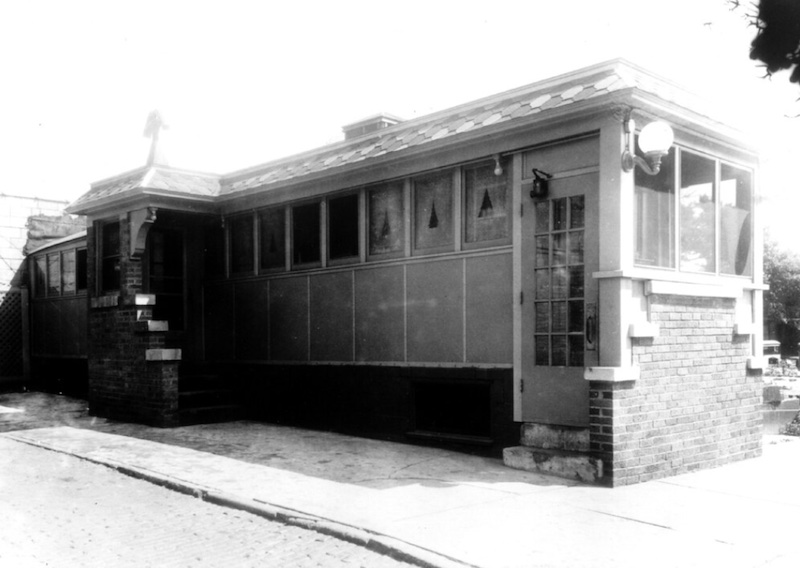 Anthony Franks opened Franks Diner in 1926, and the restaurant remained family owned for an impressive 75 years until 2001. This is yet another prefabricated diner, and the story goes that, once unloaded from the railcar, six horses pulled the restaurant to its current location near the banks of Lake Michigan. Ninety-six years later, Franks Diner can now accommodate a whopping 55 patrons at once — a miracle in diner space — and is one of the oldest continuously operating lunch cars in the country. Franks Diner has also hosted celebrities like Bela Lugosi, Duke Ellington and The Three Stooges, who we can only assume came to try a famed "Garbage Plate" full of eggs, hash browns, green peppers, onions, meat and cheese. One man's trash is truly another man's treasure.
La Bonbonniere – New York, N.Y.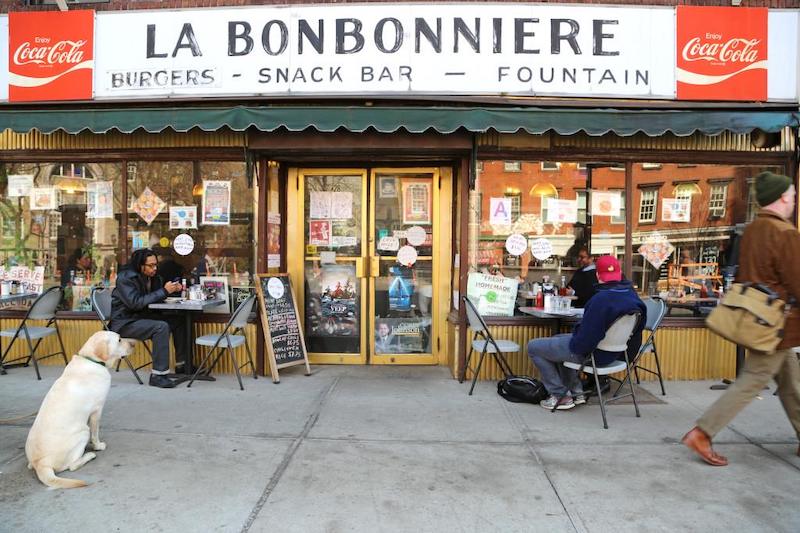 Dining at New York City's La Bonbonniere is summed up perfectly in their Instagram bio, which states, "Unpretentious normalcy is the whole point." The lack of bells and whistles at the cash-only West Village mainstay is what makes it so darn loveable. While other diners in New York may be more well-known, true New Yorkers come to this quintessential greasy spoon for its no-frills, substantial dishes that, in true diner fashion, can satiate almost any craving. Hungry for mozzarella sticks with a bowl of chili? They can do that. Have an appetite for a hefty omelette and a milkshake? La Bonbonniere has got you. They do some of their best work, however, with their thick-cut "famous" real challah French toast with a side of sausage links. The Formica-countered institution first opened its doors in the 1930s and wears its decades on its walls with vintage photos, posters, magazine cutouts and other bits of nostalgia. Celebrities like late kings James Gandolfini and Philip Seymour-Hoffman used to dine at La Bonbonniere, and the diner has recently had a starring role in the series "The Marvelous Ms. Maisel" as "The City Spoon."
Lou Mitchell's – Chicago, Ill.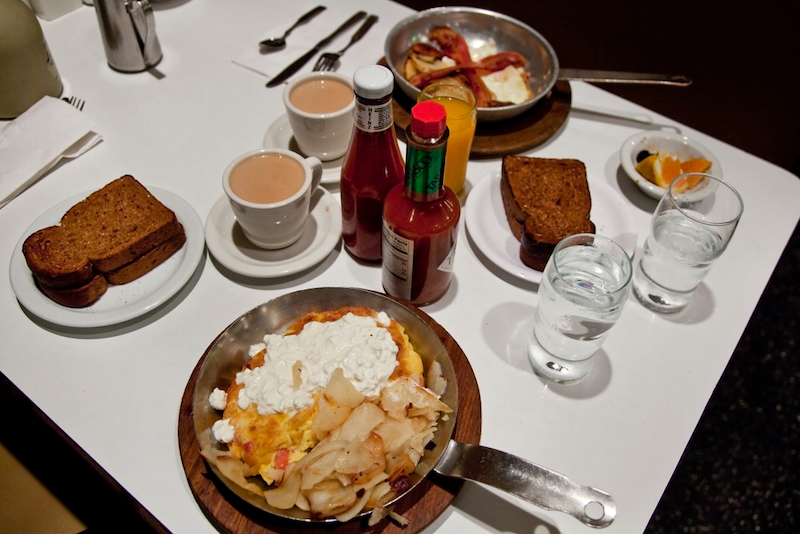 Lou Mitchell's, also known as "the first stop on the Mother Road," opened its doors in 1923 right near the start of Route 66. The diner and famed road have since become nearly inextricable, so much so that, in 2002, Lou Mitchell's was inducted into the Route 66 Hall of Fame, four years before the diner made the National Register of Historic Places. The Chicago institution has been owned by five generations of founder William Mitchell's Greek family since opening. Today, the tradition of passing out freshly baked donut holes and boxes of Milk Duds to women and children (sorry, men) as they enter the restaurant remains, as it's Greek tradition to offer visitors sweets as they enter a home. Lou Mitchell's was also the first diner to serve breakfast all day in the Windy City. Its menu is full of dishes like Belgium malted pecan and bacon waffles and warm slices of bread with house-made marmalade.
Miss Worcester Diner – Worcester, Mass.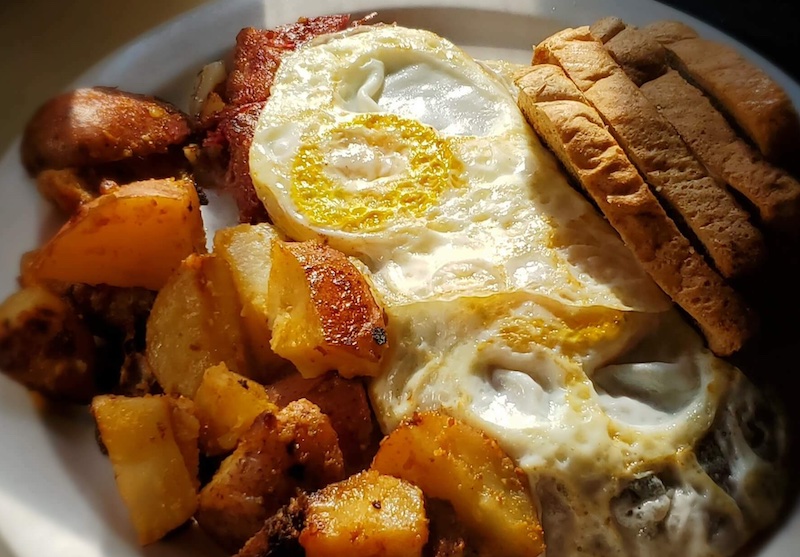 Affectionately referred to as Miss Who by locals, Miss Worcester Diner is a dining car that started its life as a show model for the Worcester Lunch Car Co. back in the 1940s. Today, the diner sits across the street from the now-defunct factory that manufactured it and so many dining cars like it. Guests can squeeze into one of 14 stools spread along the marble countertop or sit at one of the five red booths and take in the historic walls covered with Red Sox paraphernalia, old photographs and stickers from Massachusetts institutions. Eaters are spoiled for choice here, but, when in doubt, order their remarkable stuffed French toasts with fillings that include s'mores, peaches and cream and chocolate cream pie. If you're more of a savory food lover, opt for the Italian omelette, filled with Italian sausage, provolone and tomatoes, topped with red sauce.
Palace Diner – Biddeford, Maine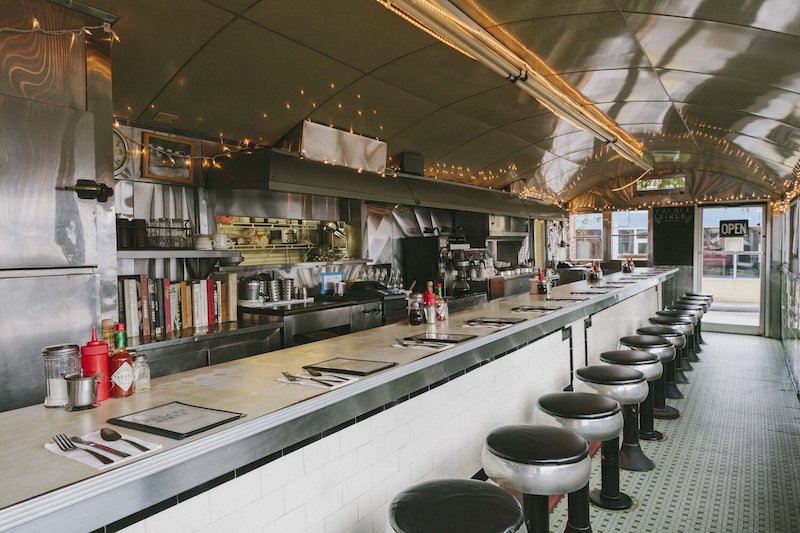 This diner is old, the oldest in the state, in fact. In case the steel walls, tiny size and rounded roof didn't give it away, the outside of the Palace Diner has a large, canary yellow proclamation that reads "Ladies Invited" — a relic from a very different era. The Palace Diner opened in 1927, when working-class men primarily patronized dining cars. Though ladies now come and go without event, little has changed here. The Palace Diner still has its original steel backsplash and floor tiles from 95 years ago. Just like the dining car, the menu is small, but full of classics like orned beef hash, made with grass-fed, brined and braised Maine beef and served with two eggs and toast. There are some modern additions, like caramelized grapefruit sprinkled with sugar that has been brûléed to a honeyed crisp. Some parting wisdom — plastic isn't accepted at the cash-only spot, so make sure to prepare accordingly, lest ye leave without a slice of brown butter banana bread.
Rae's Restaurant – Santa Monica, Calif.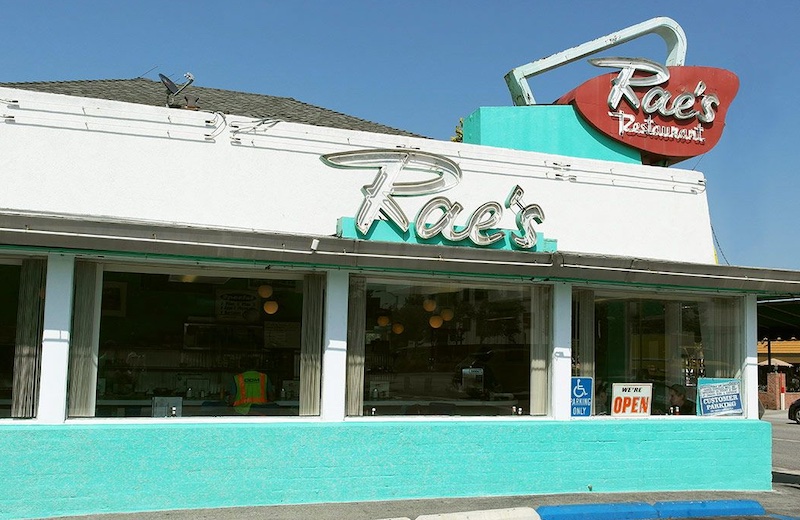 If you were asked to imagine a '50's-era diner, there's a solid chance that the image you would conjure is Rae's. The diner is small, yet grabs the eye as you head down Pico Boulevard in Santa Monica, thanks to its turquoise and white exterior and distinctive, midcentury neon sign. Inside, the booths are small and the swivel stools a little worn. This being L.A., Rae's has served as a filming location for many films — "Not Another Teen Movie," "True Romance," "Starsky & Hutch," among others — which probably explains the lines to get in on the weekends. You're not here for the food — it's as straightforward and unpretentious as it could be — but rather a taste of L.A. Still, we won't turn down a chili omelette with a chocolate milkshake on the side (only Tum's can judge me now). Little-known fact: There's no Rae behind Rae's. When the Shipman family opened it in 1958, they formed the word "Raes" from letters taken from names of various family members.
Summit Diner – Summit, N.J.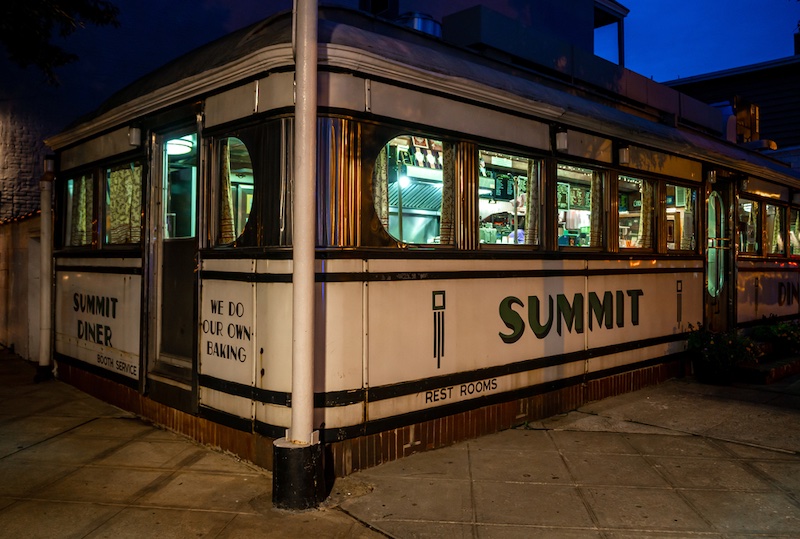 Summit Diner is one of the most beloved in New Jersey, and that's saying something — New Jersey is the Diner Capital of the World. The legendary eatery has been family owned and operated since its inception in the late 1920s. The family moved the diner into an Art Deco-style dining car from the Jerry O'Mahony Diner Co. in 1938 that it still operates from today, serving time-honored, traditional recipes that have changed little since opening. With its bright neon signs, padded booths and open grill set up across the counter, the Summit Diner has established itself as the quintessential destination for breakfast aficionados who want their history with a side of eggs. Rumor has it that Ernest Hemingway used to dine here, likely on their famed Taylor ham, egg and cheese sandwich. We're partial to the crab cake Benedict, built on a toasty english muffin and topped with two perfectly poached eggs and a healthy ladle of hollandaise sauce — with crispy hashbrowns on the side, of course.
Town Topic Hamburgers – Kansas City, Mo.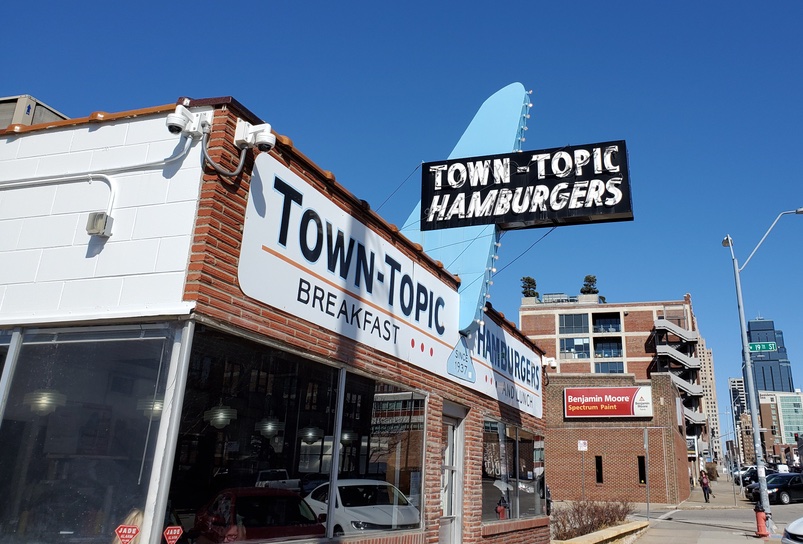 Like so many diners in America, Town Topic Hamburgers knows that the secret to excellent diner food is serving it in a cozy space 24 hours a day. The little white diner opened in 1937 and remains a historic destination for Kansas City locals and tourists alike. When founder Claude Sparks initially set up shop in the Crossroads Arts District, he sold his infamous hamburgers for just a nickel each. While the cost of the burgers may have gone up, they're still cooked with a two-ounce beef patty and expertly griddled onions on a steamed bun, though the addition of melty American cheese and a patty or two takes the burger to the next level. Other menu standouts beloved by locals include the famous chili (yes, it has beans), hand-breaded pork tenderloin sandwich and the sweet and tart lemon meringue pie.