Los Angeles is one of the most intriguing food meccas in the U.S. As the second-largest metro in the country, the City of Angels covers an area of 502 square miles, extending for 44 miles north-south and for 29 miles east-west — almost four times the size of Rhode Island. It's no wonder you can easily find more than 100 ethnic cuisines here, along with a vibrant food truck scene and, of course, mega high-profile chefs. It's where you can eat badass chicken tikka at BADMAASH pit-smoked pastrami on a bagel sandwich at Yeastie Boys, matcha green tea soufflé pancakes at CiCi's Cafe and drink micheladas at Casa Vega.
Many of Tinseltown's impressive and accessible hotels have stellar grub as well. So if you're visiting for business or pleasure, or are an L.A. local on a staycation, here's a list of some of the best L.A. Hotels for foodies.
Andaz West Hollywood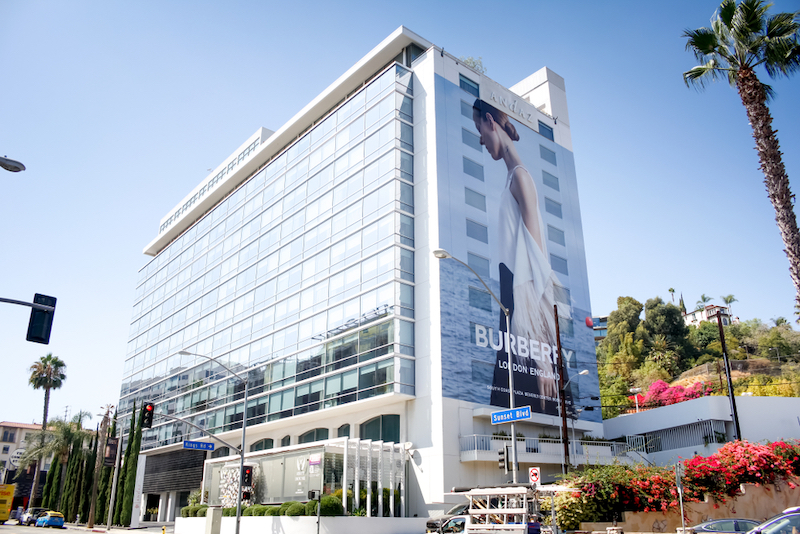 Andaz West Hollywood is Los Angeles' iconic rock 'n' roll hotel, located on the infamous Sunset Strip. Formerly known as the Riot House, the property — then called Continental Hyatt House and later the Hyatt on Sunset — served as the home of epic bands like Led Zeppelin, The Rolling Stones, The Who, Duran Duran and The Doors.
The hotel just revamped their Riot House restaurant in early 2022 and brought on executive chef Nick Hoznor. He returned to the Hyatt family after a stint at Hilton's Boardwalk restaurant in Huntington Beach. Among the many tasty culinary highlights on the menu: jidori chicken, sous vide New York strip steak made with preserved lemons and a romesco sauce and Wagyu burger.
If you're intent on leaving the hotel for a bite, the Andaz has great go-tos in the neighborhood. "Two of my favorite restaurants nearby are Soulmate and La Boheme — they both have character and great food," says hotel marketing director Terrance Frederick.
8401 Sunset Blvd., West Hollywood (323) 656-1234
Downtown L.A. Proper Hotel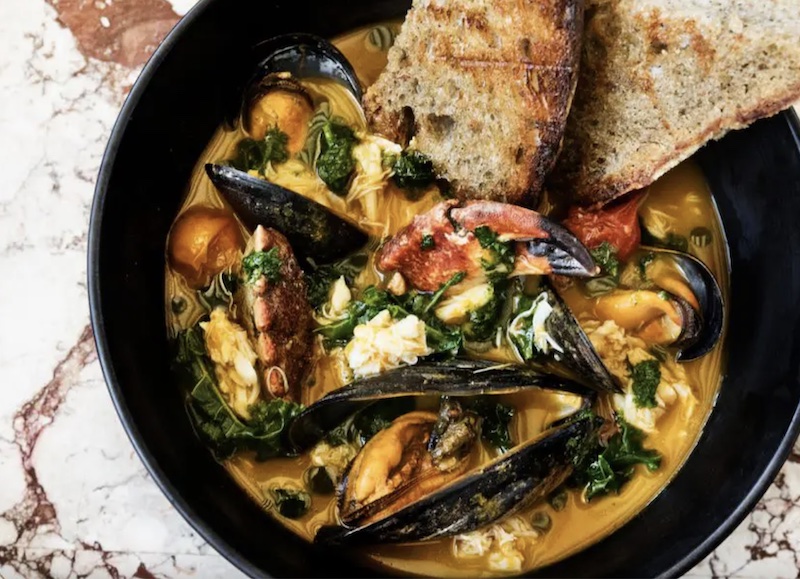 Downtown L.A. Proper Hotel just opened last year and is situated in the South Park District of DTLA, an enclave of sleek residential towers and hotels near L.A. Live, Little Tokyo and the Arts District. (Check out Santee Alley for a day of outdoor shopping if you're in the area.)
The executive chef of the restaurants for Downtown L.A. Proper
Caldo Verde is the hotel's signature restaurant and bar, which is coupled with the rooftop restaurant and lounge, Cara Cara. Both restaurants are led by executive chef Suzanne Goin, who uses tons of vegetables for dishes like their vegan antipasto, Cobb salad, sunchokes with sherry aioli, Brussels sprouts with chorizo and sofrito, maitake mushrooms with polenta, rapini and sieved egg. 
"We are deeply rooted in the culture of Los Angeles. We buy local and seek out the best seafood from Santa Barbara and Baja while giving it our own European touch," says Goin.
1100 S. Broadway, Los Angeles (213) 806-1010
Dream Hollywood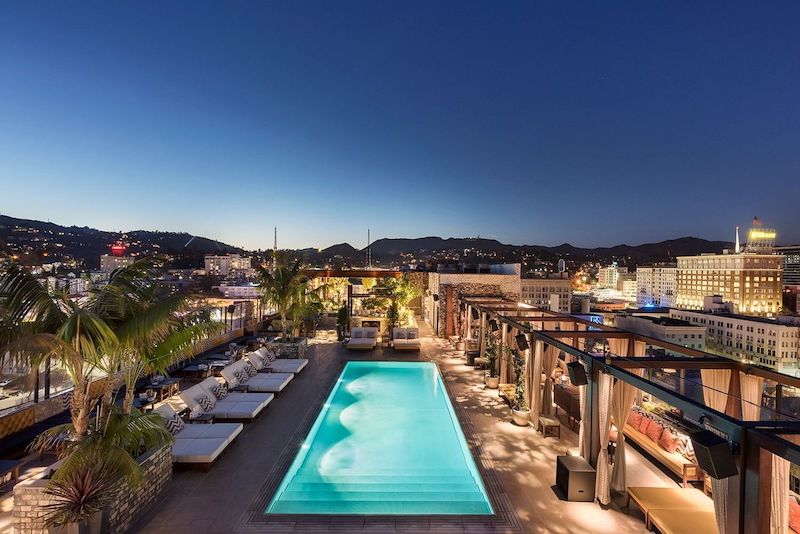 Food aside for just a moment, if you're at the Dream Hollywood, you're in part here to take in the views at Highlight Room, the hotel's rooftop restaurant. Take our word for it, the 360 views of L.A. — from the Hollywood sign and the Hills to Downtown — are superb.
Because it's such a secluded hideaway, tucked beyond the pool, chef Wing Ho describes Highlight as a "hidden gem." You can head to the rooftop restaurant without passing through the lobby by entering from an alley that the hotel owns.
They are currently expanding their menu and now feature lots of fresh local ingredients. "Our chef teams are encouraged to run specials based on what's available in the market," Ho says. "Springtime is when you see different types of peas, spring onions and a variety of mushrooms."
6417 Selma Ave., Hollywood (323) 844-6417
The Hollywood Roosevelt Hotel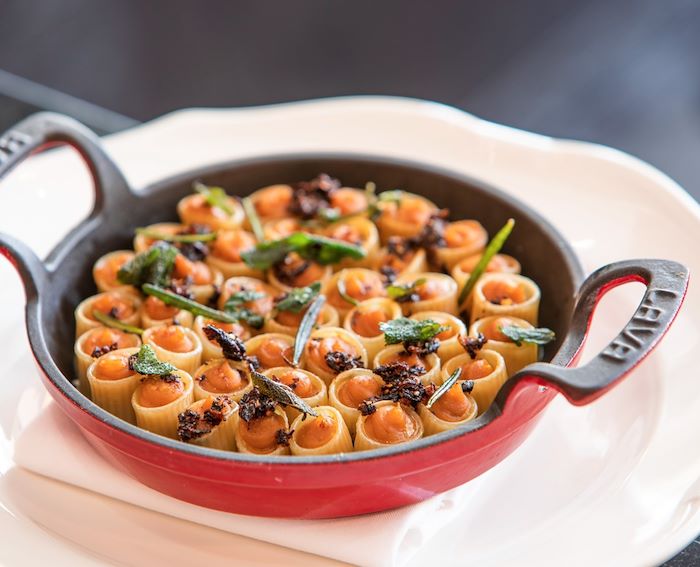 Standing in the lobby of The Roosevelt, you get a sense of what Hollywood was one like. The site of the first Academy Awards in 1929, the nuanced boutique hotel once played home to icons such as Marilyn Monroe and Clark Gable.
Nearly 100 years old, the hotel remains a landmark, showcasing a rotating display of art and Hollywood events, including the AFI Film Festival and celebrity tattoo artist Dr. Woo's secret studio. It has a variety of rooms ranging from retro poolside cabanas to stylish tower rooms with gorgeous views of the Hollywood Hills, and also has a heated outdoor swimming pool.
Recently, the hotel opened The Barish, chef/author Nancy Silverton's first new restaurant since 2013. This Italian venue features steaks dry-aged in house and fish and poultry grilled over a large wood fire alongside salads.
7000 Hollywood Blvd., Los Angeles (323) 856-1970
Hotel Figueroa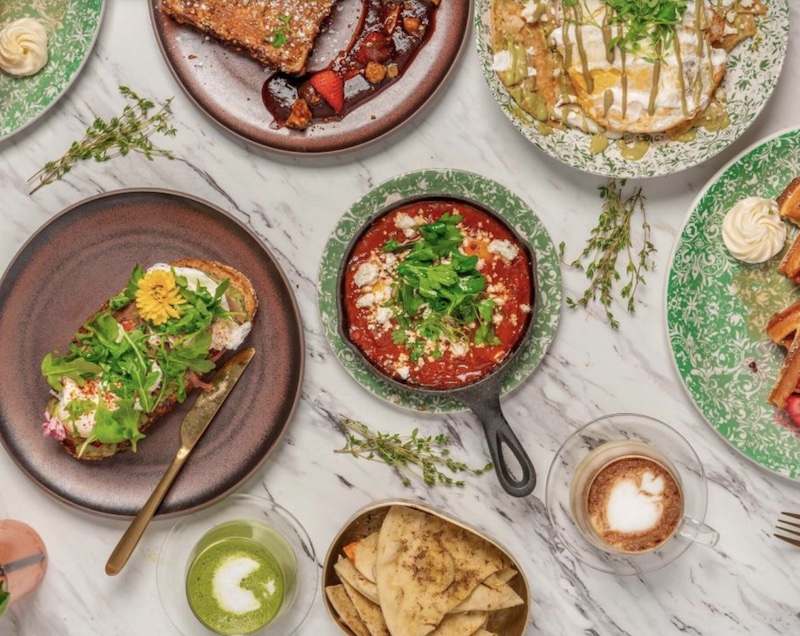 Hotel Figueroa is a classic Downtown L.A. venue that originally opened in 1926 by the YWCA as a safe haven for solo female travelers. The hotel's Cafe Fig opened last year and is now run by executive chef Jan Claudio. The menu is modern comfort Californian cuisine but includes Mediterranean, Southwest and continental influences, according to Claudio, and has an emphasis on fresh, healthy meals. Their new menu offers all-day shareables and breakfast items, as well as Cafe Fig favorites like lobster mac and cheese, braised short ribs and potato empanadas, classic buttermilk pancakes and a really special iteration of chicken and waffles.
Claudio also points out the Sweet and Treats section, including the house favorite guava and cheese pastelito, morning brioche bun, turkey bacon and gruyere quiche and chocolate bourbon pecan pie.
939 S. Figueroa St., Los Angeles (213) 627-8971
Mama Shelter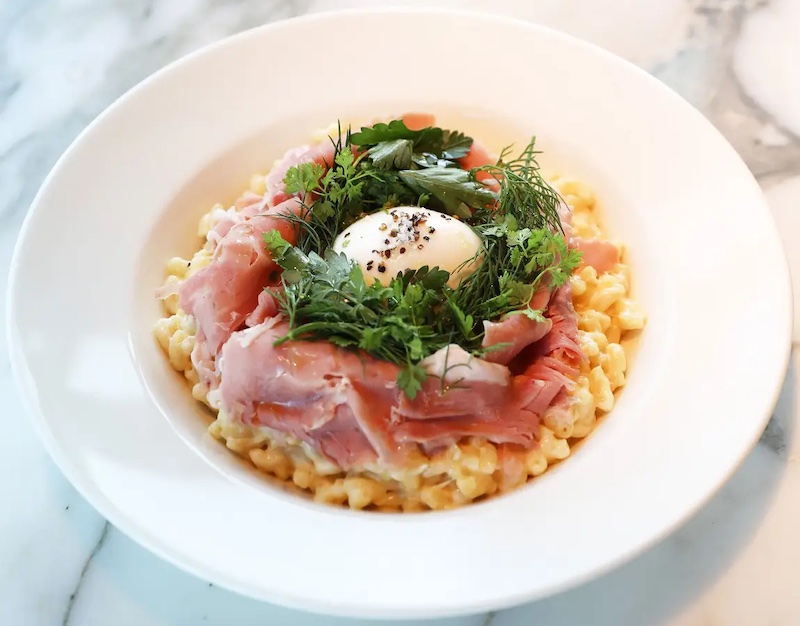 Mama Shelter LA is right in the heart of the newest hottest neighborhood in Hollywood, which is known as the Vinyl District. (Architectural Digest recently described the area as a "hub of design and culinary creativity.") The boutique is also just a few blocks from the Wiltern Theater and minutes away from the Hollywood Bowl.
The food they do is like their new menu on the rooftop: eclectic, seasonal and a balance between classic dishes and unusual combinations. The spring menu will feature Southeast Asian flavors on proteins like a grilled half chicken. "Think tamarind, mint, lemongrass, galangal and a bit of heat," says Andrew Jay, the hotel's GM. The hotel is keeping some of the items that guests love, such as Mama's Famous Royale Burger (Impossible version, too) for 23 dollars, with the option to add Boujee Fries for 4. Their Lobby Bar has started a 1-dollar Oyster Happy Hour on Wednesdays, 4-6 p.m.
"Hollywood is a party, but it has become more sophisticated, more representative of our local L.A. neighborhoods, and our service spirit provides this type of energized balance," says Jay.
6500 Selma Ave., Los Angeles (323) 785-6600
The Shay Hotel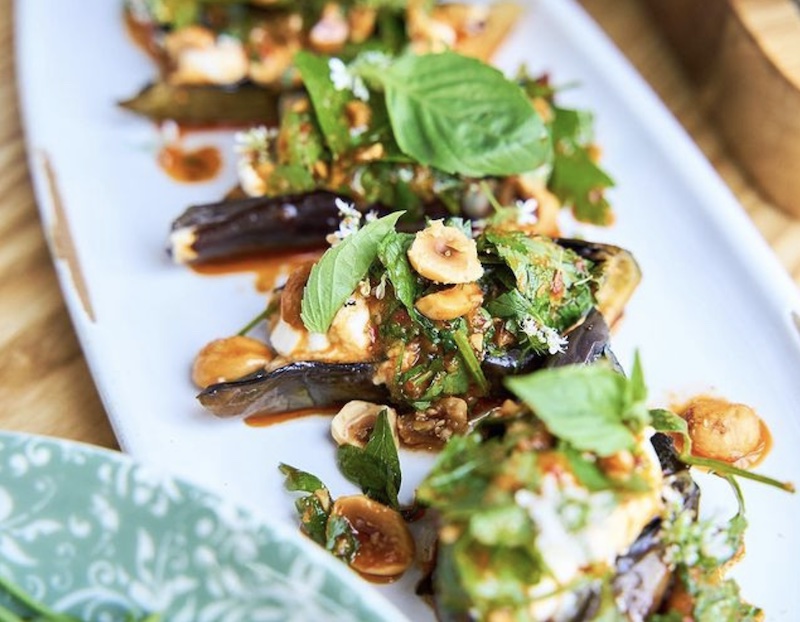 The newly opened and laid-back Shay Hotel in Culver City has two standout dining options from Michelin-starred chef Danny Grant's What If Syndicate group, plus a lobby bar.
Etta, a wood-fired eatery with indoor-outdoor seating on the ground floor, is the dining main event. etta's chef de cuisine Joanne Bae partners with local farms and local breweries and uses quality ingredients as a foundation for the menus. "As spring is here, guests can expect updated cocktails and dishes featuring seasonal-driven inspirations such as asparagus, pea tendrils, snap peas, green garlic and new pastas," Bae says.
Light Mexican food, great cocktails and scenic views is the draw at Celestina, The Shay's rooftop pool bar.
8801 Washington Blvd., Culver City (424) 361-6700