If you're itching for an outdoorsy trip after a long winter inside…same here. It's natural to get out and explore when the first signs of spring start showing, and there's really no better place to plan your re-emergence into the world, after a winter of hibernation, than one of our country's beautiful national parks. While some parks are still closed in early spring, and others less than ideal to visit due to being too dangerous to tackle just yet, there ARE plenty of parks that will scratch your itch for fresh air and adventure.
Here are 11 of the best national parks to visit in April and May. Just make sure to check weather conditions — things can change quickly this time of year — and COVID restrictions (some parks now require reservations for entry) BEFORE you go.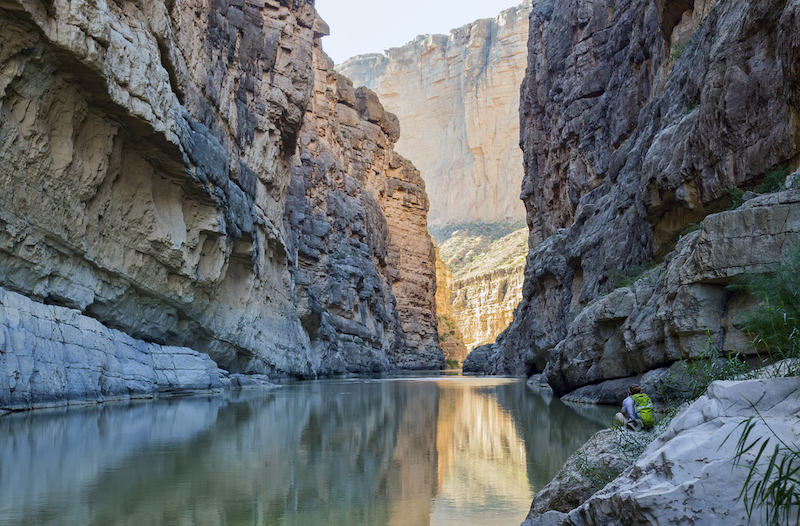 You'll want to avoid Big Bend in March — it's a hot spring break destination for Texas families, and campsite reservations are next to impossible to snag. But, if you save your trip until April or May, you'll be rewarded with fewer crowds and cactus blooms, which typically peak during these months. It's also a good time to check off some longer hikes in the low-elevation desert areas of the park before scorching summer temps creep in and make long days in the sun unbearable.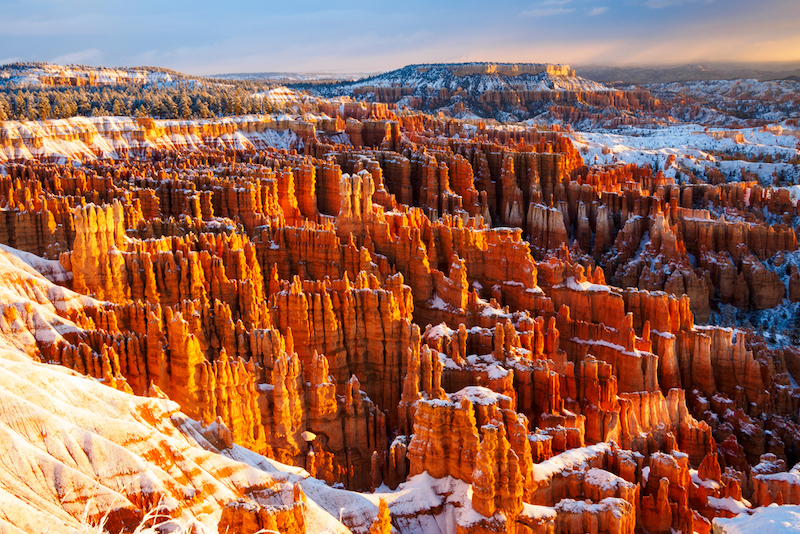 Come for the 50s and 60s daytime temps, stay for the beautiful views of towering orange-red rock formations topped with snow. Temps are usually mild this time of year, but unpredictable. The thing is, as long as you're prepared for possible snow, you don't have to let it stop you from enjoying your visit — just strap on some crampons or swap your hiking boots for snowshoes. A little extra equipment (and another layer of clothing) is a small price to pay to get the trails to yourself. Enter the lottery to join a ranger-led moonlight hike if you happen to be there when there's a full moon.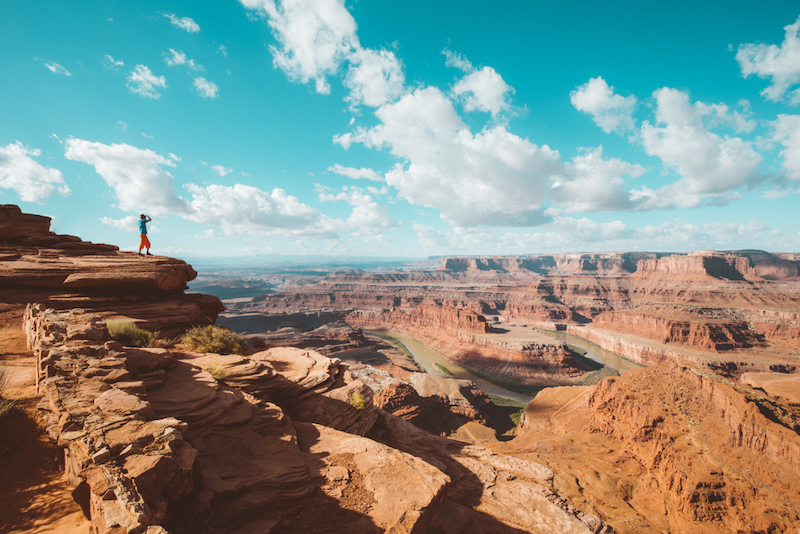 Canyonlands doesn't get as much hype as its neighbor Arches, but it's still very much worth a visit — especially when weather is mild in April and May. While hiking and rock climbing (for experienced climbers) are great ways to spend your visit, the biggest draw of the park is the off-roading. The 100-mile White Rim Road takes you from the top of the canyon all the way down to the river below. You can do part of the road if you just have one day, or take your time and camp overnight in the canyon so that you can cover the whole thing. Make sure the weather forecast looks clear and your vehicle can handle it — or rent a 4WD vehicle in nearby Moab that can handle the rocky terrain.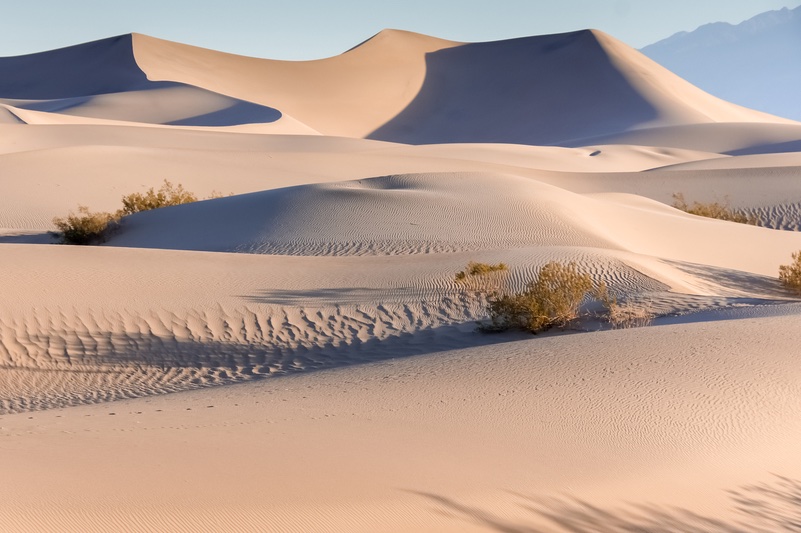 Spring is peak wildflower season in Death Valley. If conditions are perfect (read: regular rains throughout winter and early spring and minimal early spring wind), you can catch some pretty epic blooms in most elevations from April through May. Superblooms are rare, but you'll have the best shot of catching one if you go this time of year. Temps can start pushing 100 by May, so make sure to plan your days accordingly and be prepared with water and sunscreen. Probably best to save any long, strenuous day hikes for a winter visit.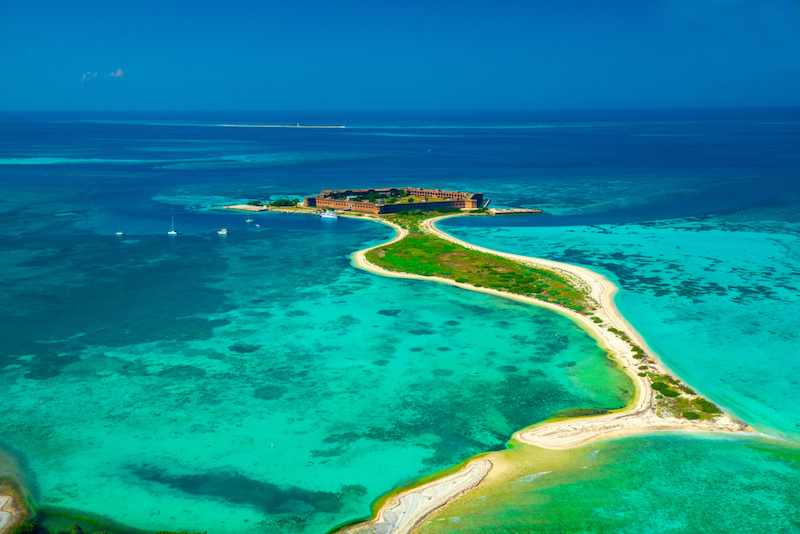 Wind and rough water is common in the wintertime in Dry Tortugas, an island 70 miles west of Key West. During the summer, the weather is usually ideal — except it's also hurricane season. April and May? The perfect transitional time in between the two seasons, where you can hopefully squeeze in a visit where crowds are still small and the weather is calm enough for good snorkeling and marine wildlife sightings. Just make sure to plan early: You can only access the park via seaplane, boat or ferry, or through a local tour operator.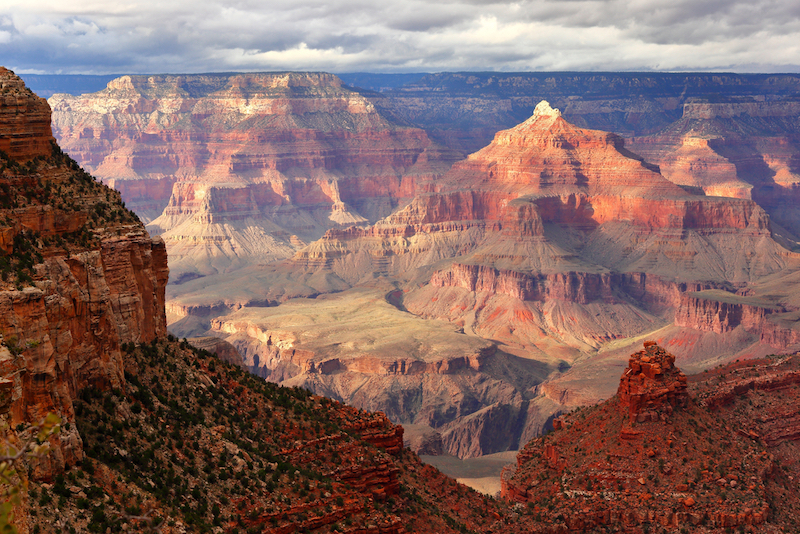 Weather in the Grand Canyon is all over the place, no matter what time of year you visit, thanks to the wide range of elevations. So while it's not entirely uncommon for there to be snow on the North Rim in April and May, temps are generally mild in the 50s and 60s, with the South Rim being a bit warmer. Down in the canyon, temps regularly reach the 80s and 90s by May. So yes, it's heating up, but still bearable enough to hike down to the river. (We don't recommend doing it in July or August unless oppressively hot desert hiking is your thing.) And crowds are generally much smaller in the springtime, so you'll beat the summer vacationers to the punch.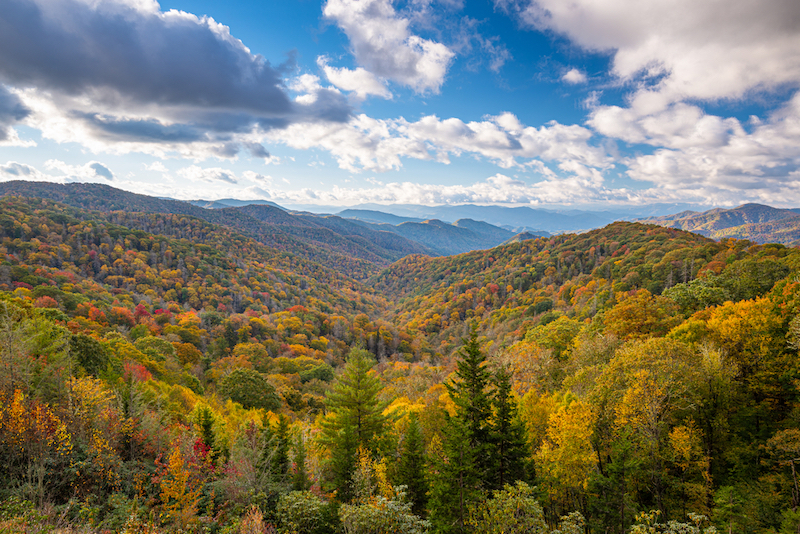 You know what they say, April showers bring May flowers. Spring in the Smokies can be rainy, but it's worth getting a little wet to enjoy ideal temps (perfect mid-70s days and cooler nights) and see plant life growing and blooming in all its springtime glory. It is the most-visited national park in the country, so it's almost impossible to avoid crowds any time of year. But that sweet spot after spring break ends and before summer sets in will be one of the better times to have space to yourself on the trails. It's also a great time to spot mama bears and their new cubs (from a very safe distance or vehicle, of course).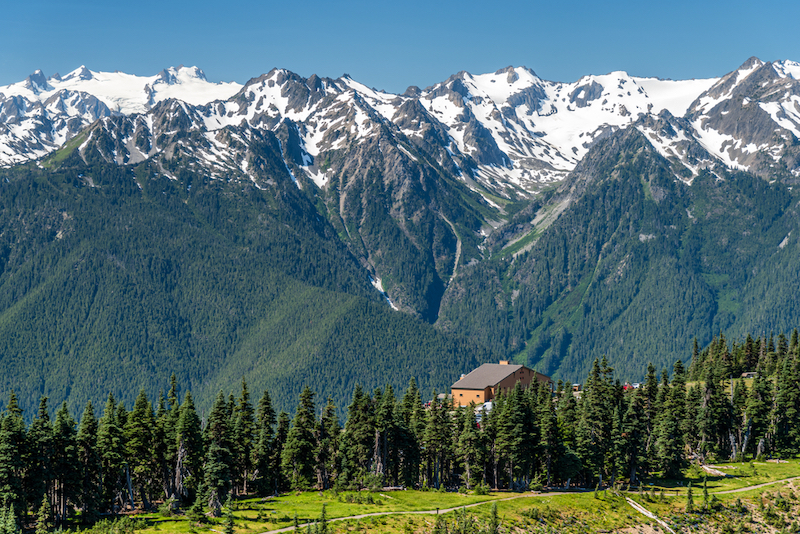 Now's the time to head to the coastal areas of the park, where you can spot whales during their seasonal migration from Baja California to Alaska. Make sure to check out the tidepools — full of colorful marine creatures like anemones and starfish — while you're there too. Early spring is also a perfect time for birdwatching: Plan your trip to coincide with the Olympic Peninsula BirdFest in mid-April. If you're more of a wildflower kind of person, you'll get to spot some of those too, as flowers begin blooming in lower elevation areas of the park.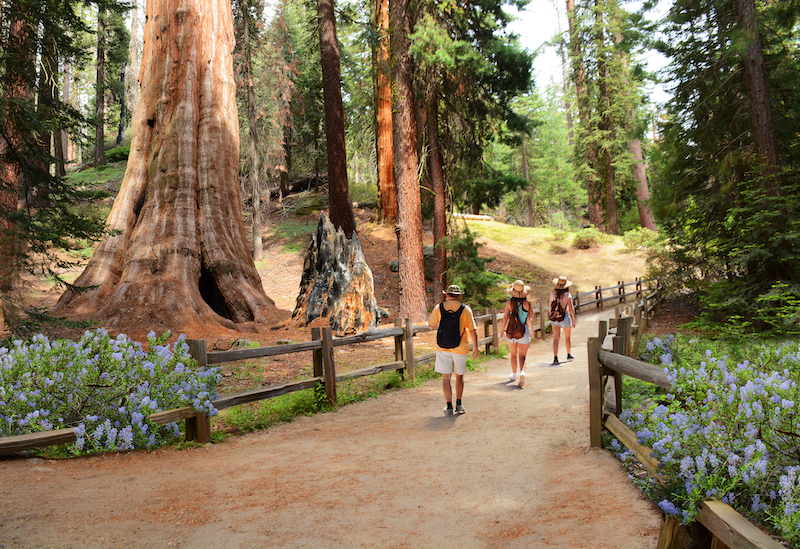 With an abundance of flower species, Sequoia and Kings Canyon are two must-visits in spring if you're looking to peep wildflowers. Due to the contrast in elevations throughout the park, there's a wide variety of blooms that pop up throughout the spring and summer. In April and May, hike in the Foothills and Cedar Grove areas for mild temps and views of incredible granite cliffs and snow-capped mountains. Most park roads reopen in May once the threat of snowstorms passes, though it's still possible to take some in late spring — which can make for some pretty incredible photos of flowers popping up through a dusting of powder.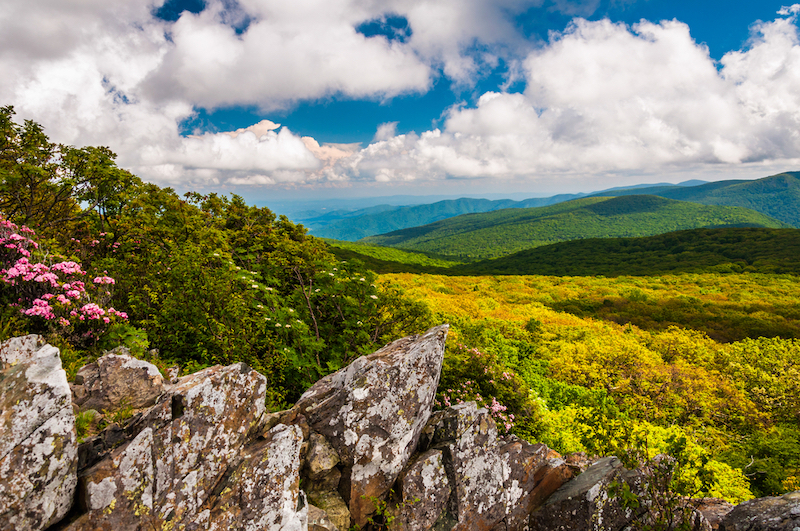 Similarly to its neighbor Great Smoky Mountain National Park, Shenandoah is a park that experiences a true four seasons. And spring is an ideal time for birdwatching, wildflowers and mild day hikes. Spend a day driving 105-mile Skyline Drive and stopping at scenic points to take in all the views of the park from top to bottom. Shenandoah is also one of the few National Parks that allows pets on many of its trails — just make sure to read and follow the regulations if you decide to bring your furry hiking buddy.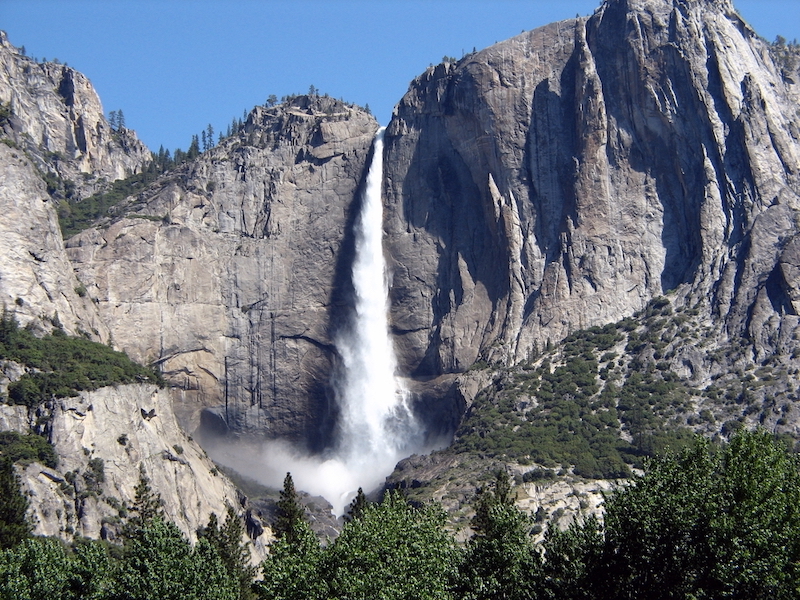 Welcome to waterfall season in Yosemite! As the temps are rising, snow in the mountains is melting, which means the waterfalls are flowing. Check Yosemite Falls and Bridalveil Falls, which is the one you'll see in all its glory as you're driving into Yosemite Valley. You'll also get to see tons of small waterfalls throughout the park, some of which only are visible this time of year. The parks's also generally less crowded in early spring, since there's still snow at high elevations. But you'll find plenty of hiking options in Yosemite Valley, Wawona and Hetch Hetchy areas of the park to keep you busy.