Crowds. They're the worst. And, newsflash, most National Parks draw the biggest crowds in the summer. We're going to recommend you buck the trend and explore America's most popular parks in the winter. With fewer people crowding hiking trails and scenic overlooks, you'll have a better experience (and go home with better photos). There's more: In many parks, winter is the best time to spot wildlife, thanks to the beautiful contrast of bright white snow. Plus, snow on the ground gives you new and different ways to get active — cross-country skiing, snowshoeing, snowmobiling — and get up close and personal with these beautiful, wild places. On the flip side, some warm-weather parks are simply better in winter because the temperatures are more mild (think: 50s and 60s instead of 100s or more).
Here are some of the best national parks to visit this winter to kick-start your trip planning. Just make sure to check weather conditions and COVID restrictions (some parks now require reservations for entry) BEFORE you go. Stay safe out there.
Big Bend National Park – Texas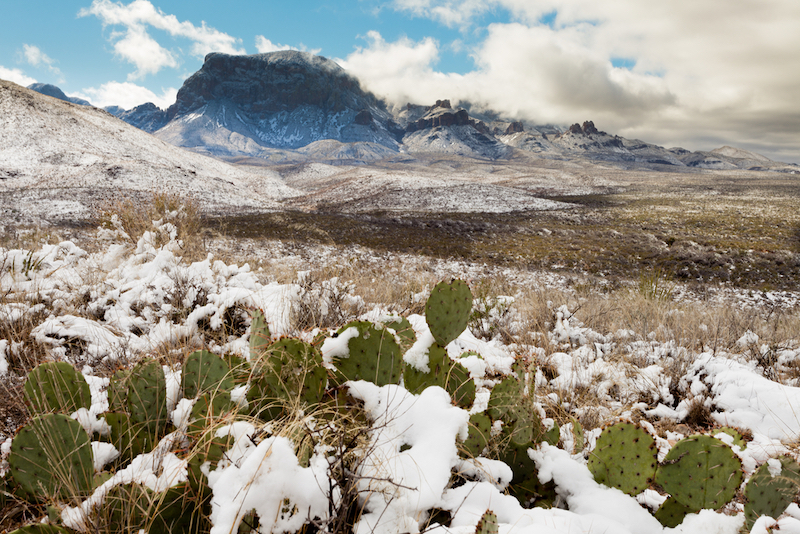 An already-remote Big Bend will feel essentially empty in the winter when fewer people are in vacation mode and heading to the park in the Southwest. Though Big Bend gets the occasional snowfall, the weather is typically mild and sunny all winter long. If you're looking to camp inside the park, you'll have your best shot: All the campgrounds are open throughout the winter months. Hike to the popular Windows Trail, which ends at the top of a cliff with rock formations that frame the desert below, or take a trip down the Rio Grande. Depending on what you're up for, you can go for a leisurely float or opt for rapids up to Class IV.
Cuyahoga Valley National Park – Ohio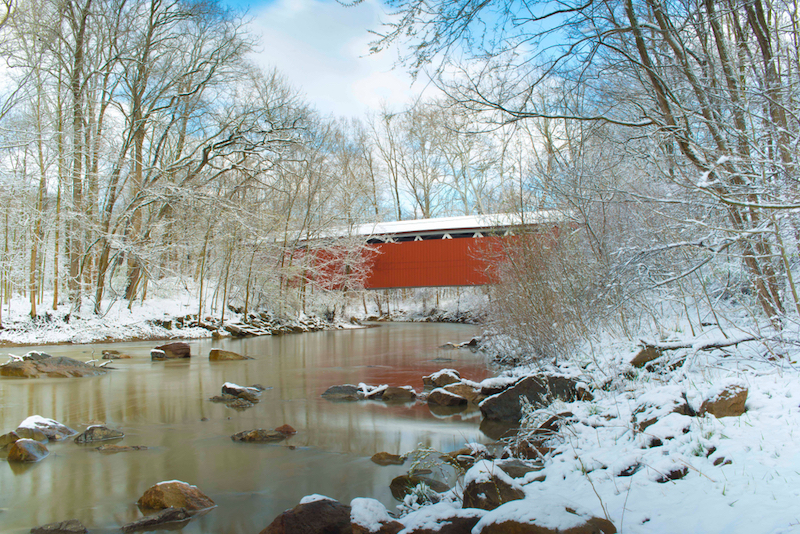 If you actually like the winter and aren't trying to run from it — or if you have kids who can't get enough of it — Cuyahoga Valley National Park is your spot. Over 125 miles of trails are open for hiking, snowshoeing and cross-country skiing. You'll also find some good sledding hills and ice fishing opportunities in the park's lakes and ponds. The park is also really easy to get to, and you don't have to book lodging months in advance like some of the more remote parks. If you need to escape from the cold, book a scenic train ride that takes you through the valley and along the Cuyahoga River. It's the best way to see the landscapes and wildlife without having to make sure you're properly bundled.
Death Valley National Park – California, Nevada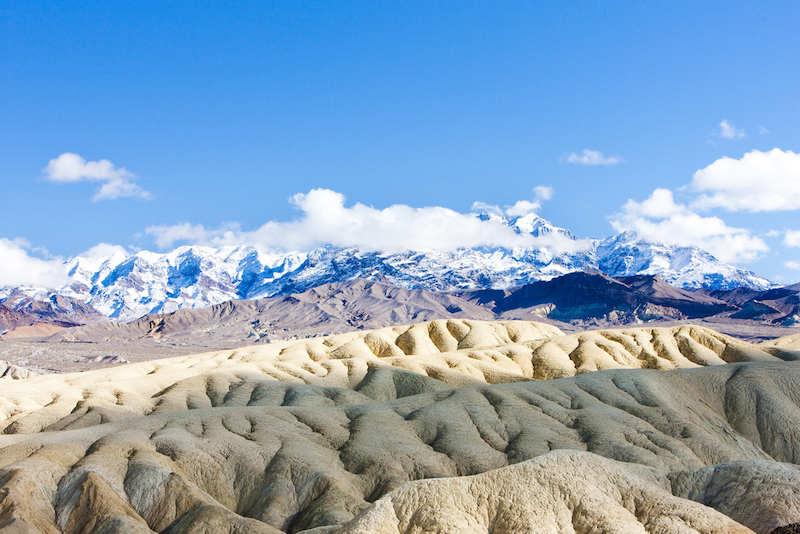 Unless you're a glutton for punishment, it just makes sense to visit the hottest place on Earth in the winter. Average daytime temps are in the 60s and 70s, with lows in the 30s and 40s. Rain is rare. Wildflowers start blooming in the lowest elevations in mid-February — because yes, somehow flowers have figured out a way to grow in the driest place in North America. If you're a golfer, The Furnace Creek Golf Course at Death Valley — the world's lowest elevation golf course — gives you a chance to get on the green when you can't at home.
Everglades National Park – Florida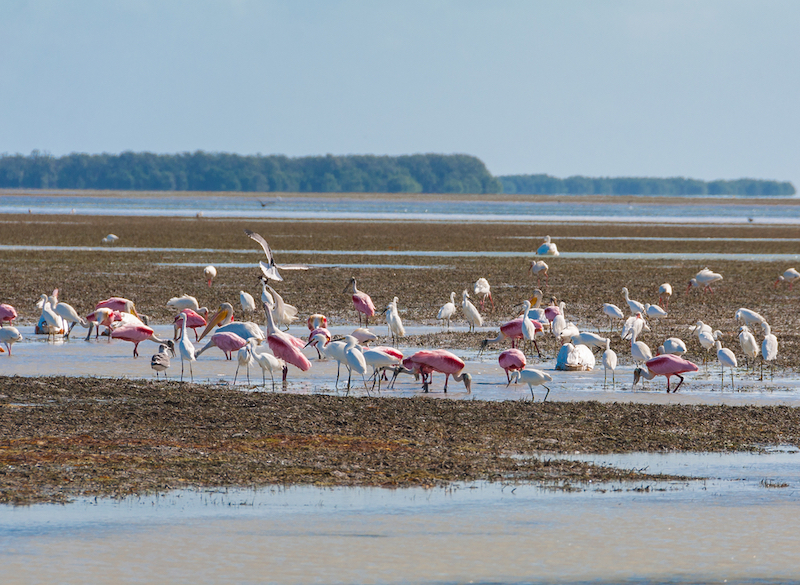 November through April is known as the "dry season" in the Everglades: Average temperature highs are in the 70s and the humidity (and mosquito activity) is low. This makes it a more enjoyable time to explore, and everything is wide open — no unplowed roads to worry about here. Bonus: The wildlife viewing is at its prime, and you'll catch lots of bird species on their vacation down south. Unlike colder parks, Everglades will be packed in the winter months, so prepare for crowds and book your hotel far in advance. Take advantage of all the ranger-led programs — think: paddling excursions to see flamingos, stargazing on the Gulf Coast and wading into wetlands.
Grand Teton National Park – Wyoming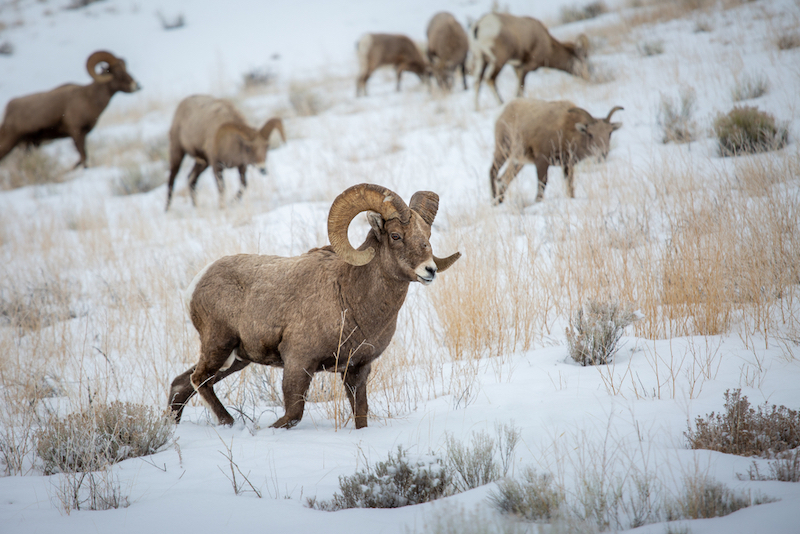 Yes, the Tetons get snow — lots of it — but unlike its neighbor Yellowstone, the main park roads in Grand Teton National Park are plowed all winter long. The smaller roads that are closed are open for cross-country skiing, snowshoeing and hiking, so there's no shortage of activities when there's snow on the ground. Book a dog sled, fat bike or snowmobile tour, which can take you to parts of the park that are otherwise inaccessible this time of year. Winter is also an excellent time to see (and photograph) wildlife. Potential sightings include bison, elk, moose, bald eagles, swans and, if you're really, really lucky, wolves. While you're there, hit up Jackson Hole for a few runs at the iconic ski mountain.
Haleakala National Park – Hawaii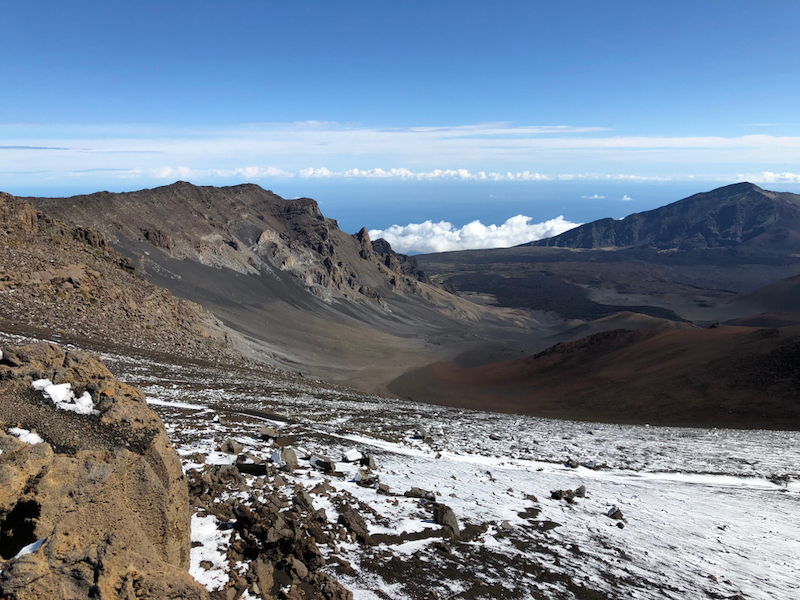 Hawaii? In winter? Groundbreaking. The summit of Haleakalā itself can see below-freezing temps all year long, but the lower areas of the park stay in a perfect 70-80-degree range. Vehicle tours, guided hikes and horseback riding tours are available year-round. Can't-miss activity: driving up to the summit for sunrise (reservations required) and/or sunset. The stargazing is pretty epic, too. Take a hike down into the volcano's crater, or spend the day driving the famous Road to Hana.
Joshua Tree National Park – California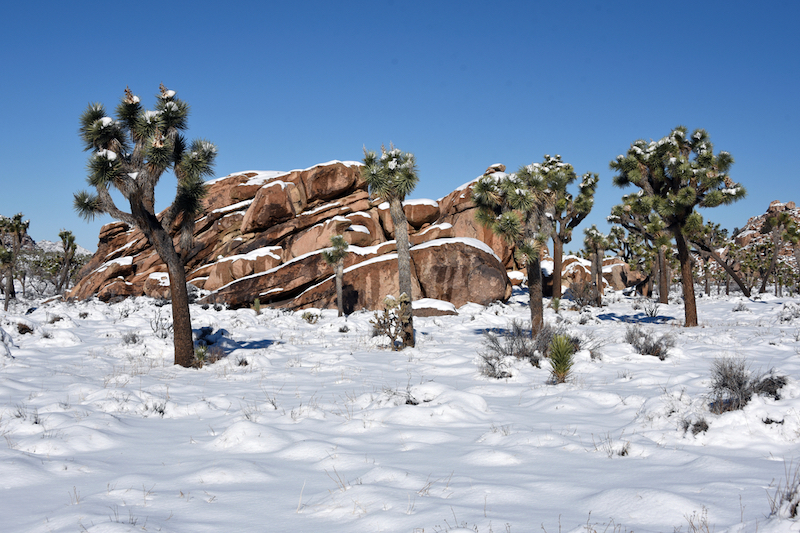 Joshua Tree's unique landscape — large rocks, desert shrubs and the wacky, Seussical Joshua Tree — is a sight to behold any time of year, but really special with a light dusting of snow. In the winter, temps get down into the 50s during the day, which you might find preferable to scorching summer temps, especially if you're planning to do a lot of hiking. The remote park will feel like your own personal playground this time of year, and you may have a better chance booking in-park camping or lodging. You may even catch some wildflower blooms in lower elevations starting in February. The park is well-known for its rock climbing and bouldering, so bring your gear or book a guided excursion if you're a newbie.
Saguaro National Park – Arizona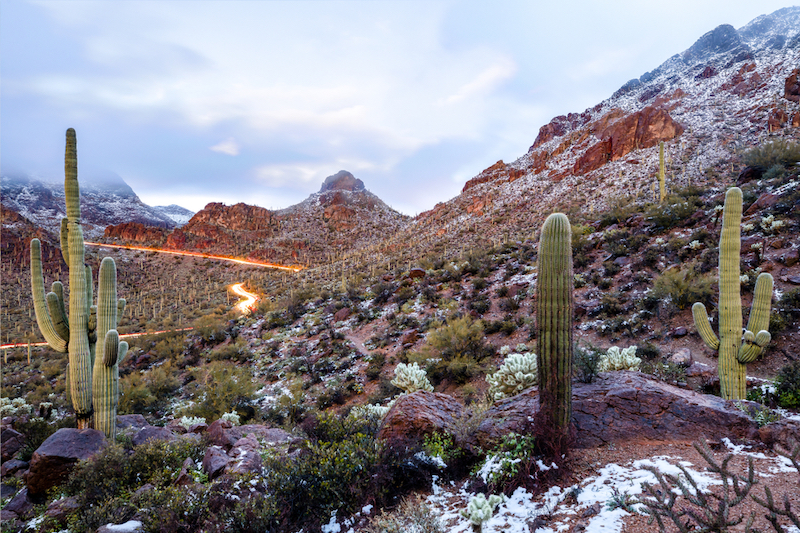 With temperatures in the 50s-70s all winter long, Saguaro National Park is arguably one of the best places to go hiking this time of year. Options range from a short stroll among the picturesque saguaro cacti to multi-day backcountry trips, which are much easier logistically when you don't need to worry about packing enough water to get you through 100-degree days. (Not surprising, summer is brutal out there in the Sonoran Desert.) Since the city of Tucson is right in the middle of the park, you'll have an easier time finding accommodations compared to parks that are surrounded by a whole lot of nothing.
Yellowstone National Park – Wyoming, Montana, Idaho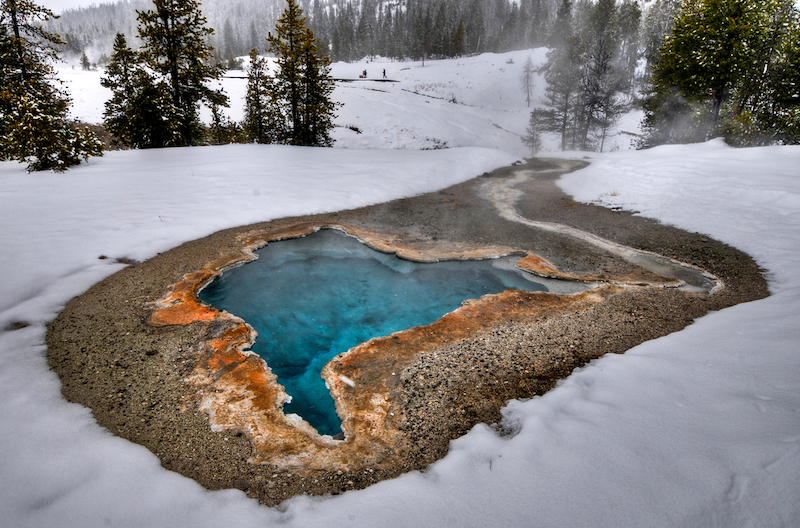 Yellowstone's geysers, hot springs and pools look way cooler with a snowy backdrop. They just do. Not to mention how the bison really pop against their all-white surroundings. The best part about visiting Yellowstone in the winter, though, is how empty it is. Most roads are closed to regular vehicles, so you'll have to book a visit through a tour company who can get you in via snowcoach or snowmobile. It's well worth the expense. Once inside, you can check sights off your list without having to dodge other people, and even cross-country ski and snowshoe to different geothermal features.
[Also see Best Things to Do in Jackson for a related guide]
Yosemite National Park – California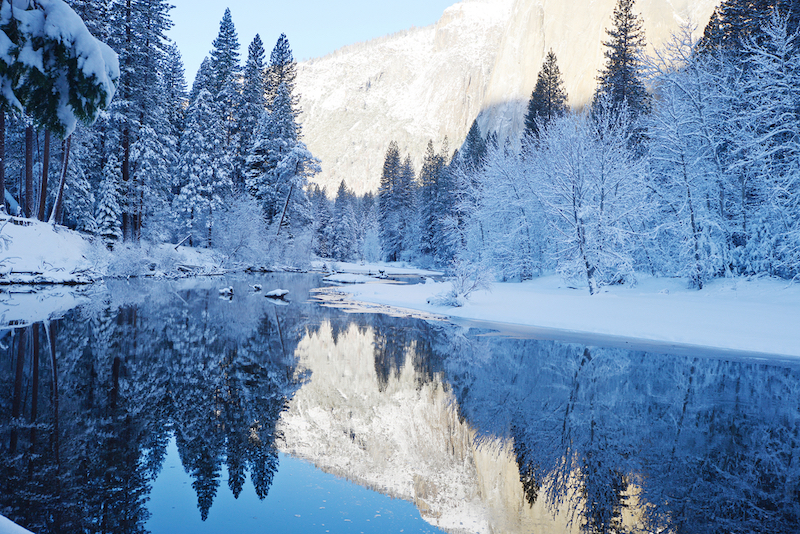 Yosemite is usually one of the most-visited national parks in the country (2020 was a special exception), so winter is a great time to enjoy the snow-capped mountains without someone constantly in the way of your photo op. Much of the park is closed in the winter, but the Wawona and Yosemite Valley areas remain open — and don't usually get brutally cold, since they're only at around 4,000 feet. Bundle up and go ice skating at Curry Village Ice Rink, take snowshoes out for a spin or spend a day downhill or cross-country skiing at Badger Pass Ski Area. Just make sure to check the weather conditions and bring tire chains in case they are required.
Zion National Park – Utah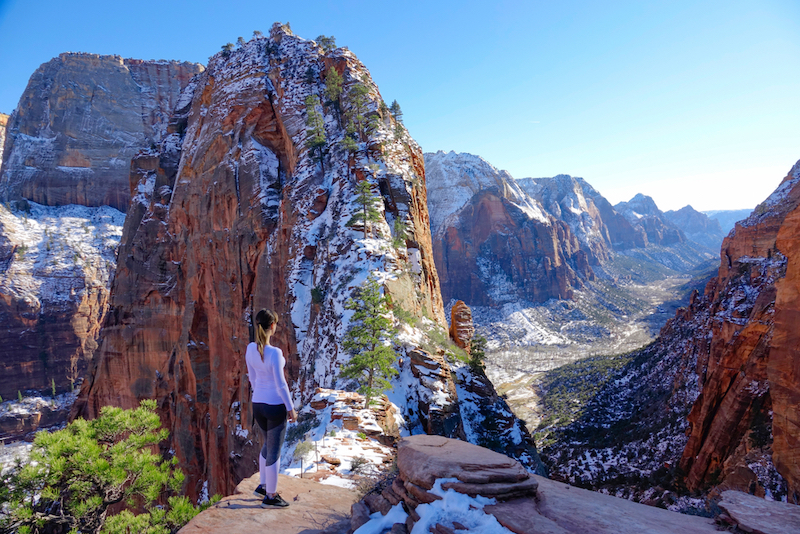 One of the most-visited national parks, Zion slows down considerably in the winter. But most trails are open, and snow usually sticks to the higher elevations — which means you get a mix of cool and comfortable hiking weather with views of snow-dusted cliffs and mountaintops in the distance. Hard to find something more picturesque. You can even hike The Narrows in the winter — arguably the most popular hike in the park. Your reward for braving it in colder months will be fewer people and a more intimate experience. Just make sure to rent a drysuit and footwear to stay warm. Angel's Landing, another must-do in Zion, is open in the winter, but is more treacherous in icy and windy weather, so make sure to check conditions and follow all safety guidelines if you plan to check it off your bucket list.