Never underestimate the restorative power of a good hotel stay. The comfort, convenience and solitude found in a hotel room is a big part of why we feel so refreshed when we come back from vacation. And the reason why trading your place or one where someone else washes the sheets always makes you feel better.
This spring, a slew of new places popped up around America, offering creative, comfortable places to recharge your batteries — like 15-room restored churches in the Florida Panhandle and 37-story skyscraper in downtown L.A. Enticing, right? The spring's coolest new hotels will all leave you feeling like a whole new person. Here they are.
Hilton Motif Seattle – Seattle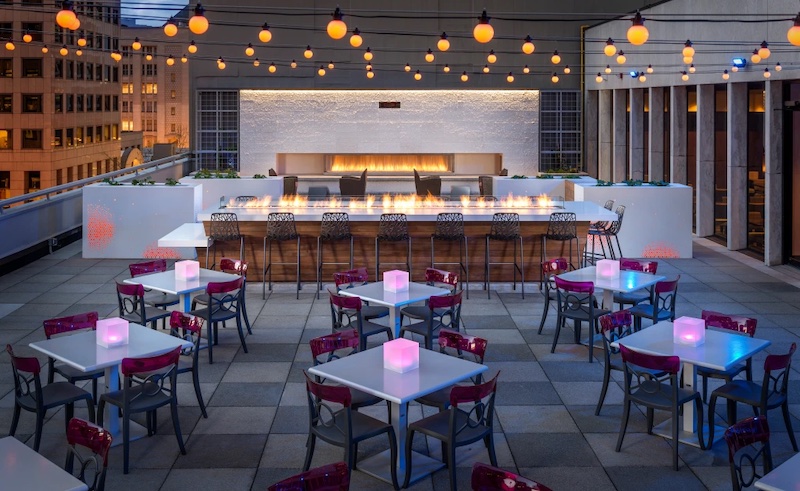 Rooftop bars and restaurants? Those are almost as common in hotels now as Peloton bikes and in-room coffee makers. Rooftop curling rinks, however, are a bit more elusive. That's exactly what you'll find atop the new Hilton Motif in Seattle, the state's only rooftop rink available when Washington weather permits. Even if you're not into sweeping stones down the ice, you can grab a top-floor drink or meal at Frolik Kitchen, the Motif's snazzy rooftop bar and restaurant. Or stroll down the block to Pike Place Market, the Seattle Great Wheel or the waterfront.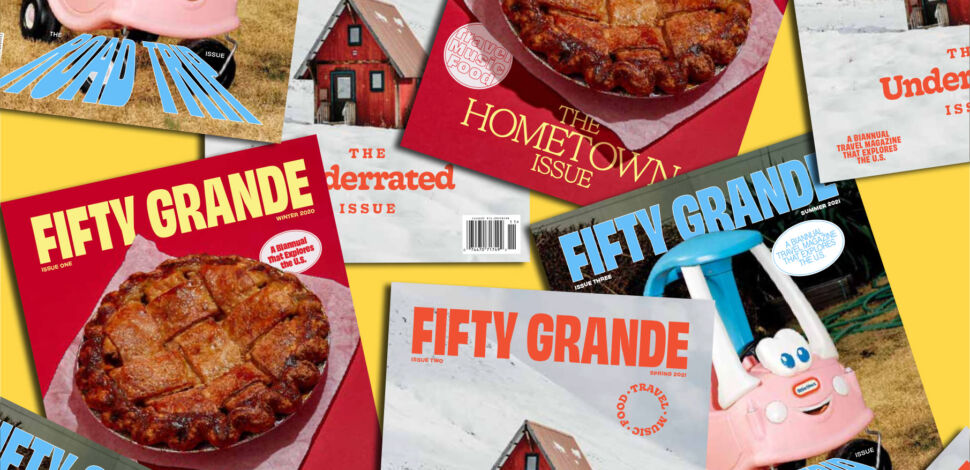 Eastwind Oliverea Valley – Big Indian, N.Y.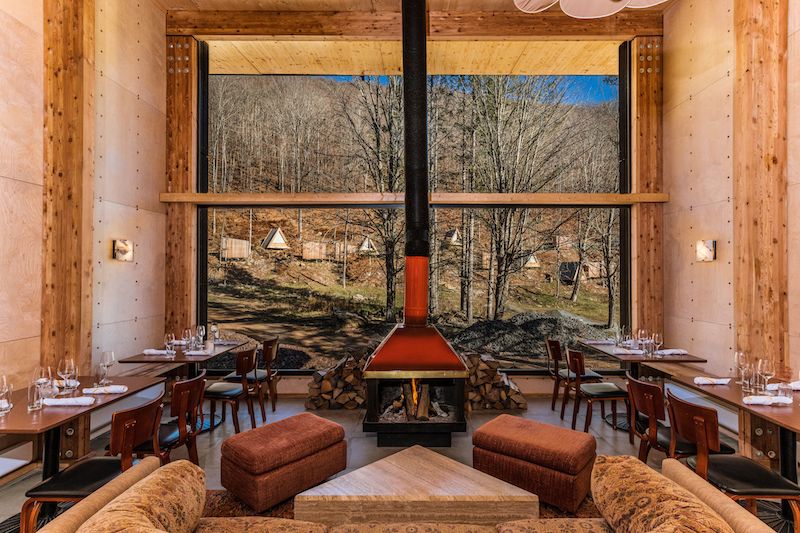 The outdated image of Borscht Belt Catskills resorts is long in America's vacationland rearview mirror. This fact is undeniably obvious when visiting Eastwind's new Scandinavian-inspired collection of A-frame cabins set into a hillside in New York's most famous mountains. Each of the 27 cozy wood structures are individually designed, with private patios, rainshowers, vintage desks and skylights to let the outside in. You'll also find a communal firepit to meet your fellow guests, easy access to Catskills hiking trails and an on-site restaurant at Dandelion featuring seasonal selections in a wood-paneled dining room.
Arlo Chicago – Chicago (Open April 11)
Sleek lifestyle brand Arlo opens its first property outside Miami and NYC on North Michigan Avenue, setting up shop in an historic high-rise that was once home to the Atlantic Bank Building. You'll find nods to the structure's financial past everywhere, with gray steel and glass interspersed with pastel furniture. The new hotel also brings us About Last Knife, a casual steakhouse with a full menu of gastropub fare. Plus fortune cookies in the rooms, exposed brick walls and bookshelves in the lobby.
PACIFIC 19 – Kailua Kona, Hawaii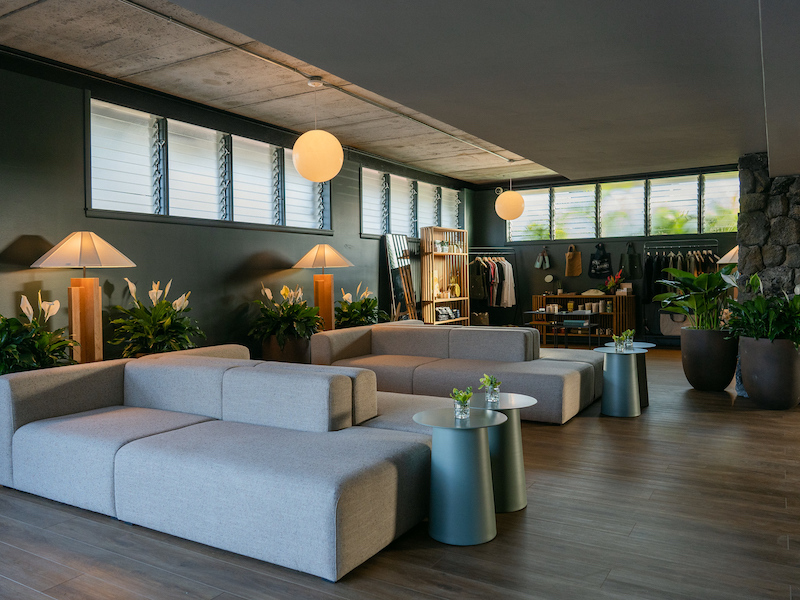 On the Big Island, finding a hotel that's not a luxury mega-resort can be a challenge, especially if you're not looking to drop over $400 a night. Enter the new PACIFIC 19, a boutique property in Kailua Kona that serves as a comfortable respite after a long day of adventuring. While the rooms aren't huge, they're done up in a volcanic gray, with luxurious linens and oversized beds, and a minibar packed with local food and drink. Many private balconies look out on the hotel's welcoming pool. And the lobby is similarly done up in charcoal island décor to give the PACIFIC 19 a significant sense of place.
The Yorktowne Hotel – York, Penn.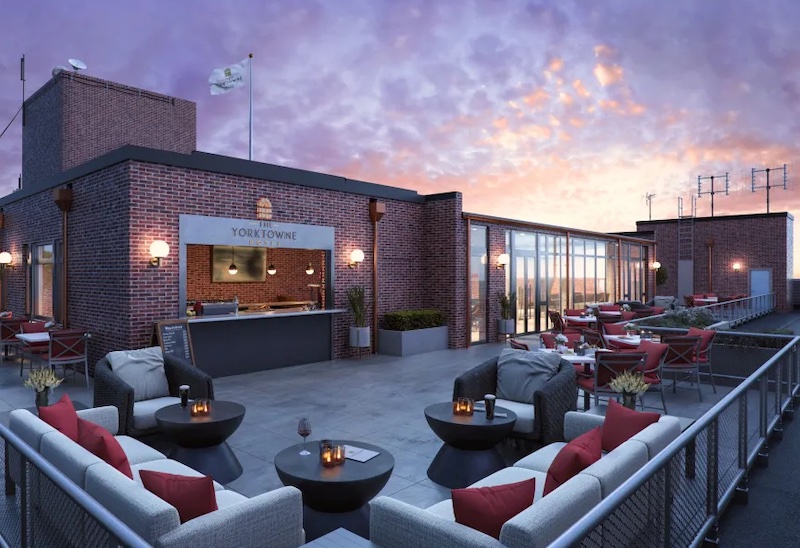 Gazing out at the historic towers just off Yorktowne Hotel's rooftop, one might think they were somewhere in the Italian countryside. But alas, this European-feeling view is smack in the middle of central Pennsylvania, at the bar atop the newly reopened Yorktowne Hotel. Downtown York's iconic brick high-rise returns to its former glory, filled with elegant wood fixtures and whitewashed French doors, bringing a bit of the past into 2023. The hotel offers 123 rooms and 27 long-term suites, as well as the Graham Rooftop Bar sitting high above the city.
Drift Santa Barbara – Santa Barbara, Calif.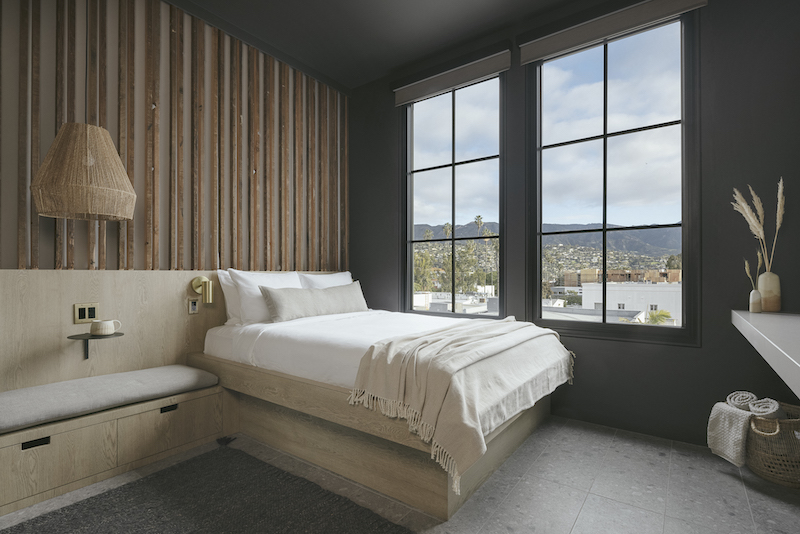 Perhaps none of 2023's new hotels immerses you in your surroundings quite like Drift's latest property along the Central Coast in Santa Barbara. The art-filled, 45-room boutique is set in an historic 1920s Mediterranean building, and offers a surfing package complete with board so you can mosey a few blocks to the ocean and ride the waves of the Pacific. You can also grab a bike from the front desk and explore the city on your own. Or stop into Dusk, Drift's agave raw bar that features local seafood and California cuisine that are distinctly Santa Barbaran.
Lily Hall – Pensacola, Fla.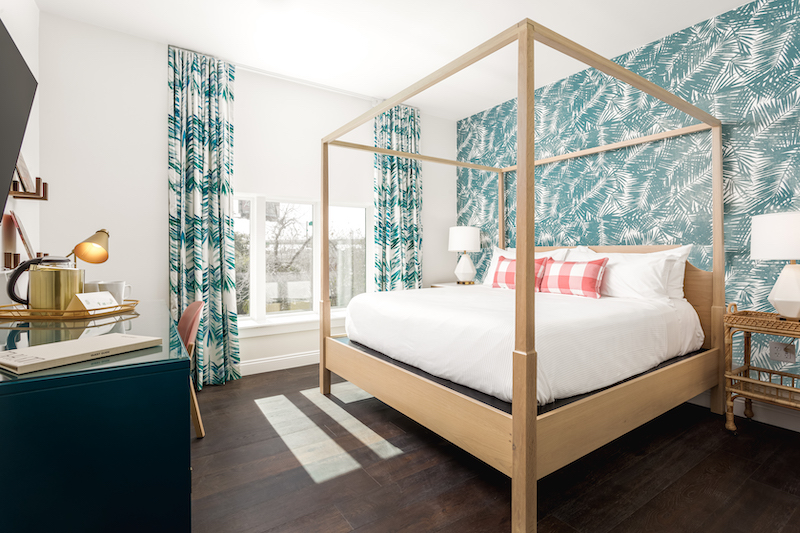 The Florida Panhandle isn't typically a place we find inventive uses for old spaces, but Nashville-based Stahlman Hospitality is bringing some Music City creativity to the Redneck Riviera. The old Mount Olive Baptist Church has been painstakingly transformed into a 15-room hotel, where individually designed suites are adorned in palm tree wallpaper and rattan furnishings, most bringing a retro record player. You can indulge in classic Southern cuisine at Lily Hall, too, enjoying the wood-fired foods at the on-site restaurant Brother Fox before retreating for a cocktail at its adjacent bar, Sister Hen.
Moxy & AC Downtown – Los Angeles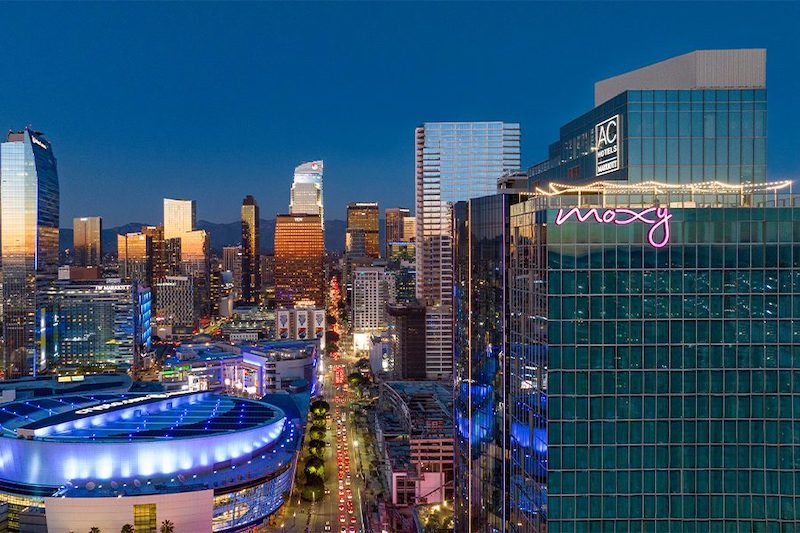 Spring's behemoth hotel opening sticks straight out of the L.A. skyline, as the 727-room AC/Moxy hybrid brings DTLA an avalanche of new options. The 37-story skyscraper houses a dozen new dining concepts, eight of which sit on the eighth floor at Level 8. It'll offer everything from tacos to sushi to cocktails at a poolside carousel bar, covering 30,000 square feet in what amounts to SoCal's largest hotel food hall. The rooms will be much what we've come to expect from the AC and Moxy brands — modern lifestyle spaces designed for short stays and comfortable home bases. While there's nothing subtle about this place, it's easily the year's most titanic addition.
Camptown – Leeds, N.Y.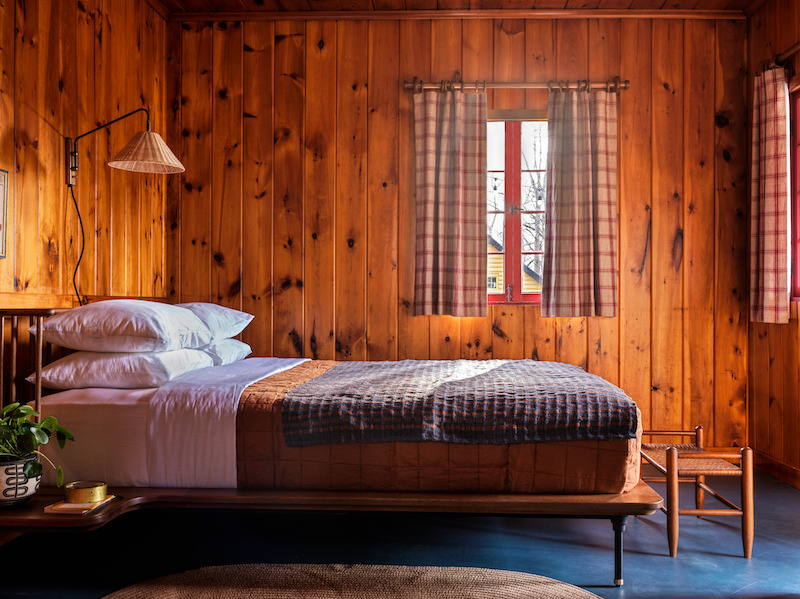 Spring's entrant in the "cool, converted motor lodge" category comes to us from the Catskills, where 26 log cabins join 24 renovated motel rooms to form the region's newest lifestyle resort. The main building's walls have been accented with local stone, giving it a hunting-lodge-meets-motel motif that's perfect for the 22 acres of wilderness it sits on. Many of the cabins feature rustic kitchens, ideal if you're looking for a weeklong getaway. Though if you don't feel like cooking, Casa Susanna — Camptown's on-site Mexican restaurant — has some outstanding seasonal dishes and a stellar wine list.
citizenM Miami Worldcenter – Miami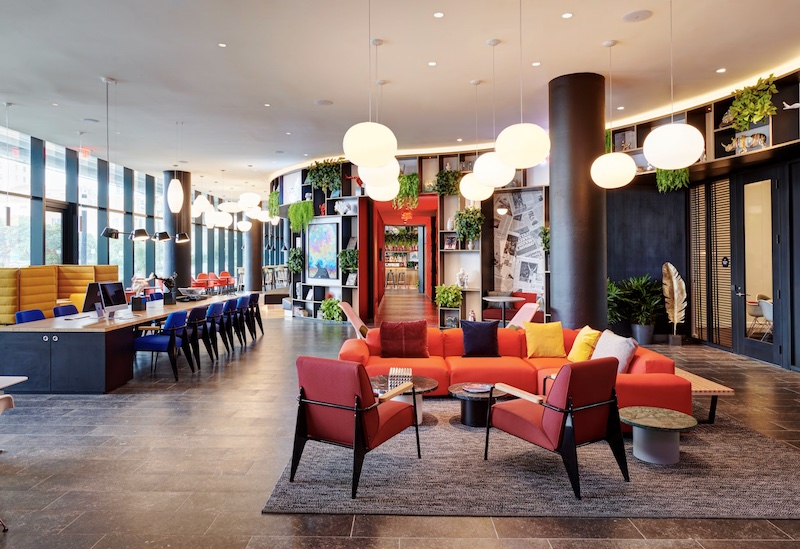 The Danish, minimalist-chic citizenM opens its second Miami outpost, this time just west of downtown in the burgeoning Miami Worldcenter. The space is teeming with art, from colorful murals to sculptures to eye-popping pinstriped furniture. The rooftop pool deck is perhaps the most urban-feeling in Miami's bevy of hotel pools, placing sunbathing guests in the heart of the city skyline. The new citizenM retains its small-yet-efficient rooms, with wall-to-wall king beds, luxury bath amenities and even a fully functional desk in 150 square feet.