Break out those guitar picks and polish up those dancin' shoes. A traveling music fan has plenty of options to choose when it comes to hotels that cater to both music and cultural history, regardless the genre or generation. From chic spots that boast a hip crowd, memorabilia-filled outposts that could double as a museum, or otherwise run-of-the-mill spots that earned a spot in music lore, open your eyes- and ears!- to the 20 best hotels for music lovers far and wide. A-one and a-two….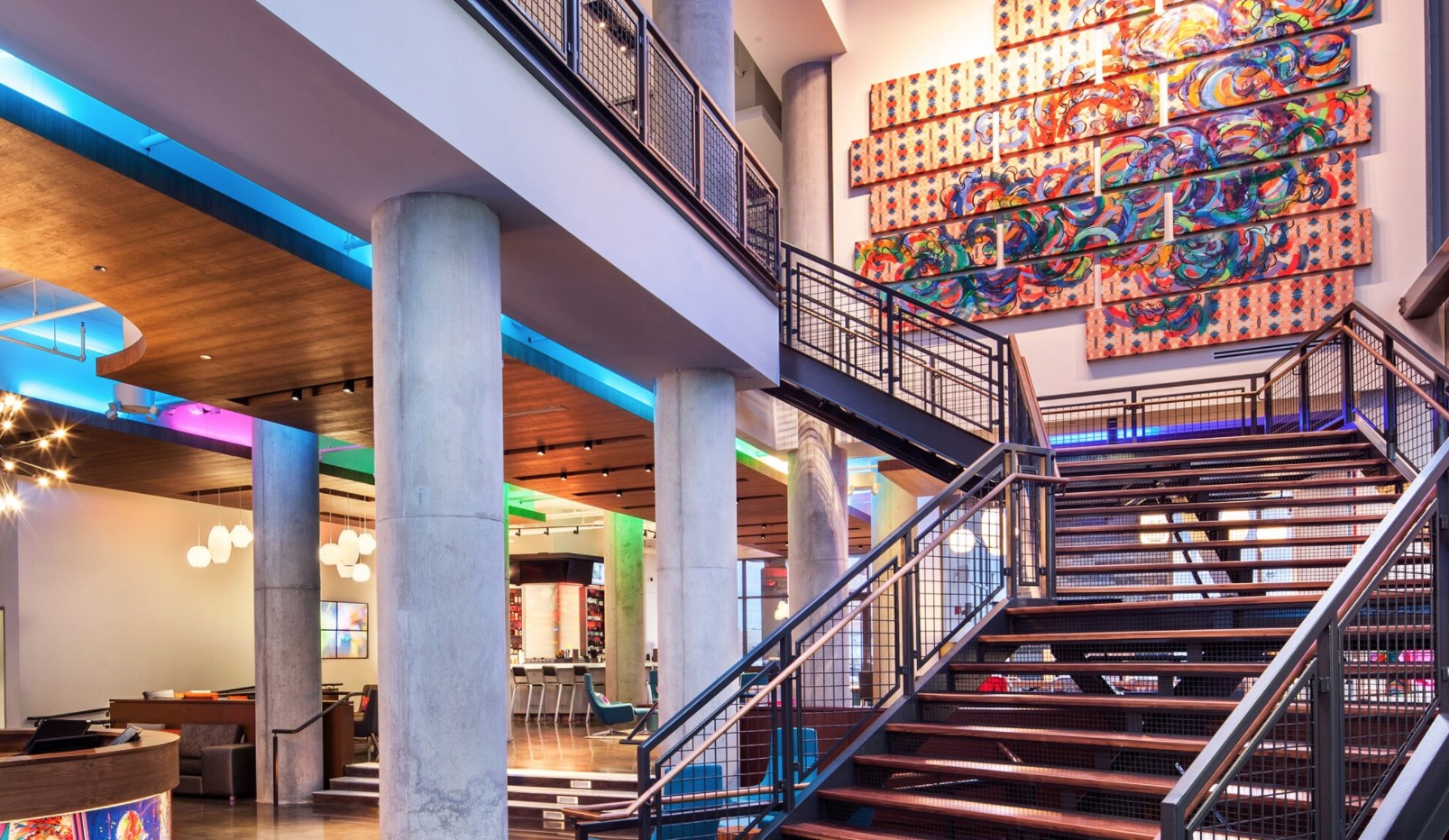 A favorite for music aficionados in the historic Massachusetts metropolis is the Aloft Boston Seaport. Located mere blocks away from its namesake seaport, Aloft became famous in the world of cultural hospitality by frequently hosting acoustic performances courtesy of rising stars to the delight of hotel guests and locals alike. In addition, Aloft also sponsors a global music competition dubbed Project: Aloft Star. Hotel Address: 401-403 D St, Boston, MA 02210
Andaz West Hollywood, Los Angeles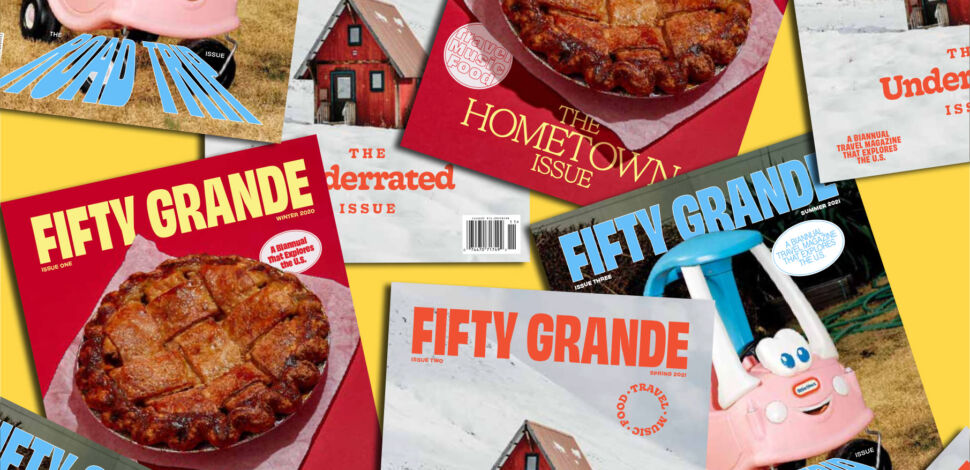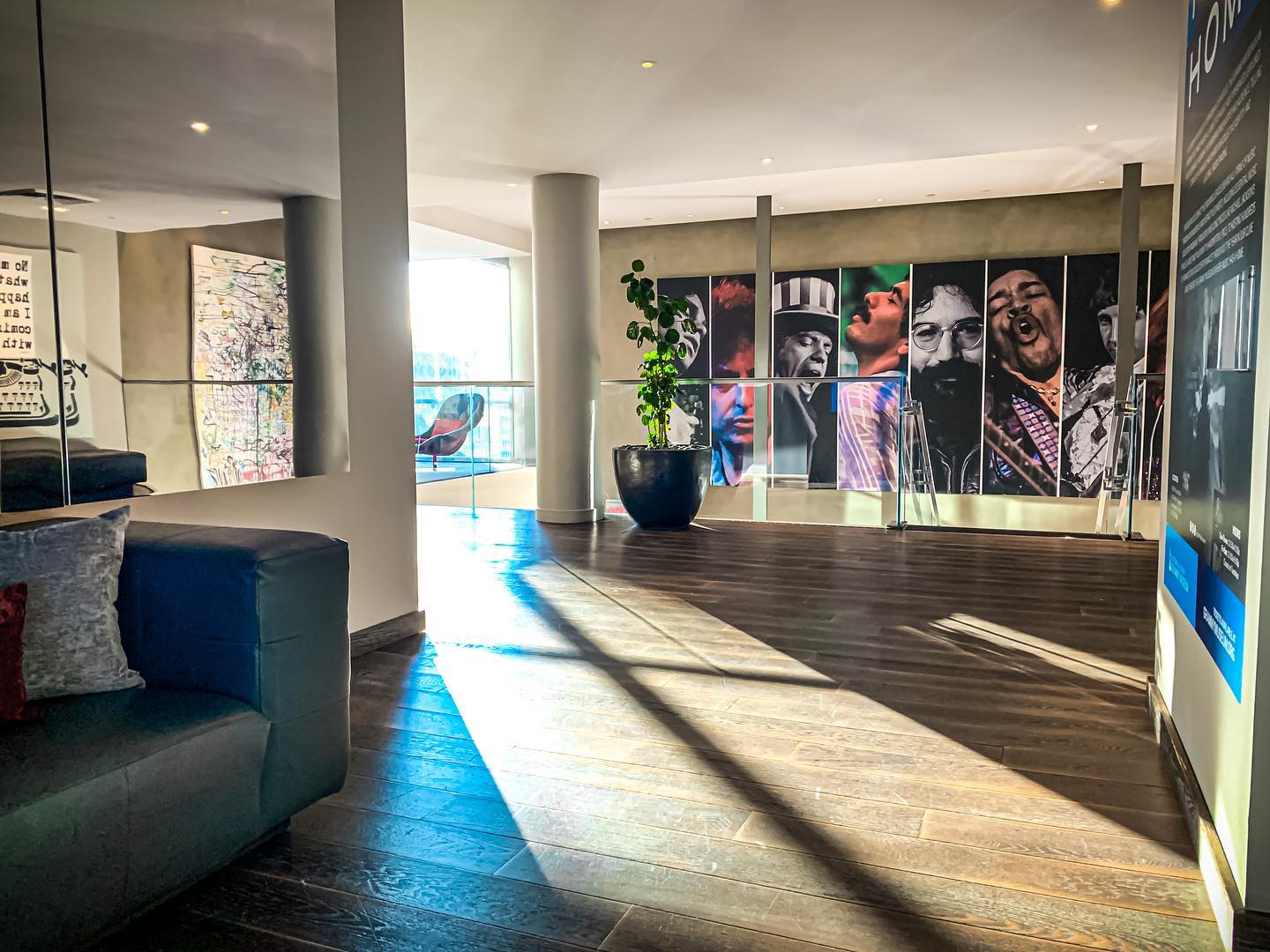 Located in the trendy West Hollywood neighborhood of the City of Angels, the Andaz is a relatively new addition to hotels that live at the intersection of music and hospitality. Opened in 2016, the pricey space is a modern-day industry favorite for executives and artists alike. Its current hip perch is thanks to both its chic rooms, as well as a location smack in the middle of LA's cultural action: at the foot of the Hollywood Hills and on the world-famous Sunset Boulevard. Hotel Address: 8401 Sunset Blvd, West Hollywood, CA 90069
Chateau Marmont, Los Angeles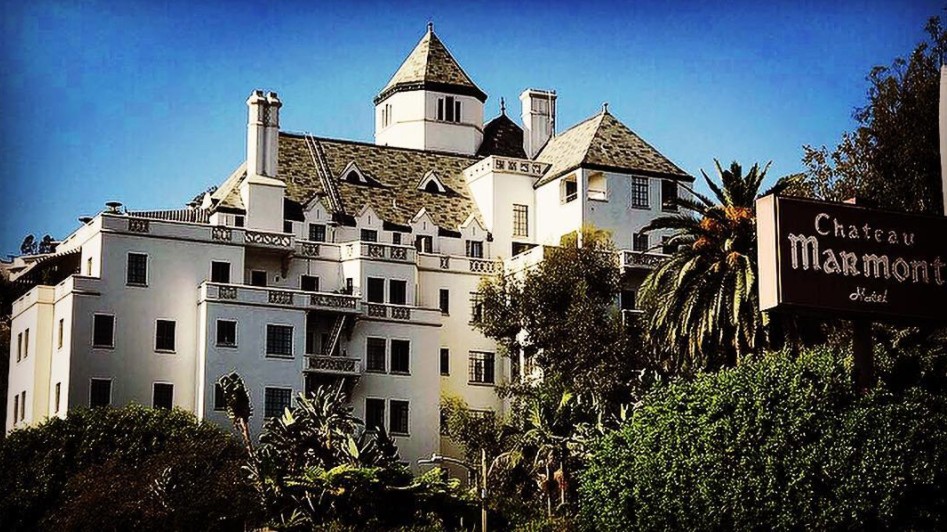 You'd be hard pressed to find a hotel with a richer musical legacy than the ritzy Chateau Marmont. Snuggled in the midst of the Hollywood Hills, the Chateau has been a spot to see and be seen since its opening in the roaring 20s, boasting a litany of famous guests who would flex their musical muscle on the property. That includes Judy Garland's penchant for playing piano in its grand lobby and Red Hot Chili Pepper Anthony Kiedis recording the vocals for their hit "By The Way" in one of its lavish guest rooms, to name two household names out of countless who favored the hotel. Hotel Address: 8221 Sunset Blvd, Los Angeles, CA 90046
Another Seattle hotel entrenched in music history, this waterfront property once banned Led Zeppelin after their rambunctious members caught 30 sharks swimming in the Pacific below and, naturally, trashing their rooms. Today The Edgewater keeps their foothold in music history alive with a calendar of live music and suites devoted to Pearl Jam and the Beatles, the latter of which famously stayed there at the apex of Beatlemania. Hotel Address: 2411 Alaskan Way, Seattle, WA 98121
The Elizabeth Hotel, Fort Collins, Colorado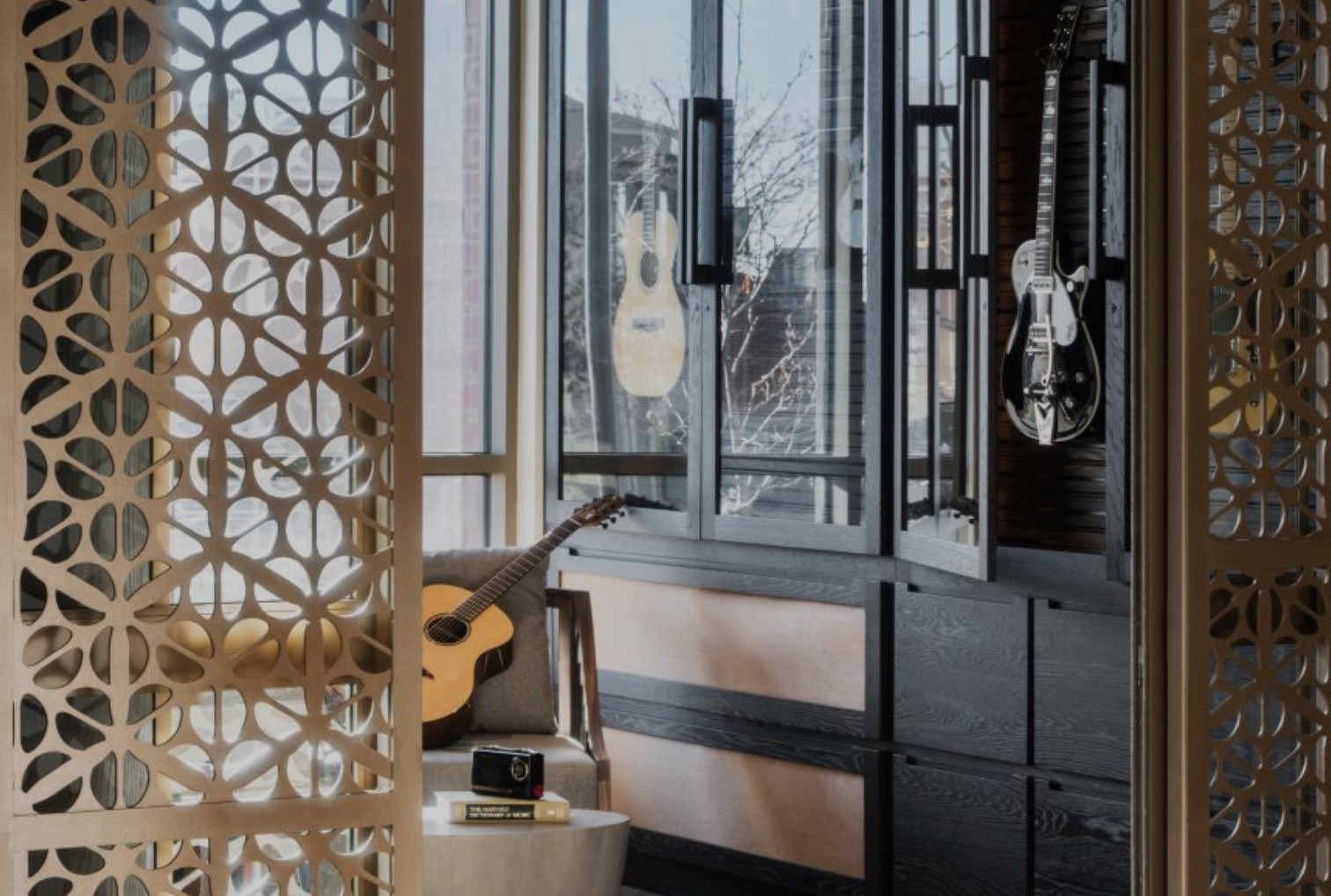 One of the crown jewels of Fort Collins thanks to its lavish interiors and luxury accommodations, what sets The Elizabeth apart is its unique instrument lending program, which whets guest's appetites for a strum on a guitar or a tickle of a keyboard. In addition, the Elizabeth also boasts a suite devoted to music that features a baby grand piano and music-inspired decor. Throw in a vinyl collection guests can spin at their whim and you have a show-stopping hotel experience. Hotel Address: 111 Chestnut St, Fort Collins, CO 80524
The Guest House at Graceland, Memphis
It's no heartbreak hotel, but it'll do. This 450 room hotel- the largest Memphis has to offer- serves as a de facto monument to the King himself, Elvis Presely. While it wasn't technically the guesthouse of Elvis's famed Graceland, the space is dedicated to the American icon and is considered a "contemporary translation of the late singer's aesthetic." That includes subtle decor touches, including a treasure trove of Presely memorabilia and a staircase modeled off of the one at Presely's actual residence. Hotel Address: 3600 Elvis Presley Blvd, Memphis, TN 38116
Grand Hotel, Mackinac, Michigan
It's hard to escape the lush sounds that wash over the aptly-named Grand Hotel. While other hotels boast weekly or even daily performances, this elegant Michigan hideaway (which opened way back in 1887 and is noted for being one of America's best hotels) offers a bevy of resident musicians playing away, whether the relaxing hum of a sole harpist during or an entire orchestra whose job is to get you off your feet. Its famed musical legacy, which kicked off in earnest when Thomas Edison hosted the first public demonstration of the phonograph here, was immortalized in the 1979 film Somewhere In Time. Hotel Address: 286 Grand Ave, Mackinac Island, MI 49757
Hard Rock Hotels, various locations
Hail, hail the Hard Rock! While its moniker may sound like it's only a mecca for rock history, its 25 hotels in far-flung places ranging from jolly London to gambling haven Atlantic City cater to a bevy of music fans by boasting what's considered the biggest collection of music memorabilia in the world. With hallways and walls covered and stacked with thousands of items, fans can expect to feast their eyes on everything from the original hand-written lyrics to the John Lennon masterpiece "Imagine" to dresses worn by divas like Britney Spears and Beyonce.
Hotel BPM Brooklyn, Brooklyn, New York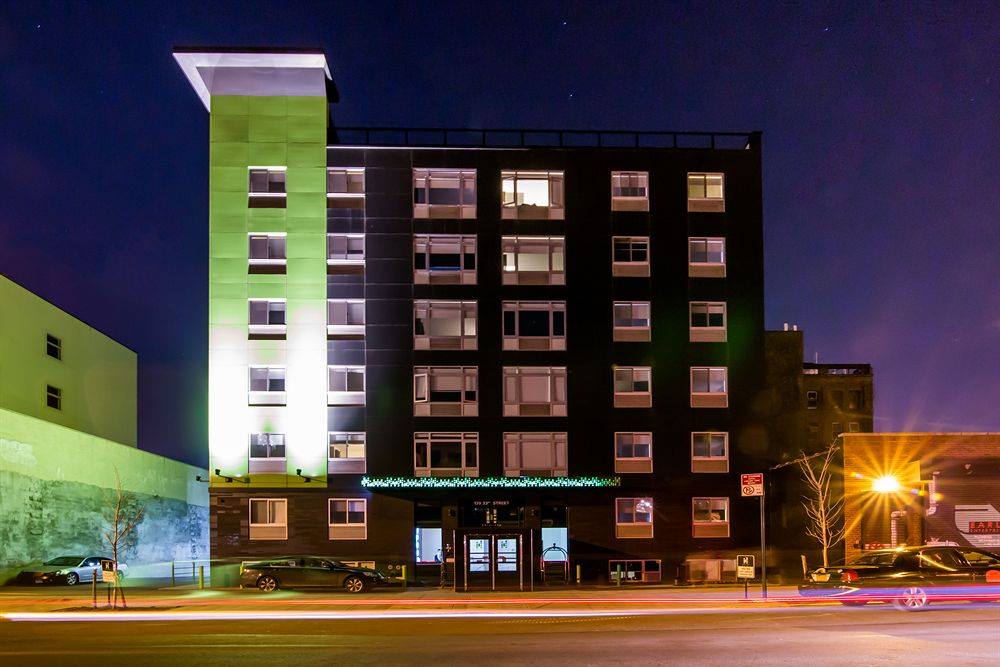 DJs take centerstage at this New York hotel located near the bustling Barclays Center where marquee acts play regularly. Named after the music tempo term 'beats per minute,' the space is run by the Indian DJ Bijal and his personal flair is everywhere. That includes giving guests free DJ lessons to allowing them to choose tracks that are subsequently played throughout the hotel's corridors. Hotel Address: 139 33rd St, Brooklyn, NY 11232
Hotel Dylan, Woodstock, New York
Located in the namesake town of 1969's cultural earthquake that was the Woodstock Music and Arts Festival and named after American icon Bob Dylan, the boutique Hotel Dylan is a home away from home for fans enraptured by the music of the 60s and 70s. With rooms outfitted with names like "The Jimi," "The Roadies" and "The Hippie Chick," and the property a short jaunt from where members of The Band and Dylan himself once lived, it serves as a perfect entryway into one of the most storied times in music history in a quaint Catskill Mountain town. Hotel Address: 320 Maverick Rd, Woodstock, NY 12498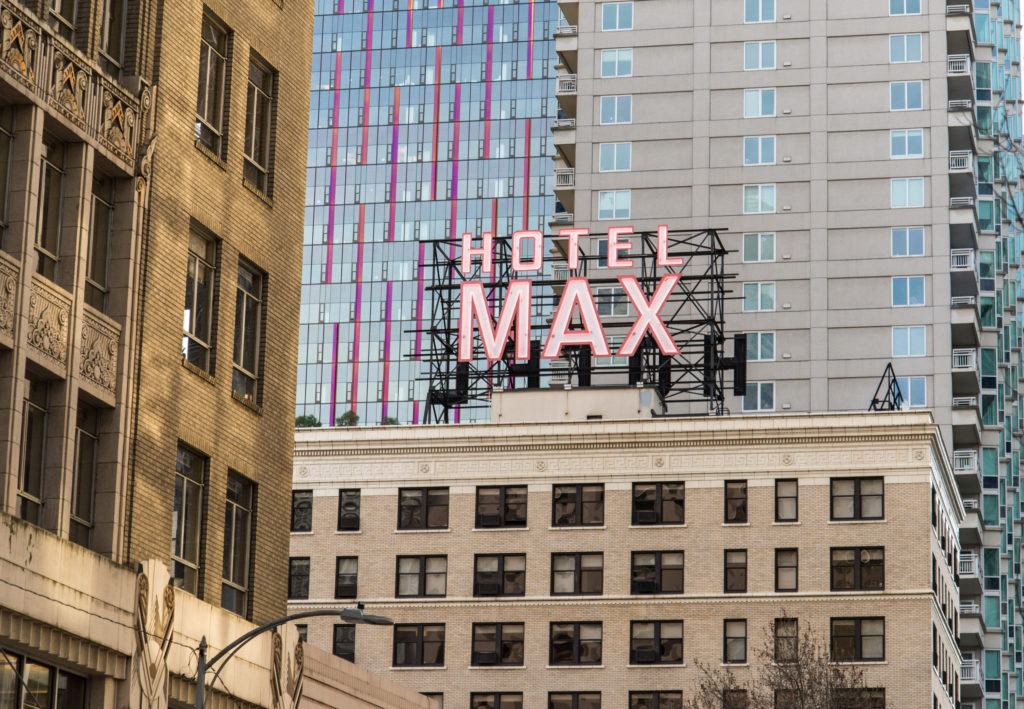 The Emerald City's Hotel Max exemplifies the Pacific Northwest's status as a breeding ground for innovative bands and rockers, whether Jimi Hendrix in the 60s to Pearl Jam and Death Cab for Cutie in recent years. Seattle itself is also the homecity of Sub Pop Records, the famed boutique label that signed Nirvana and boasts beloved indie acts like Fleet Foxes and The Postal Service. In honor, the Hotel Max boasts a floor devoted to the label's heritage, including providing record players outfitted with Sub-Pop favorites and accenting rooms with music decor. Hotel Address: 620 Stewart St, Seattle, WA 98101
Hotel Preston, Nashville
They don't call it Music City for nothin'. Located in the heart of rollicking Nashville, this newly renovated hotel's penchant for music culture is apparent as soon as you check in and notice the lobby walls are adorned with guitars. In fact, in addition to typical room service fare, guests can even order a six-stringer straight to their temporary adobe. Even better: the Preston is in close proximity to other Southern music landmarks including the Country Music Hall of Fame and the Music City Walk of Fame. Hotel Address: 733 Briley Pkwy, Nashville, TN 37217
Hotel Saint Cecilia, Austin
Named after the patroness of musicians, Austin's boutique Hotel Saint Cecilia serves as both a stamping ground and muse for artists. The chic spot, which thrives during the city's Austin City Limits Music Festival, is a favorite for touring musicians on a stop in the Texas city. That includes the Foo Fighters, who recorded an EP at its property in 2016, subsequently dubbing it Saint Cecilia in honor of the space. Hotel Address: 112 Academy Dr, Austin, TX 78704
The Kimpton Goodland, Goleta, California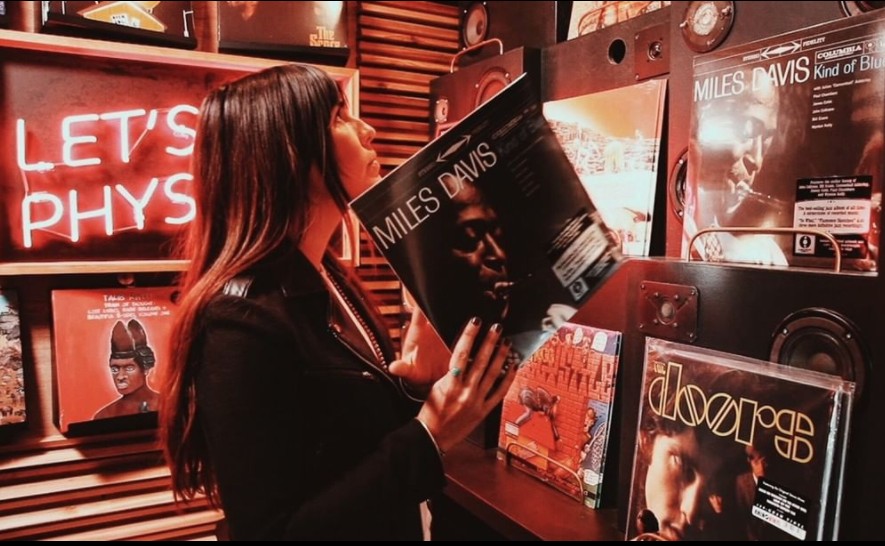 While some properties merely lend out vinyl records, Santa Barbara's Kimpton Goodland is deeply passionate about the classic art of record spinning. Not only is the hotel stocked with records from yesterday and today, but the Kimpton Goodland also features its very own record shop in the lobby and record players in every room. If that's not enough for you, there's also a popular live music series to boot. Hotel Address: 5650 Calle Real, Goleta, CA 93117
Margaritaville Hotel, various locations
Can you think of a better place to waste away your days and nights at than a hotel branded by "Margaritaville" crooner Jimmy Buffett himself? Designed with his laidback lifestyle in mind and located in various resort enclaves ranging from Orlando to Nashville, TN, these vacation-forward properties are based around the idea that no day is complete without some sun, relaxation and, naturally, a tasty libation in hand.
Phoenix Hotel, San Francisco
Billed as a boutique hotel with "a rock and roll soul," the history of San Francisco's Phoenix Hotel's dates back to the 50s when it was a simple motor lodge. Due to its close proximity to popular local venues ranging from the Bill Graham Civic Auditorium and the Great American Music Hall however, a bevy of musicians have spent time at the Phoenix (most famously Neil Young, who used to call the Pheonix home). The property fell out of favor in the 70s and 80s, before vaulting back into the city's music consciousness again after a rebirth. Hotel Address: 601 Eddy St, San Francisco, CA 94109
The Roxy, New York
Named after the famed 80s club where everyone from Madonna to the Beastie Boys got their stage sea legs, New York's chic Roxy has cemented itself as a crossroads of music culture since its opening in 2016. Located in Manhattan's Tribeca neighborhood, not only does the space frequently feature performances from rising stars, but it's also home to the Django Jazz Club, which features the genre's best musicians the city that never sleeps can offer. Hotel Address: 2 6th Ave, New York, NY 10013
Sheraton Madison, Madison, Wisconsin
One doesn't think of the pedestrian Sheraton hotel chain as rock-forward, but you'd be mistaken otherwise. While the city of Madison itself may be sleepy, its Sheraton outpost was home to one of the wildest happenings in the annals of rock history when guests Van Halen, playing a 1978 show in the city as their stars were on the rise, decimated the hotel's seventh floor in a debaucherous rage. The incident is so legendary, the band thanked the hotel in the liner notes of their 1979 subsequent album, Van Halen II. Hotel Address: 706 John Nolen Dr, Madison, WI 53713
Sunset Marquis, Los Angeles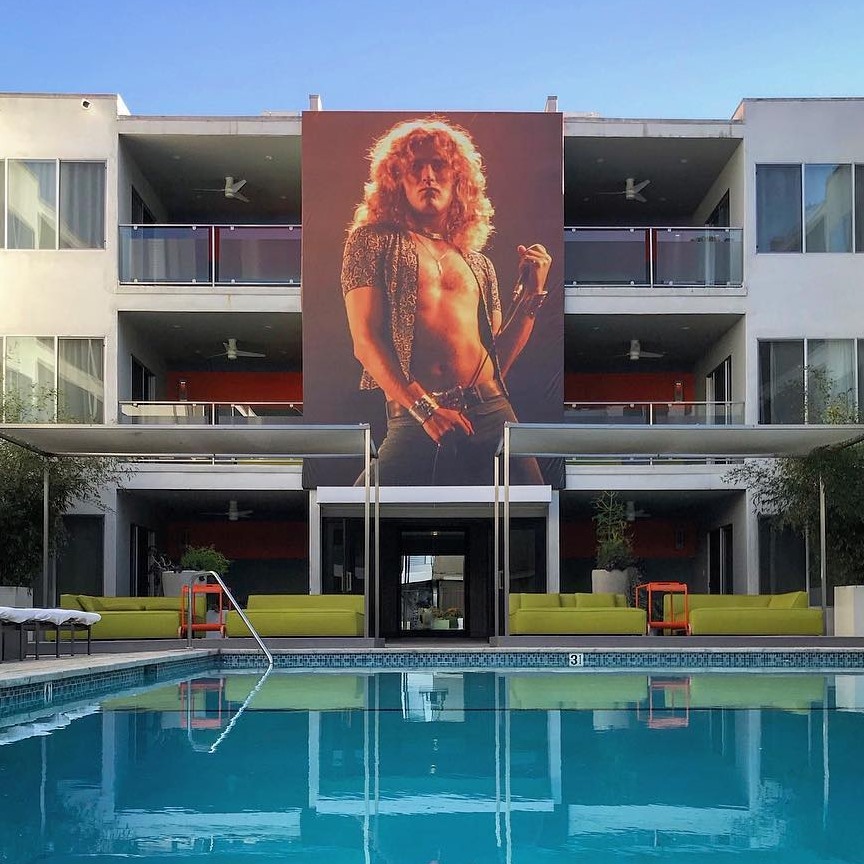 Since the Sunset Marquis flung open its doors in 1963, it's been a bastion for pop and rock music royalty. Thanks to the luxury hotel's proximity to some of the most storied clubs of all time (The Troubadour, The Roxy and Whiskey A-Go-Go among them), the property is bursting with cultural history from being a favorite haunt of Elton John and Bob Marley in the 70s, to its status as hotspot for metal acts in the 80s with members of Guns 'N Roses, Metallica and Iron Maiden all frequently crashing in its suites. As a testament to its legend, the Marquis continues as an industry hotspot to this day. Hotel Address: 1200 Alta Loma Rd, West Hollywood, CA 90069
Located a short jaunt from Beantown's Fenway Park, the Verb is a music-themed boutique home away from home. Focused on the sounds of the 60s and 70s, the property is outfitted with a bevy of collectables from generations of rock history. That includes everything from vintage tour posters to well-worn guitars. Rock on. Hotel Address: 1271 Boylston St, Boston, MA 02215